One of the best skills to have in the modern world is the command of foreign languages. Be it for traveling or business purposes, for studying abroad, and even preparing for language exams – building linguistic connections is a valuable asset. Both literally and figuratively, this knack connects people and lets them speak the same language. These days anyone can master the art of learning a new language online. It is flexible, customized, time-effective, and just a few clicks away.
Academic Help experts realize that in the modern world, every student needs to be well-versed and well-rounded. We believe that the ability to converse and acquire information on foreign languages is a great advantage. Our team goes above and beyond to find trustworthy and reliable websites that can support students in their educational endeavors. Below, we provide our assessment checklist with all essential information regarding the evaluation aspects. So, when you start to look for an online language learning website, consider using our guide as a useful resource.
What is the A*Help rating criteria?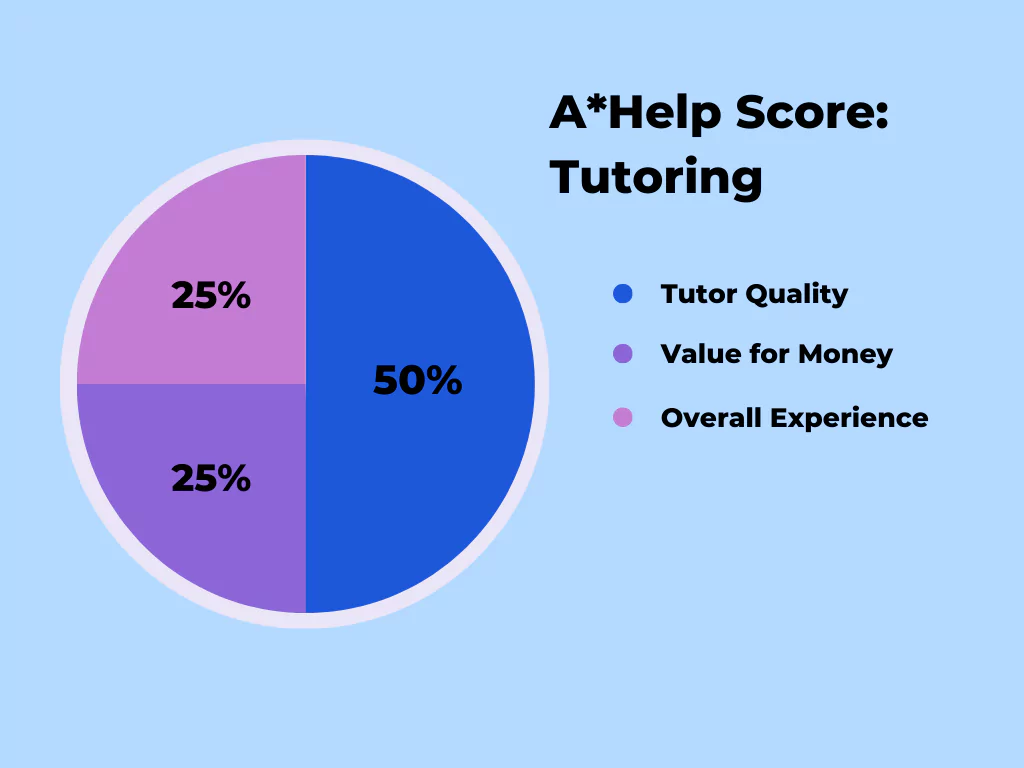 We want to build a trusted connection with our readers. So you know that if you need a valid piece of advice, Academic Help is here to support you. When students are eager to learn a foreign language from scratch or polish knowledge to reach fluency, they hope to find their match on the very first try. It does sound like a lot, but not for the A*Help team. We know exactly what makes the best language learning website.
The 3 core elements of our evaluation components are value for money (25 points), overall experience (25 points), and tutor quality (50 points). Our experts base the assessment on these key pillars throughout the entire involvement with the chosen service. However, everything starts long before that. A*Help tends to rely not only on personal objective verdicts and opinions we also read feedback and reviews from real users on the Internet. Therefore, our final words are completely unbiased.
We believe that actions speak louder than words, and we demonstrate our commitment to our goals by taking on students' experiences. To truly test out the online language learning websites we register on the site, choose a teacher for our goal, take trial and real lessons, and most importantly, actively participate in all of them. Only such an extensive approach can show invaluable results.
Value for money is pretty self-explanatory. The A*Help team sets out to verify whether the service is cost-effective and provides enough features. As for the overall experience, it focuses on the flexibility and accessibility of the website, as well as convenience. And the tutor quality, which makes up the bigger part of the total score, underscores the credibility of teachers who work on these services and their ability to understand the needs of their students and create customized lessons so that the final goals are met.
Value for money – 25% of the A*Help score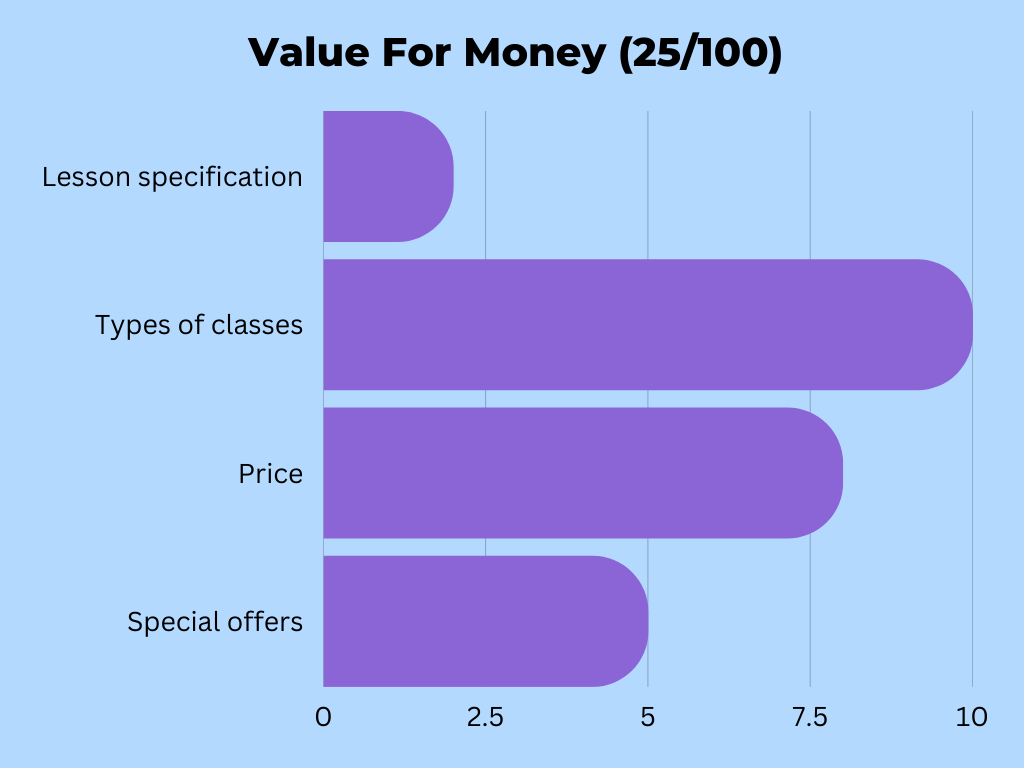 Lesson specification – 2 points
Types of classes – 10 points
Price – 8 points
Special offers – 5 points
Lesson specification
Many learners have unique learning goals. So, it's a big plus when an online language learning website can meet everyone's requirements. Be it for general, business, or academic purposes. The A*Help thinks bigger and projects an inclusive outlook. We also check if the service offers lessons for individuals with diverse learning styles or specific needs.
Types of classes
The A*Help team always underscores individual needs. In learning, they are essential. While some students feel comfortable and active during one-on-one sessions with tutors, others may need some company and would prefer to participate in group lessons. Considering this, we check if language learning websites provide traditional classes, and if these services are ready to help people not only in an educational environment but also in a business one with available corporate sessions. Besides, we do not forget about the more casual approach to learning. It is only possible with the help of topic-based speaking clubs where learners socialize and keep practicing a new language.
Price
The next thing that students need to check is the price. The Academic Help team evaluates all options, focusing on affordability for students. Our method involves considering if students can choose personal price preferences per lesson, and select different lesson durations (such as 30/45/60 minutes). Together with fees for lessons we verify the availability of subscription plans. Some websites offer personalized purchase plans, while others allow payment for single lessons.
Special offers
Special offers aspect is a broad one. First and foremost, every student is on the hunt for the most flexible and budget-friendly language learning websites. Here we check if the service offers discounts, free or trial lessons, bonuses, or referral programs. However, this is not the only thing that can influence students' final decisions. Having a community for learners, like blogs, podcasts, or other resources, can be really helpful.
Overall experience – 25% of the A*Help score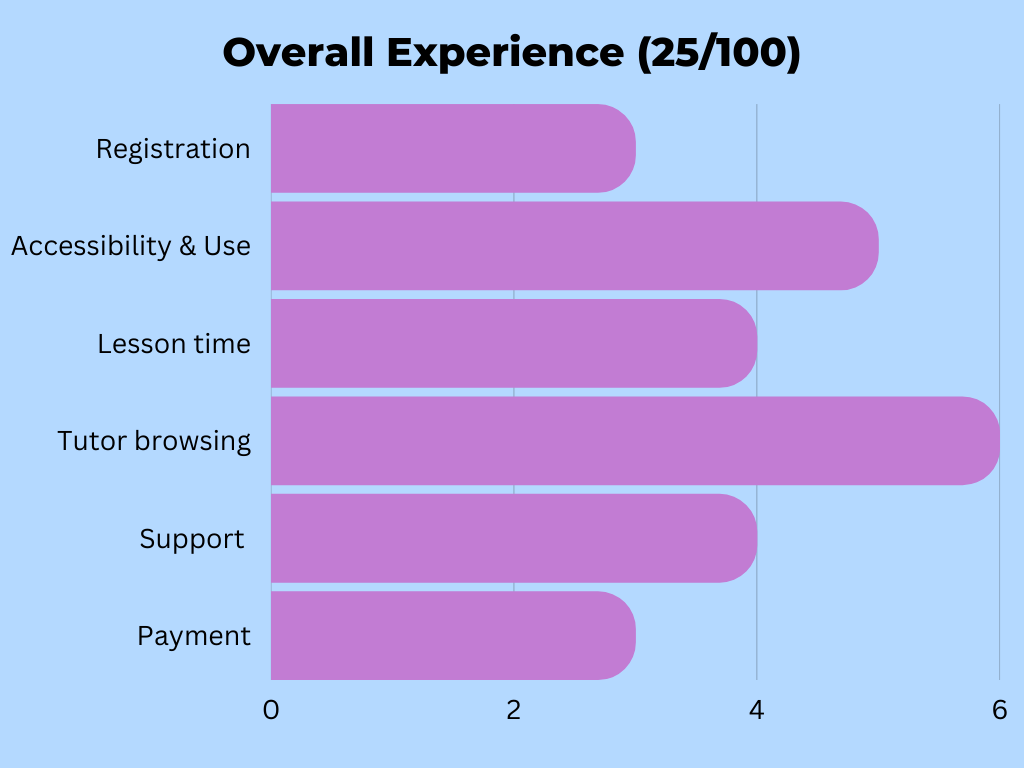 Registration – 3 points
Accessibility and use – 5 points
Lesson time – 4 points
Tutor browsing – 6 points
Support – 4 points
Payments – 3 points
Language learning has transformed entirely from the traditional classroom to online. The conventional methods have given way to technology-fueled, personalized learning experiences that are accessible at any time and any place. When we test these services in a real experiment, we evaluate various aspects such as the sign-up process, user interface, lesson duration, content volume, help and support, and payment options.
Registration
When all the doubts and second guessings are left behind, students usually start to take action on their long and hard way of language acquisition. The first climb is the registration process. We believe that it needs to be easy and fast. We check what is needed to create an account (an email address, a phone number, or third-party accounts), and if the process is speedy and trouble-free.
Accessibility and use
Another aspect that is worth mentioning is the accessibility of the website. The A*Help team understands that students are overwhelmed with a number of various tools and services and they need something simple and easy to navigate when there is such an ambitious goal as learning a new language. Sure, for many having a lesson via a laptop would be a rather familiar approach. But these days, learners tend to rely on their phones more. So, Academic Help makes sure there's a working app that can be used on various devices.
Next, we need to check if the learning website makes it easy for a student and a teacher to connect. Notifications about upcoming lessons are a handy feature. We also look at where the lessons are held. If you're using a language learning website, you'll usually have your lessons in a built-in classroom. But we always consider different scenarios. Sometimes, learners might feel comfortable having lessons via Zoom or Skype. So, we check these options as well.
Lesson time
Learning a new skill is tough, so the A*Help team wants to make sure that every website we evaluate has an element of comfort. This aspect is crucial when it comes to lesson time. The Academic Help experts check if it is possible for learners to add their timezone and preferred schedule. Moreover, we understand that online language websites unite students and tutors from all over the world, so adaptability to different time zones is vital.
Next on the assessment agenda is the duration of every lesson. Some students are keen on having a standard 50-minute session with their teachers. On the flip side, there are those who choose shorter lessons that last 30 to 45 minutes. Or there are such language buffs who are eager to have even 90-minute sessions. Besides all that, we put emphasis on the rescheduling and last-minute cancellation options. The A*Help team understands that there are many unexpected situations and the element of flexibility is important for many students.
Tutor browsing
Not only should students feel freedom when choosing lessons but also when picking a tutor. We understand that this is one of the hardest decisions to make. However, we believe that an array of options can make it easier.
Students have different tastes. While some feel comfortable working with native speakers, others opt for teachers who share the same mother tongue with a student. The A*Help understand that there is a great number of multilinguals who like learning languages when they have a chance. For such cases we check the option if a language learning website can provide lessons with teachers who speak more than one language. Besides, goals of learning a foreign language can be different. Some need to learn basic phrases to say when on trips abroad and would book classes with community teachers. Others have broader goals which demand a professional tutor with a proper background in teaching and knowledge of the subject. Additionally, our experts verify if the website can grant a certificate about the course completion.
But tutor browsing is not only about the teaching approach. Conversely, it is about communication and bonding. Having an option to keep in touch with a tutor is a must. Be it on the website itself or through other messengers. It helps to build trust. Then again, not all students are lucky to connect with a chosen tutor from the first try, so they proceed searching for another teacher. Academic Help verifies if the language learning service presents an option to change the tutor or even a course.
Support
Every user of any website highly appreciates the availability of support. Students on language learning websites are no exception. The A*Help experts assess if it is convenient for students to communicate with the support team and whether their issues are resolved speedily and successfully. We also make sure there are helpful guides for learners that answer important questions.
Payments
After the multifaceted assessment of every website we always go to the final point – the payment. At Academic Help we are aware that every transaction needs to be safe, seamless, and transparent. Besides that, we check what cards are accepted. Mostly, the language learning websites accept different bank cards and online wallets.
Tutor Quality- 50% of the A*Help score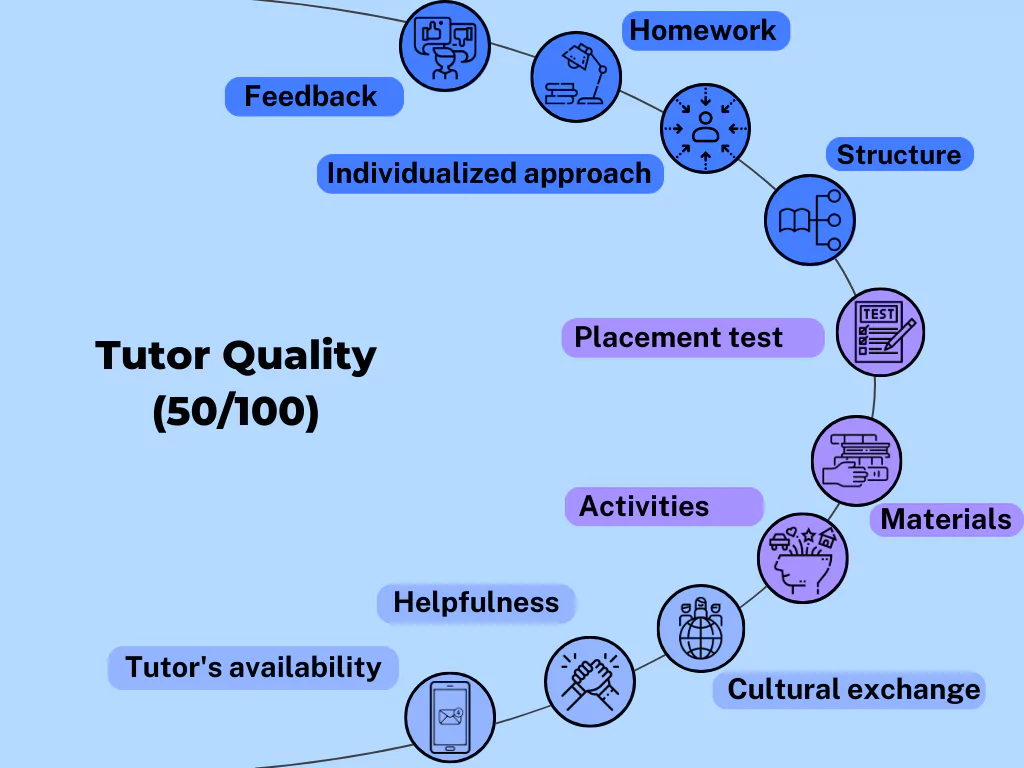 Tutor-student communication – 20 points
Available materials – 5 points
Teaching methodology – 25 points
Tutor student communication
Academic Help continues to underscore the importance of communication. We believe that it is one of the most essential components of language acquisition. Without adequate interaction, constructive criticism, and encouragement, learners can stray from their ultimate objective and become disheartened. When learners choose to learn a language with a tutor, they are looking for direction and assistance.
Available materials
Professional tutor who has excellent command in teaching methodology is a great advantage. Plus, a teacher who shares and builds the lessons around updated and useful materials is yet another plus. The learning experience is enhanced with proper resources, books, articles, and tests that cover personal goals. It brings immense value and efficiency to the learning approach..
Teaching methodology
Students search for tutors to help them with different language goals. And all of them do require a meticulous and individual approach. Tutor's ability to adapt and create personalized lesson plans tailored to each student's needs is instrumental in effective language learning. This includes implementing a placement test to evaluate the learner's current skill level.
It is essential to add that a comprehensive learning approach includes homework assignments and feedback. Moreover, a well-structured lesson with references to previous classes ensures continuity and a logical progression of enhancing language skills. It leads to a more effective and satisfying learning experience.
The Negativity Rank
Before we execute the above-described methodology on real experiment, we closely sieve through the Internet for honest review on every websote from sites, such as Reddit, Trustpilot, Sitejabber, and Reviews.io.
The A*Help team filters through the fake and overly exaggerated feedback and chooses only impartial comments to work with. One note, we do pay attention to the minuses that are voiced because we believe such a deep investigation and the "look behind the curtains" helps to get the most genuine impression about the chosen website.
Each negative review is assessed on the credibility and severity of the described issue. Credibility or plausibility stand for the likelihood of the problem. And severity describes the seriousness of the issue. Afterwards, our experts rate the negative feedback and present the average score.
Final Thoughts
The Academic Help team is your trusted advisor in the education sphere. Our all-encompassing approach is set to find the websites with which students can start learning foreign languages and getting ready to take international exams. We aim to find services that have skilled tutors with professional methodology and personalized approach to help aspiring learners get the grasp of foreign languages.
Read more:
How We Test Essay Writing Services
How We Test Custom Dissertation Writing Services
How We Test Everything We Review
How We Test Programming Homework Help Websites
How We Test Plagiarism Checkers