Quick Overview
Verbling has provided students with its language tutoring services since 2011, but is it one of the best online language learning sites? Over the years they gathered many professional tutors, ready to cater to your needs and help you achieve your language goals.
Value for Money — 19/25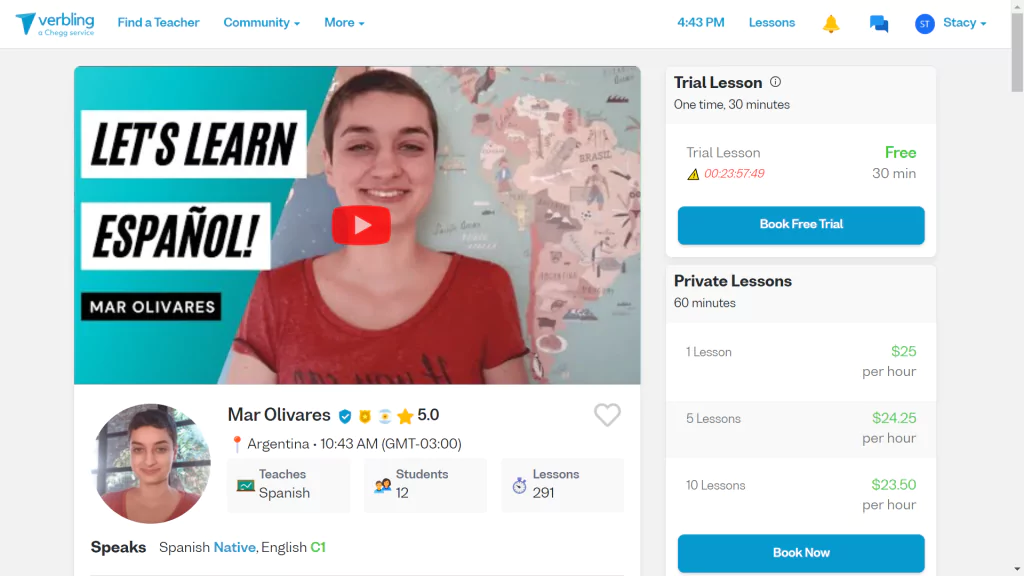 Overall Experience — 23/25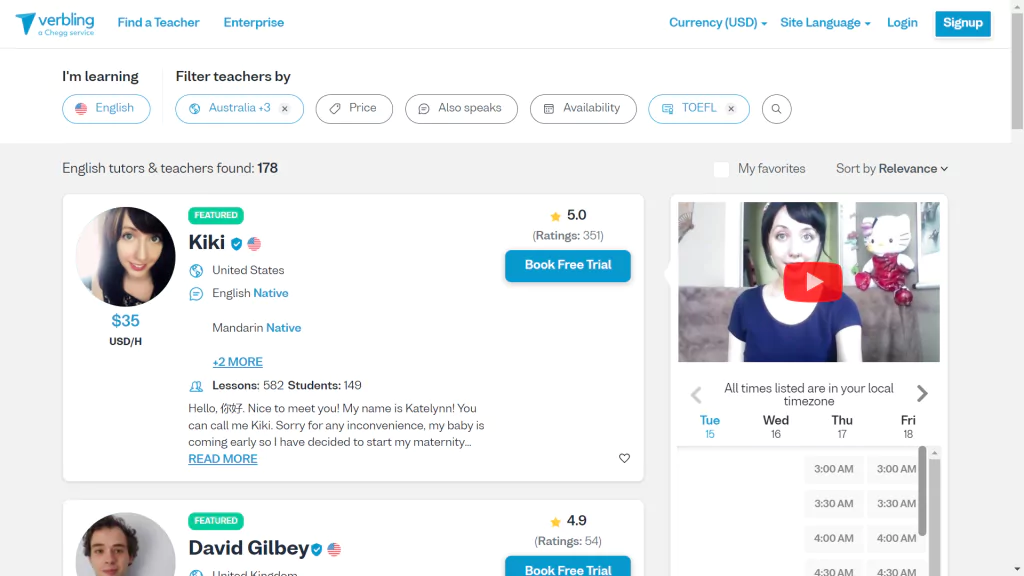 Why academichelp.net is a credible source of information:
Stay curious with us. Academichelp.net has been a reliable educational resource since 2011, providing students with the latest news, assignment samples, and other valuable materials. Even with the extensive information we process, our quality remains consistent. Each team member has experience in education, allowing us to evaluate new sector offerings critically. Our reviews are up-to-date and relevant, with impartiality ensured by the A*Help score methodology from mystery shopping. We aren't affiliated with any listed service providers. Our focus remains on providing our audience with reliable and unbiased data.
Verbling Specs
> Variety of subjects
Language classes
✅
Arts (music, theater)
❌
Literature
❌
Science (mathematics, IT, biology, chemistry)
❌
> Types of classes
Single lessons
✅
Group lessons
❌
Bulk classes
✅
Speaking clubs
❌
Corporate classes
> Price
Can choose the price per lesson
✅
Pay in installments/per class
✅
Price per lesson (e.g. 30/45/60 minute lesson)
❌
Subscription plans
✅
for a number of classes
> Special offers
Discounts
✅
3% off when buying in bulk, 10% coupon for first timers
Free lesson/trial
✅
30-min free trial
Community for learners (articles, podcasts, tests)
✅
Referral program
❌
> Registration
Need a phone number to register
❌
Need an email to register
✅
Uses third-party registration methods (Apple, Facebook, Google, Microsoft account)
✅
Apple ID, Facebook, Google
> Accessibility&Use
Built-in classroom
✅
Third-party video call tools
❌
Easy to navigate
✅
> Lesson time
general time of the day (time period)
✅
specific time
✅
any time
❌
time zone
✅
class duration
60 minutes
re-scheduling of classes
✅
late cancelation
✅
> Tutor browsing
Origin (country)
✅
Language
✅
both Natives and Non-natives
Additional languages (if the teacher speaks more than 1 language)
✅
Skill level/teacher type
✅
both Professional & Community tutors available
Certificates/ Credentials
✅
Availability
✅
Change of a tutor
✅
Course switch
✅
> Payments
Paypal
✅
Google pay
❌
Apple pay
❌
Visa
✅
Mastercard
✅
American Express
✅
Discover
✅
FAQ
Verbling Reviews
We want to present you with the whole picture about a certain platform. That's why we go on websites like TrustPilot, Sitejabber, Reviews.io, and Reddit, looking for user feedback. We don't skip on analyzing the negative comments and present our findings in the Negativity Rank section of our reviews. Don't forget to check it out when you are reading them.
Is Verbling a Scam?
Our A*Help team created an account on the Verbling platform and browsed through its courses and tutors. We checked how bookings worked, and how the payments were processed. After taking such a close look, we can confirm that Verblin is not a scam.
Is Verbling Legit?
As a well-known platform, Verbling showed to have a wide audience and a a record of satisfied customers. As it has consistently fulfilled its service promises, we consider this platform to be a legitimate one.
Is Verbling Safe?
As we created a profine on Verbling, we didn't have to provide any personal details. We also didn't notice any data leakages when using the platform. Hence, you can be sure to safely use this service.
Is Verbling Trustworthy?
Since 2011, Verbling has established a reputable image in the online language learning community for itself. It became a popular platform with many happy users behind its shoulders. We don't see any reasons why you wouldn't trust a website with such a record.
Is Verbling a Good Service?
We saw many students positively react to their experience with Verbling. This shows us that it can be a good website for you to find a tutor for language learning. Our A*Help team will also later add its own rating if this service.
Follow us on Reddit for more insights and updates.