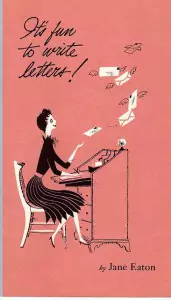 AcademicHelp Learning Hub
Use the most powerful academic tools to write better with AI, check for plagiarism and detect AI content!
Informal writing might not exactly be rocket science, but it still requires knowing some basic knowledge of the principles and rules that cover general letter writing approaches. Whether you are writing to a friend to share your experience of a recent trip, or writing to thank your high school tennis coach for the useful practice that you are now polishing up at college, or inviting an international student from Europe you made friends with while on vacation to come visit you, there are general guidelines concerning the structure and style of an informal letter with which you need to get acquainted.
There are several basic situations when an informal is written.
Congratulating on a wedding, birthday, birth of a child, graduation, etc.
Thanking for a favor, invitation, advice, etc.
Inviting someone to a wedding, retirement party, housewarming party, baby shower, or any other celebration
Accepting or refusing an invitation
Requesting information or replying to such a request
Apologizing or expressing regret/sympathy
Asking for or giving advice, recommendations, sharing experience, and the like
Transactional letters—in reply to a magazine prospect, brochure, advertisement, etc.
Steps for Writing an Informal Letter
Start with an appropriate greeting—depending on whether you are comfortable with addressing your recipient by their first name, last name, or sir/madam.
Compose an introductory sentence where you state the reason of your writing (it can be anything from a complaint to accepting or refusing an invitation, or replying to an e-mail you received).
Write the main body of your letter, in which you develop the subject into one or two paragraphs.
Create a concluding paragraph consisting of one or two sentences in which you sum up the letter and express your willingness to continue the correspondence. You can also thank your recipient for a favor, prompt reply, etc.
Have a suitable ending (could be anything from Love/Yours…, Best wishes/regards, to Sincerely/Faithfully yours).
Put a date and a signature (both optional).
Proofread your letter.
Key Points to Consider
Informal letter writing allows one to choose from a variety of expressions, both formal and informal, depending on the particular situation. You can even use slang, a conversational style, contractions, and abbreviations. However, try to keep it balanced and to not overuse simplifications, so your letter does not sound too lax or impolite. Some language might sound okay when you say it in person, but the same expression might not be appropriate to use in a letter, even an informal one. Overall, the general rule is to use common sense and write in a natural way.
You have the freedom to use idioms and colloquialisms to enrich your writing. You can also leave out pronouns and articles where possible, but make sure your writing is understandable and you don't have run-on sentences with thoughts that are jumbled. Stay organized, use a simple sentence structure, and logically develop your thoughts.
If you are writing an e-mail, the general rule is to leave a blank line between paragraphs for the sake of mere visual convenience. For the same reason, when writing an informal letter, it is advisable to start every paragraph with a little indent at the beginning of the first line.
Use present continuous when talking about your expectations (e.g. "I will be looking forward to hearing from you…") or stating the purpose of your letter (e.g. "I am writing to you on behalf of/with regard to…"). Use present perfect or past simple when giving news or describing recent events.
Try to split the main body of your letter into at least two or three paragraphs instead of cramming your content into one big paragraph. The information is much better perceived when divided into logical sections, each starting with a general topic sentence.
You can end your informal letter with a question or two to your recipient with regard to the letter to which you are replying, or just to continue the correspondence you have started. It will show your interest in the life of your pen-pal or relative, as well as being a logical way to end your letter by showing enthusiasm and encouraging your recipient to reply.
Practical Tips for Writing Specific Types of Letters
1. Letters of Invitation
– Can be informal, semi-formal, or formal.
– Must contain additional information about the event (place, date, dress code) with clear directions for how to get to the place, if necessary.
– Opening remarks: We would be honored if you…/ Your presence would be appreciated at…/ I'd love if you could come to…/ We are organizing a…/ I cordially invite you to…
– Closing remarks: We would be grateful if you could…/ please indicate whether you would be able to attend…/ I hope you can make it…/ Hope you can come/ Looking forward to seeing you at…/ Please let me know if you can come.
2. Letters Accepting an Invitation
– Can be informal, semi-formal, or formal.
– Must contain a clear response regarding your attendance at the event.
– Opening remarks: I am writing to thank you for the (kind) invitation…/ Thank you for the invitation which I would be honored to accept…/ Your invitation sounds lovely/ I am very much willing to go.
– Closing remarks: We await the event with great anticipation/ I will be looking forward to the party/ See you then/ We're really looking forward to your party.
3. Letters Declining an Invitation
– Can be informal, semi-formal, or formal.
– Opening remarks: Thank you for the recent invitation, but unfortunately …/ I am afraid I will not be able to make it/to accept your invitation/to come to your event/party.
– Closing remarks: I am sorry to miss the opportunity of greeting you in person/ Thank you again for the invitation/ I hope we will have another opportunity to meet/celebrate…/ I am really sorry I will have to miss it/ I'm sure we can get together some other time.
4. Letters of Apology
– Can be formal or informal.
– Should include reasons for the inconveniences caused or an explanation of why the duty/promise cannot be fulfilled.
– Opening remarks: I am writing to apologize for…/ Please accept my sincerest apologies for…/ How can I apologize enough for…/ I must apologize profusely for…/ I owe you an apology…/ I can't describe how sorry I am and how guilty I feel.
– Closing remarks: Once again, my sincerest apologies for…/ I hope you understand/ I hope my apologies will be accepted…/ I know there is no excuse good enough for… and I just hope you can forgive/understand me.
5. Transactional Letters
– Are written in response to writing input (ads, notes, brochures, prospects, website information, advertising e-mails, etc.)
– Can be both formal and semi-formal.
– One normally asks for additional information about the subject presented, or makes a call for an explanation/clarification of the information given earlier.
– Opening remarks: In response to your advertisement in…/ I am writing to inquire about/in connection with…/ I would be grateful if you could send me additional information about…/ I would appreciate some information about…/ Another matter I need information on…
– Closing remarks: I look forward to receiving…/ I would appreciate your prompt reply/ Please inform me as soon as possible whether my request can be fulfilled.
Do and Don't
Do

Do remain polite no matter how informal your letter is.
Do state the purpose of your letter right from the start.
Do use simple connecting words to make your writing flow more logically: then, later, but, at the same time, finally, etc.
Do start a new paragraph for each new aspect of the topic instead of writing one solid never-ending paragraph.
Do remain mildly emotional, especially in semi-formal letters (like a letter of complaint, greeting, invitation, etc.).

Don't

Don't overuse exclamation marks, even when writing to a friend or close relative.
Don't refrain from using opening and closing remarks to format and frame your letter properly.
Don't jump from one thought to the other without a logical general pattern—try to organize your thoughts and follow some sort of structure as you write.
Don't use long complicated sentences with compound clauses and complex structure. Letter writing in general and informal letter writing in particular are about making it easy for the recipient to understand the idea without having to reread the sentence to get a sense of it.
Now that you have acquainted yourself with the basic informal letter writing tips and rules, you can check out our informal letter samples to link theory with practice.
Follow us on Reddit for more insights and updates.
Samples for Writing an Informal Letter
Hey Gerald, That is interesting that you are heading into the field of technical writing. It seems we are really brothers-from-another-mo...