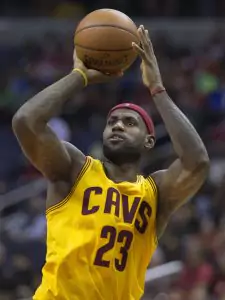 Lebron James (LeBron Raymone James Sr.) is one of the most popular basketball players now, and sometimes considered the best basketball player in the world. He won the National Basketball Association (NBA) Most Valuable Player Award four times, three NBA Finals MVP Player awards, and two Olympic gold medals. James has also been in 15 NBA All-Star Games and was the MVP All-Star MVP three times. This is just a short list of his accomplishments, as he has dominated the sport since his teen years. Even though people know him as a phenomenal basketball player, this essay will divulge information about his private life and what journey he went on to become a professional basketball player.
AcademicHelp Learning Hub
Use the most powerful academic tools to write better with AI, check for plagiarism and detect AI content!
He was born in 1984, December 30, in Akron, Ohio. His mother, Gloria Marie James, was 16 years old at the time of his birth, while his father, Anthony McClelland, has a criminal record and was not present in his early life and now. As a single mother, Gloria, moved from apartment to apartment, ending up in Akron. She struggled to find a stable job. Eventually, worried about LeBron's upbringing, she brought him to live with a local football coach named Frank Walker. LeBron was nine years old at the time, and the Walker introduced basketball to him (Sharp, Anne Wallace).
By the time he was in the fifth grade, LeBron was playing in an organized basketball team. Namely, he played for the Northwest Ohio Shooting Stars for the Amatuer Athletic Union. He made strong bonds with teammates Sian Cotton, Dru Joyce III, and Willie McGee. They had a lot of success at the local and national level while being on the team, and they decided they would all go to the same high school to remain as a team. Controversially, the four students chose to attend St. Vincent–St. Mary High School, which primarily was a white school, whereas LeBron and his friends were black (Nichols, Rachel).
It was obvious that LeBron was a natural, as even as a freshman, he dominated the high school circuit. In his first year, he averaged 21 points and 6 rebounds per game. The St. Vincent–St. Mary High School's team, The Fighting Irish, went undefeated in the season, 27–0. This made a new record for the first high school boys basketball team in Ohio to go undefeated in a season. After this first year, Lebron was a sensation, and went into his sophomore a star. He did not disappoint the fans, with 25.2 points and 7.2 rebounds with 5.8 assists and 3.8 steals per game. For some games, bigger venues had to be booked to accommodate the amount of people who wanted to watch the games of the team. NBA scouts were already taking a keen notice of LeBron. That year, the team went 26–1, and LeBron was named "Ohio Mr. Basketball" and was chosen for the USA Today All-USA First Team. He was the first high school sophomore to do so (NBA.com: Prospect Profile: LeBron James).
Before entering his junior year of high school, LeBron was getting a lot of press. He was featured in the American basketball magazine Slam on the cover, and was called, "the best high school basketball player in America right now" ("Ohio Player"). LeBron also became the first high school basketball underclassmen to appear on the cover of Sports Illustrated. His junior year was spectacular as well, with an average of 29 points, 8.3 rebounds, 5.7 assists, and 3.3 steals per game. Again, he was crowned "Ohio Mr. Basketball" and selected for the USA Today All-USA First Team. In addition, he became the first junior ever to be named male basketball Gatorade National Player of the Year. However, his team did not do as well as in the previous two years, with a record of 23–4 (Sharp, Anne Wallace). This was a difficult time for him, as he was getting a lot of media attention and he did not know how to deal with it properly. He started to use marjuana as an anti-stress tool. To add to the anxiety, he wanted to enter the NBA draft early, but the NBA would not sway the rules for him, and he had to compete in his senior year in order to enter the NBA. Just a side note: LeBron also played football through his freshman to junior year, and also produced a good record ("LeBron's Book Shows Struggle With Fame").
His averages continued to make gains, with his senior year closing out at 1.6 points, 9.6 rebounds, 4.6 assists, and 3.4 steals per game. LeBron and the Fighting Irish played against many national teams, and some games were even televised as pay-per-view games due to LeBron's fame. For a new record, Lebron was named "Ohio Mr. Basketball" and selected for the USA Today All-USA First Team for the third year in a row. Again, he was named Gatorade National Player of the Year. He participated in many end-of-the-year competitions for high school and officially entered the NBA draft. There were some issues during his senior year, though, with run-ins with the law. His mother gave him a gift of a Hummer through a loan based on his viability as a future NBA player. This was against the rules of the Ohio High School Athletic Association, but he was eventually cleared of all wrongdoing. Furthermore, he accepted gifts from fans who wanted him to pose for pictures with them. He was suspended for two games for this, but made an amazing comeback in the game after the suspension, scoring a high school career-high of 52 points (Bolch, Ben).
In the 2003 NBA Draft, he was the first overall pick. His hometown team, the Cleveland Cavaliers, chose him. And the decision seemed to be a solid one: in his first NBA game, he scored 25 points against the Sacramento Kings, which set a record for the most points scored by a prep-to-pro player ("Expectations for James More than Met"). The rest, you can say, is history.
LeBron James might be the best basketball player of all time, if not the most talented. Coming from a mother without much of a home to give, he found wings in the home of a football coach. He played football and basketball throughout his school days, but excelled most in basketball. By the end of his freshman year in high school, he was already a local and even national star. And by the time he was a sophomore, it was clear he was going to be in the NBA. Through some legal issues, problems at home, and media attention, LeBron found the strength and focus to play to the best of his ability and became an international sensation in sports history.
This is an example of an expository essay. Most of the time, this type of texts requires a lot of thorough research. And gathering all of the facts can take quite some time as well. Spending so much effort on just one essay may be frustrating. Think about looking for the best essay writing service reviews – they have some information that can help make the creative process much easier.
Works Cited
Sharp, Anne Wallace. LeBron James. Lucent Books, 2008.
Nichols, Rachel. "LeBron James Opens up on His New School, the Lakers and Life's Challenges." ESPN, ESPN Internet Ventures, 30 July 2018, www.espn.com/nba/story/_/id/24194051/lebron-james-discusses-opening-public-school-akron-move-los-angeles-lakers-nba.
NBA.com: Prospect Profile: LeBron James, www.nba.com/draft2003/profiles/JamesLeBron.html.
"Ohio Player." SLAM, 30 Dec. 2014, www.slamonline.com/nba/ohio-player-lebron-james-first/.
"LeBron's Book Shows Struggle With Fame." CBS News, CBS Interactive, 24 July 2009, www.cbsnews.com/news/lebrons-book-shows-struggle-with-fame/.
Bolch, Ben. "James Is Too Much for Westchester." Los Angeles Times, Los Angeles Times, 9 Feb. 2003, www.latimes.com/archives/la-xpm-2003-feb-09-sp-hslebron9-story.html.
"Expectations for James More than Met." ESPN, ESPN Internet Ventures, 30 Oct. 2003, www.espn.com/nba/recap?id=231029023.
Follow us on Reddit for more insights and updates.
Related Writing Guides
There are three main types of expository essays: scholarly writing used mainly for academic purposes, which describes or examines a process in a comprehensive way; analyzing a concept, which describes and explores a written work or an event; also, exposi...