With hectic schedules and millions of things on your to-do list, it is extremely easy to get bogged down in daily routines without any chance to find a spare moment for your academic assignments. This is when custom writing services step in to throw a lifeline with their professional writers at your disposal to cover all possible topics and tasks – from essays to dissertations. But having to choose a reliable provider of essay writing services is another challenge due to scarcity of information and obvious lack of transparency and genuine reviews.
We have compiled a list of the best essay writing services that just get the job done for you, when you have a lot going on. For the sake of being clear and consistent with our judgment and assessment, we have introduced our own rating framework, called A*HELP score.
Our approach to paper writing service reviews
Our experts conduct mystery shopping by placing orders with essay writing providers and analyze all vital aspects of the customer journey. We scrutinize how smoothly the ordering process unfolds and how customer support deals with inquiries and requests. Received papers are sent to US professors for evaluation through the same standards and criteria as those applied in US colleges and universities to ensure that the outcome can be projected on a real-life situation.
Three pillars supporting the A*HELP score are Value for Money, Overall Experience and Paper Quality. In our opinion, they incorporate all important aspects of custom writing services to meet the needs of customers and solve their problems. This is the first attempt in the essay writing niche to introduce a customer-first approach to choosing the best writing services.
Best essay writing service reviews according to the A*HELP score (October 2022)
Our current pick for the best essay writing service as of October 2022 is Customwritings.com. It's a service that provides great quality and does just about everything right. It's a great pick for writing essays.
TOP essay service reviews
According to our Mystery Shopping Reviews (August-September 2022) we can recommend the following legit writing services: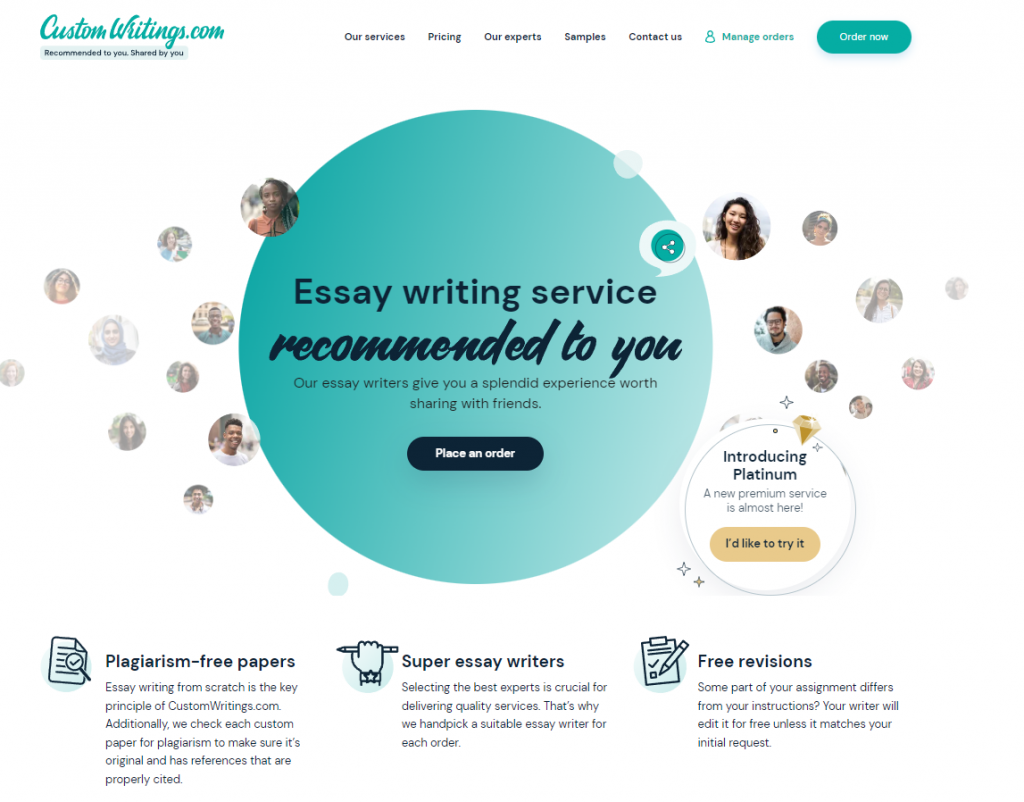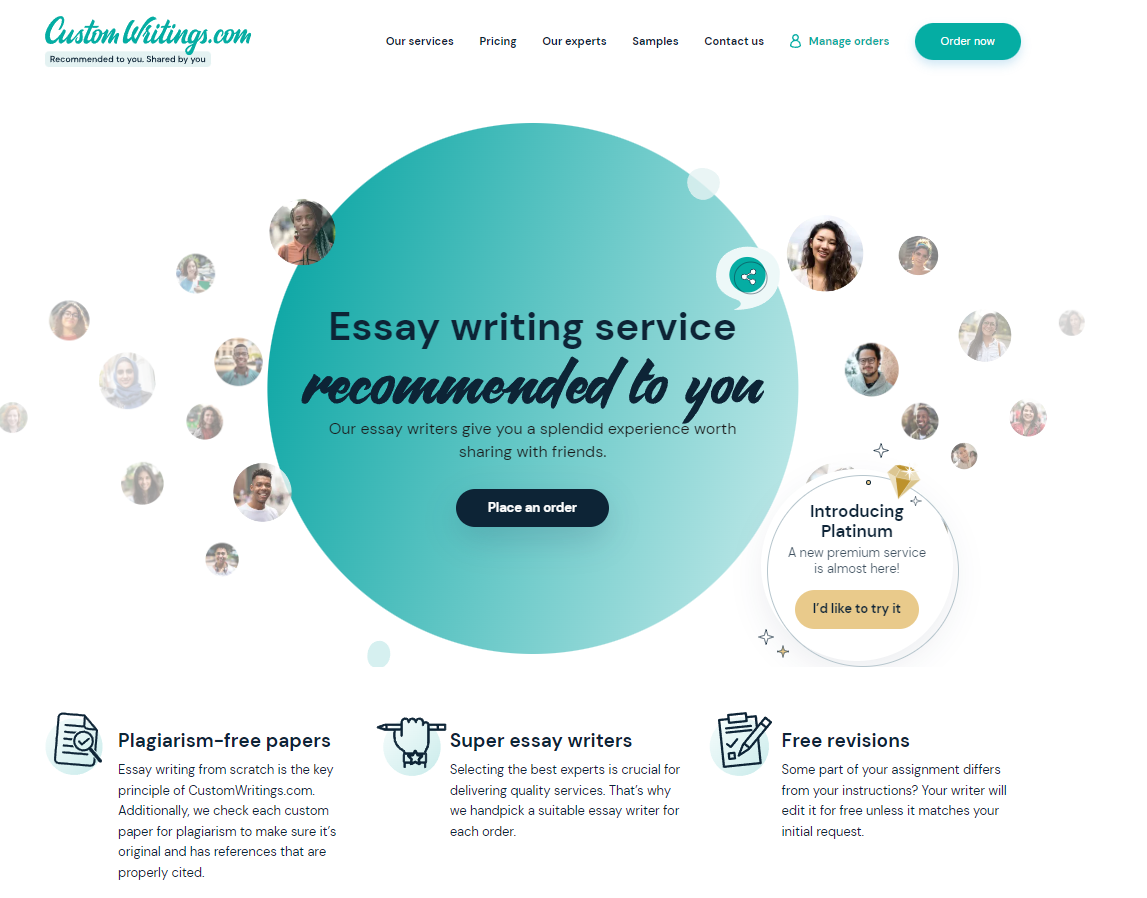 Value for money – 22/25
Overall experience – 23/25
Paper quality – 41.75/50
One of the old-timers of the industry with more than 15-year experience in essay writing business. CustomWritings.com has earned an excellent reputation over the years and turned into a household name when it comes to writing papers and fulfilling academic assignments. This service should be given praise for consistency in its efforts to make quality and customer satisfaction their top priorities from top to bottom throughout all their processes.
We audited CustomWritings.com with two assignments, and they did really well across all reviewed aspects. Our US-based professor graded their paper with the highest score 92.6 out of 100 pts, pointing out flawless integrity (100%), spelling (97%), grammar (100%), punctuation (97%), clarity (100%) and objectivity (98%). Generally speaking, CustomWriting.com produced top quality papers, reaching the second-highest result in our rating in this category.
Our mystery shoppers were delighted with the level of communication with assigned writers about orders. The writers took time to find out our preferences and personal details to incorporate the data into their texts so that they align with potential customer writing style and personality.
Minimum price per page starts at $10, but we would put this service into a somewhat pricey category since our average paper price was $81, which is above the industry medium level. But everything comes with a price and you get what you pay for, you know. With high quality papers, positive overall experience and value for money ratio, this website deserved the top position according to the A*HELP score. They just get the job done for you.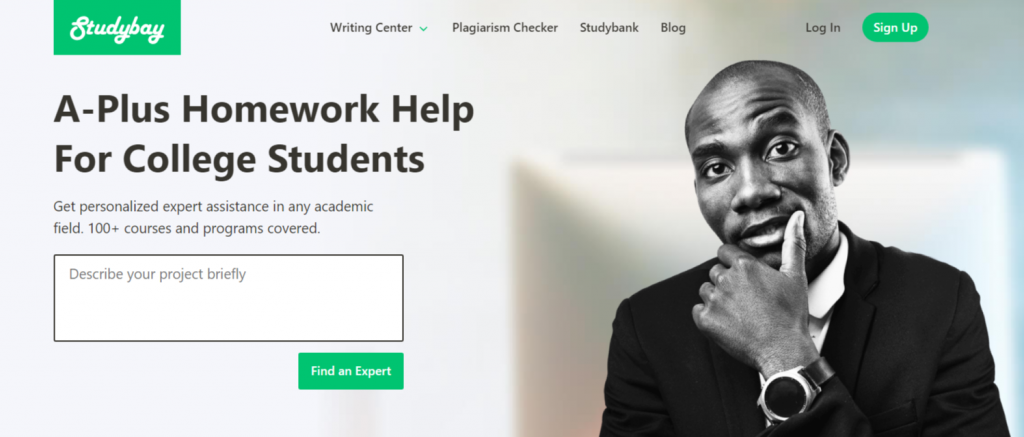 Value for money – 21/25
Overall experience – 25/25
Paper Quality – 36.43/50
StudyBay.com began operation in 2012. They provide personalized assistance in different academic fields. The website excels in overall experience, making it really easy and enjoyable to place orders and interact with their platform. But one alarming thing that should be taken into account is the disparity of scores for their papers.
According to our audit methodology, we placed two orders at StudyBay.com and asked a US professor to check them. We had expected to receive similar results, but to our surprise, one of the papers failed to reach the minimum accepted score of 60 pts. The paper with a 7-day deadline (so many days for completion!) was given stunning 57.7 pts (out of 100), which prompted us to believe that the writer selection algorithm could potentially have a huge impact on the final outcome.
The main problems identified in the paper included word choice (59%) and formatting (main problem area—source detail (issue no., date); most frequent error types — attention to detail, element misformatted, element miscapitalized. Incorrect reference section header).
In sharp contrast, the paper with a 6-hour deadline skyrocketed to 88 out 100 pts. We do understand that more research is required to draw further conclusions about the paper quality of SpeedyPaper since this case can be attributed to the random factor of the writer's subjective situation. The average score for their papers stands at 72.85 pts.
One point to mention is that we were a bit confused by StudyBay's pricing approach. Our urgent order which resulted in the high score was quoted almost twice as low as the order with a 7-day deadline – $34 and $65. We didn't have this significant price difference with other participants of this TOP-list with essay writing services reviews.
StudyBay.com impressed us with the overall user experience, offering a wide array of payment options, high communication with the writer and 24/7 support availability.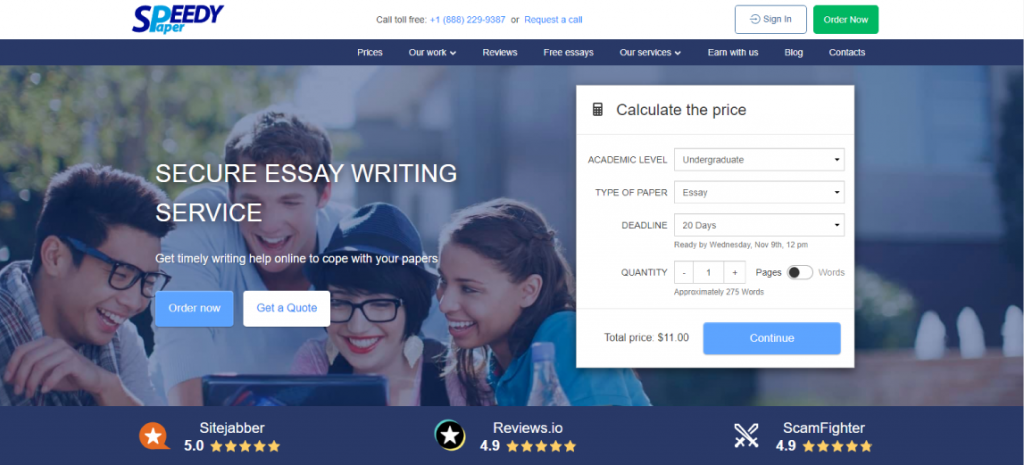 Value for money – 23/25
Overall experience – 16/25
Paper Quality – 42.95/50
SpeedyPaper is another established provider of essay writing services with 8+ years in this field. It's a great outlet to meet your writing needs.
Our assessment of the website is torn between two conflicting issues. On the one hand, we received high quality papers and the highest average paper quality score in our rating (85.9) as both papers were equally good, but for minor drawbacks with the word choice (77%), grammar (89%) and clarity (74%). On the other hand, we didn't enjoy sufficient communication with their writers and were limited with payment options. Interaction with the writer was low, which left us wondering whether the final result would comply with our personal preferences and traits to be incorporated into the paper. This furnishes room for improvement. Food for thought for SpeedyPaper.
Other than that, SpeedyPaper is definitely a service to be recommended. They fall into a medium price segment, with the average paper price at $60.66. Minimum price starts from $9. Our orders were delivered ahead of deadline and customer support was helpful and responsive.
We can say for sure that SpeedyPaper puts customers first, and they are determined to produce the best quality with their services. At the end of the day, the main goal of the essay writing service is to provide decent and plagiarism-free papers, which SpeedyPaper did quite well.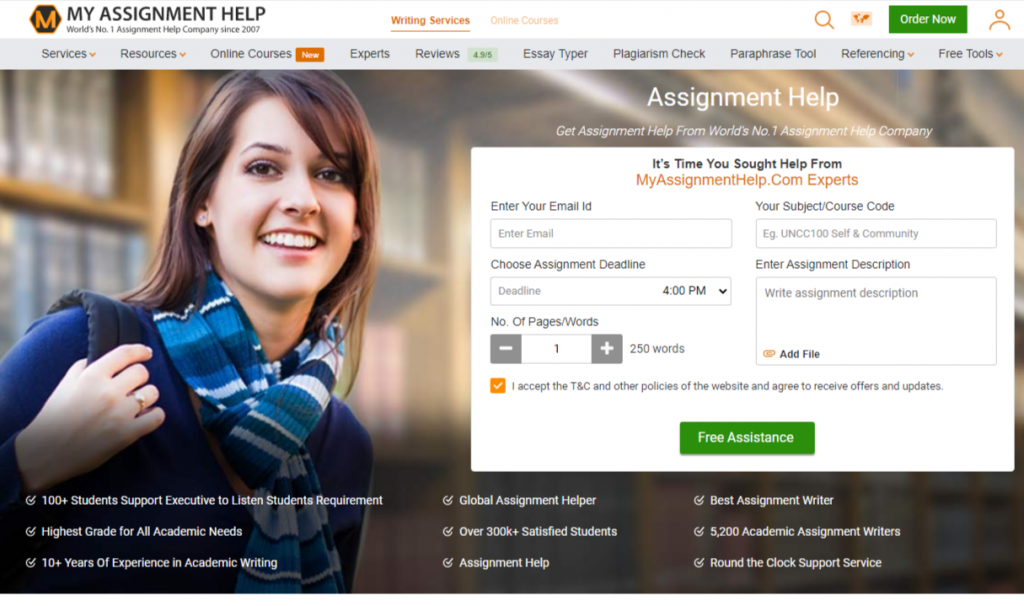 Value for money – 25/25
Overall experience – 21/25
Paper Quality – 34.88/50
MyAssignmentHelp.com was set up in 2009, and they are one more seasoned and reputable provider of online assignment help with affordable pricing. They claim to be budget-friendly, and it turned out to be 100% true.
Both our orders were quoted $40, which keeps their average paper price at a lucrative $40-level, the second lowest price in our rating. Low-priced segment always raises questions about integrity and paper quality. Can they deliver what they promise and advertise? Unfortunately, our experience with MyAssignmentHelp.com did prove the point that lower price comes with potential issues with quality.
Our personal narrative essay by MyAssignmentHelp.com received 80.9/100 pts and our memo to the CEO was graded at 58.6. The latter score means that the paper failed to meet the assessment minimum acceptance limit of 60 pts according to the US college grading methodology. Our assessor criticized the document formatting, labeling it "fair", and pointed out issues with grammar (75%), word choice (51%), reference formatting and text efficiency (51%).
In terms of service and overall experience, MyAssignmentHelp.com is a well-oiled machine and well-rounded business. They provide a vast array of free and additional services, users can largely benefit from discounts and their loyalty program, and their support is above all helpful.
We will track MyAssignmentHelp.com and collect more data to support our rating and essay writing services reviews to back up our arguments with even more actual paper scores based on their delivered papers.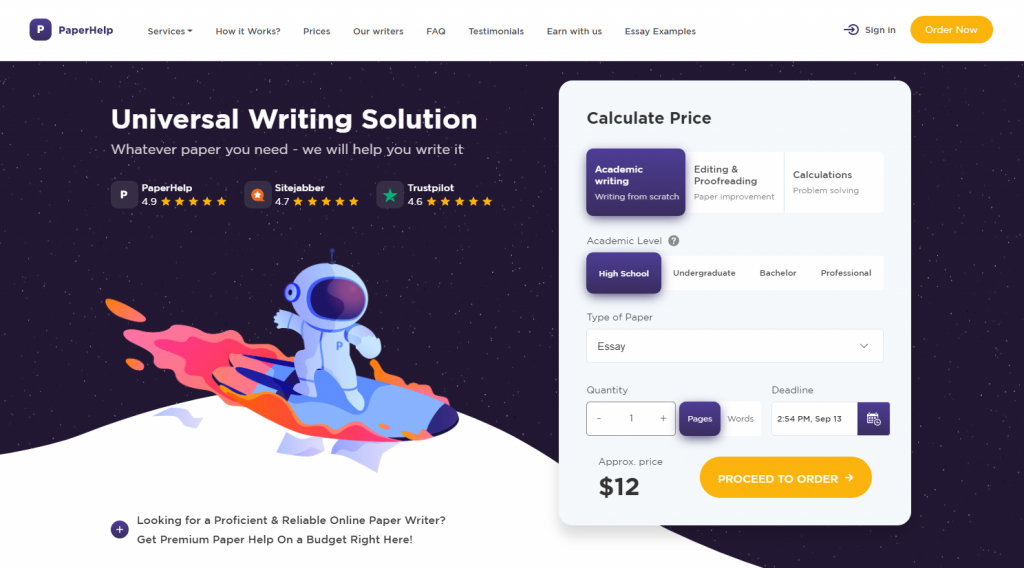 Value for money – 22/25
Overall experience – 19/25
Paper Quality – 37.93/50
PaperHelp.org was registered in 2008 and their major focus is on developing custom academic papers. This is the most expensive website in our rating, with the highest price quoted for the paper in our shopping experience. We were charged a stunning amount of $108.29 for a 4-page memo to the CEO with a comfortable 7-day deadline. Our 6-hour paper request cost us $74.4, taking the average price to $91.35.
We have pointed out that pricing of PaperHelp.org is the top-tier category, which prompts to expect great paper quality. With this in mind, let's look at the scores received by their papers to see how the price and quality compare. Both papers beat the expected grading minimum of 60 pts and came with high scores of 79.8/100 pts (personal narrative essay) and 71.9/100 pts (Memo to the CEO). This leaves us wondering – are high prices justified in this case? To be frank, the highest price doesn't guarantee the highest score, just bear this in mind, when you select any custom writing service.
PaperHelp.org offers few basic payment options, but they have robust discounts and an interesting referral program. On top of that, customers can enjoy a wide selection of free and additional services and justified value for money traits. They do provide quality papers which you can rely on.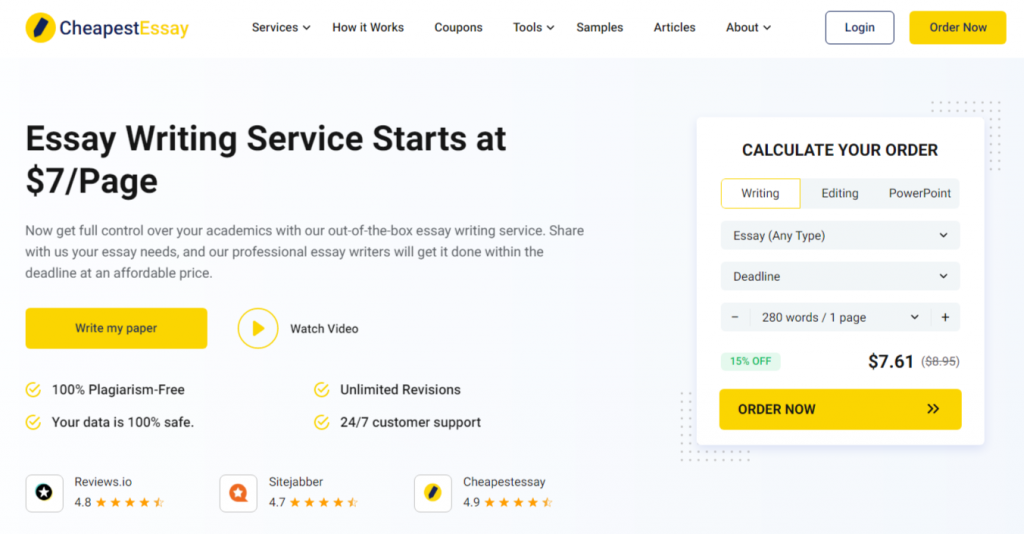 Value for money – 23/25
Overall experience – 16/25
Paper Quality – 38.73/50
CheapestEssay.com came online in 2014. They position themselves as an out-of-the-box essay writing service with affordable prices. We have audited both statements.
First of all, our main verdict is that CheapestEssay.com is surely in the low-budget category, although not "the cheapest", but still affordable. The average paper price for our orders turned out to be $44.07 ($40.72 and $47.42 respectively), which is a good start.
Second of all, their papers were graded with mostly positive scores, nothing remarkable but well-rounded and elaborate. The personal narrative essay was a tiny bit short and the papers showed lackluster results in terms of the text efficiency (51%), clarity and objectivity.
Our experts were picky about the overall experience, citing the low communication with the writer and laid-back attitude of support not rushing to solve our customer problems.
CheapestEssay.com provides great value for money, offering diverse free services, affordable prices and above-average paper quality. It's a solid and versatile provider of essay writing services.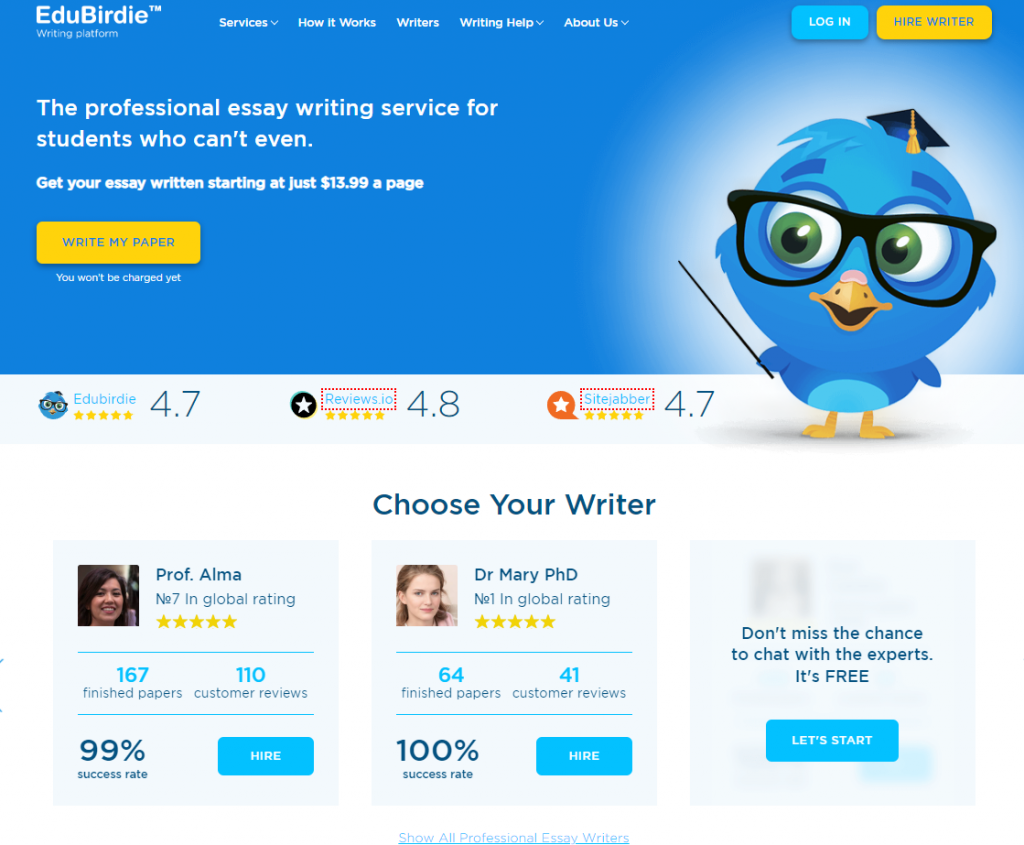 Value for money – 15/25
Overall experience – 20/25
Paper Quality – 37.15/50
With their bluebird brand mascot resembling a distant relative of another famous tweeting bird, EduBirdie.com has been trusted by students since 2015. Medium prices, acceptable quality of papers and generally positive overall experience make this website almost as good as they describe themselves. But for small and recommended tweaks in all our reviews categories.
The average paper price was $72.55, which is far from being the cheapest, but still acceptable. There was a slight difference with quoted prices for our orders – $65 and $80.1.
Paper quality score received 74.3 pts with the papers varying in terms of assessment from the very good document formatting of the personal narrative essay (83.9/100 pts) and the lacking document formatting of the memo to the CEO (64.7/100 pts). Paper aspects such as text efficiency (51%), word choice (52%) and grammar (67%) left room for improvement.
Value for money could be boosted by introducing more additional services and payment methods. The writer's communication within our orders was medium, as almost everything with EduBirdie.com. If we express our opinion in sports terms, this website is a strong and balanced team in the middle of the table that is never relegated to lower divisions, but always has good chances of getting to the top of the league through hard work and a bit of luck.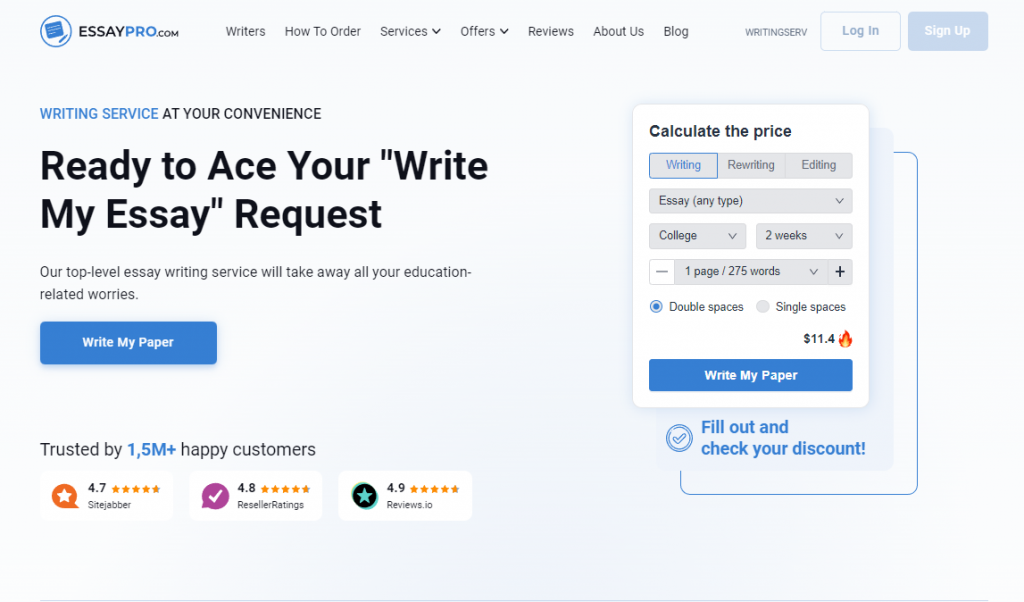 Value for money – 16/25
Overall experience – 24/25
Paper Quality – 37.1/50
EssayPro.com is the absolute winner in terms of paper prices, beating its peers with the bottom-low average price of $35.63. Scandalous prices of $32.49 and $38.76 could easily make you forget about all other aspects – shut up and take my money!
We, of course, take a more balanced approach, scrutinizing EssayPro.com from all possible angles.
This website came out of the blue for many industry veterans, disrupting the traditional way of doing business with its low-budget pricing and aggressive marketing approaches. Let's look at what's going on under the hood of EssayPro.com.
Their biggest bet is the low price – do they manage to make it work as a sustainable business model? Can they ensure high quality of their papers? We would say that it can be a gamble. Our personal essay was written very well and received 89.7/100 pts from the US professor. It drove us to believe that EssayPro.com may have found some magic formula or well-trained AI-algorithm to compile quality papers with low prices. But the harsh reality struck us with the second order, which failed to reach the grading limit of 60 pts scoring 58.7/100 pts. The main drawbacks included formatting (31%) with missing elements, low attention to details, punctuation (51%), and text efficiency (51%). With the overall paper score of 74.2 pts EssayPro.com tanked down our charts.
We had a really great overall experience with this website since they have helpful and responsive support, various payment options and high communication with the writer. Almost perfect overall experience, we would say.
EssayPro.com doesn't offer any additional services, but you can count on a discount provided upon registration. If it hadn't been for the lapse with the quality of one of our papers, we would have called EssayPro.com the best and most valuable essay writing service. We hope they will earn this title through our future mystery shopping efforts.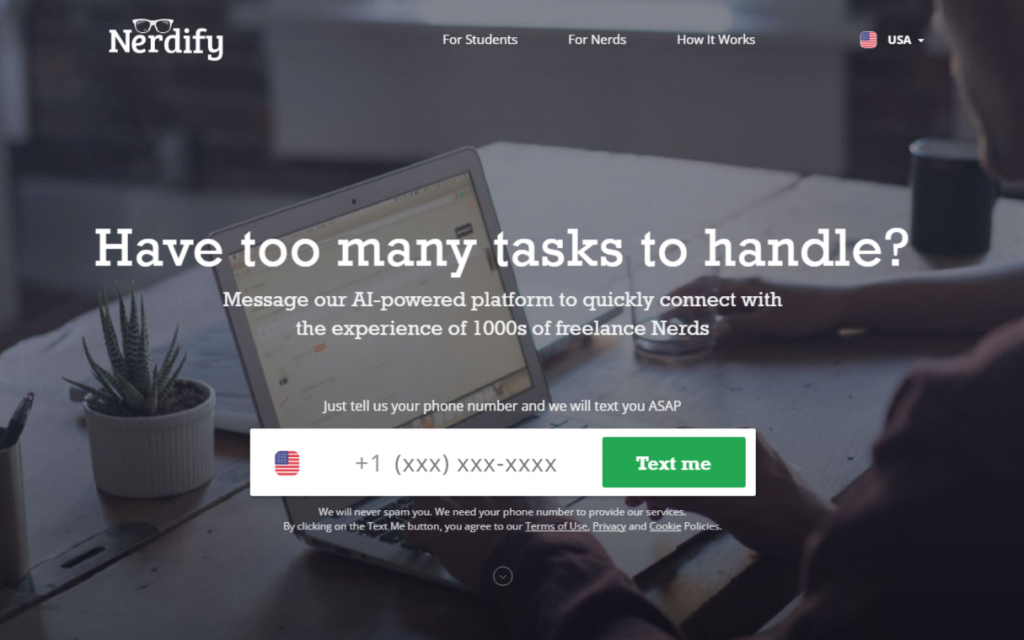 Value for money – 22/25
Overall experience – 19/25
Paper Quality – 35.83/50
Interesting project claiming to operate the AI-powered platform, quickly connecting customers with hundreds of their freelance writers. GoNerdify.com utilizes a social-first approach taking their business interaction to messengers instead of traditional channels. Their "nerdy" positioning and a so-called AI-approach which in reality is supported by human operators comes at a pricey $88.2 on average ($82.8 for the personal essay and $93.6 for the memo to the CEO). Generous discounts and referral options serve as sweeteners to attract new customers.
Using messengers for user interaction implies responsive support and convenient payment scenarios. Although the communication with the writer could have been better.
When it comes to our favorite point of paper quality, "the Nerds" provided us with good, but not the best papers. The memo to the CEO hardly made it to 64.1/100 pts, beating the grading limit by a thin margin, and the personal narrative essay did much better with 79.2/100 pts. In total, paper quality stood at 71.65 pts which is somewhere in the middle of our desired range. Nothing to complain and nothing to brag about – issues included punctuation (51%), fair formatting and text acuity (59%).
Those who prefer text messengers for their speed and convenience could benefit from ordering essay writing services from GoNerdify.com.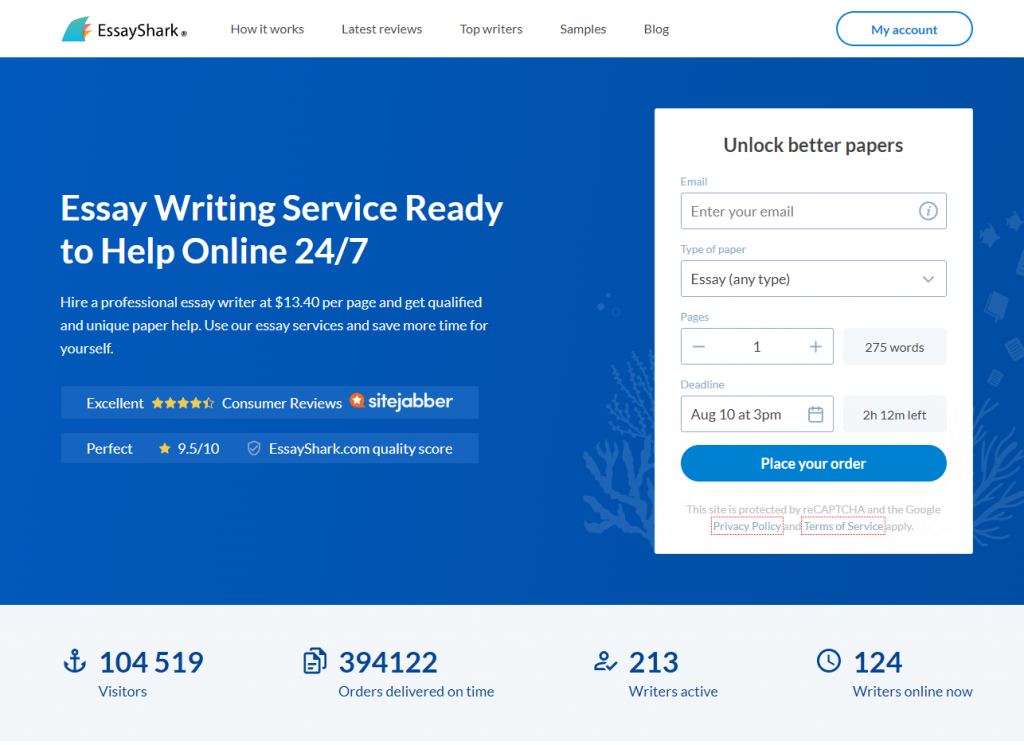 Value for money – 12/25
Overall experience – 21/25
Paper Quality – 37.8/50
The final place in our TOP-10 rating belongs to EssayShark.com. This website is built around a bidding model when writers compete to get hired for orders. EssayShark was established in 2011. Sure thing, they belong to the top cohort of the legit writing services.
Our review of EssayShark showed that they are pretty good in every department, but not excellent. They neither offer additional paid services nor promote their discounts and loyalty program, which lowered our score for the Value for Money category.
Their papers are in medium+ price segment, with the average price quoted for our orders at $84.5. There wasn't much price difference between our orders.
As for the Paper Quality, we were also at crossroads with our assessment with one paper being excellent and the second one hardly making it to the desired grading minimum – 88.2/100 and 63.1/100 pts. If we look deeper into the paper score, we can see that the main issues were formatting with misitalicized and miscapitalized elements and scholarly references. This case is just another example of how much depends on the writer's selection in this industry. More data will be added to this review as we place new orders with all participants of the rating to update their scores.
All in all, EssayShark is a reliable provider which can be trusted to fulfill different academic assignments. Customers can be sure to receive their orders in a timely and due manner.
Final thoughts on college paper writing service reviews
We are committed to providing unbiased opinion and essay writing services reviews without prejudice and unfair treatment. Our mission is to provide true reviews that can be used as guidance for informed customer decisions to hire the best providers that put quality at the top of their business agenda. We do hope that the A*HELP score can serve as the North Star showing the way for travelers in the land of academic assignments.
FAQ
Can you get caught using essay writing services?
Essay writing services are not designed to produce papers for submission, in the first place. They are supposed to provide samples and templates for you to process and use in your academic assignments. You should always bear in mind that there may be consequences for contract cheating, so papers from custom writing services should be used merely as reference points giving you food for thought or a starter ideas pack to develop your story further. Given that papers are processed and provided with your personal touch in terms of style, logic and attitude, they will be helpful additions to your research efforts. Another point to consider is that no writer can copy your writing style, which once again emphasizes the necessity to introduce personal edits to any kind of paper that you order. Having approached the issue with due heed and care, the risks of getting caught using essay writing services are low.
What is the best free essay writer?
As the saying goes, nothing comes for free. The same applies to quality custom writing services. There is always a buzz around AI-powered writing assistants which automatically generate academic pieces, but let's face it – they are far from being suitable for writing papers. The best free essay writer is yourself and your knowledge. If you are short of time, you can ask some writing assistance to help you with the basic structure and content discovery. Use the A*HELP score and read our essay services reviews to get your head around the essay writing market.
Where can I find someone to write my essay?
There are many websites out there that offer essay writing services as well as freelance ghostwriters or even casual visitors on Reddit. We designed the A*HELP score to make it easier for you to make informed buying decisions when it comes to essay writing services. But you should approach this matter with your own discretion and consideration. Please do conduct your own research, our words of advice are not financial recommendations of any nature.
Is there a website that writes essays for you for free?
Legit writing websites employ teams of writers, quality assurance specialists, designers, developers and customer service reps to ensure the best possible results for orders and quality papers. These services have established themselves as reliable providers of academic assistance through their expertise, quality of service, and ability to deliver custom writing services exactly when needed. They can't write essays for you for free as it goes against any business model or rules of logic.
What is the most reliable paper writing service?
Our mission is to provide an objective measurement tool for ranking paper writing services. The A*HELP score epitomizes the customer-centered approach to evaluating and reviewing educational services. We strive to provide clear and objective benchmarks to determine the most reliable paper writing services. Only legit and reliable providers make it to our TOP-list. So you are on the safe side when selecting among the websites mentioned on academichelp.net
Comment/Ask an Expert
You do not have permission to submit a question