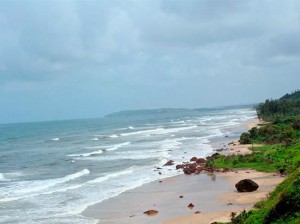 I was on vacation in Ganapatipule, which is a town on the coast on the west side of India, situated right on the Indian Ocean. I was with my long-time friend, Janu, and his mother, staying in a hotel for a few days. The vacation so far was the embodiment of relaxing: eating fresh mangoes, waking up late, dining out all the time (mostly fish curry), swimming a few times a day in the Indian ocean, and joking around with old pals.
Around three in the afternoon on a cloudless day, the beach on our side was empty of people besides my friend, his mother, and I. It was freeing to be alone on this vast beach, known to be a holy place among Hindus. Ganapatipule is named after the god Ganesh, and there is a famous Ganesh shrine near there where a Ganesh swayambhu (a sculpture erected from the earth itself in the form of a god) is worshiped. Bathing in the ocean around this area is supposed to cleanse people of their negativity and visiting the shrine also purifies individuals as well.
As I started to swim in the warm ocean, jumping
Did you like this guide / sample?
Sign up and we'll send you ebook of 1254 samples like this for free!
80+ essay types
1000+ essay samples
Pro writing tips
Comment/Ask an Expert
Related Writing Guides
A narrative essay is a form of academic writing that is built around a narration of a certain event or situation. It is a short form of a narrative novel. Its main objective is to tell a story that it is both engaging and interesting to the reader. A nar...