Quick Overview
GrammarCheck is a simply-designed platform with nothing more than a field for checking a piece of text. In spite of that, it provided us with a quality text analysis and correction. It did the best job of removing grammar and spelling mistakes. Nonetheless, it wasn't as versatile, since it's only available as a desktop version. Considering all the pros and cons, we granted Grammarcheck a 56.5/100 A*Help Score.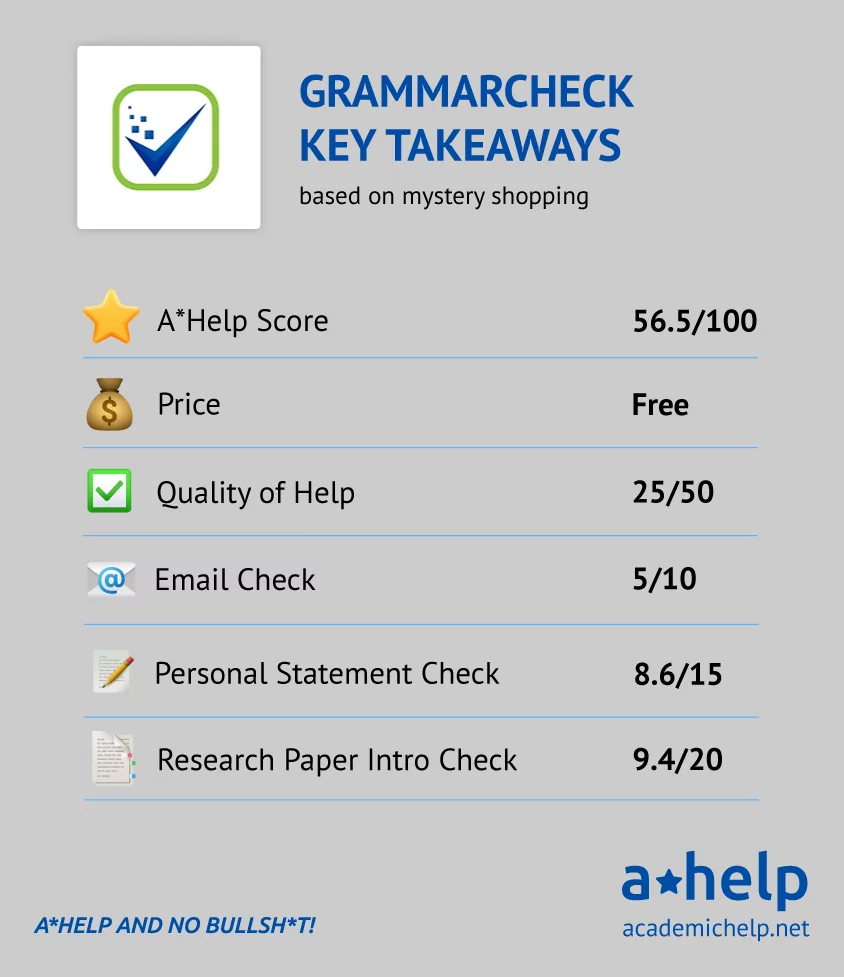 GrammarCheck Value For Money — 23/30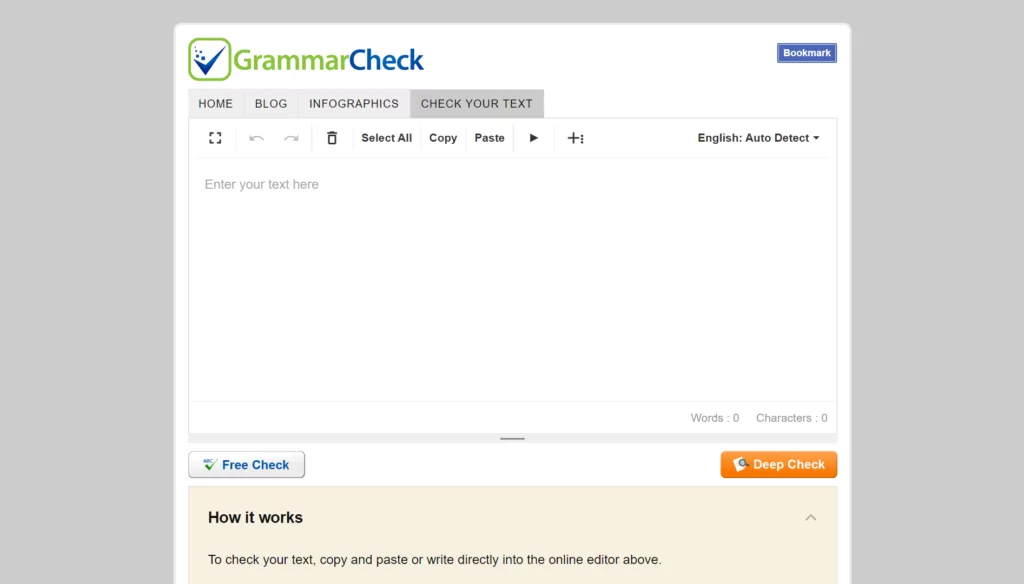 GrammarCheck Overall Experience — 8.5/20
Grammarcheck Quality of Help — 25/50
| | | | |
| --- | --- | --- | --- |
| | >Txt 1 – Email | >Txt 2 – Personal Statement | >Txt 3 – Research Paper Intro |
| >Grammar | 2/4 | 5/5 | 4/5 |
| >Punctuation | 1/5 | 1/3 | 4/5 |
| >Spelling | 6/6 | 5/5 | 3/5 |
| >Word Use | 0/4 | 0/6 | 2/15 |
| >Word Order | 1/1 | 1/2 | 2/2 |
| >General Mistake Correction Score | 10/20 | 12/21 | 15/32 |
GrammarCheck's Main Specs
>Supported languages
English and its dialects
>Features
Grammar
✅
Spelling
✅
Punctuation
✅
Words/Sentence suggestions
❌
rarely
>Possible extra services
Translation
❌
Rephrasing
❌
Wordcount
✅
>Free use & Wordcount Limites
Free use
✅
Wordcount
❌
>Subscription
Needed
❌
Plans
❌
>Registration
Need to create an account
❌
Email for registration
❌
Third-party registration (Google, Facebook, Apple)
❌
>Website Experience
Easy-to-use platform
✅
Aesthetic Interface
❌
Irritating ads
❌
>Support
Contact center
✅
Email, live chat, contact form, phone, WhatsApp
✅
Email
Guide
❌
>Document Upload
Docx/doc files
❌
Pdf files
❌
Word
❌
>Access
Apps
❌
Browser Extension
❌
>Checking process
Underlines each mistake
✅
Underlines incorrect sentences
❌
Option to correct all mistakes at once
✅
Shows the general grammar score
❌
Underlines mistakes that are not there
✅
FAQ
GrammarCheck Reviews
Our dedication is to offer a clear and all-rounded view of various online tools. This is why we've looked into several platforms, including Trustpilot, Reviews.io, Sitejabber, and Reddit, to gather insights into what users think of Grammarcheck. Taking into account both praise and criticism helps us present a balanced picture of the service.
Is GrammarCheck a Scam?
No, Grammarcheck isn't a scam. Based on our in-depth analysis, we can confidently say its grammar and spell-checking capabilities not only deliver on their promises but also maintain a great standard.
Is GrammarCheck Legit?
Indeed, Grammarcheck has carved a niche for itself in the digital world over the years. Reflecting on its wide user appreciation and our findings, we can confidently say it is a legitimate provider.
Is GrammarCheck Safe?
When working with Grammarcheck, we revealed that users can benefit from its primary tools without signing up or providing any personal details, which makes for hassle-free and secure usage. We're convinced it provides a safe environment for grammar assessments.
Is GrammarCheck Trustworthy?
We rigorously tested Grammarcheck and found it to be an excellent tool for detecting grammar, punctuation, and spelling mistakes. Coming from our experience, we would say you can trust this website with your writing.
Is GrammarCheck a Good Service?
We ran Grammarcheck across all the A*Help criteria and rated the service with a 56.8/100 A*Help score. It may not have the most appealing website, but it definitely can give that quality writing check.
Follow us on Reddit for more insights and updates.