Quick Overview
Sapling is a multi-functional platform that was mainly designed to help businesses cater to their audience. We found that they offered a grammar checker as a part of their service which could prove to be helpful not only to marketing teams but also to students. However, as our testing revealed, it doesn't deal well with long academic texts and is mostly suitable for grammar and spelling corrections. As such we ranked Sapling with an A*Help score of 55.3/100 pts.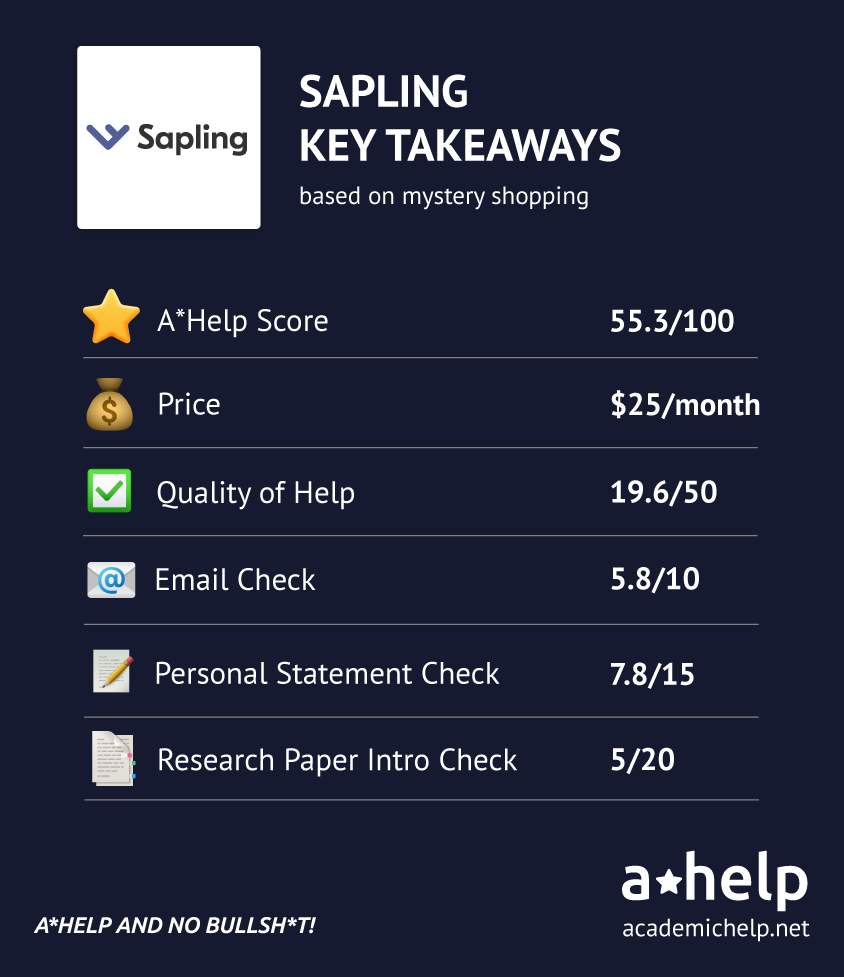 Sapling Value For Money — 22/30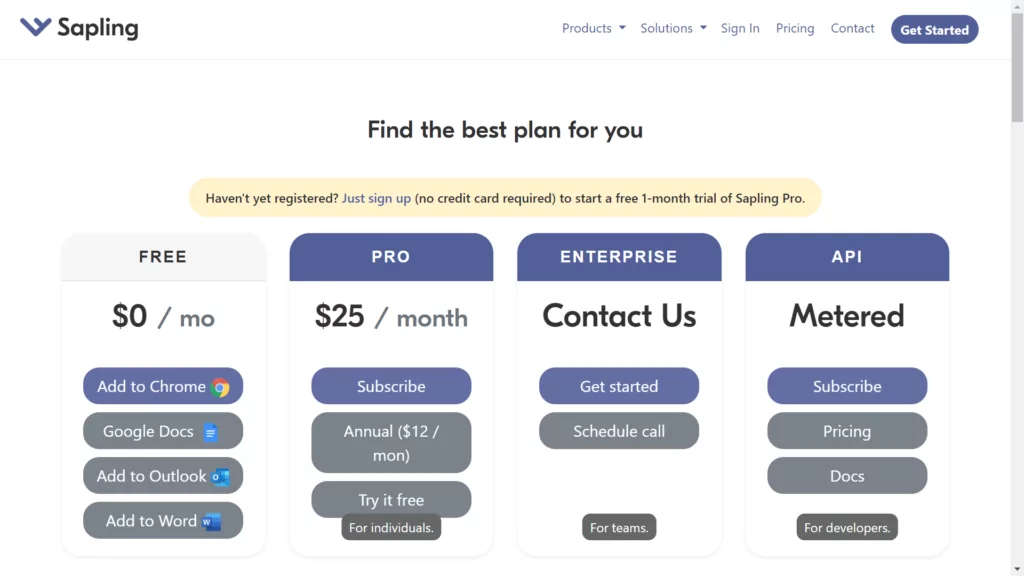 Sapling Overall Experience — 14/20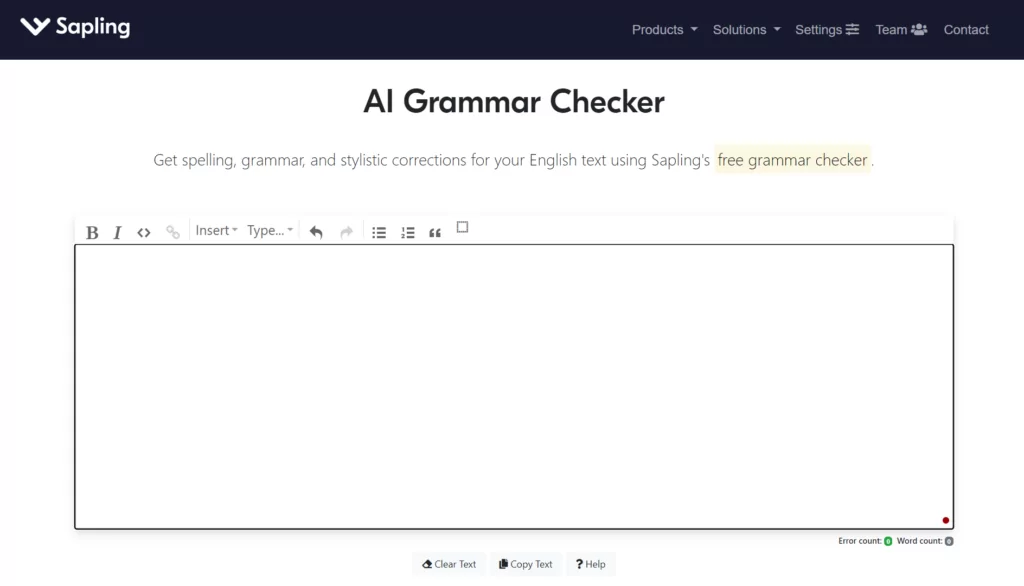 Sapling Quality of Help — 19.6/50
| | | | |
| --- | --- | --- | --- |
| | > Txt 1 – Email | > Txt 2 – Personal Statement | > Txt 3 – Research Paper Intro |
| > Grammar | 3/4 | 4/5 | 4/5 |
| > Punctuation | 1/5 | 0/3 | 1/5 |
| > Spelling | 6/6 | 4/5 | 2/5 |
| > Word Use | 0/4 | 1/6 | 1/15 |
| > Word Order | 1/1 | 2/2 | 0/2 |
| > General Mistake Correction Score | 11/20 | 11/21 | 8/32 |
Sapling's Main Specs
>Supported languages
English, Spanish, German, French, and others
>Features
Grammar
✅
Spelling
✅
Punctuation
✅
Words/Sentence suggestions
❌
>Possible extra services
Translation
❌
Rephrasing
❌
Wordcount
✅
>Free use & Wordcount Limites
Free use
✅
With limits on what it checks
Wordcount
❌
>Subscription
Needed
❌
Plans
✅
Pro – $25/month
(Annual – $12/month)
Enterprise, API
>Registration
Need to create an account
❌
Email for registration
✅
Third-party registration (Google, Facebook, Apple)
✅
>Website Experience
Easy-to-use platform
✅
Aesthetic Interface
✅
Irritating ads
❌
>Support
Contact center
✅
Email, live chat, contact form, phone, WhatsApp
✅
Email
Guide
✅
>Document Upload
Docx/doc files
❌
Pdf files
❌
Word
❌
>Access
Apps
❌
Browser Extension
✅
>Checking process
Underlines each mistake
✅
Underlines incorrect sentences
❌
Option to correct all mistakes at once
❌
Shows the general grammar score
❌
Underlines mistakes that are not there
✅
FAQ
Sapling Reviews
We always try our best to present you with all the existing information on the specific service. That's why our team takes time to go on websites like Trustpilot, Reviews.io, Sitejabber, and Reddit, and see what is the general sentiment about the service. We also look at the negative comments as well, so that we can then warn you about possible issues you might face with the platform.
Is Sapling a Scam?
No, Sapling is not a scam. We checked its grammar and spell checker ourselves and it did correct the mistakes it was supposed to.
Is Sapling Legit?
Sapling is a long-established service provider that gained recognition among thousands of users. That's why we can confirm that it is a legitimate grammar-checking platform.
Is Sapling Safe?
Sapling didn't require us to register at the service and therefore we didn't provide any personal details to this website. For this reason, we confirm that the platform is a safe platform to use.
Is Sapling Trustworthy?
We used Sapling to check three different texts and fix the mistakes there. The service mostly did a great job correcting spelling, grammar, and punctuation. Hence we call this platform a trustworthy one.
Is Sapling a Good Service?
We closely looked into Sapling's grammar checker and examined three different texts using its services. We ranked the service with 55.3/100 pts. It was convenient but it didn't provide us with the quality check as we expected. So, you can try and see whether it will work for you but also check out some other services we reviewed.
Follow us on Reddit for more insights and updates.