A*Help compiled a list of useful Chrome extensions that can save you tons of time and effort and provide ideas and inspiration for your academic life.
Meta, Google, and Amazon joined the race to introduce disruptive AI paper writer tools to the public. Microsoft confirmed that they would expand their partnership with OpenAI, the creator of ChatGPT, to bring AI solutions to their flagship products like Word, Outlook, and PowerPoint. Google promised its investors it would reveal its AI-solutions "in the coming weeks".
While tech giants are looking to incorporate AI tools into their core services, smaller startups are leveraging the technology.
Our approach to AI writing assistant reviews
A*Help experts suggest ways for students to harness AI-writing tools to unleash their creativity and improve their study habits. Students can use AI tools:
for summaries to make reading more efficient and mapping ideas
to explain the options they come up with and ask if there can be others
to share arguments as prompts and ask for a challenge
to present arguments as prompts and ask for questions
to share statements as prompts and ask for criticism
as a writing coach to teach you how to write your thesis and research papers
for basic proofreading
This article goes a step further and brings you the list of seven useful Chrome browser extensions to access AI tools wherever you surf and write.
Best AI-writing tools reviews according to the A*Help score
Chrome extensions are a great way to make your life easier and more comfortable. They can be installed as a browser add-on and are designed to boost your productivity, enhance your workflow, and enrich as well as customize your user experience. Chrome extensions are handy tools that help you perform a particular task within a minimal time and with less effort.
TOP AI-writing tools for browsers
1

Jasper AI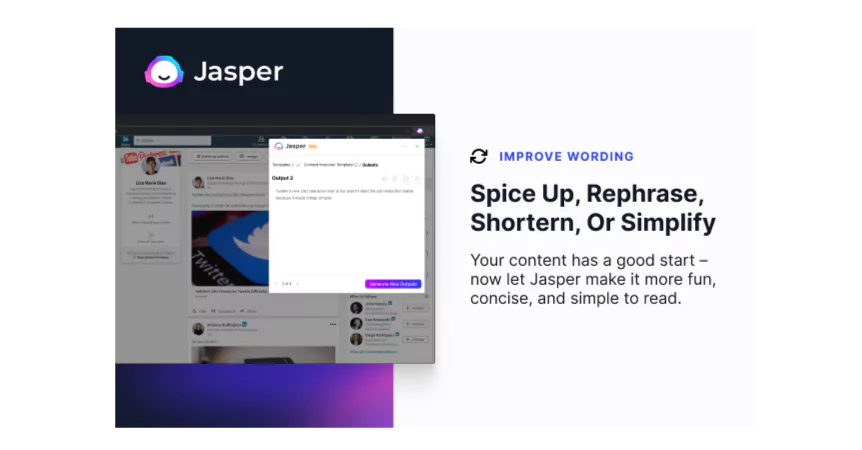 Jasper AI is one of the market's most established and well-known commercial solutions. Let's be frank, they are more tailored for professional needs with individuals and small teams engaged in content creation and marketing.
The company constantly improves and adds new features. Their Chrome extension allows generating quality AI content on the fly. Users can use 60+ templates to work with Gmail, WordPress, Google Docs, Canva, Webflow, and others. You can add witty comments in those heated social media discussions that take up so much of your time.
Jasper can help to prepare drafts and suggest references. It can make your writing focused and on point. It has become an industry standard for many teams globally, as it can create content in 26 languages.
As we mentioned already, this tool is more suited for a professional environment. It doesn't have a free version, only a 5-day free trial with $49/mo subsequent payments. If you are a student looking to start your career in the creative business, Jasper AI may be a good utility to master.
2
Scribe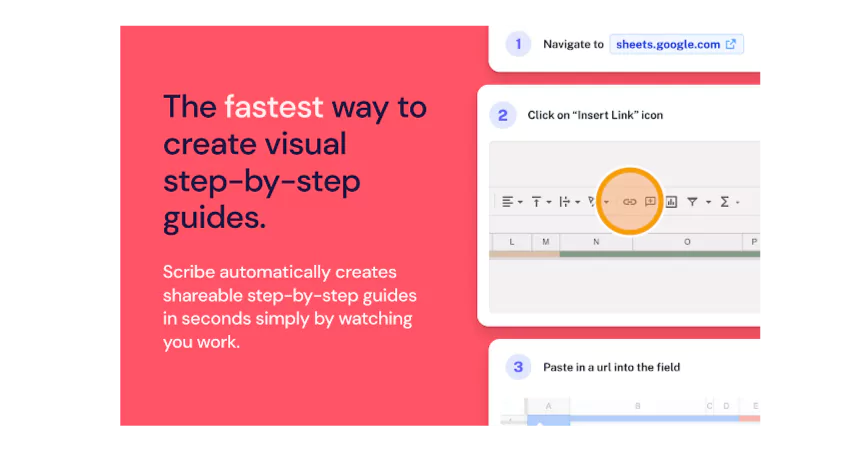 You all should know those troublesome tasks when you have to explain a lot of things to someone about your project.
Scribe can effortlessly turn any process into a step-by-step guide in seconds. There is no need to explain the process and make pauses. You can simply record your actions and the Scribe extension will convert it into a guide with screenshots and captions.
We tried it to see how fast and easy we could streamline the knowledge-sharing process with the project documentation. The only effort was to click Record, and Scribe did the rest. We ended up with a complete text and screenshots for our how-to guide. And it was that easy to share it with our team members. No routine and copypasting drudgery.
Guides can be easily edited with options to crop, annotate and hide private information if necessary.
There are three pricing tiers: basic (free), pro ($23/month), and enterprise.
Within the free version, you can get unlimited guides and unlimited Pages. And share the link or embed it if you need. Students should definitely give it a try.
The Pro version offers branding options and integration features to export guides directly into Confluence.
In a nutshell, Scribe is a great extension to turn any process into a step-by-step tutorial. It saves time and helps to spread knowledge. At the moment of writing this list, it boasts 300,000+ users in the Chrome Web Store.
3
Otter AI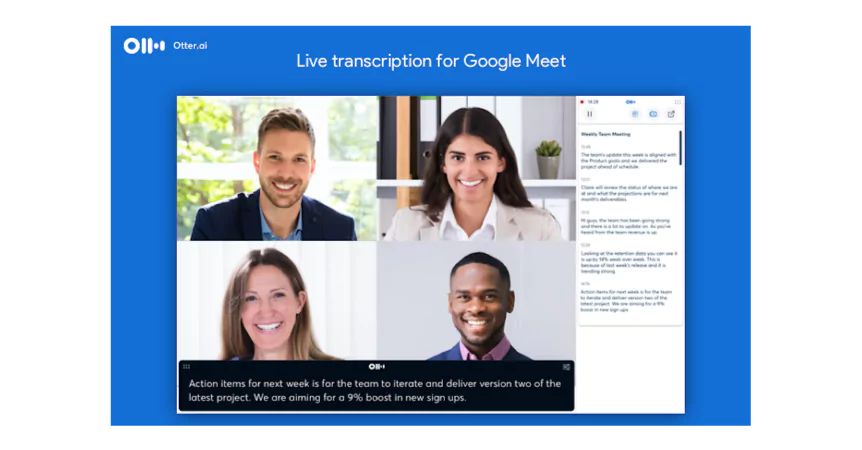 Online learning has become an integral element of the current academic landscape. Lectures and seminars via Google Meet, Zoom and Microsoft Teams are commonplace and part of the student experience. But let's admit that students don't always have the time and opportunity to attend all online events. That's where the extension by Otter may come in handy.
It allows students to transcribe, caption Google Meet in real-time, and add meeting notes in Google Calendar. It's like a fellow student who writes and summarizes meeting notes for you, so that you should not miss anything important. Meeting transcription saves a lot of time – proved by 80 000+ users in the Chrome Web Store.
Of course, as any up-and-coming tech solution, Otter may experience occasional outages and bugs. So test it before relying on the extension to fully automate your meeting notes.
There are four pricing tiers. Everything starts with a free version. You can record and transcribe your meetings in real time using Zoom, Microsoft Teams, and Google Meet, even if you can't join the meeting. It allows you to get 300 monthly transcription minutes (30 minutes per conversation).
Paid PRO tariff starts at $8.33. Users get more features and more monthly transcription minutes (1200 and 90 mins per conversation). Then goes the Business tariff with extended limits and even a greater variety of options.
Our verdict is that this extension can boost your productivity and ensure you don't miss out on any important moment in your online classes.
4
HyperWrite AI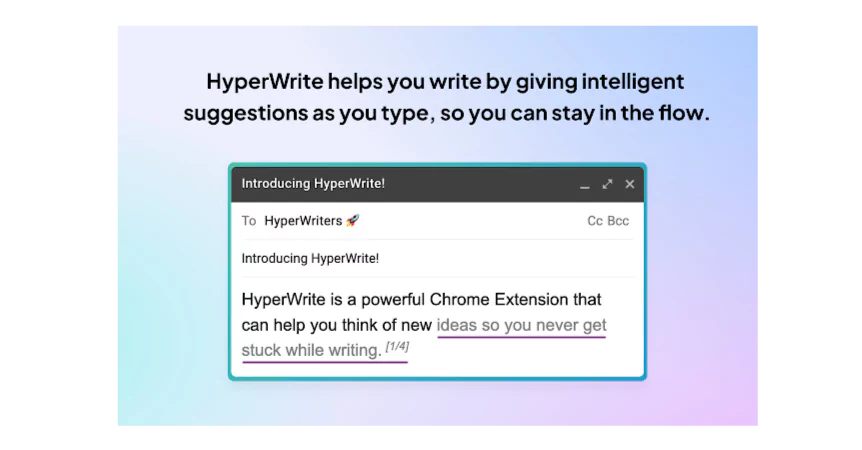 HyperWrite boasts 90 000+ users in the Chrome Web Store with primarily positive reviews. This extension drafts emails, generates ideas and pushes you in the right writing direction.
They offer three main functions for aspiring writers:
Typeahead – your co-writer who knows what you want to say next. Word prediction should be praised for efficiency and precision. Helpful for avoiding repetitions and the same phrases here and there.
Rewrite – as simple as it sounds. Feed a paragraph and get a rephrased text.
Autowrite – type in notes and prompts, and the extension generates a few paragraphs for you to choose from. Further customization in this auto essay writer is up to you.
HyperWrite can be used with Google Docs, Gmail, Outlook, WordPress, Medium, and more. This should be your helpful assistant for a vast array of writing tasks.
There are three pricing options to choose from. Students can start with a free plan which allows 100 AI prompts a day, 15 AI-generated inputs, and 15 rewrites a month. Is this enough for students' needs? You should know the answer if you are in the middle of your academic assignment.
Premium ($19.99) and Ultra ($44.99) plans offer unlimited rewrites and text generation. Their pricing is similar to the announced tariff by ChatGPT, which goes for $20 a month.
5
Compose AI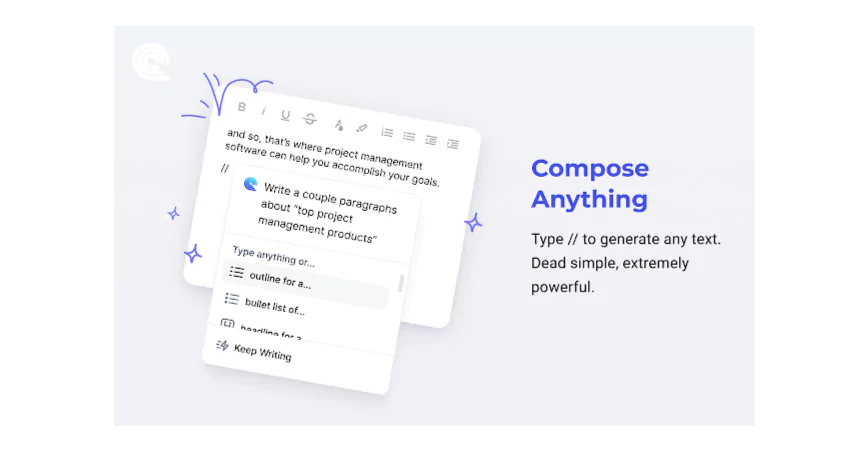 Compose AI is a Chrome extension backed by the famous Y Combinator. 90 000+ users in the Chrome Web Store. The team of Google Chrome named Compose AI as one of their favorite Chrome extensions of 2022.
The extension focuses on 6 main features: compose a text, rephrase, autocomplete, compose an email, and email reply. It is to be noted that not all of those features are available on all websites. Officially supported sites include Gmail, Google Docs, FB Messenger, WhatsApp Web, LinkedIn, Outlook, Slack, Reddit, Medium and Twitter. Some of your favorite online destinations may require additional setup with you enabling the extension manually there.
You can use hotkeys to activate the extension. For example, hit Option + R / Alt + R to open the Rephrase editor and get more casual rewrites or, on the contrary, make it more formal. It is possible to ask Compose AI to shorten/expand the selected text or express the idea another way.
Their Free version offers a 15000-word limit per month. Free users can take up to 20 autocompletions and use the rephrase tool up to 10x per day. Premium plans start at $10/month.
6

WritingMate AI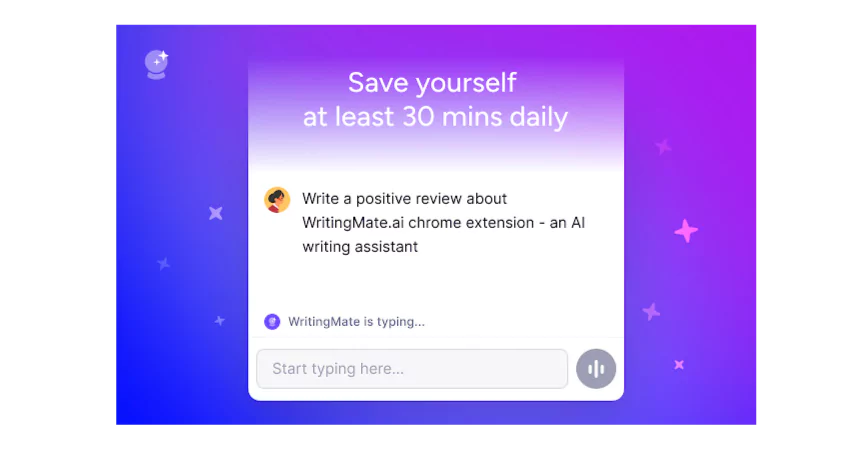 Creators of WritingMate.ai position their product as an alternative to Wordtune and Jasper. At the moment, this extension has 7000+ users in the Chrome Web Store.
WritingMate.ai is an AI communications helper and writing companion powered by GPT, ChatGPT. The set of options is usual: drafting emails, generating blog posts, summarizing, and brainstorming writing ideas.
This solution works with Google Search, Gmail, Google Sheets, Google Docs, Linkedin, Salesforce, Facebook, and Twitter.
Like any other, AI tool starts nicely with a free plan, but then introduces paid options. At the moment, they offer a 500-character limit a day in the free version. The developers promise to announce the premium plan, but we don't have this information at the moment.
Users complain about occasional bugs, which is OK for the new tool under development.
7
Quickie AI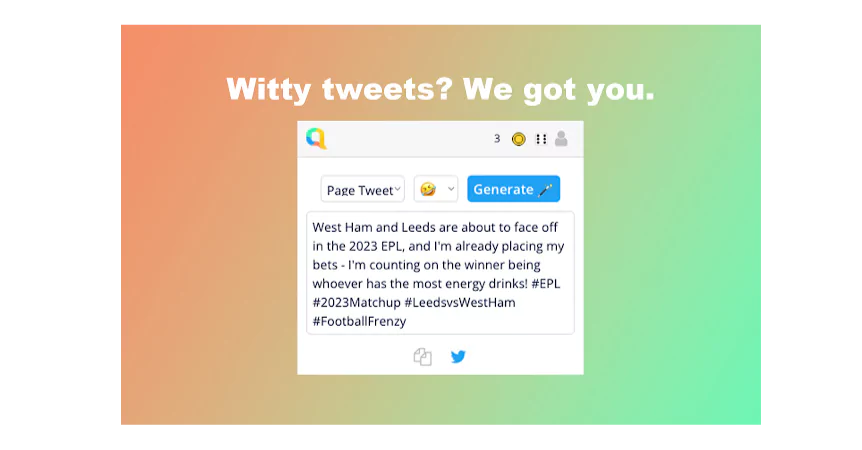 Simple and somewhat plain extension to get contextual A.I. shortcuts for specific tasks. You don't have to be good at prompting, which also requires certain knowledge and skills.
You can go to Twitter, for example, find an interesting tweet and ask the extension to reply, rewrite or customize the post with the tone of your choice. And in a matter of seconds you should get a meaningful and contextualized comment to the original tweet.
The community can also contribute to the extension as well as you can create your own templates for everyday use. This extension can be used both for fun and more professional purposes.
Their default presets include Facebook Ads, Instagram, Namer, Text 2 Speech, Youtube, Summarize, Expander, Twitter, Lyrics, Product Copy, Copywriter, and Press Release.
There are two tariffs: free and $20/month. The free plan offers from 1 to 6 "quickes" per day, and up to 3 custom presets. Their PRO version doesn't have any limits and allows you to save your text-generation results.
8
Casper AI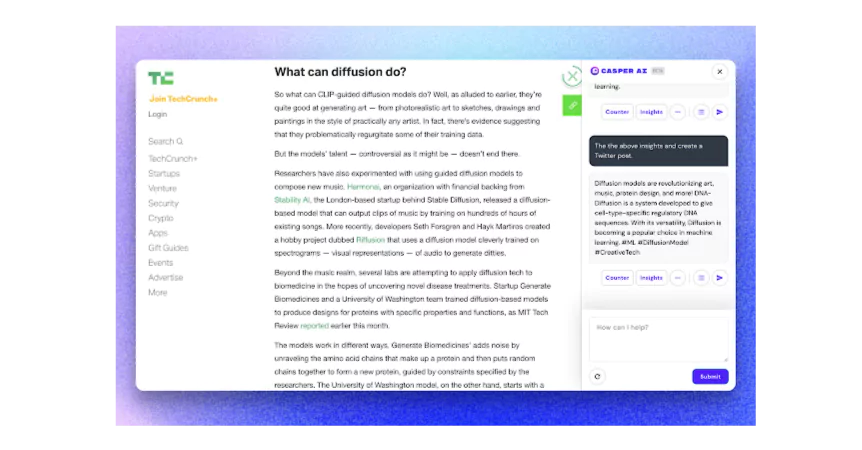 Students need to read a lot to complete their academic assignments. Sometimes specific fragments or even the whole article need to be explained. With Casper AI, you can select any part of the text and get a comprehensive ("explain like I'm 5") summary and insights.
When preparing for exams, this tool can train you with helping to brainstorm ideas and elaborate when something needs to be clarified. Casper is one of many ai tools for research that streamlines your workflow, utilizing OpenAI's GPT.
The extension is intuitive and easy to use. What's even better is that it is completely free at the moment. Developers are running the extension in the beta version, so students can use the tool without spending any money.
Final word
Big tech is surely coming into this field. AI tools are developing rapidly. They are still to find their sustainable business models and use cases. You, as a student, can experiment and try different solutions to embrace the upcoming transformation of the content generation. In addition, you can find useful tools to supplement your educational process by getting ideas faster and more efficiently.
Why academichelp.net is a credible source of information:
Stay curious with us. Academichelp.net has been a reliable educational resource since 2011, providing students with the latest news, assignment samples, and other valuable materials. Even with the extensive information we process, our quality remains consistent. Each team member has experience in education, allowing us to evaluate new sector offerings critically. Our reviews are up-to-date and relevant, with impartiality ensured by the A*Help score methodology from mystery shopping. We aren't affiliated with any listed service providers. Our focus remains on providing our audience with reliable and unbiased data.
FAQ
What are the best AI writing tools?
The industry is rapidly changing with new big tech giants entering the race and developing AI writing solutions. We have tried to compile the best available writing tools working via browsers. This review highlights the top available AI Chrome extensions to use right now.
What is an AI writing assistant?
AI writing assistant is designed to provide guidance and help get over writer's block with ideas and insights. It's a utility integrated into the browser or a standalone application relying on the language model developed by OpenAI. These solutions save a lot of time and effort for writers.
How do AI writers work?
AI writers are backed by artificial intelligence with machine learning algorithms. They are trained and improved regularly to provide more accurate and relevant outputs. Language models are built on huge data sets.
Is AI writing good for content creators?
Content creators can use AI writing tools to streamline their creative process and enhance it with prompts, outlines, and insights from AI writing assistants. AI-generated content should be adapted and edited to keep the human touch and helpfulness for users within the given context.
Why should I use an AI writing tool?
There are many reasons to start using AI writing tools. Apparently, this trend will continue and you need to adapt and learn how to use these emerging applications to remain competitive in the market and improve your professional level. Machines are far from replacing humans, but they can be used to automate basic and routine tasks. And content writing may be of those chores.
How to use an AI text generator to improve your writing?
ChatGPT and other AI text generators can be used as a starting point to guide the writer in the right direction. Authors spend a lot of time researching and outlining the topic, so using these tools should speed up the output. Writers can also use AI-writers to check their grammar and spelling.
Can AI write essays?
AI can write essays based on general knowledge and facts. However, essay assignments require students to provide their thoughts and conclusions, as well as proper references and formatting. Moreover, universities and colleges are tackling the problem of AI-written essays and deploying special software to detect AI-generated texts.
Are there any free AI content writing tools?
Most AI content writing tools have free versions. They are forced to introduce paid plans to sustain their business operations since AI content creation requires a lot of computing power. Users can try different services via trial periods and determine the best and most suitable use cases. This review provides a comprehensive list of free AI content writing.
Useful articles
Follow us on Reddit for more insights and updates.