The world of academic research is constantly evolving, and artificial intelligence (AI) is playing a significant role in transforming the research landscape. From finding sources to analyzing data, AI-powered tools are making the research process more efficient and accurate. This article provides our roundup of the top 10 AI tools that are revolutionizing academic research.
Reviewing AI Software for Academic Researchers
What's the toughest part of advancing in your postgraduate studies? For a multitude of students, the challenge lies in tackling the enormous amount of research required. As well as structuring it and putting all observations on paper.
The sheer number of research articles one needs to go through can be intimidating. Additionally, research material tends to be complex, making it difficult to extract the necessary information. This process demands a significant amount of time and effort. Organizing your insights and articulating them in a coherent, insightful, and scholarly manner presents yet another obstacle in postgraduate research. While AI tools for academic research can help with that issue, the essay writing sites can facilitate the process of finalizing the findings.
The Choice of The Number 1 AI Tool for Academia: Best Solution
Postdoctoral researcher Mushtaq Bilal believes that ChatGPT will revolutionize academic research, but acknowledges that many academics don't know how to use it effectively. Academia is split between early AI adopters and those concerned about its impact on academic integrity. Bilal, an early adopter, believes that AI language models can democratize education and promote greater knowledge if used thoughtfully.
Top List of the Academic Research Software
Several experts have raised concerns about the reliability of language models like ChatGPT, noting that their output, when used as an essay writing AI, can sometimes be biased, limited, or inaccurate. However, Bilal argues that being aware of these limitations and adopting the right approach can enable language models to perform valuable work, particularly in academia.
1
Consensus
You can ask Consensus about relationships between concepts, or even cause and effect, like whether immigration improves the economy. It'll give you an answer based on academic research, even listing the papers and summarizing the top ones.
But it's got a limited scope, though. It only covers six areas: economics, sleep, social policy, medicine, mental health, and health supplements. Still, it seems like a handy resource for those topics.
It saves time by providing quick access to research-backed answers on the covered topics. Consensus bases its answers on academic research, increasing the credibility of the information. The tool provides summaries of the top articles it analyzes, making it easier to understand complex research.
It's an easily accessible way for users to gain knowledge about specific topics without needing extensive research skills. By providing research-backed answers, Consensus promotes evidence-based thinking.
2
Elicit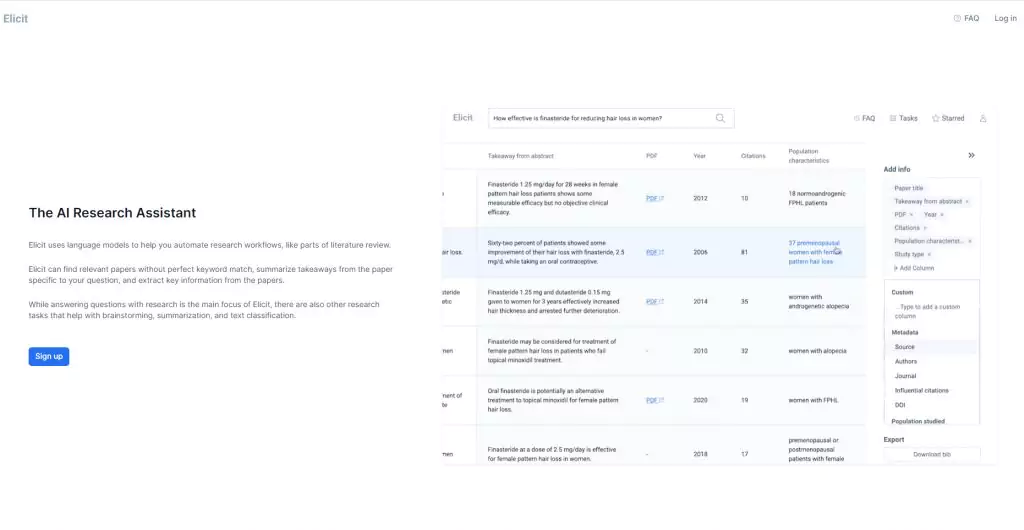 Elicit is like a research assistant that uses language models to answer questions, but it's entirely based on research. This makes it a solid source for having "intelligent conversations" and brainstorming sessions.
What's cool is that it can find relevant papers even without exact keyword matches, and it can summarize them, making it a handy paper typer that pulls out the key details.
Elicit's knowledge is solely based on research, which ensures a more reliable and verified source of information. It can find relevant papers without needing perfect keyword matches, making it easier to discover important research.
3
Scite.ai
Scite uses AI to provide detailed citation information for research papers, helping researchers evaluate the credibility of their sources. This service is really helpful for getting real citations from actual published papers. It's great for improving workflows. Scite gives you answers to questions with a detailed list of cited papers. Plus, it tells you the exact number of times a claim has been refuted or corroborated in various journals, making it a powerful tool.
4
Research Rabbit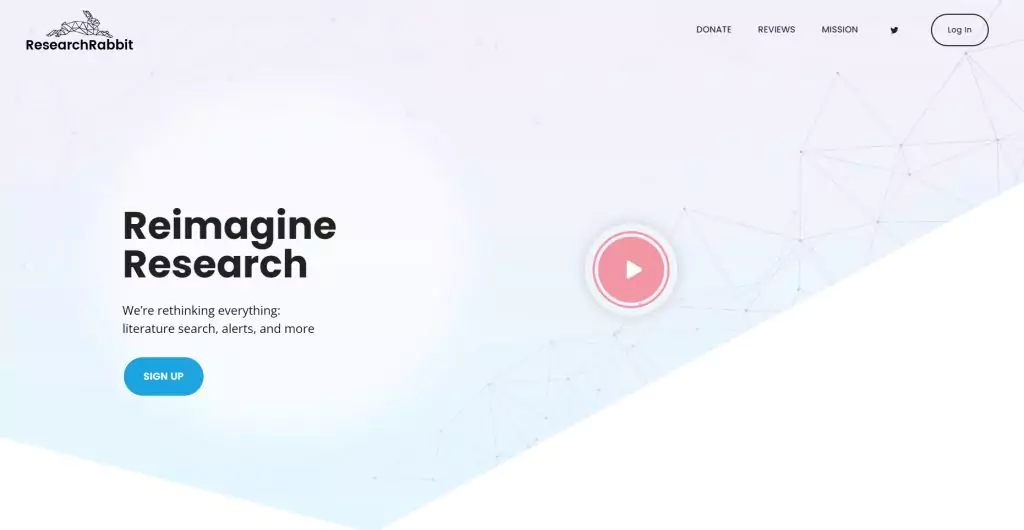 Research Rabbit is a tool for fast-tracking research, and the best part is that it's free!
It can be called "Spotify of research." Users can create collections of academic papers that the software can learn from to give them relevant recommendations. Plus, it even visualizes scholarly networks in graphs, so it's possible follow the work of specific authors or topics.
5
ChatPDF
ChatPDF = "like ChatGPT, but for research papers". It could be useful for reading and analyzing journal articles.
Basically, you start by uploading a PDF of the research paper into the app, and then you can start asking it questions. ChatPDF will then generate a short summary of the paper and provide examples of questions that it can answer based on the full article.
This could really speed up the process of reading and analyzing research papers, which can be a time-consuming task.
6
Perplexity AI
Perplexity AI can potentially become a number 1 tool for academic research. Arguably better than ChatGPT, Perplexity boasts functions that its famous rival doesn't have. So what exactly is Perplexity AI?
It's another AI search engine with powerful academic research abilities. PerplexityAI has access to a variety of different sources, which makes information completely up-to-date. The tool can draw information not only from the Internet, which most other services do well, but also from scholarly sources, WolframAlpha, YouTube, Reddit, news, and Wikipedia. After typing in a search query, a user can specify where exactly they want to receive the information from, and the tool will do the task. Additionally, it can search across individual domains or websites or summarize their content.
A significant advantage of Perplexity is its advanced functionality when searching for academic materials. Not only does it give you the result, but it also offers a list of related questions and references. This is an edge compared to ChatGPT, especially GPT-3.5, which often makes users question the relevance or even existence of the references it provides.
With all these features onboard, apps for essay, and Chrome extension, Perplexity is an excellent AI tool for academic research.
7
Semantic Scholar
Semantic Scholar is an academic search engine driven by artificial intelligence that enables users to filter through millions of scholarly pieces for educationally appropriate content related to their research subject. It integrates artificial intelligence, machine learning, and language processing with semantic analysis to provide users with precise search outcomes.
Using machine learning methodologies, Semantic Scholar deciphers significance and discovers links within academic papers. It then presents these findings, facilitating scholars in rapidly acquiring a comprehensive understanding.
8
Iris.ai
Iris.ai is an artificial intelligence tool designed to aid researchers in scientific discoveries. The service uses natural language processing and machine learning algorithms to comprehend the context of a research project and suggest pertinent literature. It helps navigate and find data sources without relying on specific keywords, making it significantly more efficient than traditional search engines.
Content-based search, context and data filtering, and extracting and systematizing data are just a few of the many other functions of this versatile research tool.
9
Paper Digest
Updated August 28, 2023: he service has stopped operations and the website is no longer maintained.
Paper Digest is an AI-based academic article summarization service that aims to help researchers quickly grasp the core ideas of a paper without reading the whole thing. It automatically lists out the key sentences of a paper, taking about 10 seconds to do so. It can also reduce reading time to 3 minutes. The service also imitates researcher behavior by automatically summarizing the paper and helping them decide whether it is worth reading. However, Paper Digest may not be suitable for researchers who require more detailed summaries or who need to capture all the nuances of the original paper.
10
SCISPACE
SciSpace is an AI-powered platform that aims to modernize scientific research workflows and collaboration. It offers a suite of tools to discover, read, write, collaborate, and publish research papers. It also links users to more than 45,000 verified journal formats that researchers can select from, making it more suitable than Word for research writing.
SciSpace is a useful service for those looking for an easy and quick way to understand scholar papers. Its AI-powered features and personalized suggestion engine can help researchers stay on track while gaining a comprehensive understanding of the topic.
Final Word
AI-powered tools are transforming the way we approach academic research, making it more efficient, accurate, and accessible. By leveraging the capabilities of these top 10 AI tools, researchers can save time, improve the quality of their work, and contribute to groundbreaking discoveries in their respective fields.
Best Tips How to Make the Most of AI Tools as a PhD student
PhD students employ AI-chatbots, such as ChatGPT, to enhance their studies and boost efficiency. Some ways they use AI-chatbots include:
Summarizing texts for quicker reading and idea mapping.
Checking the validity of individual arguments on different aspects.
Exploring comprehensiveness by discussing generated options and seeking additional possibilities.
Testing counterfactuals by presenting arguments and asking for opposing viewpoints.
Preparing for a jury by sharing arguments and requesting ten related questions.
Requesting critiques on arguments for improvement.
PhD students can also:
Direct prompts from the perspective of a renowned book on the topic.
Use ChatGPT as a writing mentor for thesis and research papers.
Utilize it for basic proofreading of academic texts, adjusting tone and voice as needed, and rating the original text on a scale of 1 to 10.
Generate an outline of a dissertation's main chapter using ChatGPT-generated prompts.
Employ the "freewriting" technique, writing down unfiltered thoughts, then prompting ChatGPT to refine the text for a scientific publication using appropriate language.
Why academichelp.net is a credible source of information:
Stay curious with us. Academichelp.net has been a reliable educational resource since 2011, providing students with the latest news, assignment samples, and other valuable materials. Even with the extensive information we process, our quality remains consistent. Each team member has experience in education, allowing us to evaluate new sector offerings critically. Our reviews are up-to-date and relevant, with impartiality ensured by the A*Help score methodology from mystery shopping. We aren't affiliated with any listed service providers. Our focus remains on providing our audience with reliable and unbiased data.
FAQ
What is the best AI academic research tool?
Choosing the best AI platform for academic research depends on your priorities and preferences. Our experience suggests that the top choice is often a website that combines various services in one place.
Is there a free AI academic research tool?
Yes, there are free AI academic research tools. Many platforms do not require subscriptions or additional payments. Some websites also provide new clients with a free trial to test certain features. Most of these solutions are mentioned in our top list, so be sure to check it out to find the AI service that suits you best.
Which AI model supports academic research?
Academic research is primarily facilitated by language models that use NLP (natural language processing) and deep learning to gather relevant data and generate different types of content. One of the major companies developing language models is OpenAI, with its latest releases including GPT-3, GPT-3.5, and GPT-4 AI. Other popular language models are LamDa, used by Google, and LLaMA, adopted by Meta and its social media companies.
What is the best free AI for academic research?
To identify the best free AI-powered platform for academic research, you need to determine your specific needs, such as text generation, reference finder, rephrasing tool, or other services.
Students also ask
Can AI be used for research?
Absolutely! AI is a valuable tool for research, aiding in data analysis, pattern recognition, and simulations. So, when you feel a little stuck when doing research for your assignments, you can try out an AI helper.
Which AI is best for research?
The ideal AI for research purposes depends on the specific field's needs and goals! Different AI models excel in various tasks, so there is no definitive answer to that question unless you do a bit of research first.
How is AI used in scientific research?
AI is very often used in scientific research for a number of reasons. It can easily analyze vast datasets, simulate different experiments, and assist the person, helping researchers uncover new insights and continue their work.
Is there an AI that can read scientific papers?
Yes, there are AI systems capable of doing so. They can extract the necessary information from scientific papers according to the prompt you give the system.
What is the smartest AI today?
Determining the smartest AI is subjective since it can be used for a variety of needs. However, models like GPT-3 and GPT-4 have demonstrated remarkable language processing and comprehension abilities, which can significantly ease the process of writing or compiling information.
Can AI discover new knowledge?
AI plays a crucial role in discovering new knowledge by identifying correlations, suggesting hypotheses, and aiding in data analysis. It helps researchers to make certain discoveries. Although AI is getting more and more popular each day, it cannot replace humans and should rather be used as a tool.
Is AI going to replace scientists?
AI is not poised to replace scientists, writers, or anyone for that matter. Instead, it enhances their capabilities, enabling more efficient and effective research, which leads to accelerated progress. Human impact is undeniably necessary when working with AI, even though it may seem the other way.
Can AI discover new things?
Certainly! AI sometimes can discover new things by analyzing data and detecting patterns. This way AI is contributing to scientific advancements and expanding our understanding of the world.
Useful AI solution articles
AI trends and latest news
Follow us on Reddit for more insights and updates.