If you can't decide between Copy ai vs Rytr, that's unsurprising since both services offer similar platforms. Nonetheless, there's a difference: Copy.ai is better at producing high-quality academic texts compared to Rytr. There are also some other distinctions that may help you choose just one of these options in the future.
Copy.ai is an AI generation tool initially created to help copywriters come up with quality content. Since its launch in 2020, this platform has become more versatile and turned into a widely-used writing platform for many other purposes, business-related and not.
Rytr.me is a bit younger platform that started its work in 2021. Still, a year difference didn't hurt its potential, and the service gained much recognition. Focused on content creation, it turned out to be a flexible writing tool as well.
So, let's see which of these multifunctional AI text generators is a better tool for your academic writing needs.
Copy.ai
Rytr.me
Best fit for
Students who need a quality essay and an outline for it
Students who want an affordable tool that includes grammar and plagiarism checking
A*Help Score
⭐⭐⭐⭐
71.5/100
⭐⭐⭐⭐
70.2/100
Paper Quality
⭐⭐⭐⭐
Copy's essay was marked with 81.4/100 pts, showing good results in spelling and punctuation, but failing in acuity and efficiency
⭐⭐⭐
Rytr's essay was graded with 77.9/100 pts and showed flawless spelling but low efficiency and acuity
Overall Experience
⭐⭐⭐⭐
Copy.ai was easy to use with the full essay generation only taking 5 minutes. Still, there were some limits which depended on a plan
⭐⭐⭐⭐
Using Rytr.ai was highly convenient since the text generation had no limits and the whole process was done in under 5 minutes
Value for Money
⭐⭐⭐
Copy.ai had a free monthly subscription with a few limitations to its use and also didn't offer many services, aside from AI chat
⭐⭐⭐
Rytr had a free monthly subscription plan but there weren't too many additional services and text creation options aside from generation and rephrasing
Quick Review
Copy.ai and Rytr.me are services focused on AI text generation. Both offered a free monthly plan, with a generation limit of around 2k words. Copy.ai only had an AI chat available on the platform, while Rytr had a more versatile selection of services including grammar and plagiarism checks. Nonetheless, Copy had a better text quality, since the essay created on the platform was marked with 81.4/100 pts against Rytr's 77.9/100 pts. This, along with the wider opportunities for text rewriting, outlining, and structuring, make Copy.ai a slightly better choice when it comes to an AI essay writer.

Copy.ai vs Rytr.me: Comparing Main Features
Price
Subscriptions
Copy.ai
Rytr.me
Daily plan
❌
❌
Monthly Plan
$49/month
Saver – $9/month, Unlimited – $29/month
Annual Billing
$36/month
Saver – $9/month, Unlimited – $29/month
+ 2 month with each plan for free
Free Trial
✅
2,000 words per month
✅
10k characters/month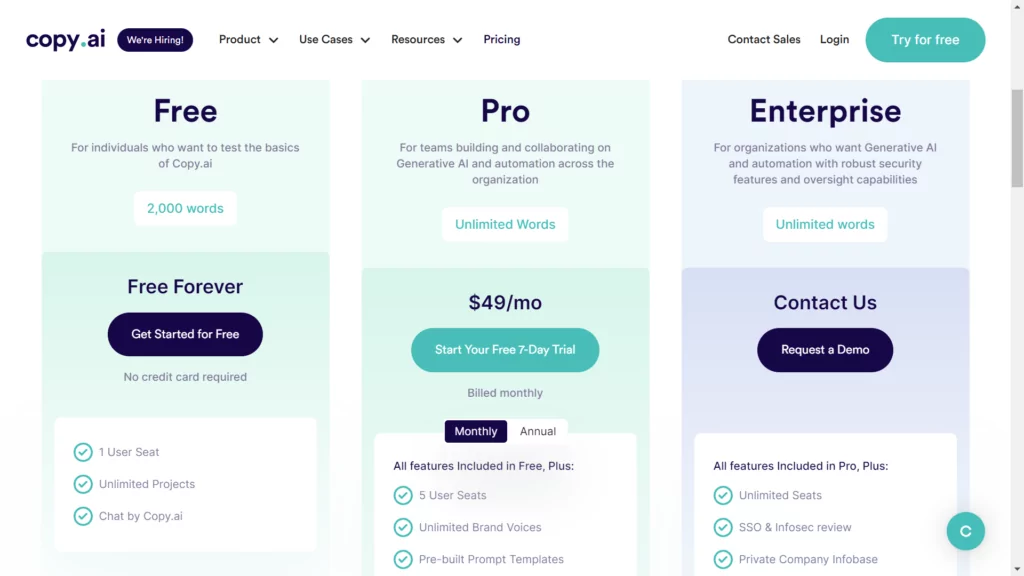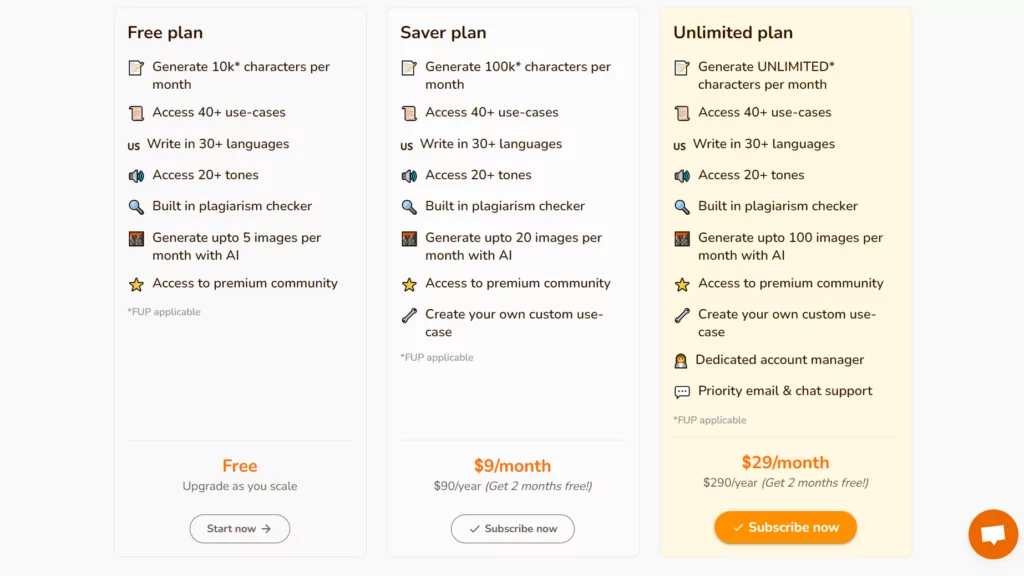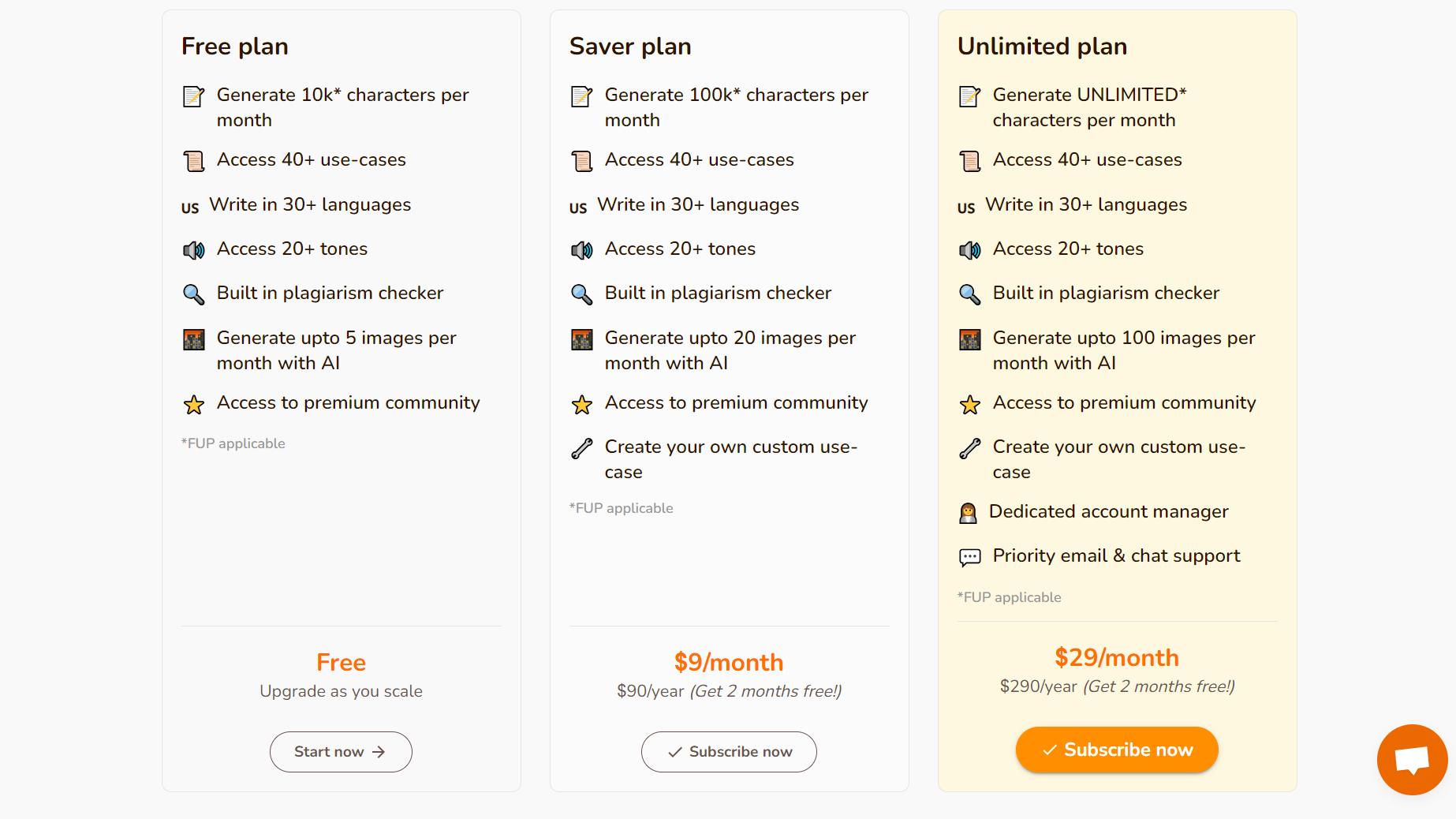 Which is Best for Essay Writing: Copy.ai vs Rytr
| | | |
| --- | --- | --- |
| | Copy.ai | Rytr |
| Paper Grade | 81.4/100 | 77.9/100 |
| Spelling | 97% | 100% |
| Grammar | 68% | 86% |
| Word Choice | 82% | 84% |
| Punctuation | 96% | 94% |
| Clarity | 84% | 87% |
| Objectivity | 56% | 61% |
| Efficiency | 51% | 51% |
| Acuity | 51% | 51% |
| Word count | 554 words | 557 words |
Copy.ai vs Rytr: Overall Winner
Having compared Copy.ai and Rytr.me, we can say that Copy.ai is a slightly better pick if you need a quality essay to be written fast and without any hassles. Despite the platform not providing any services aside from an AI chat, it offers opportunities to rephrase or rewrite your text, as well as create an outline and structure it as per your requirements. You won't find the same on Rytr.me, so, if these are crucial aspects of your paper – Copy.ai is your guy.
Why academichelp.net is a credible source of information:
Stay curious with us. Academichelp.net has been a reliable educational resource since 2011, providing students with the latest news, assignment samples, and other valuable materials. Even with the extensive information we process, our quality remains consistent. Each team member has experience in education, allowing us to evaluate new sector offerings critically. Our reviews are up-to-date and relevant, with impartiality ensured by the A*Help score methodology from mystery shopping. We aren't affiliated with any listed service providers. Our focus remains on providing our audience with reliable and unbiased data.
FAQ
What is the difference between Copy.ai and Rytr.me?
Rytr and Copy.ai are two similar platforms focused on providing AI text generation services. Nonetheless, there are a few differences. The main one is that Rytr, aside from AI chat, also provides plagiarism and grammar check opportunities, while Copy doesn't have these services. They also have different pricing, since Rytr has two monthly plans for $9 and $29, and Copy.ai has a subscription of $49/month.
Copy AI vs Rytr: Main specs
Copy.ai
Rytr.ma
A*Help Score
71.5/100
70.2/100
> Website experience
Aesthetic Interface
✅
✅
Easy-to-use platform
✅
✅
Simple Essay creation flow
✅
✅
Trying before registration
❌
❌
Full time to generate essay
5 minutes
5 minutes
Wordcount limits
Depends on plan
❌
> Support System
Guides
✅
✅
Support chat/phone
✅
✅
> SERVICES
AI chat
✅
✅
Research assistant
❌
❌
In-text citations
❌
❌
Reference finder
❌
❌
MLA and APA Citations
❌
❌
Grammar check
❌
✅
Plagcheck
❌
✅
> FREE TRIAL
Free trial/plan
✅
✅
Limits
2,000 wordsper month
10k characters/month
> TEXT CREATION OPTIONS
Generate
✅
✅
Rewrite
✅
❌
Rephrase
✅
✅
Summarize
❌
❌
> TEXT SUBMISSION
Format
❌
✅
simple text
Outline
✅
can be done
❌
Structure
✅
paragraph structure
❌
Formatting
✅
can be done
✅
can be done
References
❌
❌
Follow us on Reddit for more insights and updates.