What would be a better fit for your essay writing needs: Copy.ai or Jasper.ai? These are two popular AI text generators with seemingly similar services. Nonetheless, one of them is better than the other. But which one?
Copy.ai was launched back in 2020 as a copywriting solution for businesses. It is widely used across the US and is also popular in Brazil, India, Indonesia, and the Philippines. As such a globally recognized AI-powered service, it could be used to create not just copywriting pieces and blog posts but texts of all kinds, including academic essays.
Jasper.ai is also a seasoned player in the copywriting field. The platform started operating just a year later than Copy.ai, in 2021 under the name Jarvis (rebranded later for Jasper). Yet, it grew quite popular over the years, among aspiring entrepreneurs as well as those needing help with creative writing. Jasper has fans across the globe with people from the US, Brazil, UK, and Columbia using its benefits the most.
Our A*Help team decided to save you hours of looking for small distinctions between these services, so we compared them ourselves. Now, we are more than happy to share these findings.
JASPER
COPY.AI
Best fit for
Students seeking the highest quality texts together with plagiarism and grammar-checking feature
Students looking for free opportunities to create essays with AI
A*Help Score
⭐⭐⭐⭐
75.7/100
⭐⭐⭐
71.5/100
AI essay quality
⭐⭐⭐⭐
A greatly written personal essay with excellent grammar, spelling and word choice
⭐⭐⭐⭐
Well-composed paper, with good spelling and text clarity scores
Value for money
⭐⭐ ⭐
Vast selection of features; get a browser extension with a paid plan
⭐⭐
Free plan available; paid plan with unlimited words
Quick Overview
In the battle between Jasper.ai vs Copy.ai, both presented robust services. Yet, Jasper.ai had more versatile additional features such as Grammar check and Plagiarism check, despite the similar pricing. Both platforms excelled in creating good quality text quickly, however, Jasper.ai scored slightly higher on a 2-page personal statement paper, particularly in grammar, word choice, and clarity. All this makes Jasper a stronger choice for essay writing.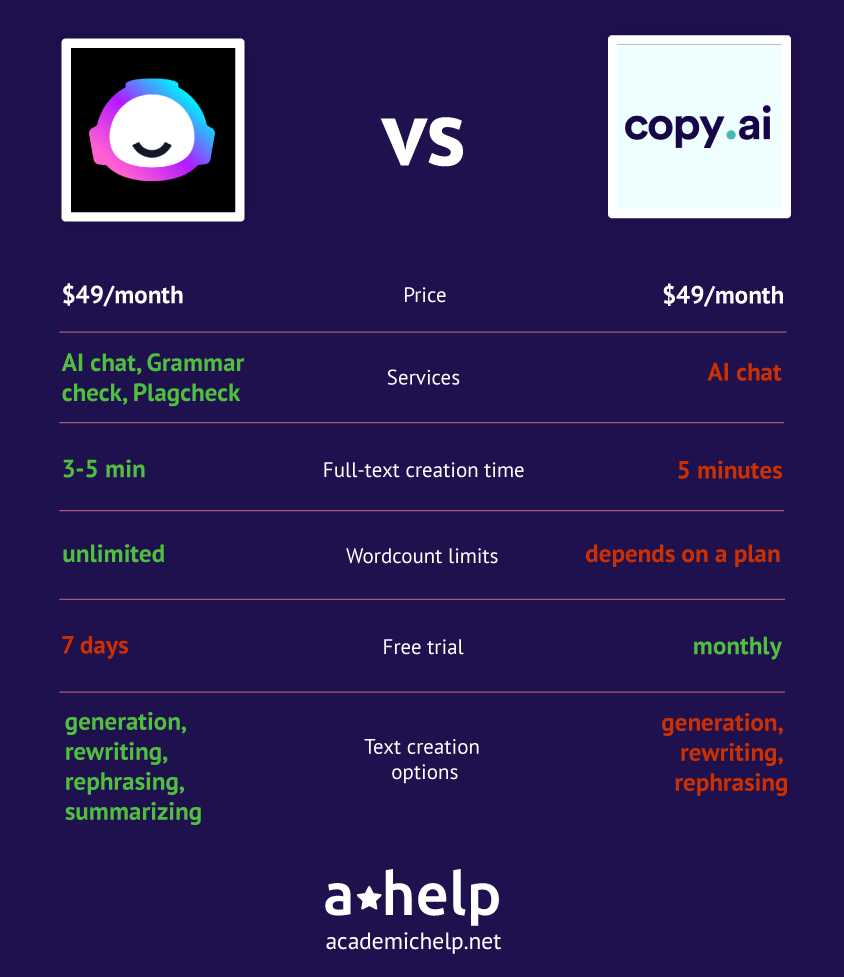 How We Tested Jasper vs Copy Ai
When we publish Copy.ai and Jasper AI reviews we mention that we try these services ourselves on a first-hand experience. Our A*Help team organized a mystery shopping project and created accounts on both platforms. We used Copy.ai and Jasper to create a 2-page personal narrative essay so that we could judge the text generation flow. After both papers were completed we sent them to our partner professor Sybil Low to be checked according to the generally accepted college standards.
While using the AI text generators, we also paid attention to the available features, prices, registration process and general customer journey. All these aspects were taken into account when evaluating the platforms' value-for-money and overall experience indexes. To get a better idea of this complex trying-out process, see How We Test AI Essay Writers page.
Jasper.ai vs Copy.ai: Comparing Value for Money
| | | |
| --- | --- | --- |
| | Jasper.ai | Copy.ai |
| Value For Money | 17/25 | 13/25 |
| Price | 4/7 | 6/7 |
| Services | 4/8 | 2/8 |
| Text Creation Options | 4/4 | 3/4 |
We reviewed both services looking at what they had to offer and on what conditions. This aspect is reflected by our Value for Money criteria.
Jasper.ai scored higher in this field as it had a more versatile selection of features and an extended choice of opportunities during its free trial.
On the contrary, Copy.ai has a lot of room for improvement, due to a poorer pool of services and a bit limited text creation options.
Price
Most of the AI essay-generating services offer subscription plans to their customers so that they could use a whole spectrum of features for a longer time. Copy.ai and Jasper are no different, however, they do have separate billing options.
Subscriptions
Jasper.ai
Copy.ai
Daily plan
No
No
Monthly Plan
$49/month – Creator, $125/month –
Teams, Custom pricing- Business
$49/month – Pro
Annual Billing
$39/month – Creator, $99/month
– Teams, Custom pricing- Business
$36/month – Pro
Free Trial
Yes, 7 days, go alongside the subscription
Yes, monthly, 2000 words limitation
Copy.ai has two types of subscriptions: monthly and annual (yearly). Aside from that, there's also a free monthly plan that goes with a limit of 2000 words per month and is designed for 1-person use. Mind also that this option doesn't give you access to the full potential of the AI service. To get all the features you need to subscribe to the Pro plan, which costs $49 monthly, or $36/month if paid annually. This subscription is designed for 5 users and doesn't have any limitations regarding words, as well as access to the newest features and 29 more languages.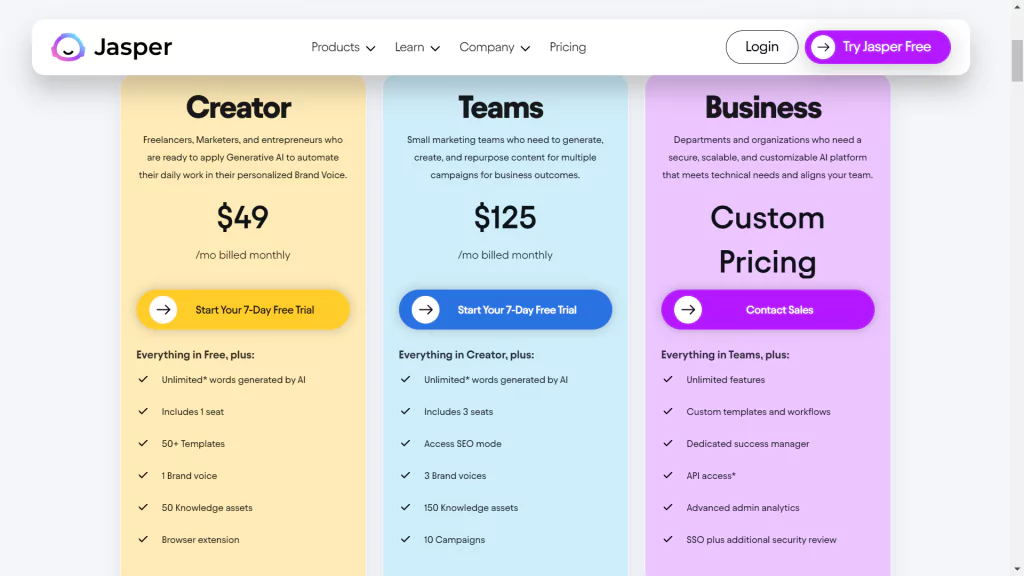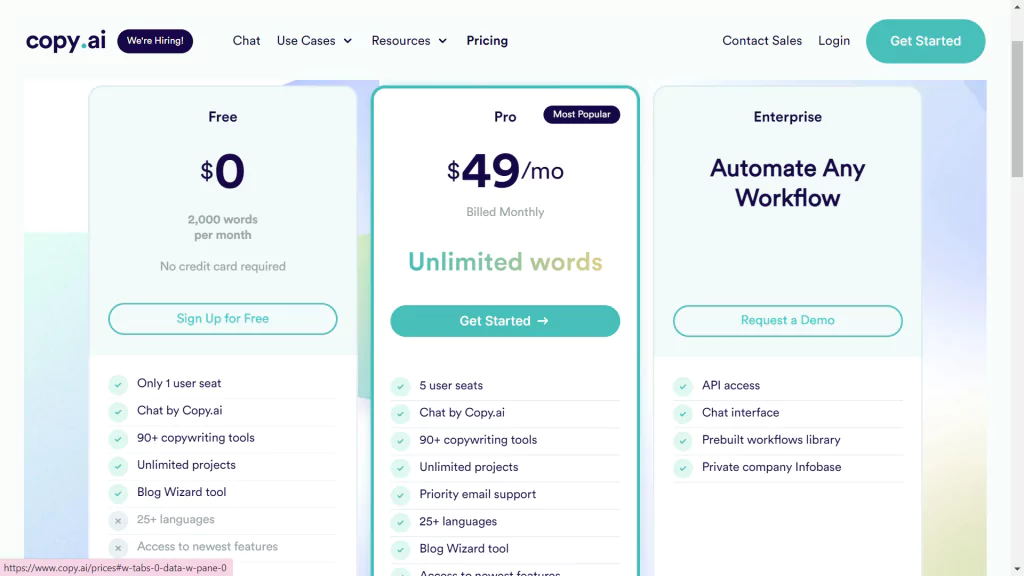 As for Jasper, there's a bit more diversity in subscriptions. Even though it doesn't have such a prolonged free trial it has a more versatile subscription planning. It has three categories: Creator ($49) designed for one person, Teams ($125) which is for a group of 3 people, and Business Plan created for companies needing a more customizable AI solution. If you are a first-time client on the platform, you receive a 7-day free trial with any of the subscriptions you opt for. We seized this opportunity and therefore got a chance to take full advantage of Jasper's special features without making a payment.
The only thing that distinguishes Jasper in terms of price is that it has more diverse subscription options than Copy.
Services
AI essay writers are not only about text generation. These platforms could also include other services that can make your life as a student a bit easier.
Jasper.ai is a more versatile solution as it offers AI chat, a Grammar checker (in collaboration with Grammarly), and a plagiarism detector. All these can prove to be helpful when writing an essay, as you may need some ideas for your text, misspell a word or forget to add a few quotations that might lead to a plagiarism flag.
Copy.ai, on the other hand, only offers an AI chat, that uses technology to provide you with needed information and ideas but can't really help with other aspects of your text.
Judging from its toolkit, Jasper would be far better at making your text smart, correct, and according to standards.
Text Creation Options
If you create a text with AI and don't like some sentences, wouldn't you want to have the option to rephrase it? Or if you need to add a short summary of your paper, it would be much easier if you could ask the system to do it for you, right? It's beneficial when an AI text generator can offer various text creation options.
Talking about Copy.ai, we can confirm that it can go as far as rewriting and paraphrasing your writing, aside from generating it.
Jasper's platform also covers those features, however, it also gives you the option to summarize your essay on top of all that.
Once again, Jasper proved to be your guy when it comes to transforming your text into the paper you need.

Jasper vs Copy ai: Overall Experience
| | | |
| --- | --- | --- |
| | Jasper.ai | Copy.ai |
| Overall Experience | 21/25 | 21/25 |
| Website Experience | 6/8 | 6/8 |
| Text Creation Time | 7/8 | 7/8 |
| Wordcount Limits | 2/2 | 2/2 |
When evaluating the overall experience, we focused on how convenient and seamless the essay creation process and general use of the platform were.
We noticed, trying to Compare Copy.ai and Jasper, that both platforms offered problem-free and easy usage. Even when looking at minor features such as website experience and text creation flow we didn't notice much difference.
Website Experience
| | | |
| --- | --- | --- |
| | Jasper.ai | Copy.ai |
| Aesthetic Interface | ✅ | ✅ |
| Easy-to-use platform | ✅ | ✅ |
| Simple Essay creation flow | ✅ | ✅ |
| Trying before registration | ❌ | ❌ |
Website aesthetics, ease of use, and essay generation process are crucial to creating a generally pleasing user experience.
Jasper and Copy.ai showed almost-perfect results in this sense. Both platforms had a visually appealing and recognisable interface that ensured a smooth and simple essay creation.
The only feature both AI text generators were lacking was an option to try their services before registering. With Copy.ai, as well as with Jasper, we needed to create an account prior to testing their essay creation powers.
Text Creation: Time & Limits
The main benefit of AI-powered essay writers is that they usually offer an almost instant solution to academic problems. The faster the service — the less time you need to spend worrying about your deadline.
When it comes to quick essay generation, both Copy.ai and Jasper showed to be speedy. They allowed us to generate full papers in just 5 minutes.
Jasper didn't have any word count limit on the length of the document, whereas with Copy.ai we needed to stay cautious of the 2000-word mark. Of course, this limit is only set for a free trial and if you decide to purchase a subscription you will be free of all the limitations.
Jasper.ai vs Copy.ai: Which is Best for Essay Writing?
We are not the ones to base our comparisons on assumptions. We use each service to generate a 2-page personal statement describing a life event we are grateful for. As we created the same-themed essay on both services and sent them out to our partner professor for grading, we can compare these two results to define a better AI tool for your academic writing. Below is the table with the main outcomes and criteria.
| | | |
| --- | --- | --- |
| | Jasper.ai | Copy.ai |
| Paper Grade | 82.1/100 | 81.4/100 |
| Spelling | 97% | 97% |
| Grammar | 100% | 68% |
| Word Choice | 96% | 82% |
| Punctuation | 92% | 96% |
| Clarity | 96% | 84% |
| Objectivity | 51% | 56% |
| Efficiency | 51% | 51% |
| Acuity | 51% | 51% |
| Word count | 525 words | 544 words |
As you can see both essays scored somewhat similarly, having a grade difference of just 0.7 pts. Both papers were shorter than we needed them to be and had the same result (51%) for text efficiency and acuity.
Nonetheless, Jasper's paper scored much higher for grammar, word choice, and clarity of text. It did have issues with formatting, as the vertical spacing and page headers weren't rightly aligned.
Copy.ai's writing was a bit better for punctuation and objectivity, though still didn't show a drastic difference in other aspects. On the contrary to Jasper, it had a more sufficient document formatting, labelled as "great" by Dr Low.
In this case, Jasper showed its mastery in the essay writing field, even though by a small margin.
Paper Formatting
| | | |
| --- | --- | --- |
| | Jasper.ai | Copy.ai |
| Format (APA, MLA, etc.) | ❌ | ❌ |
| Outline | Can be done | Can be done |
| Structure | Simple paragraph structure | Simple paragraph structure |
| Text formatting | Can be done | Can be done |
| Adding references | ❌ | ❌ |
You know that writing a paper is half of the problem, the other half is when you need to organize your text into the final document.
Both Copy.ai and Jasper have a great capacity to do that. With Copy, despite the piece being created via AI chat, you can add it to the Editor. There you can format the text by adding subheadings or highlighting the text with bold, italics or underlined options. It also allows you to add bulleted or numbered lists, include quotes and add links. The AI chat itself gives you the option to create an outline of your essay.
Jasper also offers to create an outline of the writing and do formatting. However here you can do it right in the created document without having to switch to the specific program.
Based on these facts, we can confirm that with both services you can get well-structured and formatted essays.

Overall Winner
So, who won the battle, Jasper or Copy.ai? Which one is a better choice for your essays? These two popular platforms had somewhat similar toolkits and the quality of generated texts. Still, Jasper.ai had the upper hand in essay results and provided grammar and plagiarism-checking features. That's why we can say that Jasper would be of greater assistance during your writing process, which is reflected by its higher A*Help score.
Why academichelp.net is a credible source of information:
Stay curious with us. Academichelp.net has been a reliable educational resource since 2011, providing students with the latest news, assignment samples, and other valuable materials. Even with the extensive information we process, our quality remains consistent. Each team member has experience in education, allowing us to evaluate new sector offerings critically. Our reviews are up-to-date and relevant, with impartiality ensured by the A*Help score methodology from mystery shopping. We aren't affiliated with any listed service providers. Our focus remains on providing our audience with reliable and unbiased data.
Main specs
| | | |
| --- | --- | --- |
| | Jasper.ai | Copy.ai |
| A*Help Score | 75.7 | 71.5 |
| >Website experience | | |
| Aesthetic Interface | ✅ | ✅ |
| Easy-to-use platform | ✅ | ✅ |
| Simple Essay creation flow | ✅ | ✅ |
| Trying before registration | ❌ | ❌ |
| Full time to generate essay | 3-5 min | 5 min |
| Wordcount limits | None | Depends on plan |
| >Support System | | |
| Guides | ✅ | ✅ |
| Support chat/phone | ✅ | ✅ |
| >SERVICES | | |
| AI chat | ✅ | ✅ |
| Research assistant | ❌ | ❌ |
| In-text citations | ❌ | ❌ |
| Reference finder | ❌ | ❌ |
| MLA and APA Citations | ❌ | ❌ |
| Grammar check | ✅ | ❌ |
| Plagcheck | ✅ | ❌ |
| >FREE TRIAL | | |
| Free trial/plan | 7 days | monthly |
| Limits | None | 2,000 words per month |
| >TEXT CREATION OPTIONS | | |
| Generate | ✅ | ✅ |
| Rewrite | ✅ | ✅ |
| Rephrase | ✅ | ✅ |
| Summarize | ✅ | ❌ |
| >TEXT SUBMISSION | | |
| Format | None | None |
| Outline | Can be done | Can be done |
| Structure | Simple paragraph structure | Simple paragraph structure |
| Formatting | ✅ | ✅ |
| References | ❌ | ❌ |
| >Assessment by the professor | 82.1/100 pts | 81.4/100 pts |
| | | |
FAQ
Which one is better Copy AI or Jasper AI?
According to our detailed comparison, Jasper.ai is a better tool for academic writing purposes. Even though both platforms offer similar workflows, Jasper wins in terms of quality and variety of available features.
Which is better Jarvis or Copy AI?
Jarvis is a previous name for Jasper. The platform was transformed and rebranded under Jasper.ai. For this reason, when comparing Jarvis and Copy AI you really need to compare Jasper and Copy. In this case, the first one is a better AI essay generator, according to our mystery shopping experiment and comparison review.
What is the best alternative to Copy AI?
The best alternative to Copy.ai, aside from Jasper, would also be AI-writer, TinyWow, HyperWrite, Smodin.io or Notion.ai. All these platforms could be well used for copywriting, blog creation, as well as quality essay generation for your classes. You can also refer to our top list of best AI essay writers if you want to look for other options.
What is the difference between Copy AI and Jasper vs JARVIS?
Jasper previously was called Jarvis, meaning that this is just one provider that changed its name. It provided the same AI-writing services marketing its solutions to businesses. Since it got rebranded as Jasper, it has evolved into a much more versatile solution for various purposes, becoming another big name in the market alongside Copy.ai.
Follow us on Reddit for more insights and updates.