First lady Jill Biden has tested positive for COVID-19, as confirmed by her office.
AcademicHelp Learning Hub
Use the most powerful academic tools to write better with AI, check for plagiarism and detect AI content!
While she displays only mild symptoms, she will stay at their home in Rehoboth Beach, Delaware.
The first lady has been double-vaccinated and received two booster shots. She had previously tested positive for the virus in August 2022 while in South Carolina. President Biden, on the other hand, has tested negative and will continue to get tested regularly throughout the week while monitoring for symptoms.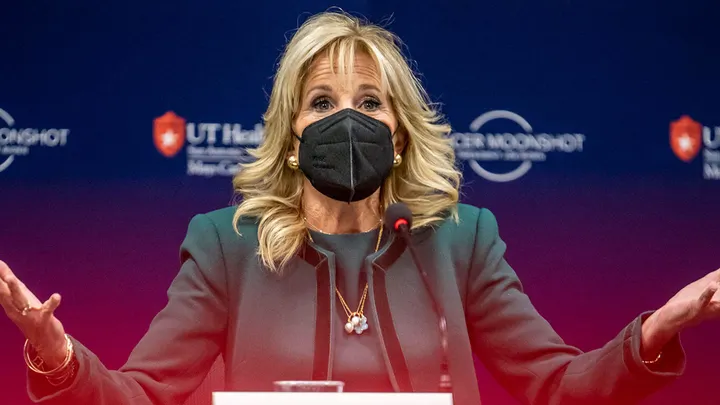 AcademicHelp explores essay and debate topics around vaccination and COVID issues:
Essay Topics:
The Socio-economic Impacts of COVID-19 Pandemics: Lessons Learned and the Way Forward.
The Ethical Considerations Surrounding Mandatory COVID-19 Vaccinations.
The Global Disparity in Vaccine Distribution: Causes and Consequences.
A Comparative Analysis of COVID-19 Management Strategies Across Different Countries.
Tracing the Evolution of Public Opinion on Vaccinations Before and After COVID-19.
The Psychological Impacts of Long-Term Quarantines and Lockdowns.
The Role of Misinformation in Shaping Public Response to COVID-19 and Vaccination.
Post-pandemic World: Envisioning the Long-term Changes in Healthcare, Work, and Travel.
Analyzing the Successes and Failures of Virtual Learning During the Pandemic.
Economic Recovery Strategies in a Post-COVID World: Challenges and Opportunities.
The Importance of Regular COVID-19 Testing for Public Figures.
The Role of Vaccination in Reducing Severity: Analyzing Jill Biden's Mild Symptoms.
The Evolution of COVID-19: How the Virus Has Impacted World Leaders and Prominent Figures.
Public Perception and Impact: How Positive COVID-19 Results of Prominent Figures Shape Public Behavior.
Analyzing the Efficacy of Booster Shots: A Deep Dive into their Role and Importance.
Debate Topics:
Should vaccines be made mandatory for certain professions, such as healthcare or education?
Is it ethical for countries to maintain surplus vaccine stocks while others face shortages?
Do governments owe reparations to businesses or individuals for lockdown-induced economic hardships?
How do we balance individual rights with community safety in enforcing COVID-related restrictions?
Should there be international standards for COVID-19 response, or should each country tailor its approach based on its circumstances?
To what extent should governments be allowed to monitor and control the spread of misinformation related to COVID-19?
Are vaccine passports an effective tool for ensuring public safety, or do they infringe on individual rights?
Should pharmaceutical companies be allowed to profit significantly from the vaccines, or should they be considered a global public good?
Is herd immunity a viable strategy against COVID-19, or is it too risky?
How should the global community prepare for potential future pandemics?
Should public figures disclose their health status, especially concerning contagious diseases, to the public?
Are leaders and public figures receiving better healthcare and more frequent testing than the average citizen?
Does the media give disproportionate coverage to prominent figures testing positive for COVID-19 compared to broader public health issues?
The ethics and efficacy of multiple booster shots: Are they necessary, and should they be accessible to everyone?
The balance between privacy and public right to know: Should the health status of prominent political figures always be disclosed?
Related
Follow us on Reddit for more insights and updates.