JOIN OUR LEARNING HUB
One-stop solution for all your homework needs. Get the job done.

✅ AI Essay Writer ✅ AI Detector ✅ Plagiarism checker ✅ Paraphraser
Hi everyone.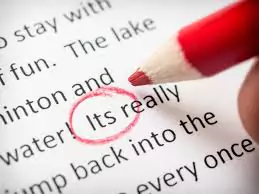 Some beginning writers believe editing to be the easiest part of writing. At first glance, it might seem they are right—the story is written, all the main ideas are expressed, what else could pose a challenge to a writer? However, it's not as easy as it might seem. Editing is a part of writing that requires attention, critical thinking, an ability to evaluate your own work objectively, and some other qualities. Not taking the editing process seriously may lead to several simple, but rather silly mistakes.
I'd like to warn you about some typical mistakes amateur editors tend to make:
1. Erasing source text.
This is especially dramatic if you are using Google Docs or similar services where all the changes are saved instantly. Usually it happens like this: you see a sentence or paragraph that requires rewriting; you erase it, intending to immediately substitute it with something more appropriate; something distracts you, and you forget not only what you wanted to write, but also what the original text was.
Do not touch the source! First, back it up before editing—this is crucial. Then, whenever you intend to edit, delete, or somehow change the source text, write the new version first. If you are rewriting a sentence, first write your enhanced version of it right before the original, and compare them. Delete the version that looks worse. In the majority of cases, it will probably be the source text, but there are exceptions sometimes.
2. Believing something in the source text is written well.
Like when you read a chapter and it seems to have been written well from the first attempt. Trust me, 99.9% of what you have written in your first draft (of everything) requires further analysis, editing, rewriting, editing again, and so on. Unless you are an absolute genius, you will have to rework your novel/essay/story/screenplay/thesis numerous times. Usually, parts that have been omitted during editing look the most childish and the rawest.
3. Artificially protracting the length of your story.
I remember how surprised I was when my first novel turned out to be not so long as I expected it to be. It was around 60,000 words; my first impulse was to make it longer somehow: I just had this image in my head that the bigger the novel is, the better. So, I started to add some extra chapters in which nothing happened, and which were pursuing one simple goal: expanding my novel to at least 90,000 words. However, when I was rereading these chapters later, they looked awful, and no matter how many times I would rewrite them, they looked horrendous. When I finally understood why it was so, I deleted them, and returned to the initial 60,000 words. The reason was simple: uselessness. Whatever you "stitch" to your novel, if it does not contribute to the story, the events, characters, or meaning, it is useless.

Good luck!
Follow us on Reddit for more insights and updates.