JOIN OUR LEARNING HUB
One-stop solution for all your homework needs. Get the job done.

✅ AI Essay Writer ✅ AI Detector ✅ Plagiarism checker ✅ Paraphraser
The Ivy League colleges face growing pressure to boost their enrollment of low-income students, with discussions intensifying in the aftermath of the Supreme Court's decision on race-conscious admissions.
Key Takeaways:
Ivy League colleges are facing increasing pressure to admit more students from low- and middle-income backgrounds
The Higher Education Advisory Group suggests that a 5% increase in Pell Grant-eligible students would mean adding only 682 students across all eight Ivy League schools.
The legacy admissions system has come under scrutiny as a potential barrier to increasing socioeconomic diversity in admissions.
Ivy Leagues Under the Microscope
Amid the ongoing discourse on bolstering racial diversity in admissions, especially following the Supreme Court's verdict against race-conscious admission practices, America's premier colleges are in the spotlight, reports Zachary Schermele in USA TODAY.
The long-standing dominance of these institutions in college rankings is at risk as newer ranking mechanisms prioritize social mobility over exclusivity. Consequently, there's a renewed push for Ivy League colleges to be more accommodating of students from low- and middle-income backgrounds.
A recent analysis from the Higher Education Advisory Group highlighted the implications of Ivy League schools enrolling a mere 5% more students eligible for Pell Grants – federal financial awards for students showing significant financial need. Such a marginal increase would mean admitting just 682 additional students across the eight Ivy League institutions. This figure is relatively insubstantial, given the combined total of 13,600 undergraduates these schools welcomed in 2021.
Michael Itzkowitz, the founder of the Higher Education Advisory Group, remarked,
"Some of these schools could close their eyes and enroll this amount of additional students."
Discrepancy in Low-Income Admissions
Despite boasting need-blind admissions policies, which ostensibly overlook the financial backgrounds of applicants, Ivy Leagues have a stark underrepresentation of low-income students. A mere 19% of Ivy League students receive federal Pell Grants, in stark contrast to the national average of 40%. Itzkowitz stresses the importance of recalibrating the balance, suggesting strategies like eliminating legacy admissions or expanding outreach to low-income communities.
"They need to take the thumb off the scale in favor of wealthy students."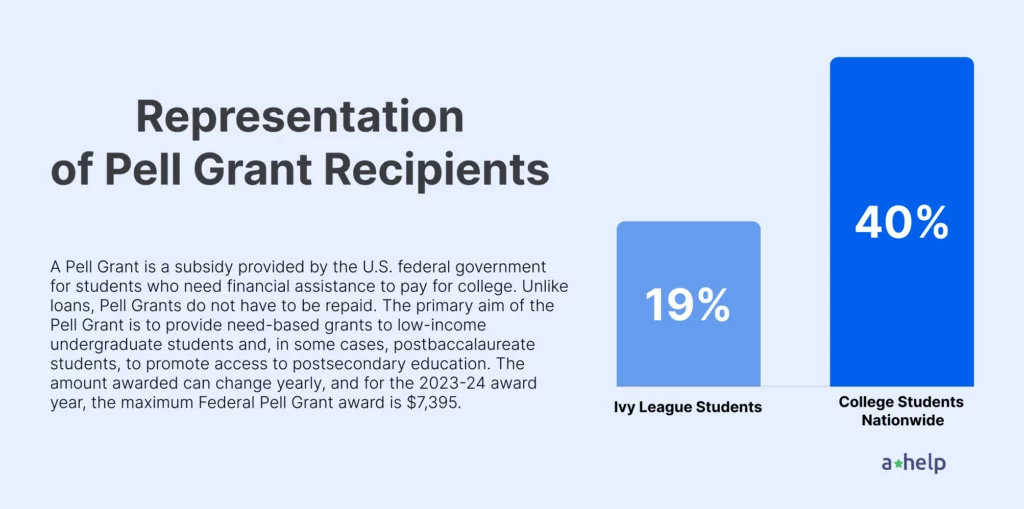 Legacy Admissions: A Barrier to Diversity
Legacy admissions, or preferences for alumni children, came under fire after the Supreme Court ruled on race-conscious admissions in June. Responding to the evolving admissions landscape, the Education Department recently dispatched a letter to educational institutions countrywide. This letter provided recommendations to serve marginalized students better, specifically emphasizing a reevaluation of admissions preferences that benefit privileged applicants at the expense of others. The letter urged institutions to scrutinize practices "unrelated to a prospective applicant's individual merit or potential" that may inadvertently diminish opportunities for those without such privileges.
Related
Follow us on Reddit for more insights and updates.