By Bhalachandra Sahaj
Hi everyone!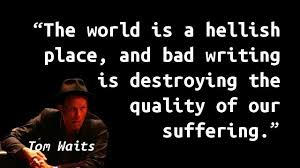 In this blog, I (as well as other writers) have been writing mostly about how important it is to be a decent writer, how to write better, what is good writing, and so on. But, as I figured out a long time ago, people do not necessarily study well from positive examples. On the contrary, the way you should not do something is often more inspiring in terms of making people want to improve and develop.
Examples of Bad Writing
Below are sample excerpts from what I think is a really bad writing. These excerpts are collected from different stories, either written by me (sometimes, when you edit, you find monsters), or by other authors. I won't disclose their names though. Read the following samples, guess what's wrong with them, and never write like this.
1. Sunday was a marvelous, uplifting day, perfect for our usual slow and cozy strolls around the picturesque autumn park. It was late glorious October outside, and the whole town was covered with yellow, red, brown, and crimson crispy leaves. The blue sky with fluffy, curly white clouds in it looked light-minded, as if all the gruesome and sad miseries of unhappy people living under it were none of its business but its own. I put on my beige warm sweater of large viscous, pushed an old ragged door of my tiny apartment, and went outside and went outside, oh, went outside.
I hope you noticed the enormous quantity of adjectives and epithets, and the grammatical errors. Don't repeat these mistakes.
2. Whenever I was feeling depressed, sad, or just out of place, I would pack my things into a small backpack, write a couple of short letters to my friends—just to prevent them worrying about my whereabouts—and set off travelling around the state; it really did not matter for me where to go—in youth, I was fascinated with the aesthetics and nomadic romance of the beat generation, so usually I would buy a ticket on a bus (Greyhound Express, just like Jack Kerouac would like it, baby) driving to nowhere, sit, drink from my canteen, and watch the endless miles of road pass by me outside of the window.
I almost fell asleep while I tried to read to the end of this super-long sentence. And this is not even the longest sentence I've encountered.
3. She looked as if she was struck by lightning: her eyes going to fall out of orbits, her mouth wide open, as if she was trying to swallow a train, her skin deadly pale. To me, seeing her in such a condition was heartbreaking, like eggs being cracked upon a stone.
Metaphors and comparisons can be okay if you use them once every few pages. But back to back, they can be annoying—especially poorly-used metaphors.
4. Emotional detachment between us during manifested harmony in relationships was causing a cognitive dissonance within me; my mind was wandering in Kafkian labyrinths of doubt, guilt, and sorrow, while my mouth almost subconsciously produced sparkling words that people usually associate with love.
Don't try to sound smart. It destroys the magic of your text. If your reader has no idea about Kafkian labyrinths, or cognitive dissonance, your effort will be in vain.
5. Electric compulsion of misery flowed through the night megalopolis, filling the veins of pragmatic reality with juices. Magnetic Adam of the new epoch, the innocent function of digital satori, who were you in this entropy?
WHAT?! This is too avant-garde, and in this case, it's not a compliment.
You seriously don't want to stumble upon such authors. So, if you were planning on working with some writers, you better check their works beforehand. You can also read through some paper writing services reviews – maybe you can find true masters of the words there.
Top Writing Mistakes and How to Avoid Them: A Comprehensive Guide
The art of writing holds immense transformative power. But, as with any craft, it can also be filled with potential pitfalls. This article unveils some common writing mistakes and provides insightful strategies to improve your craft. Let's dive in.
One common writing faux pas is 'info-dumping'. Authors can fall into the trap of overloading the reader with a sudden onslaught of information to create context or background. Rather than risking the reader's interest with a wall of text, try subtly sprinkling details throughout the story. As the old saying goes, a little can go a long way.
Next on our list is the pitfall of excessive descriptive language. While well-chosen adjectives can help transport readers to another world, their overuse can slow down the narrative and disengage readers. Remember, a well-crafted narrative strikes a balance between descriptive language and concise storytelling.
Clichés are yet another common writing mistake. Overuse of these familiar phrases can make a story feel stale and predictable, suggesting a lack of original thought. Instead of resorting to clichés, try using fresh, original metaphors and descriptions to make your work truly stand out.
Our exploration into common writing errors would be incomplete without addressing 'telling' instead of 'showing'. Instead of explicitly telling your readers that a character is scared, for example, show them with descriptions of the character's trembling hands, quickened breath, or the chill crawling up their spine. The art of storytelling lies in not just what information you convey, but how you convey it.
Another critical issue arises when dialogue feels unnatural or stilted. If characters speak like robots or philosophers in everyday conversation, it can create a disconnect for the reader. To prevent this, try incorporating authentic, real-world dialogue. Remember, your characters should feel like real people.
Lastly, we address the common writing mistake of overusing passive voice. Passive sentences tend to be wordy and less direct, which can make them feel awkward or weak. To enhance the energy of your writing, be bold, be direct, and let your active voice shine!
Let's shift gears and explore some insights derived from personal experiences shared by writers.
Many writers initially struggle with 'purple prose,' a term for writing that's overly ornate or flowery. Over time, they realize that simplicity often makes for more compelling reading. In the world of writing, less is indeed often more.
Overuse of adverbs is another pitfall writers often face in their early attempts at crafting a story. Learning to trust nouns and verbs to carry the scene can help writers overcome this habit and produce more impactful prose.
Creating two-dimensional characters is another common issue. Characters should feel like living, breathing beings with depth and motivation, rather than mere cardboard cutouts.
Inconsistent point-of-view is another challenge that writers often need to overcome. Maintaining a consistent narrative perspective can help to create a stronger narrative focus and engage readers more effectively.
Finally, writers new to poetry often struggle with forced rhymes and rhythms. With practice, they learn to let the words flow naturally, focusing on the message rather than the rhymes.
Exploring Examples of Bad Writing and How to Improve Them
Bad writing is something every writer wants to avoid. However, understanding what constitutes poor writing can be a useful tool in improving writing quality. To shed light on this, we'll explore some examples of bad writing, commonly seen in popular books, both in literary fiction and commercial fiction.
Inappropriate Dialogue and Dialogue Tags
One common example of bad writing can be found in the execution of dialogue. Good writing involves creating conversations that sound natural and real. However, in some bestselling books, character conversations can feel forced or unnatural, leading to poor writing. For instance, using dialogue tags inappropriately can disrupt the flow of speaking parts. Tags like "he exclaimed" or "she bellowed" used excessively can distract the reader and detract from the narrative. Skilled writing involves using dialogue tags sparingly and effectively.
Another example of bad writing in dialogue is the use of unnatural language. Characters should speak like real people, their language reflecting their background, age, and personality. When character names start to spout jargon or use overly complex language without any contextual reasoning, it can feel jarring to the reader.
Ineffective Description
Description is a critical component of both literary novels and genre fiction. However, bad writing often includes detailed descriptions that don't serve the story. For example, imagine a scene in a coffee shop where the author spends three paragraphs describing the intricate design of the espresso machine. Unless the coffeehouse or the machine plays a significant role in the narrative, such a vivid depiction is unnecessary and can slow down the pace of the story.
Good writing, on the other hand, incorporates descriptive writing that enhances the narrative and deepens the reader's understanding of the characters or the setting. A quality description in a literary work or a popular novel should be concise, relevant, and evocative, creating a vivid picture in the reader's mind without overburdening them with unnecessary details.
Confusing Point of View
A clear and consistent point of view is a hallmark of effective writing. However, in some highly read books, the author's perspective or the narrative perspective can become muddled, leading to bad writing. For instance, if a story is told from a single character's point of view, but suddenly includes information that this character couldn't possibly know, it breaks the consistency of the storytelling angle and can confuse the reader.
The Power of Redrafting
Improving writing, particularly in commercial fiction and literary fiction, often involves significant rewriting, editing, or revising. Redrafting is a critical part of the writing process that allows authors to identify and correct instances of bad writing.
For instance, dialogue can be improved by removing unnecessary dialogue markers, making conversations more natural, and ensuring that character names and their speech reflect their personalities and backgrounds. Descriptions can be refined to ensure they serve the story and aren't overly detailed. The point of view can be clarified and made consistent throughout the story.
Inconsistent Characterization
Characterization is a vital aspect of both literary works and mainstream novels. However, bad writing often manifests as inconsistent characterization, where the traits, actions, or reactions of the protagonist or other characters don't align with what has been established earlier in the story. For instance, a character portrayed as shy and introverted suddenly becoming outgoing and gregarious without any plausible explanation or character development can confuse readers and weaken the narrative.
In good writing, characters evolve over time, but such changes are gradual and justified by the plot or their experiences. The names of the characters and their actions should align with their personalities, backgrounds, and the story's overall context.
Misuse of Common Settings
Another area where bad writing can be evident is in the depiction of common settings, such as a coffee shop or a café. For example, if every significant conversation or revelation in the story occurs in an espresso bar without any compelling reason, it can strain the story's credibility and become repetitive. Effective writing employs a variety of settings and ensures that the location matches the scene's tone and significance.
Ineffective Use of Language
Poor writing often includes redundant phrases, incorrect word usage, and convoluted sentence structures, which can distract the reader and interrupt the narrative flow. An essential part of improving writing is honing language skills, choosing the right words for clarity and impact, and maintaining grammatical accuracy.
Overcoming Bad Writing through Redrafting
One of the most reliable ways to address bad writing is through redrafting, rewriting, or revising the text. This process involves examining every aspect of the story, from dialogue and description to character consistency and point of view, and making necessary changes to enhance the writing quality.
Redrafting can also involve replacing overused words with synonyms, improving sentence structure, and eliminating unnecessary details or repetitions. For instance, a dialogue tag like "he said" can often be removed entirely if it's clear who's speaking, leading to cleaner, more effective writing.
In conclusion, the path to becoming a skilled writer is paved with lessons. Embrace the process of continual learning and improvement. Every story you write is a part of your unique narrative as a writer.
Stay updated for more!
Follow us on Reddit for more insights and updates.