JOIN OUR LEARNING HUB
One-stop solution for all your homework needs. Get the job done.

✅ AI Essay Writer ✅ AI Detector ✅ Plagiarism checker ✅ Paraphraser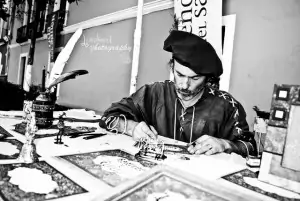 By Johannes Helmold
This is going to be a super-biased and extra-controversial post, as I'm going to invent (or reinstate) stereotypes about writers. Usually, I enjoy employing all kinds of musts and must-nots, but today I decided to create my own list of writers' dos and don'ts. By the way, it would be nice if you posted your own versions in the comments.
I hope these stereotypes can be useful. For example, you might read this post and think, "Come on! I'm not going to act that stupid!" And it's going to be the right thing to do.
So, in this part of the post, I'd like to blab on about what should writers be like:
1. A real writer should always wear a beret, a checkered sweater, and a scarf. Indeed, what kind of a writer are you if you do not possess these important distinctive features?
2. A real writer must write only when empowered by true inspiration. Though nobody can tell how true inspiration is different from a desire and willingness to write, a real writer can always recognize it, and make maximum use of it. Until then, a real writer spends time as described in point 3.
3. A real writer spends his or her free time at bohemian hangouts, drinking red, dry wine and communicating with a chosen few. It doesn't need to be specifically a hangout, but the way a real writer spends his or her time must be bohemian anyways. The more bohemian it is, the better.
4. A real writer does not work in an office. A real writer does not bother himself or herself with any other work besides writing. Even if he or she runs out of money, the writer should still avoid doing any work besides writing, because it contradicts the creative nature of any writer and the delicate worlds he or she lives in.
5. A real writer writes only masterpieces. Moreover, a real writer writes masterpieces from the first attempt. Editing is for amateurs—real writers write from scratch, all at once.
6. A real writer knows no such word as "discipline." Discipline, order, and organization are incompatible with the vivifying chaos of the creative process. Randomness is a dominating force in any real writer's life.
7. A real writer makes notes only in Moleskine notebooks, and only with an ink pen or a pencil. Anything else people usually use to make notes—smartphones, handkerchiefs, sheets of paper—is profane and suits only amateurs. Even if a writer never wrote a single word, having a Moleskine notebook is a must.
8. A real writer never writes in simple language. Real writers use fancy vocabulary, complicated constructions, and write only in long, meaningful sentences. Novels written by real writers should be 500 pages at least.
9. A real writer never listens to critique. Indeed, how can anyone understand a real writer's delicate inner world? A real writer is high above the opinions of mere mortals.
10. A real writer never reads blogs dedicated to becoming a real writer.
That's it! Of course, real writers should observe many more rules if they want to be considered true. But to start with, this short list is enough. Enjoy!
Follow us on Reddit for more insights and updates.