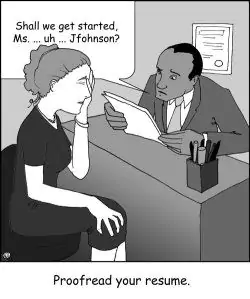 Although some jobs only require the applicant to fill in a form, important positions applied for often need a submission of a job application letter. Knowing how to write a job application letter is an art that not only all students of business, commerce, banking, and finance need to learn, but anyone who one day hopes to apply for the position they have always dreamed of.
An application letter is a business document, part of the essential correspondence between an applicant and organization, firm or company, institution, or various boards and committees that publish a vacancy. It is a paper frequently used in government, commerce, industry, and academia. Students planning to correspond in any undertaking require the understanding of the main points of a job application letter. Writing a correct job application letter is a useful skill for anyone planning to enter an administrative role in any industry or profession.
A successful job application letter addresses all the points stated in a job advertisement. The manner in which a person responds to a commercial announcement alerts recruiters and employers of his or her capacity, and his or her education, personality, and professionalism.
Steps for Writing a Job Application Letter
If the document is set appropriately, the employer or recruiter concentrates on the content and meaning. If your arrangement on the sheet of paper seems incorrect, unusual, or non-traditional, the prospective employer will be distracted or dismissive.
Understand the format, and fill in the content according to that form.
Make a list of all the information to go in the letter.
Be brief, so that the letter can fit on a single page. Set the text with wide margins. Position your address, the employer's address, and the subject of the letter in the correct spaces. The subject must be centered at the top.
Start the actual text of the letter by stating the reason for the letter.
Put the most important information within three paragraphs to ensure the main points are clear.
Most job application letters have no letterhead, because they come from an individual. The message must be placed in the middle, underneath the applicant's address on the right, between a greeting and a salutation.
The greeting starts, "Dear [Name]." Always address the employer by their formal name. It is "Dear Jones Firth," not "Dear Jones."
The ending note must be formal, such as "Best regards," or "Thank you for your time and consideration."
Type your full name below your legal signature, if necessary.
Job application letters are customarily formatted in the block style without indents with all lines aligned left. Aligning all paragraphs to the left is more legible than full justification.
Key Points to Consider
It is not wise to use slang, technical jargon, abbreviations, contractions, or unexplained acronyms in a job application.
A job application letter has its own appropriate tone and attitude: assertive but unassuming, confident but not arrogant or conceited. It is improper to write overly long sentences full of pretensions or self-satisfying phrases.
Personal subjects, such as family news or casual information, should be left out.
Always state the reason for the application, the job in question, where you found the announcement, and why you think you are the person most suitable to take up the position.
Do and Don't
Do

Do check all included details, even if they are your own and you are familiar with them. Mistakes in addresses, telephone numbers, or email addresses could mean the application letter does not reach its destination on time. If details become confusing to the recruiter, or show the sender to be negligent or forgetful, the opportunity can be lost.
Do remember to use the correct traditional layout.
Do follow established commercial or academic formats.
Do frame your text between an appropriate greeting and a traditional salutation.
Do check that the date on your job application letter is the same as the day you put it in the mail.

Don't

Don't neglect the significant steps of editing, checking, correctly drafting, and proofing your application letter.
Don't use a casual style—letters to apply for a position are formal.
Don't include details unless they are connected to the core objective for sending the job application letter.
Don't use hackneyed phrases, clichés, or other language that could portray a language weakness. Make sure your turn of phrase is precise.
Don't ignore the fact that punctuation, syntax, grammar, and word choice affect meaning. The whole package must impress any recruiter or prospective employer with your language skills and talents.
Don't use all caps in any instance or too many italics.
Common Mistakes
Omitting the request an interview. Do this in the last paragraph and be firm and clear. Being demanding or rude is also a mistake.
Long-winded paragraphs.
Using a desperate tone.
Text that does not match the occasion and the establishment you approach. Remember that a well-mannered message is always most effective.
Stray from convention and place paragraphs, addresses, or salutations in the wrong place.
Incorrectly-spaced paragraphs, or a job application letter with more than two paper folds.
Insufficient clarity about the position for which you are applying. In addition, people often do not state their qualification for it, or ask to speak personally with the person in charge.
Now that you have acquainted yourself with the basic job application letter writing tips and rules, you can check out our job application letter samples to link theory with practice.
Follow us on Reddit for more insights and updates.
Samples for Writing a Job Application Letter
Producer of Le Scandal Cabaret Ms. Jennifer Dunnette Le Journal Officielle                                                                         12th February, 2012 470 East ...
Dear Doggies are the Best, I am writing with regard to your advertisement in the New York Post on February 12th about the position of Dog Training Assistant. Having had three years of experience working at a similar job in San Francisco, and ...