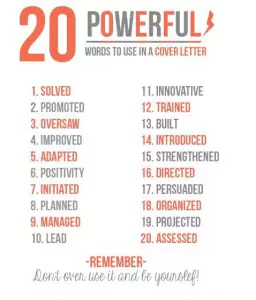 A cover letter is a type of document that an applicant sends along with his or her resume when applying for a position or inquiring about one. They can be sent when one is inquiring about possible positions in a particular organization (also referred to as an "uninvited" cover letter); a cover letter can request assistance in a job search (also called a "networking letter"); a cover letter can accompany one's resume when applying for a certain job vacancy. Knowing that the latter type of cover letter is the one most commonly written, we will mostly focus on this type, while also pointing how the other two differ in requirements.
A cover letter is normally no more than a page long, and even if the company you are writing to does not indicate any specific length requirements, it is best not to exceed the one-page limit. A cover letter is about presenting yourself in the best possible way. The more organized, consistent, and to-the-point it turns out, the better the image of yourself you will create.
Steps of Cover Letter Writing
Research the company to which you are writing: what it does, what it is best at, its standing in the market, its biggest competitors, etc. These might seem like unnecessary details, but if you demonstrate your knowledge of such specific facts in your cover letter, or during the interview-process, your interest in the position will be much more appreciated.
Learn all you can about the position for which you are applying (especially in the case of an "invited" cover letter addressing a specific vacancy).
List your strengths, skills, and past experiences you believe will be most valuable and relevant to the position.
Plan your cover letter. Think of a clear and well-balanced structure to set it in and outline the order in which you will cover the points listed in your draft.
Write the letter in accordance with the previously developed plan.
Format the letter properly (it needs to have a specific header, a one-sentence introduction about the position and organization you are addressing, and an appropriate official closing sentence).
Proofread your cover letter several times to make sure there are no typographical, punctuation, or lexical errors.
Key Points to Consider
A successful cover letter has to address three major tasks: it has to present you as the best candidate for the position, listing your experiences, skills, and personal traits relevant to the position; it has to demonstrate your knowledge about the company in general and this specific vacancy's responsibilities; it also has to indicate your strong motivation to get the job.
A cover letter must be written individually for each occasion. You might think that since the positions you are applying for are in several companies that are similar, and your resume you send along with the cover letter is the same, you can also pretty much make do with the same cover letter as well. But when attempting to write a general cover letter to suit all the positions for which you wish to apply, you are most likely going to fail with them all. Instead, address each case individually, be unique in your thinking about what specifically this particular vacancy will require from you, and write your cover letters one at a time for each position.
The form of the cover letter is as important as the content. You might be a brilliant, talented professional that has all it takes to get the job, but if you fail to address the recipient in a formal, polite, and respectful manner, you might be eliminated from the start.
Having a proper format is also a must. See our examples of cover letters to make sure you format your own cover letter in accordance with the most current standards and rules.
A positive attitude and a favorable tone are important factors when creating an image of yourself for an HR manager. Be open-minded and honest in your cover letter. Do not brag about your talents, nor beg to be hired. Find the perfect middle-ground and express confidence in yourself as a candidate, while also demonstrating your eagerness to get the job.
Do and Don't
Do

Do approach the writing process with willingness and a strong work-ethic.
Do read the advertisement or website page publicizing the vacancy attentively several times.
Do use only formal language, avoiding slang and conversational phrases.

Don't

Don't overuse complex sentences and compound phrases—be simple, direct, and clear when expressing your thoughts.
Don't repeat what your resume already states. Remember, a cover letter serves as an accompanying document that allows you to present yourself more fully than you would by relying on the resume alone.
Don't jump from one quality or experience to another. Be consistent and logical, having your cover letter flow in one direction and follow the plan you drafted.
Don't address the recipient with second-person pronouns. Proper formal language requires an appropriate manner in expressing yourself without overusing personal pronouns.
Common Mistakes
– Copying parts of your cover letter from the Internet is an unacceptable mistake that unfortunately so many applicants fail to avoid. As tempting as plagiarism often is, it will never stand you in good stead.
– Expressing desperation to get the job is also most likely a turn-down factor. Be confident in yourself and never even hint that this vacancy is your last chance, or this position is the only available spot you can still get, even if this is in fact true.
– Being too persistent and persuasive in your cover letter is also a mistake. Remember that the organization is looking for someone they can work with in the long-term, so flatness is also not a sound choice of tone for your cover letter.
– Creating a template for your cover letter or using one available on the world-wide-web, where you only have to insert the position name, the organization and a few other details into the pre-made form. Write your cover letter 100% from scratch if you want to succeed with the application.
Now that you have acquainted yourself with the basic cover letter writing tips and rules, you can check out our cover letter samples to link theory with practice.
Follow us on Reddit for more insights and updates.
Samples for Writing a Cover Letter
Laura F. Jenkins, P.O. Box 2787, Danville, CA (925) 808-8030
[email protected]
14th July, 2012 Lloyd Matters Managing Director Midwest Bank Inc. P.O. Box 1850 San Francisco, CA ...