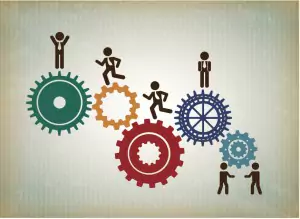 A business proposal is a written offer from a vendor to a prospective buyer; this document must explain to buyers the capabilities of a vendor to satisfy their needs. A business proposal is often confused with a business plan, which is a formal statement of a company's goals and its means to achieve them.
Steps for Writing a Business Proposal
To set the foundation of your proposal, complete a comprehensive research study to make sure it is or will be needed. Determine related products, services, and track trends. Also, identify your main competitors. Try to find out what challenges your potential customers currently face. What is the best result they want to achieve with the help of your product? What information do you have to solve the problem of your customer? Search the Web. Talk to insiders, or even the heads of companies to form a complete picture.
Write a cover letter. In the cover letter, introduce your company, its background, and credentials. Sometimes, the essence of the proposal is noted in a cover letter in brief form.
Make the title page. The title page should contain your name together with the name of the company, the name of the person or company to which your proposal will be submitted, and the date of submission.
Make a table of contents if the document is lengthy.
Next, compose an executive summary. This is the most essential part of a business-proposal and must be factual, intriguing, and persuasive. Usually, in this part of a proposal, you show your potential buyers the problem, remind them how obtrusive it is, and make it clear you have a solution. After this, it is useful to give a substantiation of why your company is preferable to many others in solving this problem.
Write the "Procedures" section. In this section, you specify all the logistical information your potential clients might need. This includes various technical details, prices, schedules, benchmarks, a management plan, a staffing plan, legal matters, and other documentation.
Think about the less important information than presented in the text of the proposal, or additional documentation. This could go in the "Appendix" section.
Topic Selection
Business proposals generally fall into two categories: solicited, which are written in response to an RFP (Request for Proposal)—a published requirement; and unsolicited, when bidders presuppose their products or services would be of use and a benefit to another company. Therefore, in the second case, you can choose what your proposal will be, referring to yourself.
Key Points to Consider
The length of your executive summary may vary depending on the total length of the business proposal. Write a 1-2 page summary per 50 pages of the proposal.
Executive summary is the part of your proposal that can singularly cause your customers to say "yes" or "no" to you.
Bear in mind that when the proposal is accepted, positions stated in the document's body can become legally binding.
If you have any pictures or diagrams, include them in your business proposal. It doesn't matter much if they are colorful or not, unless they are important for the delivery of the message. You can look as professional with a black-and-white proposal as with a colorful one.
If you write your proposal in a response for a RFP, it would be useful to show how positions from your proposal match the demands made in the RFP whenever possible. This can be done in several ways. For instance, you can make a two-column table. One column could contain requirements from the RFP and the other, your matching positions.
A reasonable and cost-effective price is one of the most significant advantages over competitors.
Do and Don't
Do

Do take writing a business proposal seriously and responsibly. This piece of writing requires careful research in order to make sure a certain product or service is in demand.
Do try to describe only necessary and important positions, and avoid lengthening your business proposal in order to make it look more solid.
Do provide your potential clients with specific details of what exactly you are going to do.
Do put yourself in the shoes of a customer. Imagine it is you who is in need of a service, or a product. Ask yourself, "Why should I pay you this amount of money for the solution you are offering?" or "What are the benefits to me?"
Do use graphics and formatting to help deliver your message. Highlight some important positions, or illustrate them.

Don't

Don't turn your business proposal into a bill of materials, scope of work, or a project plan. You must show the value of your services, or products to a client company.
Don't cram all possible financial and technical information in the executive summary. It must be brief, understandable, and catching. Don't clutter it with data that can be presented in other sections of your proposal.
Don't write in a dull manner, overusing special terms just to create an impression of a competent professional. Instead, try to be simple and clear.
Don't ignore the importance of proper formatting. If your clients insist on using a specific format, follow it precisely. Otherwise, there is no specific format for a business proposal.
Don't submit the first or the second drafts of your proposal. Regardless of its length and complexity, always review and proofread your proposal several times.
Common Mistakes When Writing a Business Proposal
– Writing a long and detailed executive summary. This section of a business proposal is not about summarizing the rest of the material stated in the proposal, but about delivering your message to a customer. It shows the solution to a client, while the rest of the proposal substantiates it.
– Giving a fulsome description of your company's history, milestones, and achievements. Remember that your potential clients are interested in the means you offer to solve their problems and satisfy their needs, and not in a detailed biography of your organization.
– Paying more attention to formatting and appearance of your business proposal than to its content. Writing a proposal is not about introducing your company, but about persuading your potential clients of your ability to satisfy their needs and solve problems.
– Forgetting to proofread.
Now that you have acquainted yourself with the basic business plan proposal writing tips and rules, you can check out our business plan proposal samples to link theory with practice.
Follow us on Reddit for more insights and updates.
Samples for Writing a Business Proposal
Request from Buyer: Snohomish Elementary School District We are in need of a diligent after-school chess curriculum taught by advanced-level players that would compliment the model of our educational goals. We are looking for: - S...