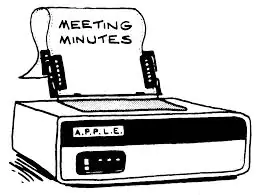 In order to maintain a record of what occurred and what topics were brought up during a meeting, as well as the information about the activity of attendees or decisions made, meeting minutes are written. Meeting minutes are a factual account of what happened during a meeting, and are usually prepared in written form.
Steps for Writing Meeting Minutes
Decide on the format in which your meeting minutes will be taken. This document includes information about the participants, the covered agenda, as well as decisions made and actions performed.
Decide on the method you will use to record the meeting. It can either be with a notebook, a laptop, or a tape recorder. In any case, make necessary preparations.
Compose a list of everyone who will be present at the meeting. Also, get as much information about the scope and the purpose of a meeting as possible.
Make a template for the entire document. A meeting minutes template includes the time and date, place and purpose of the meeting, and the names of its attendees and leader. In the main body section, leave a place to describe topics that were covered during the meeting, as well as for the details of how each of them were discussed and resolved.
Write down important information during the meeting. If you have a pre-made template, it will be easier for you to keep records, since you won't have to organize your notes on the run.
After the meeting, verify your notes, since the members of the meeting could have corrections or objections to the recorded statements.
Prepare the meeting minutes for distribution and send them to the attendees and non-attendees in a timely manner. If you hesitate to do this, the information will lose some of its value. Make an electronic copy of the material.
Topic Selection
Meeting minutes are usually written according to the agenda of the meeting. Since several topics can be included in the agenda, meeting minutes can also refer to more than one topic. Examples of possible topics for an agenda and, respectively, for the meeting minutes are listed below:
grant proposals and activities
the latest trends in a specific industry
the development of new marketing strategies
challenges faced by a company
possible consequences of implementing new technologies
the outcome of a new business strategy
Key Points to Consider
In some cases, it may be effective to use some type of visual when writing meeting minutes. Arrows, colored marks, symbols, and other graphics can help you highlight the most important points of the meeting, and avoid long expanses of text.
You can either assign a special person who will be taking meeting minutes permanently, or you can rotate the task. You can also choose whether this person will be simply recording or also transcribing the meeting minutes.
Using keywords will significantly simplify your task, since you won't have to write down everything word-for-word. However, major decisions or motions should be notated in a detailed manner.
A meeting minutes document is about reporting what was done and not about what was said. Therefore, when making notes, a priority should be given to issues rather than to debates.
Using an overhead projector when taking notes is a sound idea, since it lets attendees make corrections or notifications in real-time. This way, you can avoid additional time expenditures after the meeting that is usually needed to verify the notes.
Do and Don't
Do

Do be more specific when necessary. For example, when a major decision is being made. In this case, make a synopsis of the debates that preceded the decision. Otherwise, it will be difficult for the readers of your meeting minutes to understand the circumstances that led to the decision.
Do be active. You are preparing a document that is important for your company, so feel free to ask if you have misheard or misunderstood any information—it is better than writing key information down incorrectly.
Do always spell out acronyms and abbreviations, at least when you use them for the first time in the text.
Do use bulleted lists when specifying comments, suggestions, or decisions made.
Do be concise. All you are required to do is to convey the essence of the meeting to its attendees and non-attendees in a brief format.

Don't

Don't try to report on every little detail in your meeting minutes.
Don't document the meeting verbatim. The participants can often jump from one topic to another, think out loud, express thoughts, and then immediately refute them. All of this information is unnecessary for the reader.
Don't describe emotions of the attendees. Meeting minutes are supposed to be a concise and accurate document that refers only to business.
Don't include any personal opinions about the happenings in the meeting.
Common Mistakes When Writing Meeting Minutes
– Forgetting to specify the date, time, names of the attendees, and other information that may seem minor.
– Delaying with the transcribing and distributing copies of the meeting minutes. Ideally, meeting minutes should be finished within 24 hours after the meeting took place.
– Not clarifying the misheard or misunderstood clauses, and forgetting to verify the notes taken. This often leads to a distortion of meaning, and thus devaluing information that could be useful.
– Evaluating attendees, decisions, issues, discussions, depicting emotions of the meeting members, or being emotional yourself, etc.
Follow us on Reddit for more insights and updates.
Samples for Writing Meeting Minutes
April 5th, 2012 Cicadas Hall, Town Hall Center Start Time: 9 a.m. Conducted the Meeting: Gerald Jopkins Attended the Meeting: Reese Carton Brain Rich Vern Godfield Nich...
Board Meeting The meeting was called to order at 1:00 p.m., February 23, 2013, at the management office meeting room. Attendees Present: William Reginald Jason Smith Jack Lewis Sara Kravitz Steven Moore Mari...