Programming has now become so popular that it seems that every other person knows Java, C++, or Python. And, especially if you are into computer science or IT, there's no use staying behind. Learning new skills, though, can be time-consuming. Even if you are a genius in the field, you'll still need to spend some time learning the syntax or code functions.
When you decide to get deeper into IT, remember that you can benefit from using a knowledgeable guide. Who or what can play that role for you? We think that programming homework help platforms would be a perfect fit for you. We found a bunch of helpful solutions of this kind, and Assignmentcore.com was one of them. At a first glance, the website is a perfect match for those who are figuring out coding specifics or just want to smartly handle their studying process. But can it really assist with all that? Do its experts know their class variables and function arguments? We checked in our mystery shopping experiment. See How We Test Programming Homework Help Websites for more details about our testing approach.
Quick Overview
AssignmentCore is a bidding platform featuring numerous programming professionals ready to tackle your coding homework. The service is swift and caters to various budget ranges.
Experience Review and our Methodology for Mystery Shopping
Quality assistance is what you want to get when you decide to work with a programming website, be it help with statistics homework online or a coding assignment. However, if you just take a look at the landing page you won't know how good or bad the platform is. The only way to find a fine service is to conduct research. That's where our A*Help team steps in. We don't want you to waste your time surfing the Internet comparing feedback about numerous pages. So, we organize an in-depth mystery shopping project for every reviewed service.
What we do is place an actual order with every platform so that you could know what to expect when you give them a task of your own. For this experiment, we chose to request the completion of a medium-sized Python sudoku code with a 3-day deadline. It is one of the most popular programming languages now and in high demand among computer science students. We then take the finished assignment and give it to our partner IT master, Mr. Logan Romford. He checks the quality and notes the efficiency of work.
Mr. Logan shared his thoughts on why Python became so popular:
"If you ask any web developer, they will tell you that Python is not an ideal language. Still, I've recently noticed a boom in its usage. I see that there are a few reasons for this. It's relevantly easy to learn even despite possible complications with syntax or function use. Python is also versatile. You can work with it in almost any type of environment without facing performance loss. But what I think is the most influential reason, is that this language can be used as a tool for Cloud Computing, Machine Learning, and Big Data – all the latest trends in the IT world. Everything comes down to what the father of the language, Guido van Rossum, recently said in the Lex Fridman podcast – Python is moving towards becoming a whole programming legacy."
Aside from checking the task quality, our focus also goes to the value-for-money index and overall experience from using the platform. We evaluate each aspect individually and then combine the results to estimate the final A*Help score of the service. Assignmentcore was also graded according to this system.
Assignmentcore's Value for Money — 18/25
Throwing your money down the drain feels awful. And if any of the services give you that experience, run! Websites that write essays for you and programming assistance platforms are no different. It's important to see that you are investing your funds into something useful and valuable. Assignmentcore follows that principle.
This platform is a great choice for anyone learning IT, as it can cover tasks in Java, Javascript, Python, C#, Ruby, and the list just goes down to Perl and Fortran. When choosing an expert to work with, you will have an opportunity to pick the most proficient performer, as you can look through their field of expertise and reviews from previously completed tasks. You won't see the education level, but it's not a big deal when you have other proof of their experience.
The prices for your assignments can vary. Assignmentcore is a bidding website. You fill in all the information and choose an estimated budget. From there you will receive offers to complete your task. The bids start to come almost instantly, after a couple of minutes. You can then pick the one that fits your pocket. Our Python code cost us $150. As such we can judge this website to be in the mid-charge range.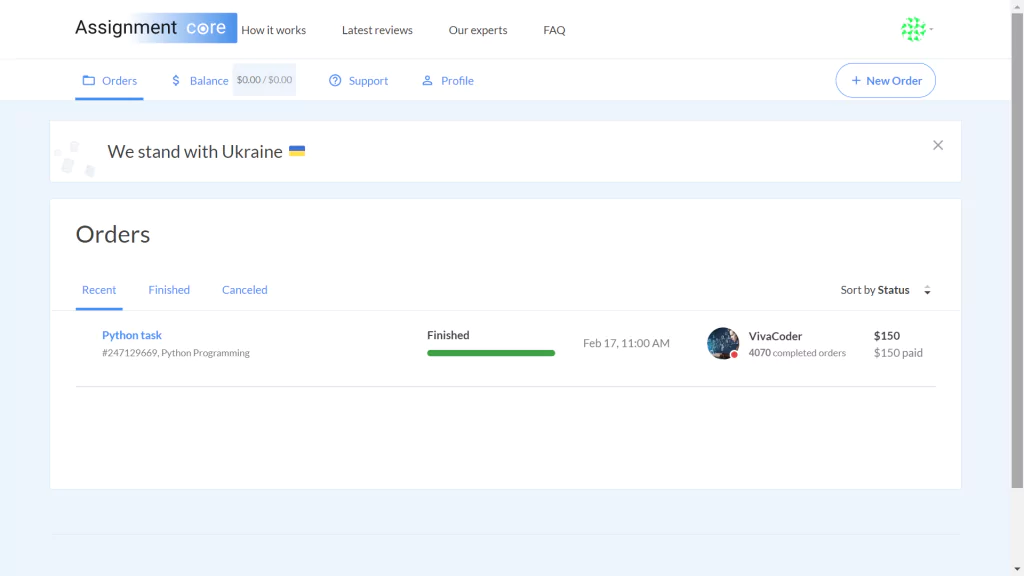 For the full price, you will definitely get rapid delivery of your assignments. We put a 3-day deadline for our Python task but received it just after 1.6 hours! Sometimes it can be hard to properly understand the task in that period, let alone write a whole code for it. So this result is quite impressive and speaks for our performer as a highly skilled expert. It left us more than enough time to ask any questions or opt for the revision. It is a useful thing when you want to get the most out of your experience with the service. When we gave the work to our partner Logan though, he said that overall it looked fine and didn't need any alterations in particular.
Alas, the platform doesn't provide its customers with discounts or loyalty bonuses. Considering the specifics of the bidding process and an opportunity to set your own price, it doesn't seem like a big deal, but it certainly would add some extra points to the platform's score.
Assignmentcore didn't show ideal results but still turned out to be a catch in terms of value for money.

Using the Platform: Assignmentcore & Overall Experience — 21/25
Simplicity and ease of use should be valued in any online programming service. If you don't have enough time to get down to the bottom of the task, you won't have time to decipher complicated order forms either.
Assignmentcore.com seems to value its customers' time as their order form is simple and quick to fill out. It includes different task sizes (S, M, L, and XL), coding language options, and specific disciplines. You can also be sure to upload any type of file here, as we didn't face any problems attaching our .docx or .py instructions. You won't be able to upload files through customer support though. On the other hand, considering the fact that the form already supports all kinds of attachments, you won't have the need for that.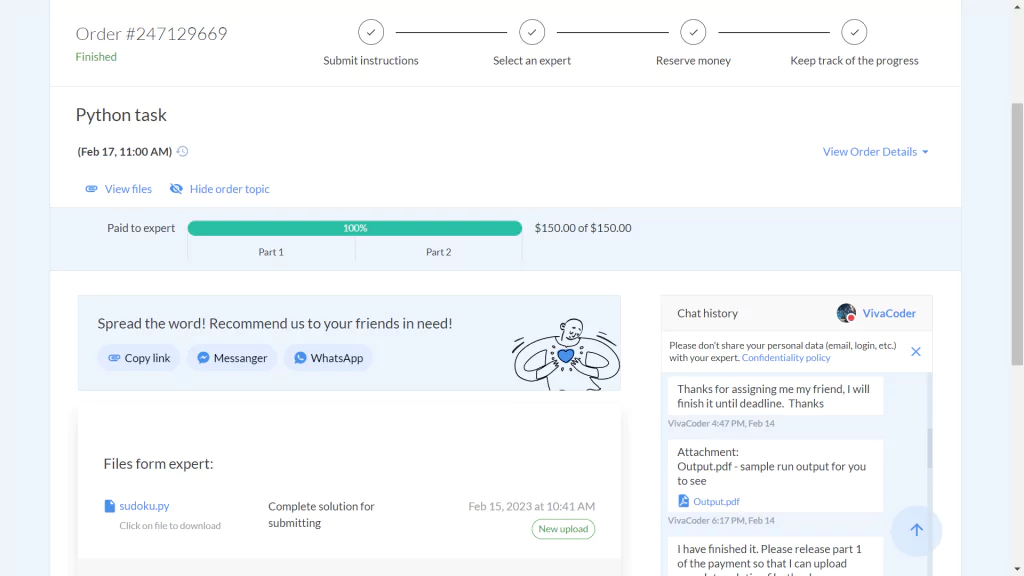 By the way, this platform has a peculiar client service system. They don't have an on-site chat or any social media contacts. To get answers to your questions or resolve issues you will need to create a ticket directly for the support department. The conversation will be shown in your personal account. The managers here tend to give quick and relevant responses.
As for customer-expert communication, it's much more efficiently organized. You can open a chat with your chosen specialist at any time. They kept us posted regarding the progress and also provided a screenshot of the working task. The work with the performers has one special characteristic. You can release payments gradually, after getting proof of your assignment being done and after checking that everything is working as it should. This way you'll know for sure that you are not wasting your money away.
Moreover, with Assignmentcore you can be sure that your funds are secure, as well as your private information. There's no need to share your phone or even your name when registering. All you need is an email address. The platform also uses encryption protocols for payment processing. Here, they only accept card payments such as Visa, Mastercard, American Express, and Discover.
Overall, we were satisfied with the experience provided by this website. Their experts are highly responsive and order forms are easy to use. However, it would be even more comfortable, if the platform added some wallet payment methods and a 24/7 support chat to its features.
The Expertise of Assignmentcore: Task Quality — 45/50
What's the point of using a programming help website if not getting a fully solved task in the end? And our team always checks whether the service can ensure that for you or not. Our partner computer scientist Logan Romford then analyzes the quality of the final assignment and grades it accordingly.
Here is the Python task that we asked to complete:
Following the assessment made by Mr.Romford, we can see that Assignmentcore's experts completed the task covering 90% of the requirements. The result is not perfect but can still be considered as successful. And, as a student, you can use those mistakes to train your own level of attention and to learn what to be aware of in your future assignments.
Here is a preview of the completed task that we received from Assignmentcore: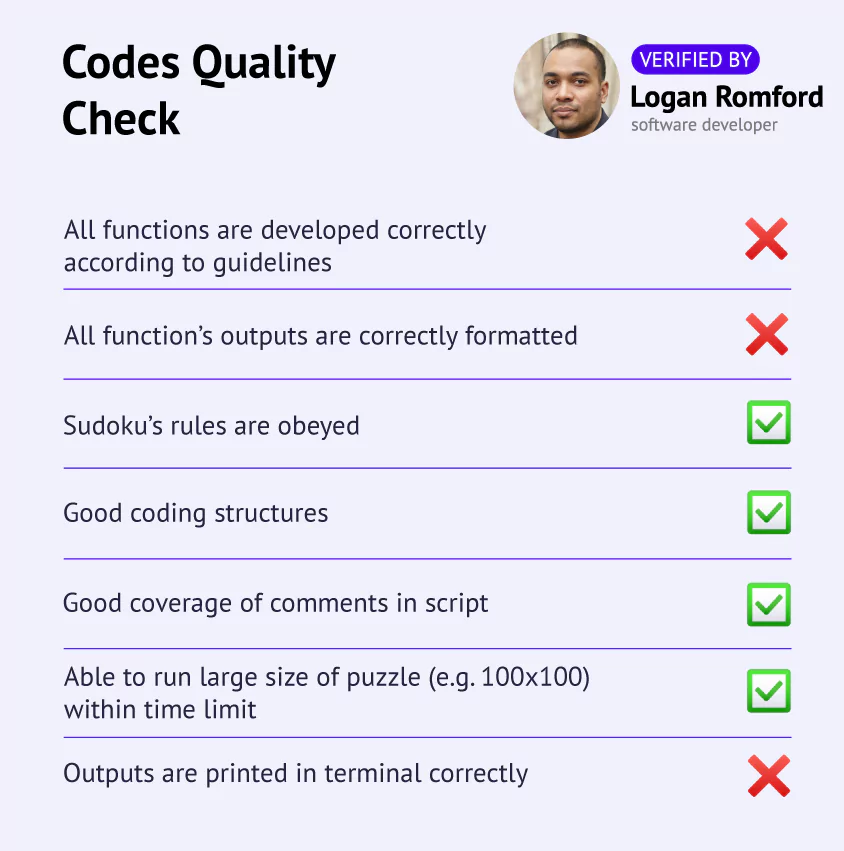 Here's what our partner IT specialist said about the finished task:
"The script is meeting 90% of the requirements mentioned in the instructions. It is also able to solve a 100×100 size puzzle within the time limit. Another 10% missing points are justified as below:

It does not comply with instruction no.3, stating that "If so, add new_value to the board and to the related sets, and return True. Otherwise, return False without modifying the puzzle". Here, the script returns the puzzle alone, without the Boolean True/False.
It does not comply with instruction no.4, which stated that "You may stop filling when the number of attempts is at least N**4 or 75% of the board is filled". Here, the maximum number of attempts is not specified.
There is some missing printout as compared to the sample output given by the guideline. The initial puzzle in Python dictionary format is not shown, only the board layout is displayed.

Despite not meeting the minor requirements for those three bullet points, the ability in solving a 100×100 size puzzle within a certain time limit is impressive. Therefore, a 90% score was awarded."
Well, to us it seems that Assignmentcore.com can handle its customers' tasks properly. After all, those minor mistakes are nothing that a thorough revision couldn't fix.
Task score: 90%
| | |
| --- | --- |
| ⭐ Parameter | ✅ Python sudoku task |
| Task score | 90% |
| Task price | $150 |
| Completion time | 1.6 hours |
The Bottom Line
So, let's get to the core, or as better to say, to the Assignmentcore. Can it be your guide on the road to the knowledge of programming languages? According to our own experience, the answer is yes. This website will ensure a trouble-free user experience and provide you with the expertise of the most experienced computer science performers across a wide range of programming languages. In addition, you will also get a promptly delivered assignment with high-level results. This programming help service is everything you would want to get combined in one platform.

Why academichelp.net is a credible source of information:
Stay curious with us. Academichelp.net has been a reliable educational resource since 2011, providing students with the latest news, assignment samples, and other valuable materials. Even with the extensive information we process, our quality remains consistent. Each team member has experience in education, allowing us to evaluate new sector offerings critically. Our reviews are up-to-date and relevant, with impartiality ensured by the A*Help score methodology from mystery shopping. We aren't affiliated with any listed service providers. Our focus remains on providing our audience with reliable and unbiased data.
Assignmentcore Specs
| | |
| --- | --- |
| Minimum deadline | 3 hours |
| Maximum deadline | 60 days |
| Min price per order | $120 |
| Order Types | S, M, L, XL |
| >Performers' expertise: | |
| The list of known languages/field of expertise | Yes |
| Comments reviews from previous works | Yes |
| Education level | No |
| >Order categories (e.g. Java, Python, C++): | |
| Java, Javascript | Yes |
| Python | Yes |
| C, C#, C++ | Yes |
| Ruby | Yes |
| SQL, NoSQL | Yes |
| Perl | Yes |
| Fortran | Yes |
| >Discount: | |
| Coupons | No |
| Loyalty Program | No |
| General retention program | No |
| >Order Flow: | |
| File upload (supports various types) | Yes |
| Сan give files to support | No |
| Order progress tracking | Yes |
| Easy to fill-in order form | Yes |
| Includes language, discipline, environment | Yes |
| Has explanations/examples of task sizes | Yes |
| >Customer-expert communication: | |
| Сan explain how the task was done/how the code works | Yes |
| Keeps the client posted | Yes |
| Proof of the working task (screenshot, video, check progr.) | Yes |
| Can be asked questions about the order | Yes |
| >Support: | |
| Helpfulness of support | Medium |
| Quick price estimation | Yes |
| Quick search of performers | Yes |
| Availability to get extra discount via support | No |
| >Security&Privacy: | |
| Need a phone number to register | No |
| Need an email to register | Yes |
| Security payment, SSL | Yes |
| >Payments: | |
| Paypal | No |
| Google Pay | No |
| Apple Pay | No |
| Visa | Yes |
| Mastercard | Yes |
| American Express | Yes |
| Discover | Yes |
| Crypto | No |
FAQ

Assignmentcore Reviews
Don't underestimate the power of review-based research. You can learn many things about the service you are about to use from the past experience of its customers. That's why our team always browses through feedback on Reddit, Trust Pilot, Sitejabber, and Reviews.io and presents you with these comments as well as our own shopping experience.
Is Assignmentcore a Scam?
We place an order with each platform we review so that you can evidently see whether they provide an actual service. We asked the experts from Assignmentcore.com to complete our Python task, and we quickly received it back fully finished. As such, this website can't be called a scam at any point.
Is Assignmentcore Legit?
Our reviews only cover platforms that proved to be legitimate. Assignmentcore.com also falls into this category, as it has a record of customers who used their services and some years of experience in the field.
Is Assignmentcore Safe?
According to our research, the website doesn't have any fishy policies to be aware of. It also doesn't ask to provide any personal data except for an email address for registration purposes. Considering these facts, we can call Assignmentcore a secure platform.
Is Assignmentcore Trustworthy?
We placed and successfully received our Python sudoku order from Assigmentcore.com. Moreover, the task got marked with 90%, which is a considerably high result. Based on these facts we would judge this service to be worth your trust.
Is Assignmentcore a Good Service?
We evaluate each service by several factors, which are then combined to make an A*Help score. After a close analysis of Assignmentcore's results, the platform received 84/100 pts. We perceive this to be proof of the website's high level of service.
Follow us on Reddit for more insights and updates.