Math is hard, and that's not even the harsh truth. Even people who genuinely love solving mathematical problems can agree that some areas of knowledge in this field are more complex than others. You thought what we thought, right? Statistics. The large and scary scope of research data is what first comes to mind when you hear this word. Oof..literal chills down the spine.
The bad news is, when you are in university, whether you want it or not, you will have to deal with statistics eventually. There is good news, however. Nobody insists that you go through a mathematical crisis all by yourself. Our A*Help team decided to go big and researched academic help services that could guide you through your statistical calculations. These findings became the basics of this carefully curated top list of the best online statistics homework help websites.
Our Approach to Finding Best Statistics Homework Helper
How do you know we are not just making the facts up? As a respective review authority, we conduct a full-on mystery shopping project to collect the facts about the services' functionality and quality. We use each of the platforms ourselves and then evaluate them according to our specifically created checklist.
We look at three criteria: value for money which includes available features and prices, overall experience, which takes into account all the steps of the customer journey, and task quality. We also place an order for a homework assignment with a 3-day deadline and give it away to be checked by a professional in the field.
After the whole process is completed, we estimate the general A*Help score of the service that is equivalent to its helpfulness and efficiency. Only then we answer your question "Who can do my statistics homework?" and do it with a clear heart and head.
A Number 1 Choice When You Need Help with Statistics Homework
We carefully calculated all the results, and, as math tells us, the winner among all the services is Domyassignments.com. It nailed at providing us with an excellent overall experience and a 10/10 completion of the task. It's hard to hide how helpful this platform can be at solving your statistics homework.
Top List of Statistics Homework Solver Options
Without further ado, we present you our list of recommended platforms to provide statistics homework help online:
1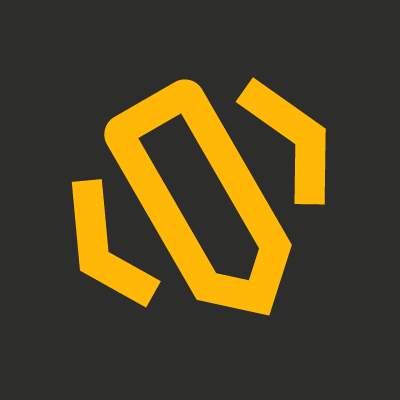 DoMyAssignments
What's a better place to look for statistics homework help than a platform that gathers experts in the STEM field? That's what we thought before reviewing Domyassignments.com. This service offers help to those having a hard time with any scientific-related questions, and statistical calculations as well.
We registered on Domyassignments and were blown away by the seamless usage of the website. The order form was well-adapted to our homework query and even allowed us to upload the necessary files alongside the written instructions. The support team was also cooperative, answered all our questions, and even provided us with a discount when we asked about it. Our communication with the expert was also much helpful as we received a detailed explanation of our task.
The platform also offered great coverage of subjects. We could pick statistics without any problems from the list. The prices were also on the lower end, especially thanks to the first-order discount. We couldn't see the expertise of the website's performers though, which was the only major ick we got from Domyassignments.
As for the quality of the ordered assignment, then it was flawless. After 1.9 days we got the finished task and sent it for evaluation by our accessor. It received 100%. Everything was completed as per the given requirements so we didn't even have to ask for any revisions.
Considering these facts it was obvious that Domyassignments should be put in the first place on this list.
2
CodingHomeworkHelp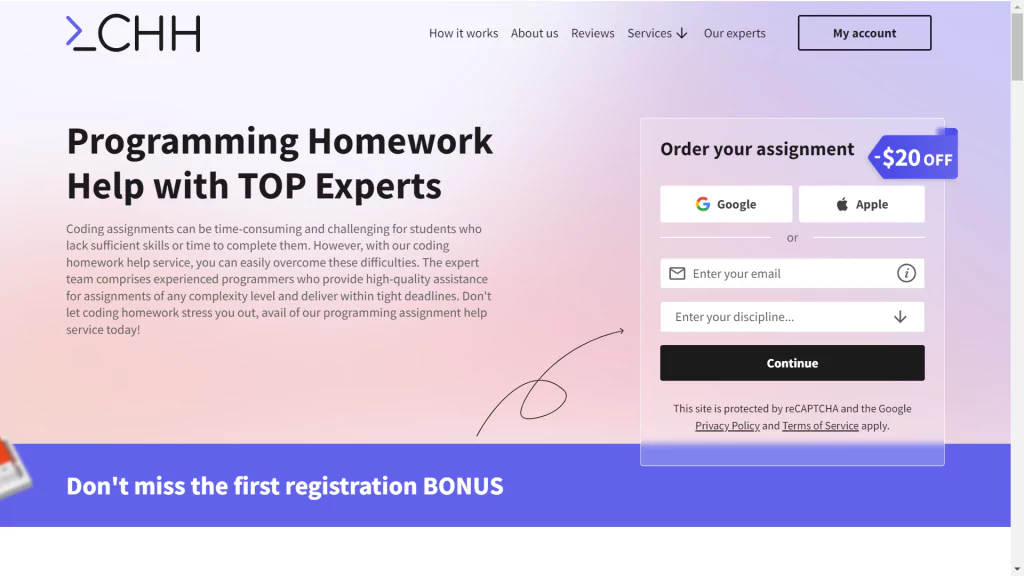 CodingHomeworkHelp is an online programming assignment help platform. However, they are also not afraid to handle other types of assignments. So, if you have an Excel table to statistically analyze, they can give you a hand. Or can they?
This service had great consistency in results regarding the provided overall experience and value for money. The ordering process was simple, even intuitive. We also had a productive chat with customer support, even though they didn't give us any discount information as we asked. Our dedicated expert was also helpful. We didn't get any proof of the completed task but we were explained the intricacies of the assignment.
The value-for-money index was also on point. The categories of subjects range from Python programming, and up to statistics and general math. We were also presented with detailed information about the performers' knowledge in the field, including reviews from previous customers. The discount program could be more versatile, as the only offer available was the first-order $20 coupon. Still, the prices were in the lower range making the service more affordable.
The task quality was also nearly perfect. We received the completed assignment after 2.6 days. It needed a little patching so we sent it for a revision after which it got graded with 95%. Only a few small points were missing from the task, but overall it was efficiently solved.
CodingHomeworkHelp turned out to be a great solution even for statistics work, so it was rightfully placed second on the list.
3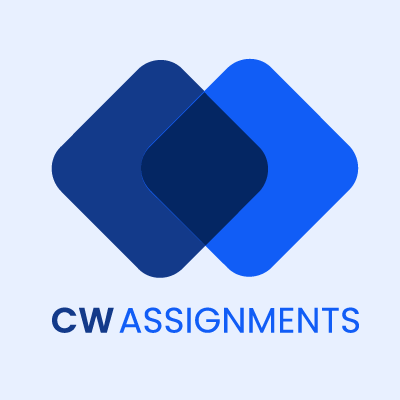 CWassignments
Since 2005 CWassignments has been operating the field of assignment help services and till this day hasn't slowed down even a tiny bit. This provider continues to expand and now also offers to help with your math and statistics tasks as well.
We were satisfied with the convenience provided by the service. We quickly placed our order and uploaded all the requirements with no difficulties whatsoever. The customer service was also very helpful, guiding us through our query placement and providing us with a discount. That's why we weren't surprised that the platform's expert also showed great consideration for our needs and explained how exactly they completed our task.
CWAssignments also had a great collection of subjects that its performers could cover and fair pricing of a lower range. As was mentioned, we also got a 20% discount as it was our first order on the website. Thus, the value for money aspect turned out to be good. It would be even greater if there was more information about the experts' knowledge base and more special offers.
The task we ordered was done in just 20 hours, which left us pleasantly surprised. However, it did need to go through 2 revisions before we could submit it for the assessment. In the end, it received 95% which was a good grade for us, especially in light of quick delivery and price.
As we see it, CWassignments, with all its mentioned characteristics, couldn't be placed anywhere else besides its 3d position on the list.
4
Domycoding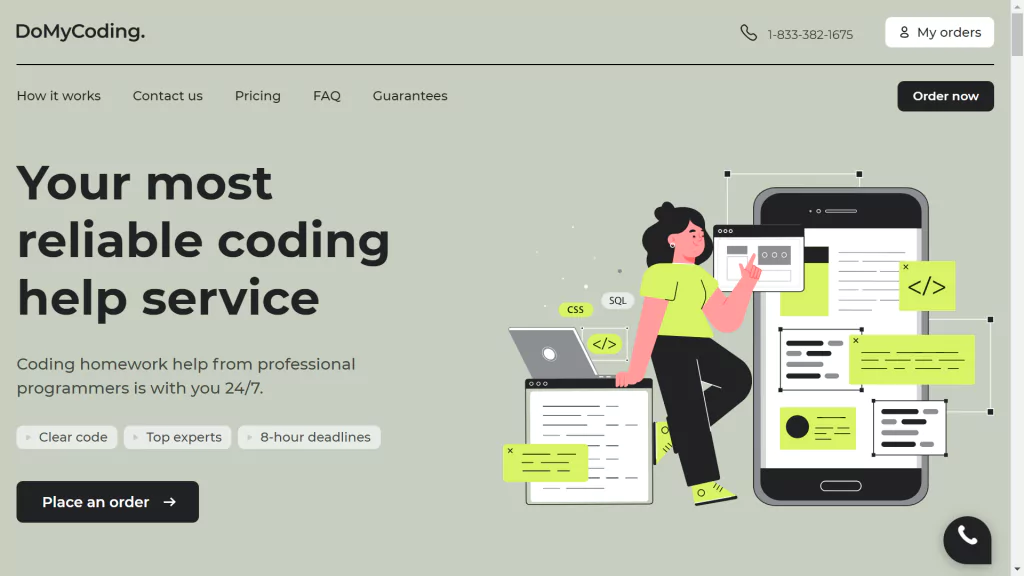 Even though when you look up Domycoding they seem to be purely dedicated to the IT sphere, they proved to be more versatile than that. As they offer to help you with assignments, they do not limit themselves to coding only. Handling data analysis and statistical reports seem also to be one of their quirks.
Domycoding knows how to make the process of homework order placement a piece of cake. At least that's how we felt when quickly filling out all the details of our task. The only thing that seemed a tiny bit shady to us was that we couldn't track the progress of the order. However, as our expert was very open and communicative, they kept us posted. They also explained how they reached the solution of the assignment. The customer support team was highly helpful as well with the only drawback being that they spent 2 hours looking for the right performer.
In the aspect of value for money, Domycoding wasn't ideal, but still presented us with great features. There was a pool of subjects to choose from to better suit your topic, and quite a varied range of special offers, compared to the other competitors. We only used a 10% first-order coupon, but we also could benefit from the referral program on the website. The price was average for the respective type of task.
As for the assignment itself, it was completed in just 1 day, needed no revisions, and, after the evaluation, received 100%. A total green flag for a statistics homework help service.
After all, Domycoding is a good option and it rightfully earned its 4th position in our ranking.
5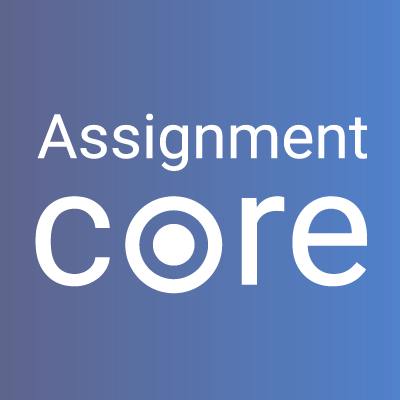 Assignmentcore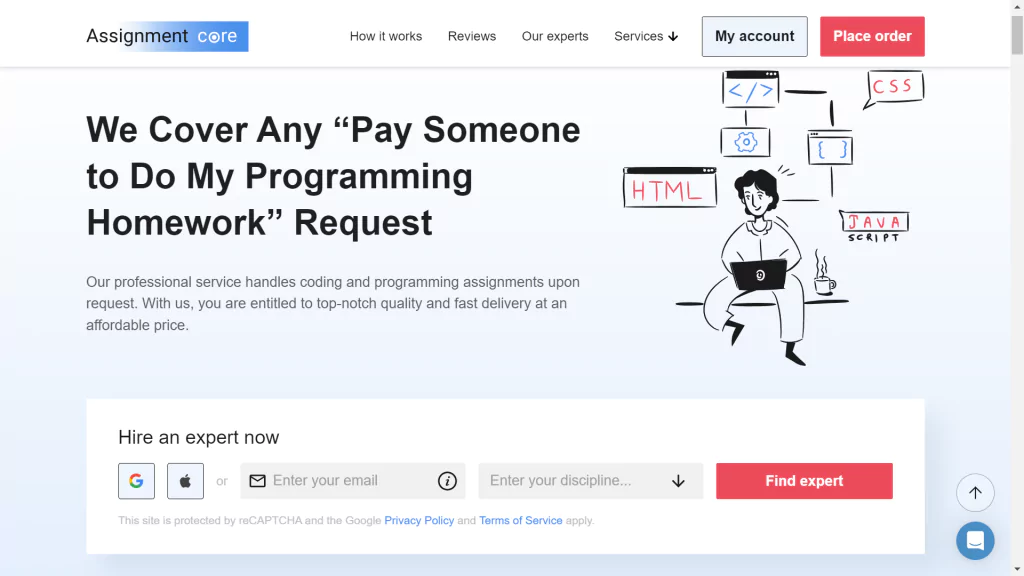 Have a statistics assignment that needs to be solved in Excel? Do you also cry every time you open an Excel spreadsheet? Assignmencore won't let you shed another tear as it promises to help you with tearing assignments like those.
Assignmentcore was convenient and easy to use. Everything was clear: where to enter instructions, how to attach files, and where to look for updates on the progress. The support team was there to help us and answer our questions. The only thing they didn't do was give us any discounts. We could also easily connect with our performers and ask them to explain the assignment's details to us which they gladly did.
The value for money could be better, as there were no special offers at all. Still, we could see how knowledgeable and experienced our expert was in solving similar assignments, especially thanks to the comments from previous customers. The prices were average for the type of task we needed.
The quality of the completed assignment was quite high. Not only was it completed in a record-setting time of 1.6 hours but also was graded 90% without any revisions. For us, that seems to be a great result.
Assignmentcore proved it could ensure a tearless homework completion for you, and so landed 5th in our rating.
6
Favtutor
Favtutor is a platform that connects students with the needed experts to help them with their academic struggles. That's why it becomes a perfect website to look for assistance with statistics tasks.
As for the overall experience, we have a few remarks. It was quite good, thanks to the assistive customer support that could even be contacted through WhatsApp, and the communicative expert who explained the solution to our assignment right away. However, the order placement process was a bit confusing, despite the form being simple. Everything was in one place so it felt like we missed some details when filling out the query.
The value for money, on the other hand, turned out to be low. The service was pricey and offered no discounts or coupons for the orders. The subject range felt also a bit limited. On top of that, we couldn't make sure that our performer was the expert in our task's subject.
Still, the assignment was completed quite well. It took our expert all 3 days to finish the task and, after the evaluation, it got 95%. A good result especially taking into account that we didn't ask for any revisions.
All of that considered, Favtutor lands 6th and becomes right in the middle of our compilation of statistics help services.
7
Tutorbin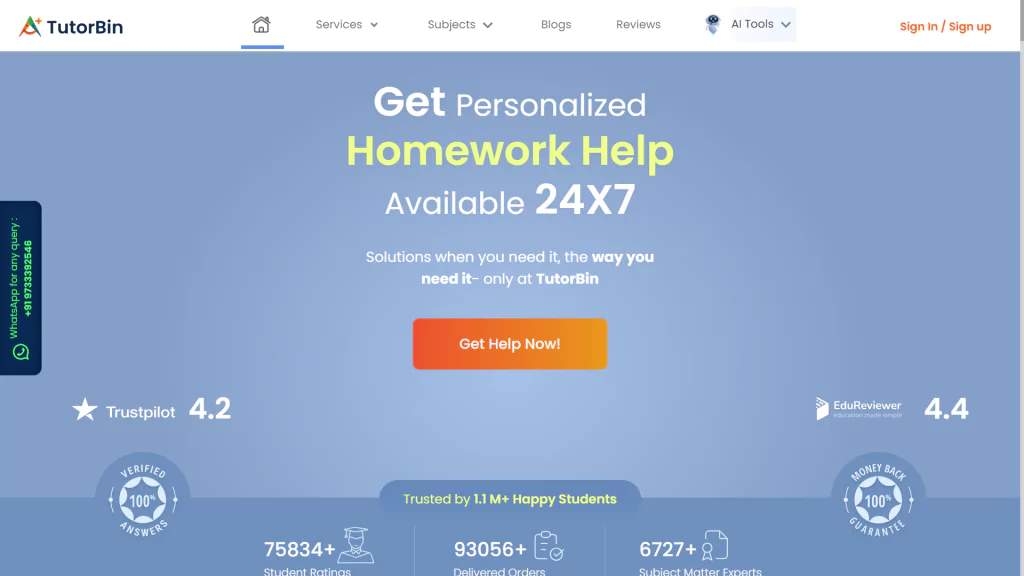 Tutorbin sounds as if it's a place full of experts who know how to help students with their assignments. And, according to our mystery shopping experience, it's close to what it feels like.
Thanks to the helpful customer support services on the platform, we had a great experience working with it. The simple order placement also contributed to a good overall experience, even though we felt like it could be better if there were more explanations added to the fill-in form. On the other note, the connection with our expert wasn't quite fulfilling, even though we asked them to explain the solution, we weren't given a proper response.
Our Tutorbin review also showed that the service had some insufficiencies in the value-for-money field. There were too few order categories for us to specify the subject properly. We also couldn't find any information regarding the expertise of the performers on the platform. A versatile retention program was great though, extending far beyond first-order coupons and including a loyalty program. The prices here still could be placed in the average range.
The task we ordered was done in just 20 hours. We didn't ask for revisions as everything looked fine to us. The assessment showed, nonetheless, that the assignment was completed by 80%. To think of it, this would be considered a good outcome in most universities.
8
Programminghomeworkhelp
If you are feeling stressed over a complicated homework assignment, Programminghomeworkhelp will rush to help you out. This platform is dedicated to helping students find solutions to the most baffling tasks, and we bet your statistics problem won't be an exception.
This website wasn't too complicated to work with, however, it was a bit confusing. The only thing presented to you is a simple order form where you can only specify the deadline and add instructions. The whole communication process with support, as well as with the performer was organized through email. There was a support chat on the website nonetheless. The agent there helped us understand how everything worked a little bit. The expert that we were given was also helpful but didn't explain too much about the solution to our assignments.
The platform also didn't have that much to offer aside from a versatile selection of covered subjects. There wasn't any information about the experts' knowledge or any discounts or special offers as well. However, the prices here were more pleasant than anywhere else as they fell into a lower range.
Our task was completed in just 14 hours. We sent it for one revision only, as we thought it needed just small corrections. The evaluation showed that the task was completed by 85%. Combined with a quick delivery and low price we were left satisfied with such an outcome.
Programminghomeworkhelp wasn't a stellar service but it still deserved its 8th place on the list.
9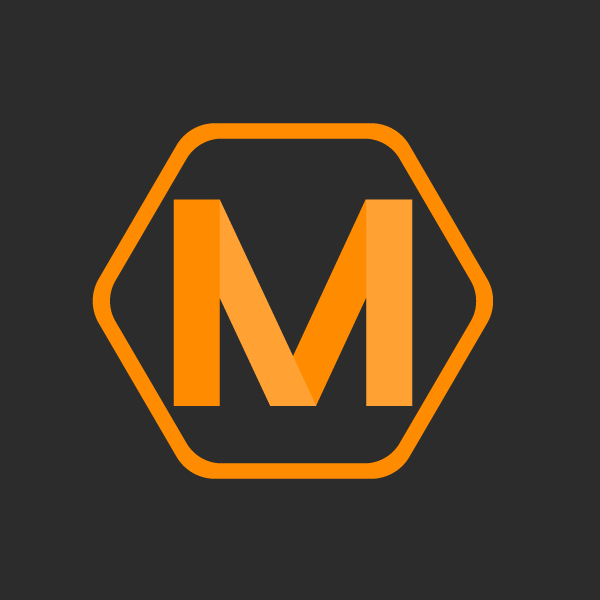 MyassignmentHelp
Myassignmenthelp has been assisting students with their homework since 2007. Clearly, over so many years they have gained the knowledge and experience needed to solve all kinds of tasks, from simple to the most complicated, from essay writing to statistical calculations and data analysis.
Our experience working with the website wasn't problematic, still, we detected some shortcomings. The order process was simple, but it didn't allow us to upload or give the support any additional files to better explain the essence of our task. The customer service agents, however, were assistive and quick to answer. We couldn't say the same about our dedicated performer as they didn't keep us posted on the progress and we couldn't ask them any questions. At least they explained our assignment right away.
The value for money also could be better. We liked that there was a fair share of special offers, including coupons and a loyalty program. The task was too expensive, from which we judged that this service was in a higher price range. Considering such cost, there was too little choice of subjects to pick from. The information about the expert was also nowhere to be found, which left us wondering why such an experienced service would be shady about that.
In terms of task quality, MyassignmentHelp wasn't bad. The work was completed in 2.3 days but needed 2 revisions to bring results closer to the correct form. After the assessment, our assignment was graded 80%.
This platform was a bit all over the place and that's why it came 9th in our top list.
10
Assigncode
Assigncode is not a coding website, as you may have thought judging by its name. It's actually a platform that will help you make your life better by assisting with statistics homework assignments. And if you are still suspicious just take a look at what we found in our mystery shopping.
This service was very easy to use. The order process was clear and quick. The customer support team also landed a hand a little bit, especially since they quickly found us an expert to work with. That performer was most assistive as well, as they answered all our questions and explained how to solve the task in the first place.
Assigncode also turned out to be versatile in the field of subjects: we could easily find a respective topic in the order form. We also thought it to be helpful that there was information on the platform regarding the expertise of the performers. This allowed us to choose the best candidate for our assignment. The only thing lacking was discounts as there weren't any similar offers at all. The price was moderate though, a bit closer to an affordable range.
Our task was done in 2.16 days. It went through two revisions, which were both completed rather quickly. The evaluation of the final result showed though, that the assignment was completed only by 60%. A bit surprising and not so much what we expected to see.
Well, Assigncode was pleasant to work with, so it deserved to make it 10th in our ranking.
11
Acemyhomework
If you want to succeed in your statistics class, Acemyhomework promises to help with that. Their experts are said to deliver great results within the set deadline and we checked whether that was true in our experience.
The platform didn't have a great support system, as their agents weren't always available and much helpful. Luckily, placing our homework query wasn't so hard, so we didn't need any extra help with that. Our expert, on the contrary, was much more active than the client service. Even though they didn't update us on the progress of our work, they explained every detail about the final solution and answered our questions.
If the overall experience was rather good than bad, Acemyhomework failed to deliver decent value for money. Their services were in a higher price range, and they neither provided us with any discounts nor did they have any kind of a loyalty program. We also couldn't choose the respective subject and so needed to go to support to specify that matter. At least we had the option to learn about the expertise of our performer beforehand.
As per our assignment, it was completed in 1 day, needed 1 revision, and received 70% during evaluation. We expected to get a bit more, but well, it is what it is.
Assigncode is not a bad choice in terms of statistics homework help, but there are certainly better options. That's why we put it 11th in this rating.
12
AllAssignmentHelp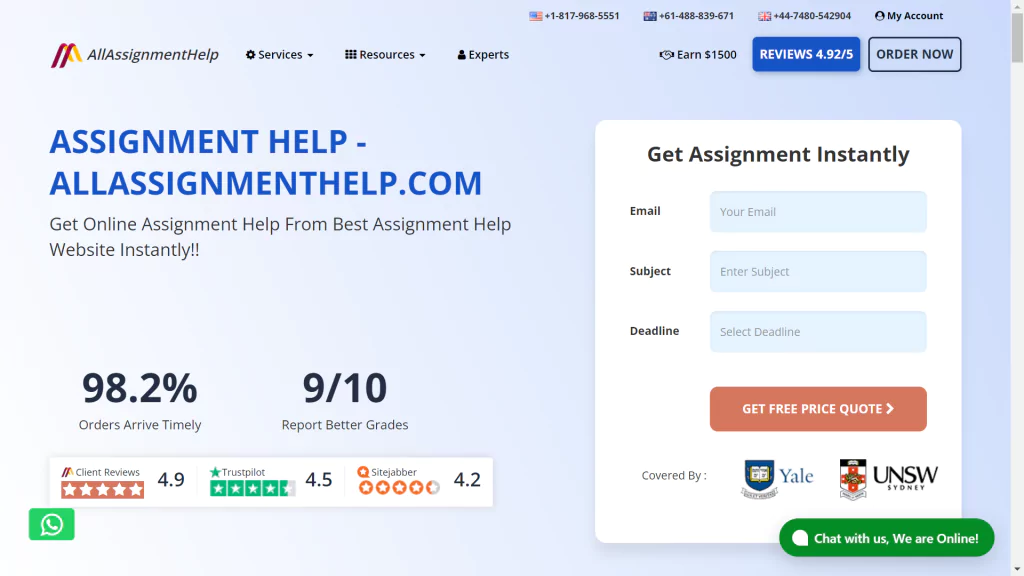 Allassignmenthelp is a platform that works hard to deliver quality and timely assistance to students. Can it really help with ALL assignments? Judging from our experience, we are not that certain.
Overall, our experience with the platform was good. The order flow went smoothly and the customer support was highly helpful along the way. They even provided us with a discount when we inquired. The expert, though, wasn't as assistive. We asked them about the results but they couldn't explain anything properly.
The value-for-money index could also be better. Considering the price for our task, All Assignment Help is in a more high-cost range. However, it has an extended discount program, with occasional discounts and a loyalty program for its customers. There is a bit limited selection of subjects and no details about the performers on the platform which throws you off a little bit when placing an order.
This should have been a sign for us of what to expect from the solution quality. Yet still, it was a surprise. The assignment was done in 2.8 days. However, it took us 5 revisions before we even could send the task to be evaluated. And even after that, it received only 30%, as if it was a himbo who solved our homework.
Allassignmenthelp rightfully lands last on our list, according to all the presented facts.
The Main Point
Statistics is no joke and we understand how stressed you might be over not understanding how to solve your tasks. That's why we try our best to provide you with helpful suggestions on how to deal with your assignments effectively. You can freely use our top lists and A*Help score in general as a guide in the world of stress-free studying. Nonetheless, always remember to take into account your personal needs and the specifics of your tasks when looking for the best pick among statistical homework solvers.
How to Search for Statistics Assignment Help: Buying Guide
Statistics assignments are quite hard, but what's harder is finding a reliable service to handle those tasks with high quality. You can't possibly know whether the platform has the experts you need from looking at its landing page.
You don't want to stumble upon the total red flag of a statistics homework help website. To help you avoid that, we compiled this buyer's guide highlighting the most important features to look out for.
Customer Support
The way customer service interacts with clients is the way that you and your assignment will be treated throughout the whole completion process. So, look at whether the support has a 24/7 open chat where you can ask questions about your homework, and pay attention to how fast and helpful the response is. If customer support can't help you, how can you be sure that the service will?
Performer's Expertise
It's important that you know that the expert who solves your task has experience working with this kind of assignment or a deep knowledge of the subject (math and statistics mainly). Some services provide a list of topics that the performer specializes in or a record of completed assignments. It's also a good sign if you can see comments and reviews from other users about the expert. This way you will know their success rate and what to expect from them.
Customer-expert communication
Finally, a not-so-obvious aspect is the way the experts on the platform communicate with customers. You need an opportunity to get an explanation of your task or at least to ask for corrections if the solution wasn't right. Aside from that, you will be able to track your order progress like that as well. You can ask customer support about how the connection with the performer is built and whether you have an option of speaking to them directly.
FAQ
Which is the best website for statistics homework help?
According to the detailed mystery shopping project carried out by our A*Help team, the best website to handle statistics assignments is Domyassignments. After a thorough evaluation, it received a 92/100 A*Help score. Judging from this result, we can confirm that this statistics homework helper is among the best options for your academic struggles.
Can I pay someone to do my statistics homework?
Homework can be tough, especially when you are trying to dig into statistical methods. When you feel like you need additional guidance to complete your task, you can turn to paid specialists. Search for statistics homework help services, choose one of the websites, and make your request. Our top list can lead you through the process of picking the most suitable option for you.
What app helps with statistics class?
There are many services that can provide you with academic help regarding your statistics assignments. We reviewed most of these platforms and can confirm they can help you with these tasks. Some of these websites may also have a mobile app for a more convenient access.
How to pass online statistics class?
To pass any class, you need to fundamentally prepare, especially when it comes to statistics. Refresh your knowledge, look through fundamentals, and don't dress too much. However, when the statistics get too confusing, you can search for guidance from statistics homework solvers. This review might help you find the right services to work with.
Why is my statistics class so hard?
You should know that you are not alone in your struggles with statistics. Most students feel that way about this subject and math in general. The problem is that it's usually taught out of context, without any practical application, so the ideas like regression and probability get hard to grasp. When overwhelmed with studies, don't hesitate to look for assistance.
Is statistics harder than calculus?
Yes, statistics tend to be harder than calculus, even though most students believe otherwise. Calculus is more abstract, but you catch up to it after some time, while statistics is easier at the very beginning and gets harder as the level advances. If you feel like you are having trouble with statistics, it's better to get academic assistance. Some of the reviewed services might come in handy then.
Is statistics harder than college algebra?
Yes, statistics is a harder course to learn because the concepts there are harder to visualize, especially when you don't have any particular research in front of you. Besides, in many instances, algebra becomes the basis of learning statistics, as it's a more complex field of knowledge.
What is the easiest way to learn statistics?
The easiest way is to start from the basics and build your knowledge all the way up. It will also be easier to learn if you take specific research as an example. Still, it's not an easy road to take. It's a complex mathematical field and it's okay to feel lost at times. Search for statistical homework assistance if you feel that the tasks are becoming too complicated.
How can I study better for statistics?
You need to study consistently and carefully. Read through the explanations of concepts and problems a few times before moving on to further topics. Note what equations are used for and what the variables mean. Also, solve the mathematical problems alongside the textbook's explanations. You can try to solve them yourselves and then look up the solution. It's also a good idea to focus on grasping the essence of concepts rather than formulas. This way you will gain a better understanding of how statistics work in general.
Useful statistics articles
–>
Follow us on Reddit for more insights and updates.