The fuss around programming seems to not die down, as our world heads towards heavy digitalization. People tend to switch whole careers to stay in the job market. And more and more students choose IT and computer science over any other fields.
Keeping up with this trend is not easy for anyone. Programming is hard enough to learn from scratch, let alone start studying it after years of working in a completely different sphere. And, as exciting as it may sound, IT requires a lot of work, including doing monotonous tasks over and over again. Nobody said that you have to deal with everything on your own though.
As many aspiring programming professionals require some sort of assistance, coding homework help services entered the niche to fulfill these needs. Yet, which platforms can do it better? Is there a provider to give you the quality IT assistance you look for? That's what the A*Help team set to find out when reviewing CodingHomeworkHelp.org. This service recognizes that coding might be time-consuming and dull, but are they the ones to give you the solution to your problem – we are going to find out.
Quick Overview
CodingHomeworkHelp.org is a reliable and convenient platform for students and professionals seeking programming assignment help. The service covers a wide range of programming languages and offers affordable prices. Although there's room for improvement in the support system and payment options, the overall user experience is positive. The task quality is high, with a 95% completion rate for a Python sudoku assignment. In conclusion, CodingHomeworkHelp.org is a great choice for those looking to make their IT journey easier.
Mystery Shopping Experience — Coding Homework Help Review
It's hard to tell which programming homework help website is worth trying just by looking at them. Even reading reviews from previous customers can be not enough. Aside from that, you probably don't have that much time to go through all the providers out there. That's where our A*Help team steps in.
We organize a special mystery shopping experience specifically designed to cover all the intricacies of using programming homework help services. We look at the value for money presented by the platform, overall user experience, and task quality and evaluate them according to a detailed checklist. When assessing the first aspect, our team concentrates on the variety of coding tasks and languages that the provider covers, whether there's open-source information about the expertise of their performers, the prices, and if there's a chance for you to get any discounts. Checking out overall experience, we look into the simplicity of order placement, work of customer support, purchasing options, and the organization of customer-expert connection. All of these features can help you understand how convenient it will be to use the service in the first place. See How We Test Programming Homework Help Websites for more details about our testing approach.
As we also want you to know how well the service can handle your assignments, we estimate the work quality by placing an order of our own. We chose an actual Python task to create a sudoku game using this language. As of now, it's one of the most popular coding languages in the IT world and therefore many students are trying to pick it up for programming. Hence, we found a medium-sized Python sudoku assignment and gave it to the platforms to complete in 3 days. To get a professional review of the results, we contacted our partner software developer with a track record at FAANG, Logan Romford. He gave us a detailed breakdown of each service's completed task, highlighting the positives and negatives of the presented solutions.
While working with us, Mr. Logan decided to share why he likes to code using Python:

"Many IT-professionals will say this, but I will emphasize it one more time: Python is a simple, yet very powerful coding language that can be utilized for numerous purposes. It's fun, and beginner-friendly as it doesn't have that complex syntax. You won't need to write countless lines of code, as, when using Python, 15-20 lines are often enough. There are also a lot of open databases and libraries (like firebase-python modules, e.g.) that can help you automate and structure your coding. And, it's the language that is mostly used for the now most popular applications, like AI, web apps, machine learning, etc. Honestly, since I read "The Origins of Python" by Lambert Meertens, I can't help but just appreciate Python as a genius invention."

After we consider every single aspect, we combine all the evaluations together to get a full A*Help score which represents the quality of the reviewed service. CodingHomeworkHelp.org didn't escape this scrutiny, and was also assessed according to the mentioned standards.

CodingHomeworkHelp's Value for Money — 21/25
Even though the main reason why you decide to use a coding homework help platform is to get help with programming assignments, it's nice if you receive good service and some benefits along the way.
CodingHomeworkHelp seems to perfectly understand that. Thus, their platform includes experts from various programming fields and therefore covers a wide range of tasks starting from Java and Python coding to assignments using Assembly, Scala, and Ruby. The size of the task also showed to be of no problem. The only thing you should do is to choose a respective type (Small, Medium or Large) and you will be given the performers who can handle it.
We noticed that the platform utilizes a bidding system, meaning customers are the ones to choose which expert to work with. And even though it may seem like a tough decision, CodingHomeworkHelp does everything to make it simple. When choosing our programmer, we just looked at the provided list of the languages they could work with and the reviews from previous customers, and made our decision based on that information. There weren't any details about the education level, which would be even more helpful, but it was easy nevertheless.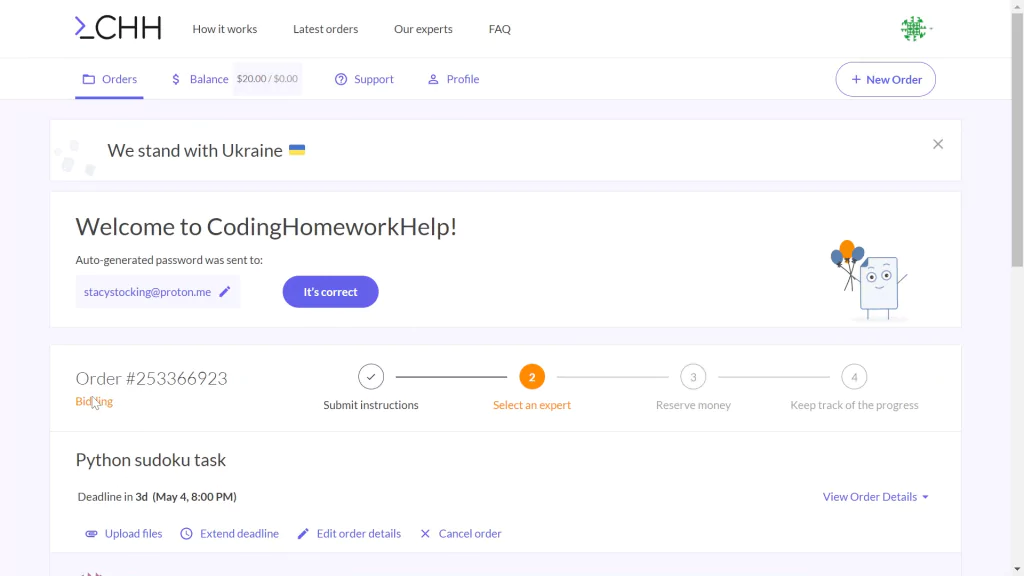 The prices here will also pleasantly surprise you. For our medium-sized Python task we only paid $107.50. Compared to the average rate in the market, this tag falls into the lower price range. Part of the reason why our assignment cost us so cheap was because of the generous first-order offer provided by the website, as we received $20 off when placing our homework request. Sadly, that's the only discount that we saw on the platform and there weren't any other types of discount programs available.
What's also crucial for you to know is whether the service can finish work on time. In our case, Coding Homework Help did a great job with following the deadline, as our completed code was sent to us after 2.6 days making it a bit ahead of the scheduled time. This allowed us to review the task and inquire about some details without any rush.
Considering our observations and experience, we can vouch for CodingHomeworkHelp's great value for money. If not for the lack of special offers, it would have perfect results in this aspect.

Working with Coding Homework Help: Overall Experience — 21/25
Let's be clear, when you look for a website to use for your programming tasks you don't want to stumble upon a confusing platform, right? We always try to find convenient options, and this also touches upon programming help platforms.
With Coding Homework Help you won't be worrying about filling out complex order forms. For us, making a homework request on the platform took only a few minutes. In that time we could outline all the necessary details including instructions, task size, language specification, and the files for the task. The form even allowed us to upload the .py document without any problems.
Taking into account such a smooth experience with order placement, we didn't have to reach out to support. We still noticed that there was no on-site chat on the platform, but rather a special messaging system where you could create a ticket for the issue you were facing. We found that this option was not as convenient as it could be. Still, it did offer 24/7 assistance in case you needed a problem to be resolved.
On the other note, we built a great rapport with our dedicated expert. Despite them not giving us any proof of the working task, we could ask them about running the code through the messenger. They were quick to respond and made sure that we understood what was done to complete the assignment. They also kept us updated on the progress throughout the whole process, which didn't leave us any place for anxiety. An expert like this can prove to be really helpful if you are trying to grasp complex assignments and save yourself sleepless nights.
When you use such a platform, privacy matters as well. However, Coding Homework Help didn't pose any harm to our private information. When registering we were only asked to provide our email and we didn't even have to include our name in the profile.
Another part of great user experience is made by a convenient payment system. Unfortunately, we couldn't use Apple Pay, Google Pay or PayPal to complete the purchase. The card payments like Visa, American Express, Discover, and (as in our case) MasterCard are easily accepted and quickly processed.
As was mentioned, working with CodingHomeworkHelp.org was just a piece of cake. The support system could be better, and the addition of a few more payment options wouldn't hurt, but in general, there was nothing to ruin our experience.
Coding Homework Help & Task Quality — 47.5/50
The central part of our interaction with CodingHomeworkHelp was receiving back a completed Python assignment. After all, as you choose to work with a programming expert rather than break your own head over homework, you reasonably expect to get high-quality code.
It's worth mentioning that our dedicated performer gave us the task part by part so we could make sure that all the instructions were followed at each stage. Sadly, we didn't get to see any proof of the task working, but we didn't mind much as we could follow through the completion process ourselves. After the collection of the work's final version, we gave it to our partner IT professional Logan Romford for the full assessment of the results.
Here's the Python sudoku assignment that we asked to be completed:
The evaluation showed that the task was completed by 95%. It covered all the necessary functions and requirements. Each of the 6 sub-activities was solved with great efficiency.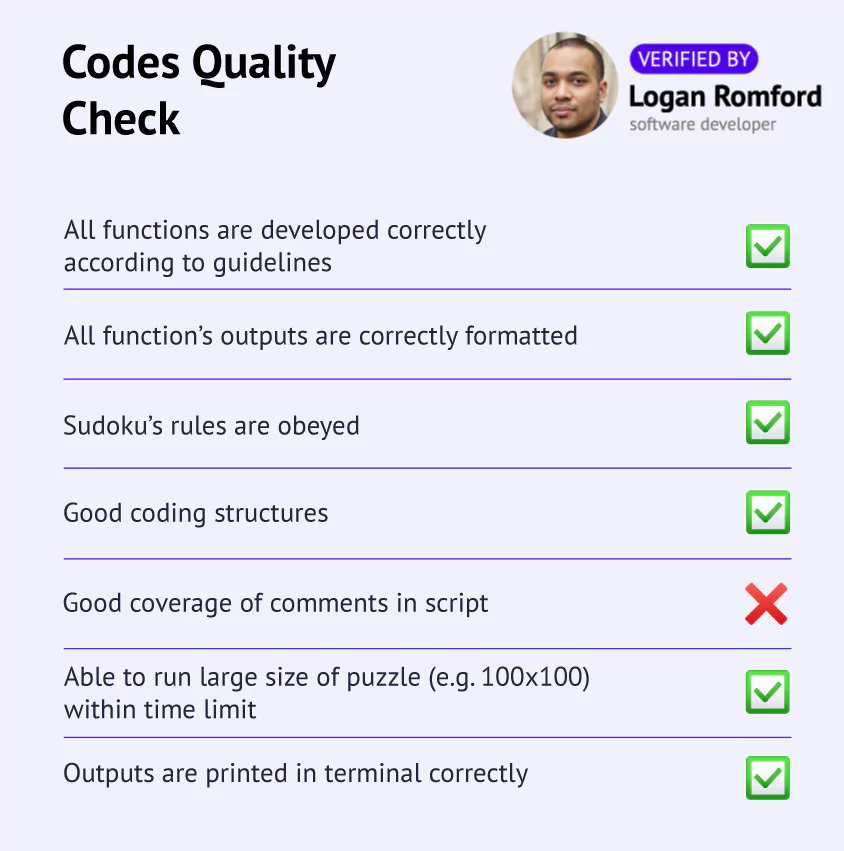 Here's what Mr. Logan commented about the expert's work:
"The script is meeting all of the requirements mentioned in the instructions, including providing the theoretical answer for question no.6. The script is well-written and capable of printing the output in the terminal correctly. The output that is shown on the terminal resembles the example output that is provided in the instruction. Sudoku's rules are obeyed. Notably, it can finish a 100×100 puzzle in the allotted time. However, it lacks comment coverage to assist our client in navigating the coding flows and providing guidance."
It seems that, aside from the lack of comments, CodingHomeworkHelp ensured us with a knowledgeable performer who excellently handled our assignment without any delays.
| | |
| --- | --- |
| ⭐ Parameter | ✅ Python sudoku task |
| Task score | 95% |
| Task price | $107.50 |
| Completion time | Done in 2 days and 14 hours |
Conclusion
Coding can get hard, and in that case, you can turn to Coding Homework Help for assistance, as well as get online statistics homework help. Still, should you do that? According to our investigation, the answer is yes! This platform will become a convenient solution and offer computer programming homework help as it can cover tasks for most coding languages at an affordable price. Here you will also be able to choose your own expert who will make sure that you receive a successfully finished assignment on time and give you the explanations you ask for. In general, everything points to the fact that CodingHomeworkHelp.org is a great option to make your IT path a tad bit easier.

Why academichelp.net is a credible source of information:
Stay curious with us. Academichelp.net has been a reliable educational resource since 2011, providing students with the latest news, assignment samples, and other valuable materials. Even with the extensive information we process, our quality remains consistent. Each team member has experience in education, allowing us to evaluate new sector offerings critically. Our reviews are up-to-date and relevant, with impartiality ensured by the A*Help score methodology from mystery shopping. We aren't affiliated with any listed service providers. Our focus remains on providing our audience with reliable and unbiased data.
CodingHomeworkHelp Specs
| | |
| --- | --- |
| Minimum deadline | 3 days |
| Maximum deadline | 60 days |
| Min price per order | n/a |
| Order Types | S, M, L |
| >Performers' expertise: | |
| The list of known languages/field of expertise | Yes |
| Comments reviews from previous works | Yes |
| Education level | No |
| >Order categories (e.g. Java, Python, C++): | |
| Java, Javascript | Yes |
| C | Yes |
| C# | Yes |
| C++ | Yes |
| Ruby | Yes |
| Python | Yes |
| SQL | Yes |
| NoSQL | Yes |
| Assembly | Yes |
| Peri | No |
| Scala | Yes |
| >Discount: | |
| Coupons (15-35%) | 20$ off the first order |
| Loyalty Program | No |
| General retention program | No |
| >Order Flow: | |
| File upload (supports various types) | Yes |
| Сan give files to support | Yes |
| Order progress tracking | Yes |
| Easy to fill-in order form | Yes |
| Includes language, discipline, environment | Yes |
| Has explanations/examples of task sizes | Yes |
| >Customer-expert communication: | |
| Сan explain how the task was done/how the code works | Yes |
| Keeps the client posted | Yes |
| Proof of the working task (screenshot, video, check progr.) | No |
| Can be asked questions about the order | Yes |
| >Support: | |
| Helpfulness of support | Medium |
| Quick price estimation | Yes |
| Quick search of performers | Yes |
| Availability to get extra discount via support | No |
| >Security&Privacy: | |
| Need a phone number to register | No |
| Need an email to register | Yes |
| Security payment, SSL | Yes |
| >Payments: | |
| Paypal | No |
| Google Pay | No |
| Apple Pay | No |
| Visa | Yes |
| Mastercard | Yes |
| American Express | Yes |
| Discover | Yes |
| Crypto | No |
FAQ
CodingHomeworkHelp Reviews
We understand that pitfalls may happen even with the best websites. That's why we always review customers' feedback on websites like Reddit, Sitejabber, Trustpilot, and Reviews.io. We analyze all the comments, not skipping the negative ones, pick the most relevant and truthful information and include it in our reviews. So, you may be sure to get the fullest picture by reading these articles.
Is CodingHomeworkHelp a Scam?
We registered with the service and requested to complete a real Python assignment. The platform's performer completed our order on time and with a nearly-perfect result. As such, we can confirm that CodingHomeworkHelp.org is not a scam and will give you the assistance you look for.
Is CodingHomeworkHelp Legit?
The A*Help team only reviews those platforms that were proven to be legitimate. Thus, Coding Homework Help can be viewed as such a website, especially since it has an established reputation in the field and a loyal customer base.
Is CodingHomeworkHelp Safe?
We have registered on the service's platform and haven't noticed any data leakage or requests to provide personal information. Our payment was encrypted and none of the card details were saved. We can assure you that CodingHomeworkHelp.org is safe to use without any obligatory precautions.
Is CodingHomeworkHelp Trustworthy?
The A*Help team ordered Coding Homework Help to complete the Python task and paid money for such a request. In the end, we received a completed assignment, done according to the set deadline, and without any issues. Following our experience, you can expect to receive the same level of service and get your homework handled by professionals.
Is CodingHomeworkHelp a Good Service?
CodingHomeworkHelp was analyzed and evaluated according to a specifically designed A*Help checklist and received 89.5/100 pts. This is a score that reflects the platform's ability to provide its customers with timely and quality assistance and a pleasant overall experience. A*Help team can recommend this provider as a good solution for your programming queries.
–>
Follow us on Reddit for more insights and updates.