Numerous remarkable innovations have evolved from unexpected origins. Steve Jobs studied humanities in college before dropping out, and Mark Zuckerberg majored in psychology at Harvard. But history will forever remember them as the inspirer of most iconic tech products and the founder of social networks.
The current era of significant technological advancements persists, resulting in the rapid growth of tech giants and the emergence of numerous startups. Consequently, the demand for talented developers has surged, and programming has become one of the most sought-after areas of study.
And one of the most competitive and complicated. Hundreds of thousands of students globally opt to pursue a career in computer science, and many often find it too challenging to get by without help. Fortunately, there are professional online services that promise students to smooth their path to a desired degree.
Among them is CWassignments, an incredibly experienced company established in 2005. Today we're reviewing how professionally this company handles typical programming problems. See How We Test Programming Homework Help Websites for more details about our testing approach.
Quick Overview
CWassignments adeptly handles assignments of varying complexity across numerous programming languages, all at a reasonable cost. It's an option worth considering for everyone.
Experience review: CWassignments Mystery Shopping
At A*Help, we have always prioritized conducting reviews based on accurate and objective information. For this reason, we carry out a mystery shopping experiment with any service, be it Assignment Core, Fav Tutor, or Tutorbin. We review and request to complete one of the standard programming assignments. Upon receiving the work, we run it through a grading checklist and evaluate the performer according to our unique rating system.
The task we requested was a moderate complexity Python assignment consisting of 6 operations with a deadline of 3 days for completion. Relatively simple syntax and a vast collection of libraries and frameworks gradually made Python one of the most favored programming languages. Its popularity among future coders explains why we chose Python for our mystery shopping.
During the shopping process, we simulated typical consumer behavior by chatting with the customer service agents, asking for refunds, revisions, and all sorts of inquiries a regular student might have. Finally, our partner and expert, Logan Romford, checked and graded the assignment. His verdict and our customer experience formed the A*Help score for the reviewed companies.
We asked Logan about his expectations from grading our projects:
"It's always a lot of fun for geeks such as myself. It's like solving crossword puzzles or playing bingo, you know what I mean? I also sometimes scream "Bingo" when I come up with some curious coding solution. So I expect to be surprised. As Luciano Ramalho describes in his presentation "Best practices for beautiful intelligible code" at PyCon in 2015, there are multiple ways in Python to achieve the same results, and I'm curious to figure out if I would have chosen the same or a different one."
We will let Logan speak competently about the quality of the work later. In the meantime, we will evaluate the value-for-money package offered by the service and reflect on our experience using the website as a whole.
CWassignments' Value Review: Value for Money — 18/25
CWassignments provides a broad range of programming tasks that their experts can adeptly handle. Whether you need assistance with a small practice problem (XS) or a large-scale project (L), they will swiftly find a suitable professional. For our Python work, which had moderate complexity (M), the service easily selected a qualified performer.
Speaking of programming languages, the company also specializes in Java, Javascript, C++, SQL/PSQL. Even though CWassignments does not disclose any credentials that can confirm their professionals' level of expertise, such a rich choice of languages indicates that the service hires experts with a range of skills, enabling them to cater to varying coding techniques and frameworks.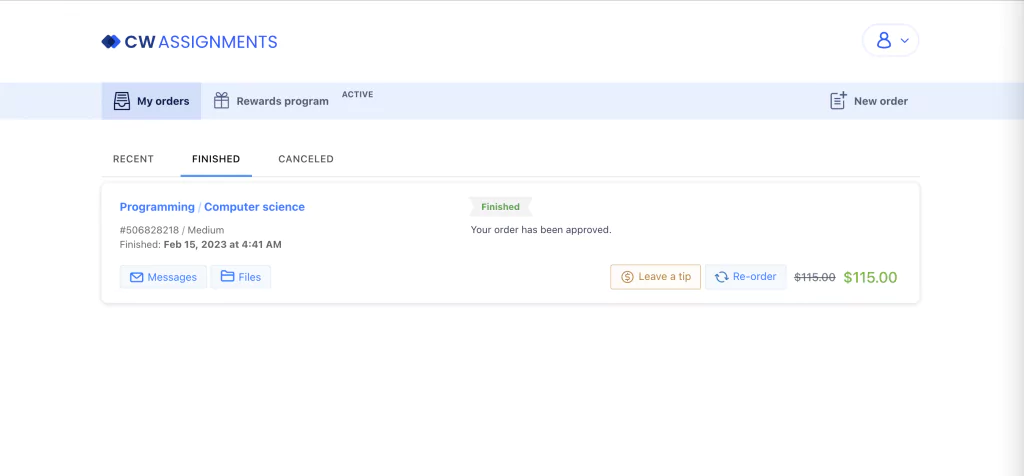 Our favorable first impression of CWassignments was further amplified when we examined their pricing policy. Every new customer automatically gets a 20% discount on their first order and can benefit from receiving other coupons for up to 35% for subsequent purchases.
With our first-timer discount, we paid $115. The cost of similar assignments varies significantly on the market. Some services take the job for as low as $90, while others set premium prices of $180 and more. Given this range, the fee charged by CWassignments is a bargain.
In general, the service provides clients with a satisfactory value-for-money proposition. Nevertheless, implementing loyalty and referral programs that are currently missing would further enhance the offering.

CWassignments' Value Review: Overall Experience — 24/25
The general impression of using an online service can be influenced by several factors, which can vary depending on the assistance offered by a particular website. We have specified and assessed those key aspects that contribute the most to the overall customer satisfaction of using a platform that offers help with coding homework.
Order placement is one of the areas that receive careful attention, aiming to reduce the occurrence of users' frustration. The website provides clear guidance on categorizing different assignment sizes to help customers identify the appropriate category for their work. This seemingly minor detail should not be underrated since it helps clients estimate the cost of their orders accurately. Besides, some users may overestimate the complexity and price of their tasks, and this handy tool can lead them to choosing the correct task size.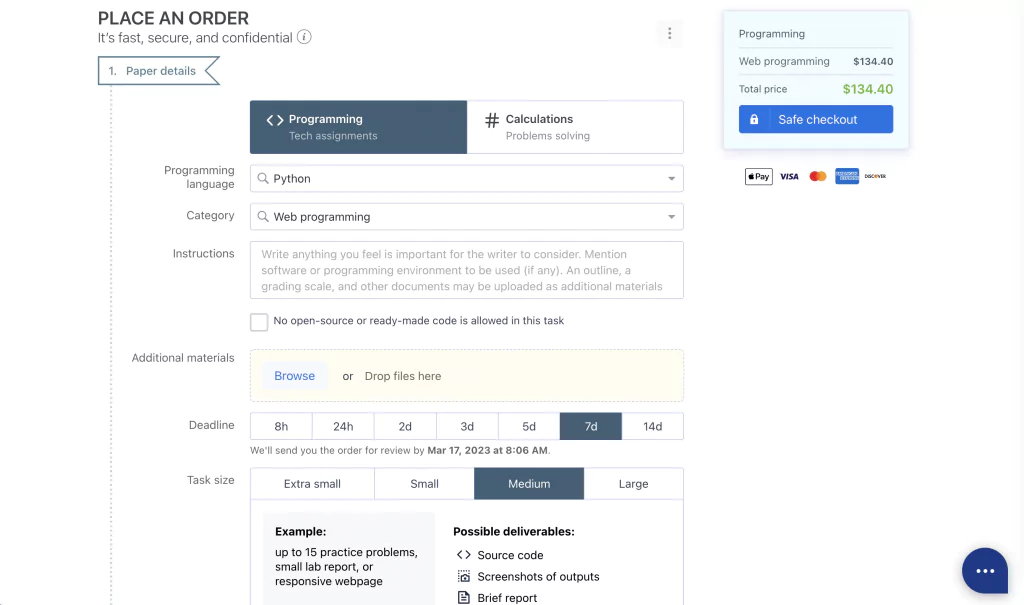 The process of placing an order is simple and intuitive. You can choose your field of study, preferred environment, and the programming language for your assignment, which helps eliminate the need for manual input and saves time. After submitting your order, you can easily track its progress, ensuring everything proceeds as expected and according to plan.
Such a specific domain as computer science requires effective communication between a customer and a platform. It's a technical field, and at times, filling out the instruction form may not be enough for a programming expert to puzzle out all the requirements and objectives of the task.
We were satisfied to discover that the experts at CWassignment prioritize effective communication with their clients. This was evident in our experience, as we felt comfortable asking any questions we had during the project's development. This allowed us to stay informed about the progress and request updates or modifications as needed. After completing the task, the expert took the time to demonstrate the program's proper functionality. Depending on the assignment's requirements, it is often done through a brief video, an image, or a screenshot. In our case, it was a short video showing the accuracy of the completed assignment. The willingness to indicate the task's functionality is another sign of the executor's adeptness and the company's high standing.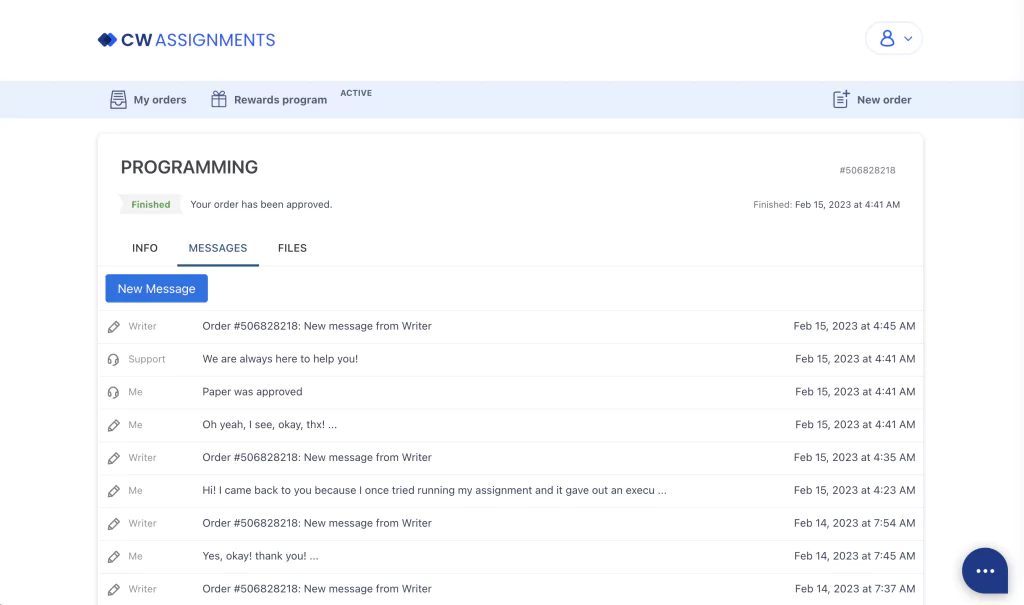 Our experience with CWassignments was enhanced by the high-quality general assistance we received throughout the process. The company offers a variety of channels for requesting help, including 24/7 on-site chat, assistance through social media accounts, and phone calls, catering to the diverse needs of all users. One of the key indicators of the support team's efficiency is their ability to estimate the cost of the order and match the customer with the most suitable expert promptly, which was executed flawlessly. In general, the support team at CWassignments is well-trained and capable of meeting all customer demands professionally.
Safety features and payment processing are two last but not least elements of a successful client experience with online services. The system doesn't collect users' phone numbers and requires only an email address for registration purposes. This creates a sense of trust and confidence in the website, which is essential for customers to feel comfortable sharing their data.
The array of supported payment methods is the first area where CWassignments slightly underperforms. Even though the selection of credit cards option is broad, including all popular companies, it's worth noting that some users always find it easier to use online payment systems like PayPal, GooglePay, and ApplePay, and those are currently not supported by the website.
All in all, CWassignments borders on perfection in the quality of service they provide. We can recommend them for those who need help with programming assignment. Our 24 out of 25 grade serves as the best illustration of this.
CWassignments' Task Quality — 47.5/50
The most anticipated section of our review is checking the quality of our Python programming task, completed by one of the CWassignments' computer science experts.
Here is the Python task that we asked to complete:
Our assessment revealed that the solution met most of the requirements in the code quality checklist, indicating that the performer had paid close attention to detail. The result is fabulous, and the platform upholds high standards and professionalism. The success rate of 95% further emphasizes the company's commitment to quality work.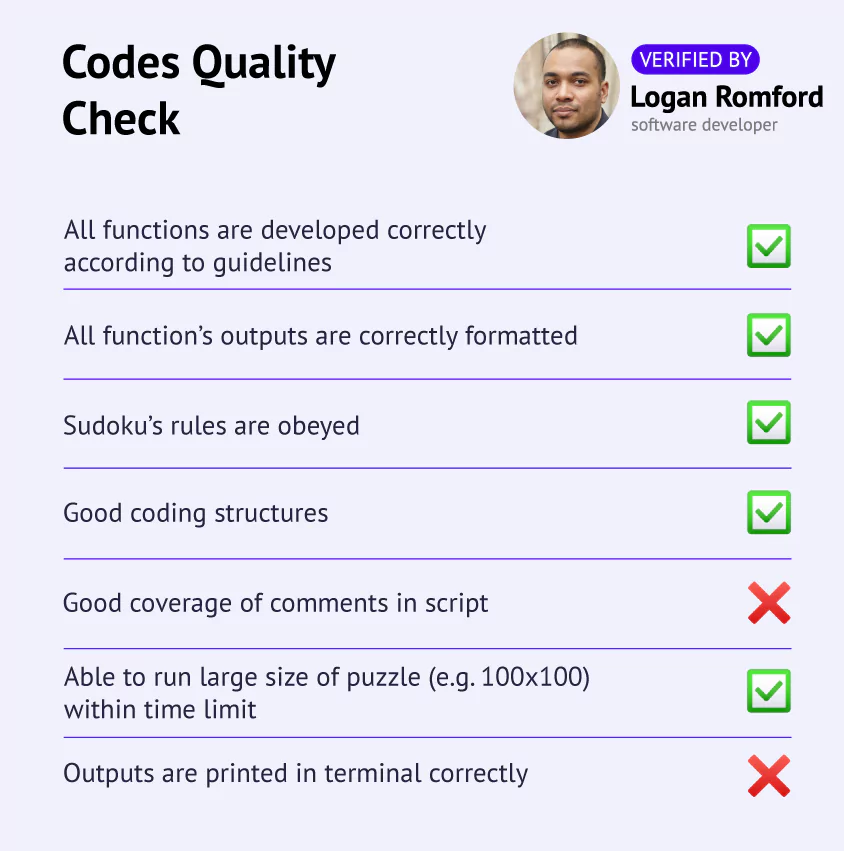 Logan Romford clarifies certain aspects of the assignment, explaining why the solution falls just short of an excellent grade by 5%.
"It's a great result. No arguing about that. 5% points are deducted because of minor flaws in this solution. There is low coverage of comments throughout the code to guide customers through the flow, other than the comments in the first function make_puzzle(N). There need to be more printouts compared to the sample output given by the guideline. The initial puzzle in Python dictionary format also needs to be shown, but instead, only the board layout is displayed. Here is the part that is missing from the printout: "the written answers for question 6 (in the last 3 lines) should be commented out from the script to prevent the script from not being executable. Other than that, it's a perfectly executable piece of code that does exactly what it's written for."
Task score: 95%
| | |
| --- | --- |
| ⭐ Parameter | ✅ Python sudoku task |
| Task score | 95% |
| Task price | $115 |
| Completion time | 20 hours |
Conclusion
The road to a college degree in computer science is challenging and long. Although CWassignments can't shorten the journey, it can definitely assist in navigating around certain obstacles and avoiding potential setbacks. The company's standards are underscored by its capacity to quickly identify a proficient performer, deliver exceptional customer service, and implement an affordable pricing strategy. Nevertheless, the most crucial aspect is that CWassignments' work is certain to satisfy users.

Why academichelp.net is a credible source of information:
Stay curious with us. Academichelp.net has been a reliable educational resource since 2011, providing students with the latest news, assignment samples, and other valuable materials. Even with the extensive information we process, our quality remains consistent. Each team member has experience in education, allowing us to evaluate new sector offerings critically. Our reviews are up-to-date and relevant, with impartiality ensured by the A*Help score methodology from mystery shopping. We aren't affiliated with any listed service providers. Our focus remains on providing our audience with reliable and unbiased data.
CWassignments Specs
Minimum deadline
4 hours
Maximum deadline
14 days
Min price per order
$28.50
Order Types
XS, S, M, L
>Performers' expertise:
The list of known languages/field of expertise
No
Comments reviews from previous works
No
Education level
No
>Order categories (e.g. Java, Python, C++):
Java, Javascript
Yes
Python
Yes
C++
Yes
R/R studio
Yes
SQL/PSQL
Yes
Matlab
Yes
HTML/CSS
Yes
>Discount:
Coupons
20% off first order
Coupons (15-35)
Loyalty Program
No
General retention program
No
>Order Flow:
File upload (supports various types)
Yes
Сan give files to support
Yes
Order progress tracking
Yes
Easy to fill-in order form
Yes
Includes language, discipline, environment
Yes
Has explanations/examples of task sizes
Yes
>Customer-expert communication:
Сan explain how the task was done/how the code works
Yes
Keeps the client posted
Yes
Proof of the working task (screenshot, video, check progr.)
Yes
Can be asked questions about the order
Yes
>Support:
Helpfulness of support
High
Quick price estimation
Yes
Quick search of performers
Yes
Availability to get extra discount via support
Yes
>Security&Privacy:
Need a phone number to register
No
Need an email to register
Yes
Security payment, SSL
Yes
>Payments:
Paypal
No
Google Pay
No
Apple Pay
No
Visa
Yes
Mastercard
Yes
American Express
Yes
Discover
Yes
Crypto
No
FAQ

CWassignments Reviews
We conduct a comprehensive and precise evaluation of all companies. Our assessment includes verified information gathered from conducting mystery shopping with CWassignments, as well as additional reviews and feedback from customers found on various platforms, such as Reddit, Sitejabber, Reviews.io, and Trustpilot.
Is CWassignments a Scam?
CWassignments successfully completed a Python programming assignment of moderate complexity within the given timeframe and in accordance with our instructions. The company fulfilled all their obligations and did not engage us in any activities beyond what was defined in the website's terms and conditions. As a result, there is no indication of any fraudulent activity on the part of this service provider.
Is CWassignments Legit?
A*Help avoids dealing with companies that cannot provide evidence of their legitimate status. Our team only evaluates and collaborates with authentic service providers, which means CWassignments is a legit and trustworthy organization.
Is CWassignments Safe?
Our interaction with the organization affirms the safety of its services and the measures it implements to handle financial transactions for its clients. The website's privacy policies are available for all users and clearly outlined in the appropriate section of the site.
Is CWassignments Trustworthy?
After conducting a thorough assessment detailed in this review, you can trust that CWassignments is a dependable and customer-oriented online platform. Delivering the highest quality of services is the company's priority.
Is CWassignments a Good Service?
The A*Help score, which is determined by evaluating the cost-effectiveness, overall user experience, and quality of work of an online service provider, is a clear indication of the company's professionalism. CWassignments has received a rating of 89.5/100, signifying that it is an excellent option for individuals seeking expert assistance with programming assignments.
Follow us on Reddit for more insights and updates.