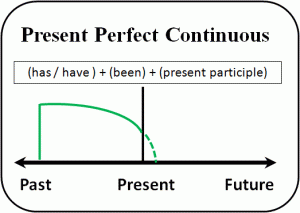 JOIN OUR LEARNING HUB
One-stop solution for all your homework needs. Get the job done.

✅ AI Essay Writer ✅ AI Detector ✅ Plagiarism checker ✅ Paraphraser
What is It?
The present perfect continuous tense shows how an action which started in the past is still going on.
When to Use?
Cases

Examples

*Show how long an action has taken until now.
1. Boris and Michael

have been

talking for the last hour.

2. Gerald has been teaching English at the community college since May.

*Talk about time spent in a general way.
1.

Recently, I have

been running with sheep.

2. She has been watching too much Oprah lately.
Exceptions
Non-continuous and mixed verbs cannot be used in this tense.
Non-continuous verbs: actions you normally cannot see somebody doing.
Examples: to want, to possess, to belong, to exist
Mixed verbs: actions that can have more than one meaning.
Examples: to appear, to feel, to hear, to look
Follow us on Reddit for more insights and updates.