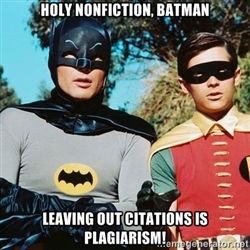 Every essay should be supported with specific facts and evidence—this is one of the main rules of academic writing. Respectively, students should keep in mind the necessity of presenting quotations, citing references properly, and other bothersome work. However, when making an in-text quotation, it is not enough just to cite a source; your writing will look more professional if you introduce the sources you cite properly.
How Do You Introduce Sources Properly?
It is common for students to simply insert a quotation right in the text without making even a small introduction to it. As a result, such quotations often look random, and break the writing. However, there are several ways to incorporate a quotation organically.
1. If you cite words of a critic or a researcher, do not forget to briefly introduce them by a short phrase in front of the quotation itself.
e.g. As the famous French philosopher Rene Descartes said, "I think, therefore I am."
2. Begin a sentence with your own paraphrase of a quotation you want to use, and then insert the rest of it.
e.g. [original quotation] Recent research proves that life on extraterrestrial planets is not only possible, but that this possibility is rather high (Smith).
[your possible variant] Based on the results of recent research by the Academy of Scientific Insights in San Francisco, Professor Robert Smith believes that "…life on extraterrestrial planets is not only possible, but that this possibility is rather high."
3. You can either paraphrase the quotation (without interpreting it and losing its initial meaning), but still name the source at the end in parentheses.
Did you like this guide / sample?
Sign up and we'll send you ebook of 1254 samples like this for free!
80+ essay types
1000+ essay samples
Pro writing tips
Comment/Ask an Expert
You do not have permission to submit a question
Samples for Information Sources
Be specific If you want your readers to fully understand you and to be engaged in your writing, be detailed....