The main difference between Preply and Cambly lies in their focus and services. Cambly primarily centers on English conversational practice with native speakers, whereas Preply provides a wider range of subjects, including multiple languages and academic subjects, and often features tutors with more formal qualifications.
Learning a new language can sometimes bring about feelings of anxiety. This nervousness often stems from the fear of making mistakes or not being understood by others. However, it's essential to remember that everyone learns at their own pace, and it's okay to make mistakes along the way. After all, they're a natural part of the learning process and a compassionate tutor can help you make it much much easier.
Cambly and Preply are both popular websites in the online language learning arena, offering easy and flexible access to tutors. But they do cater to somewhat different learning styles and needs. Cambly focuses entirely on English conversational practice, giving you a more casual, real-time chat experience with native speakers. Preply, on the other hand, stretches its features beyond just English to cover a multitude of languages and even other subjects like math and science. Additionally, Preply often features tutors with formal qualifications, lending itself to a more structured learning environment. So whether you're after casual chats to improve your English or looking for a more academic setup, comparing the services can help you pick the platform that fits you like a glove.
Quick Overview
Cambly and Preply are popular online platforms for people wanting to get better at languages. Cambly lets users chat with native English speakers in real time, which is great for casual practice and quick feedback. On the other side, Preply offers lessons in many languages and connects students to both expert teachers and regular tutors. This means learners can choose between focused lessons or just relaxed chats. Both Cambly and Preply move away from old-school classroom teaching and let users learn in ways that best suit them.
Comparing Value for Money: Preply vs Cambly
| | | |
| --- | --- | --- |
| | Preply | Cambly |
| Value For Money | 19/25 | 15/25 |
| Lesson specification | 2/2 | 2/2 |
| Types of classes | 8/10 | 4/10 |
| Price | 6/8 | 4/8 |
| Special offers | 3/5 | 5/5 |
The first criterion we consider is value for money. This is a crucial factor for many learners when selecting a platform. In our Preply.com review and Cambly overview, we evaluated the financial aspect of each platform and provided answers to any related queries a student might have. And now it's time to compare which is better.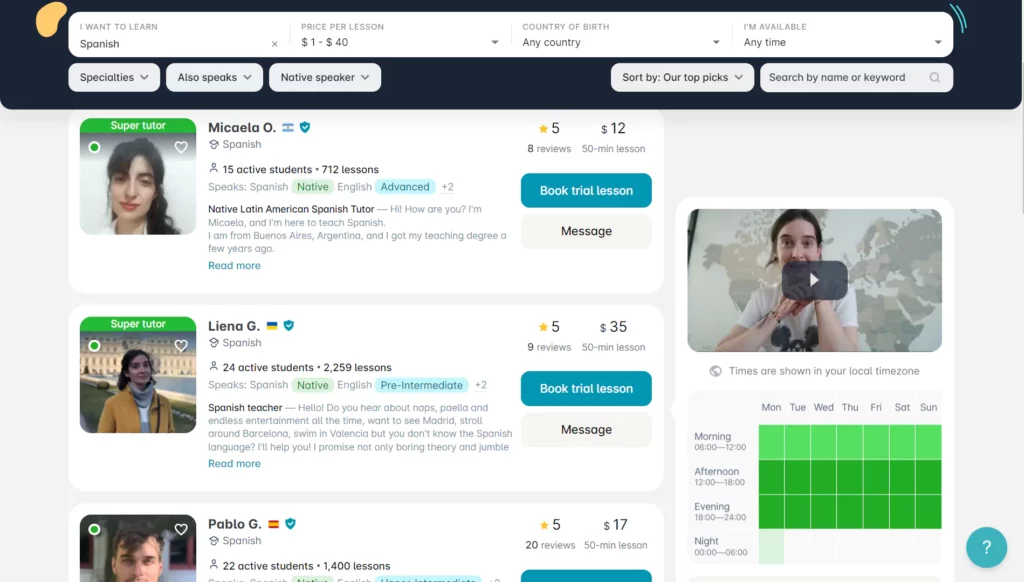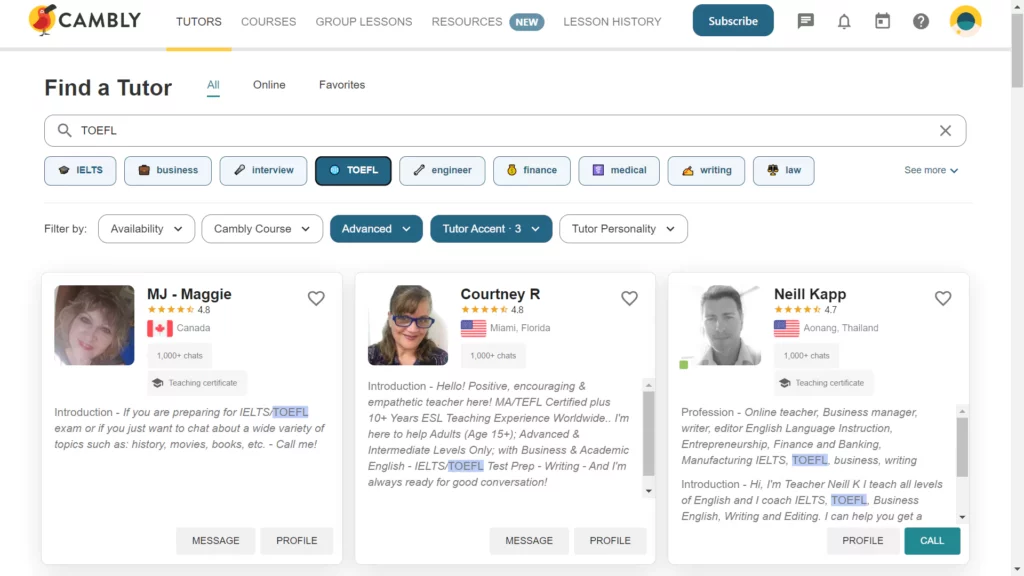 Comparing Overall Experience: Preply vs Cambly
| | | |
| --- | --- | --- |
| | Preply | Cambly |
| Overall Experience | 24/25 | 23/25 |
| Registration | 3/3 | 3/3 |
| Accessibility & Use | 4/5 | 5/5 |
| Lesson Time | 4/4 | 4/4 |
| Tutor Browsing | 6/6 | 5/6 |
| Support | 2/4 | 3/4 |
| Payments | 3/3 | 3/3 |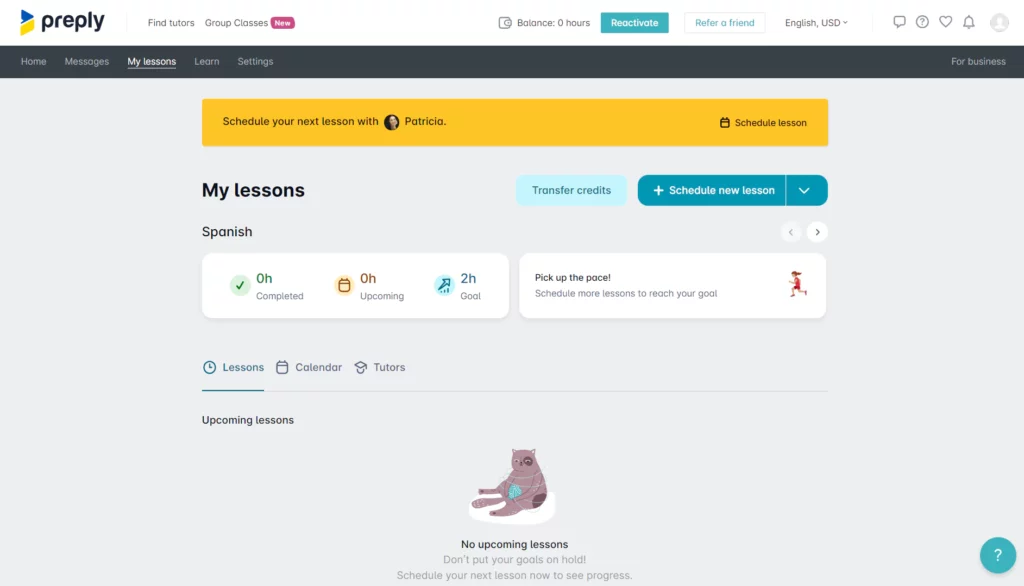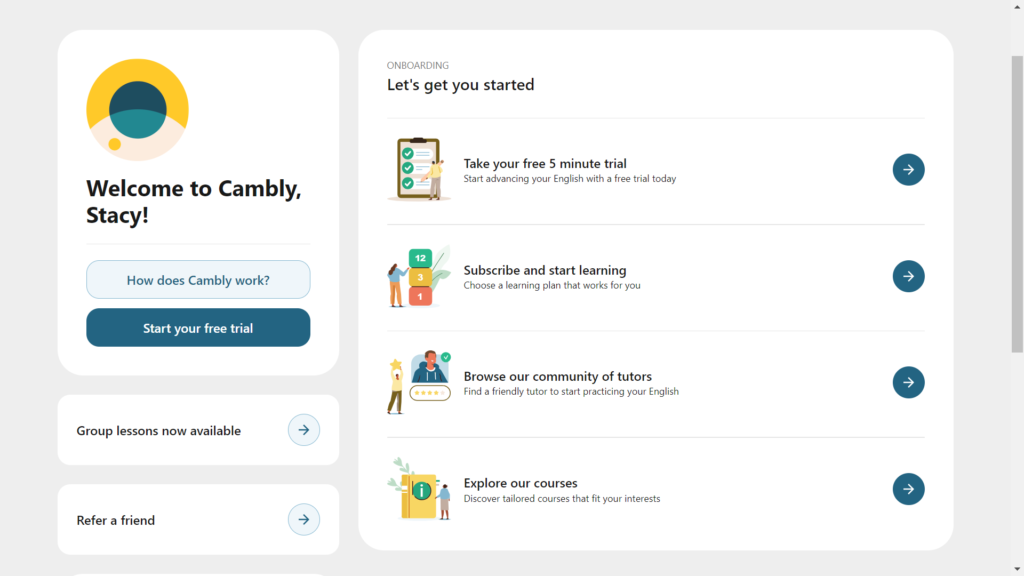 The Winner
Which is the top pick: Preply or Cambly? Both are great spots for learning languages. But if you're watching your budget but still want to get high-quality tutoring, Preply might be more up your alley. According to our and Cambly reviews, the platform mostly focuses on English, so if you're exploring other languages, it has significant limits. Plus, having a good refund policy means you've got a safety net if things don't work out just right.
Why academichelp.net is a credible source of information:
Stay curious with us. Academichelp.net has been a reliable educational resource since 2011, providing students with the latest news, assignment samples, and other valuable materials. Even with the extensive information we process, our quality remains consistent. Each team member has experience in education, allowing us to evaluate new sector offerings critically. Our reviews are up-to-date and relevant, with impartiality ensured by the A*Help score methodology from mystery shopping. We aren't affiliated with any listed service providers. Our focus remains on providing our audience with reliable and unbiased data.
FAQ
Is Cambly or Preply better?
Truly the choice depends on your learning needs. If you're looking for language tutoring in languages other than English, then Preply is the obvious pick. However, if your priority is to up your Engish conversational skills, then Cambly it is.
What is the disadvantage of Preply?
Depending on the tutor's popularity, it might be challenging to secure your lesson, especially during peak times. Another disadvantage of Preply is that their cancellation policy can be strict. If lessons are not canceled within a certain timeframe, students may still be charged.
Main Specs
Preply
Cambly
> Types of classes
Single lessons
✅
❌
Group lessons
✅
✅
Bulk classes
❌
✅
Speaking clubs
✅
❌
Corporate classes
✅
❌
> Price
Can choose the price per lesson
✅
❌
Pay in installments/per class
✅
❌
Price per lesson (e.g. 30/45/60 minute lesson)
❌
✅
Subscription plans
✅
✅
> Special offers
Discounts
❌
✅
Free lesson/trial
✅
❌
Community for learners (articles, podcasts, tests)
✅
✅
Referral program
✅
✅
> Registration
Need a phone number to register
❌
❌
Need an email to register
✅
✅
Uses third-party registration methods (Apple, Facebook, Google, Microsoft account)
✅
✅
> Accessibility&Use
Built-in classroom
✅
✅
Third-party video call tools
❌
❌
Easy to navigate
✅
✅
> Lesson time
general time of the day (time period)
✅
❌
specific time
✅
✅
any time
✅
❌
time zone
✅
✅
class duration
50 minutes
from 15 to 120 min
re-scheduling of classes
✅
✅
late cancelation
✅
✅
> Tutor browsing
Origin (country)
✅
✅
Language
✅
both Natives and Non-natives
✅
Only Natives
Additional languages (if the teacher speaks more than 1 language)
✅
❌
Skill level/teacher type
✅
❌
Certificates/ Credentials
❌
✅
Availability
✅
✅
Change of a tutor
✅
✅
Course switch
❌
❌
> Payments
Paypal
✅
❌
Google pay
❌
❌
Apple pay
✅
❌
Visa
✅
✅
Mastercard
✅
✅
American Express
✅
✅
Discover
✅
✅
Follow us on Reddit for more insights and updates.