Quick Overview
Preply is a tutoring platform that gathers language teaching professionals. We noted that it allowed quick and easy lesson scheduling and finding knowledgeable tutors for language learning. Our teachers were open to communication and ready to help with the goals that we wanted to achieve. Even though there weren't many materials available on the platform, we still were satisfied with the experience and have nothing but great things to say about Preply.
Are you planning a trip to Japan to see the cherry blossoms and you need to learn how to say "Can you take my picture, please?" or "How can I get to Ueno Park to see luscious Sakura trees?". Or you are mesmerized by Italian culture and art but all you know in Italian is "Ciao", "Bella", and "Gelato"? Well, it is time to hit the books. Are you shooting for promotion and it is yours if you are fluent in at least one foreign language? Whatever it might be, it is high time to fix your situation.
Preply, one of the best language learning sites, might come in handy. Preprly.com was established in 2012 and has more than 30,000 tutors teaching 50 languages. The Academic Help team decided to try it out and see how far we could go with learning foreign languages. Our editors – Johannes and Nayeli volunteered to help and become the mystery shoppers for our real and transparent experiment.
Johannes, our international teammate, is always up to the challenge to test his knowledge of English. He chose to prepare for a widely-known TOEFL exam which required a lot of dedication and burning the midnight oil. So, Johan will share his learning experience and hopefully prove that Europeans can be fluent in more than one language.
Nayeli is a true travel bug. Currently, she is residing in the Big Apple but not for long. She is happy to be in the city which is literally a melting pot of different cultures, languages, and ethnicities. Now, she lives in Brooklyn and has many Hispanic neighbors. It was written in the stars that she would take up Spanish classes.
Our two experts took lessons on Preply and tried to mimic the real student experience with this service. As you know, the A*Help always tests everything, be it essay writing services, ai research tools, coding homework help sites and more, before recommending anything to our readers. This time is no different. Today's review is based both on their authentic emotions and contemplations about the platform together with our traditional assessment checklist.
Preply Tutoring Service: The Basis of Mystery Shopping Review
We at A*Help decided not to beat around the bush and just test Preply's tutoring on ourselves. We've asked our editors, Nayeli and Johannes, to help us with that.
Nayeli chose to study Spanish, as she had a particular interest in getting at least a simple grasp of its basics. After all, it's one of the most widespread languages in the US and worldwide (Spanish is spoken by more than 559 million people globally ). Johannes, on the other hand, decided to stick with English and chose to prepare for the TOEFL exam. He was interested to see how well he could take this popular test by using the help of a tutor as a starting point in his preparation. He mostly needed to concentrate on polishing his speaking and writing skills, as well as get an idea of how to structure his studying. The try-out experiment lasted for 3 weeks and took 8 lessons. Johannes and Nayeli, as particularly diligent students, did their homework, completed class assignments, and generally studied hard to get to their established goals.
Along the way, they also looked into more general aspects of the platform, such as its usability, the variety of provided services and opportunities, pricing policies, the diversity of tutors, and lesson options, and the helpfulness of customer support. All of these features were combined to form three main criteria: Value for Money, Overall Experience, and Tutor Quality. See How We Test Language Learning Websites for more details about our testing approach.
After the evaluation of each indicator based on our joined experience, the reviewed service received its general A*Help score. We put Preply.com to this test as well, and now we are ready to share our story and the results of this tutoring experiment. Vamos!
Studying with Preply: Value for Money — 19/25
The value-for-money index can't be overlooked in any service, and language tutoring is no exception. When looking into this aspect, our editors Nayeli and Johannes considered the available types of classes, and whether they could specify their language goals, prices, and special offers provided by the platform.
Nayeli: "I am a complete beginner in Spanish. So, I decided to play it safe and go with a general course where I could learn the basics. But there was one thing that surprised me. Preply seems to cover all tastes in learning requirements, starting with general lessons to business, exam preparation, and kids' classes. You know what Johan? Preply's team is an unstoppable steam machine, maybe they seem this way just to me, but I was pleased to see the element of inclusivity. There, aspiring multilinguals can find tailored education programs for individuals with diverse abilities."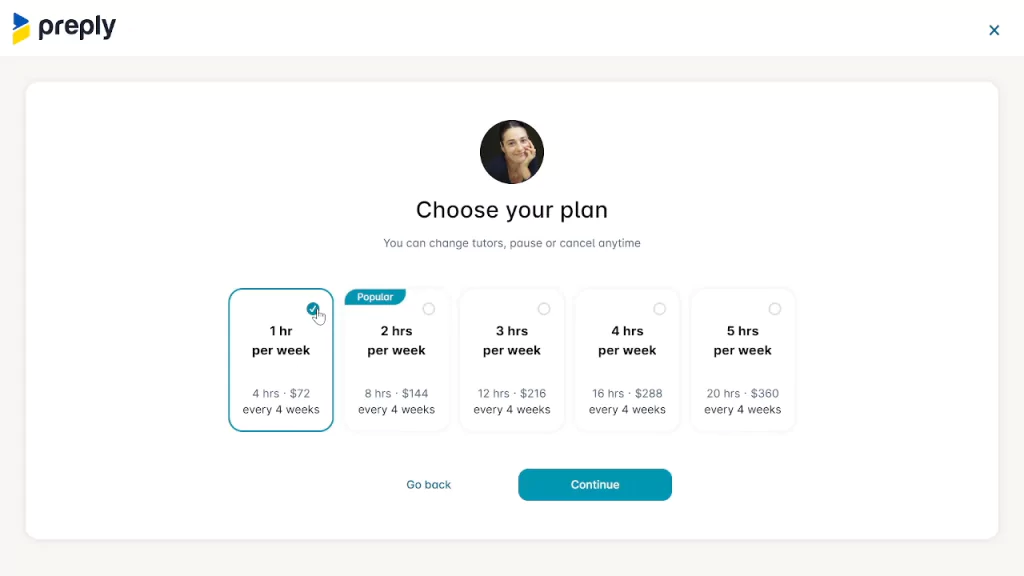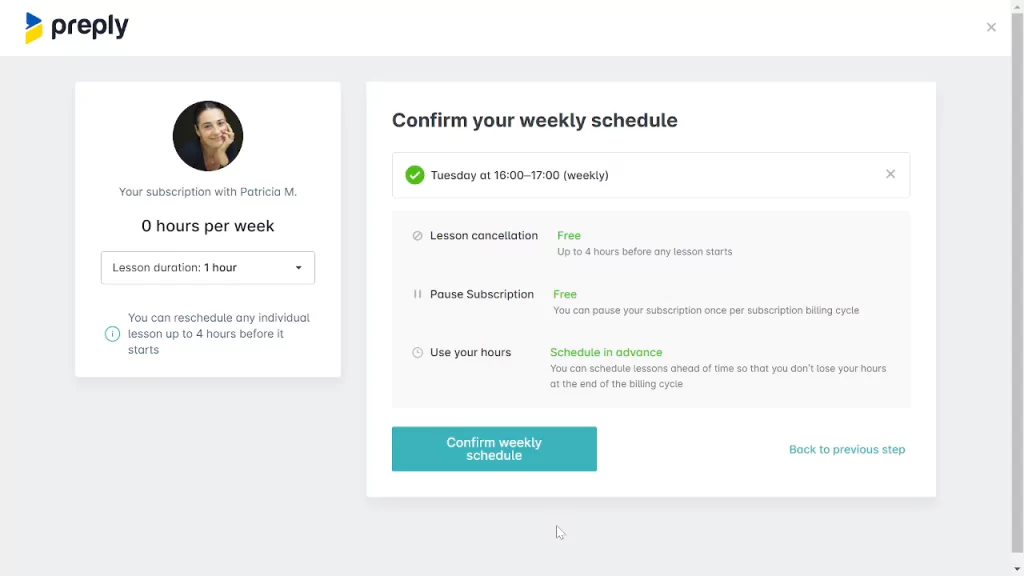 Johannes: "Yeah, I noticed that specialty. I also liked the fact that with Preply you could choose the preferable type of classes. Of course, I am more of an individual learner myself, and I like when the tutor's attention is focused directly on me, but I get that not everybody is like that. That's why I found the platform's opportunity for group lessons very thoughtful. I also noticed they had corporate classes. If I had a business team I would definitely benefit from those (and not only for company development purposes but also for team building). And have you seen Preply's speaking clubs? If I wasn't so concentrated on preparing for TOEFL I would definitely join one of those. Can you imagine they even had some kind of book-speaking club there? I am even a bit sorry I couldn't try that one out."
Nayeli: "Oh, Johan, I do know that you are a bibliophile to the core. Yes, I appreciate the fact that Preply caters to all learning styles and methods. That's the reason why this platform is an ultimate shoo-in for me, personally. But you see, when I set a goal for myself I wanted to be in sync with the language all the time. Day and night, I was pumped to hear Spanish lyrics in my headphones or glance at the word post-its on my fridge and cupboards, and even could not wait to order crunchy empanadas at my favorite restaurant downtown en español. So, believe it or not, I would appreciate seeing some Spanish-speaking clubs. Yes, I do remember that I am a newbie. However, I am positive that the future of the Spanish language is bright and clear. And I hope to see more exposure to it from such a versatile platform like Preply in the foreseeable future. It's good that there is a multilingual blog with interesting articles and juicy insights on languages."
Johannes: "We haven't talked about the price yet, but I feel like that's also a huge advantage of this platform. Here you can find professional tutors who don't charge you a fortune. Preply even gives you discounted trial lessons. For example, the tutor I chose first normally charged $26 per lesson, but for the trial, I only paid $21.30. But I think in your case you paid the full price of $18, yeah? I think that's not that much for a 50-minute class after all. And I also liked that after your trial you need to buy a monthly subscription to continue studying. I think that this system ensures student's dedication to the learning process. The price, however, depends on the tutors' personal charge. I switched tutors and chose a pricier one. My monthly plan with him cost $140. However, I honestly believe he was worth every dollar. After all, you can find something more low-end here, right, Nayeli?"
Nayeli: "Oh, indeed it is an affordable platform. My Spanish lessons were absolutely budget-friendly. I purchased a subscription of 4 lessons for a month and the price amazed me. It was only $72. And I remember you sharing that your TOEFL preparation lessons were a great investment for such an affordable fee. You know, the lack of discounts or special bonuses did not leave me disheartened. I liked the way you put it, yes, my Spanish lessons were worth every dollar too. Besides, I've noticed that Preply has a referral platform which is a cool thing. If your buddy wants to study foreign languages you can invite them to join Preply. And you will receive some nice bonuses."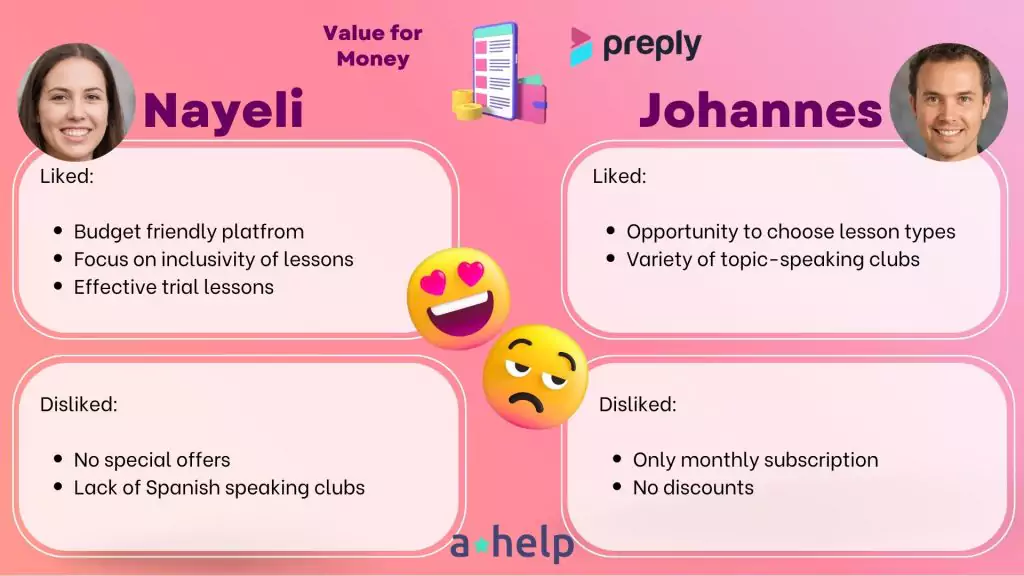 Based on Johannes and Nayeli's observations and experience, Preply shows great results in terms of the value-for-money proposition. A wide variety of lesson types, different class categories, and a community for learners, all of that positively influenced their evaluation decision and they awarded Preply 19 out of 25 points.
Preply & Overall Experience — 24/25
Overall experience is an essential part of our evaluation checklist. The very first interaction with the platform, an array of features, and helpful support make the first impression. Our editors Nayeli and Johannes tested everything on their personal interaction with Preply and cannot wait to share all the nifty bits and bobs on how the experience of using the platform went.
Johannes: "Not going to lie, I fancied the elaborate design of the platform. I had a fear that I would need to study at night because my tutor would be from another time zone. However, Preply took that into account and all I needed to do was just choose the most convenient periods or specific time of the day for studying. There wasn't much choice as for the duration of the lessons, as the standard was 50 minutes, but I find that to be a pretty average class length. I also didn't know what to expect from the platform's tutor search, as I was worried I wouldn't be able to choose a reliable tutor. And once again I was relieved by Preply's system that allowed me to specify what kind of teacher I needed exactly. I chose a native speaker, and I could even pick their country of origin. What was much noticeable during the search was that all tutors were certified. I could see that from the presented certificates and credentials and work experiences, as well as from the comments of other students."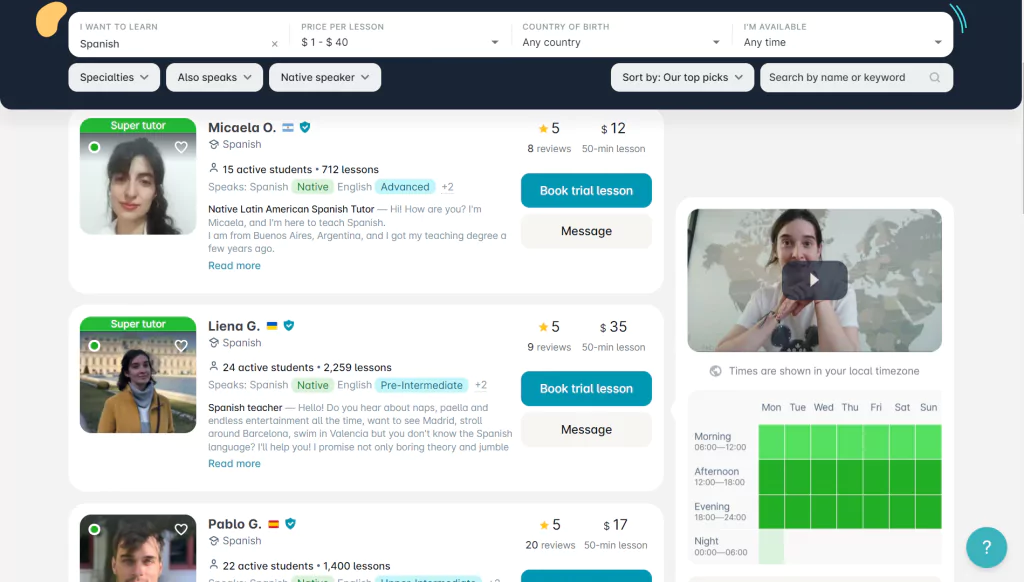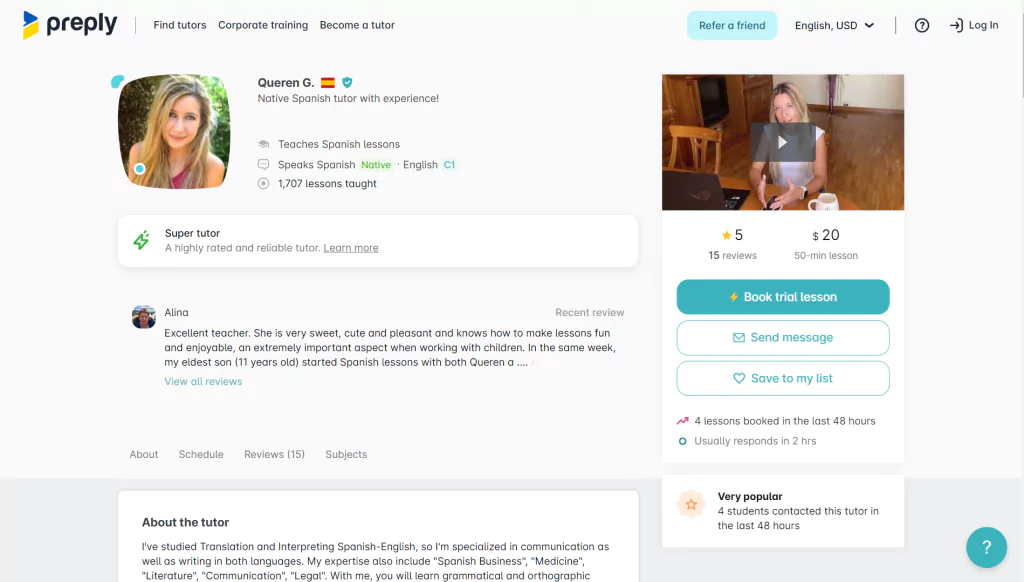 Nayeli: "True story about the teacher search. It seems like a very daunting process. But there was one thing that made it easier. Pre-recorded videos from tutors where they shared personal information and some details about their teaching approaches helped me pick the tutor I liked. And interestingly enough it was a perfect match from the first try. I know that it happens rarely, but just wanted to let you know that exceptions are real. I wanted to drop a few cents about the class duration. As for me, 50 minutes is just enough. We had conventional small talk and did not rush with language explanations. Bueno, I was satisfied. And the trial lesson also has the same time span which I find just ideal. During the try-out, I could talk about my language goals and get to know the teacher more. So, the bond was built."
Johannes: "Yes, Nayeli, it seems that you were extremely lucky. I also would like to note here, that even though Preply picks the most suitable teachers for you, it may not work out right away. I switched three tutors while looking for the one that was right for me. When I booked the first trial, some technical issues came up and we couldn't connect. I asked to switch to Zoom or Skype, but the teacher wasn't enthusiastic so we had to reschedule. She couldn't make it to our lessons two more times and I figured I needed to find another option. I contacted support and they helped me right away. I picked another tutor but his schedule wasn't right for me. Hence, I switched for the second time and finally got a tutor who was a perfect fit! So, don't be afraid to ask for a tutor change if you need one – the service offers you to do that."
Nayeli: "Wow, you definitely had to go the distance to find that match. I am surprised how you still had the assertiveness to continue searching. Sure, it's great that the support team was there to help you out. Yeh, it's a bummer that Preply does not allow switching to Zoom or Skype. Even though I am totally fine with a built-in classroom. Just the idea that I have additional options to have my classes sounds good to me. But still, I could hop on the lesson from my laptop or a phone via an app. Yet again, Preply checks the accessibility box for me. Continuing on a positive note, the payment process was also seamless. Students all over the globe can pay for their lessons not only with Visa, MasterCard, American Express, and Discover but also with PayPal. And for all the iPhone users, yes, you can purchase lessons with Apple Pay."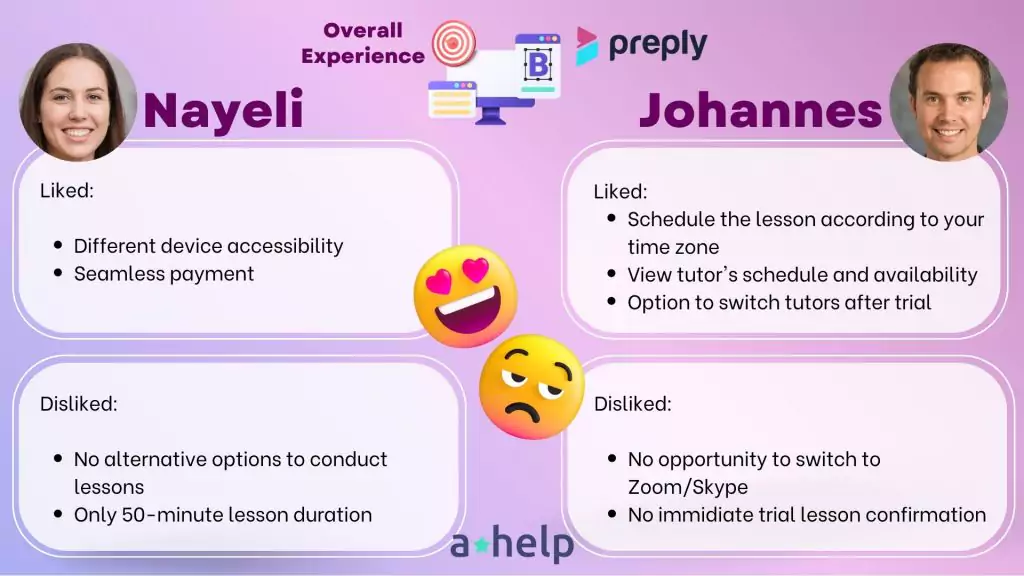 Our experts' experience shows that Preply is a convenient platform where all learners can find tutors for their needs and schedule classes according to their time zone and personal preferences. Plus, their cooperative and friendly support can take all the troubles away.
Tutor Quality on Preply — 38.8/50
Evaluating tutor quality is a complex matter. That's why we outlined three main aspects that contribute to a pleasant language learning experience: tutor-student communication, available study materials, and teaching methodology.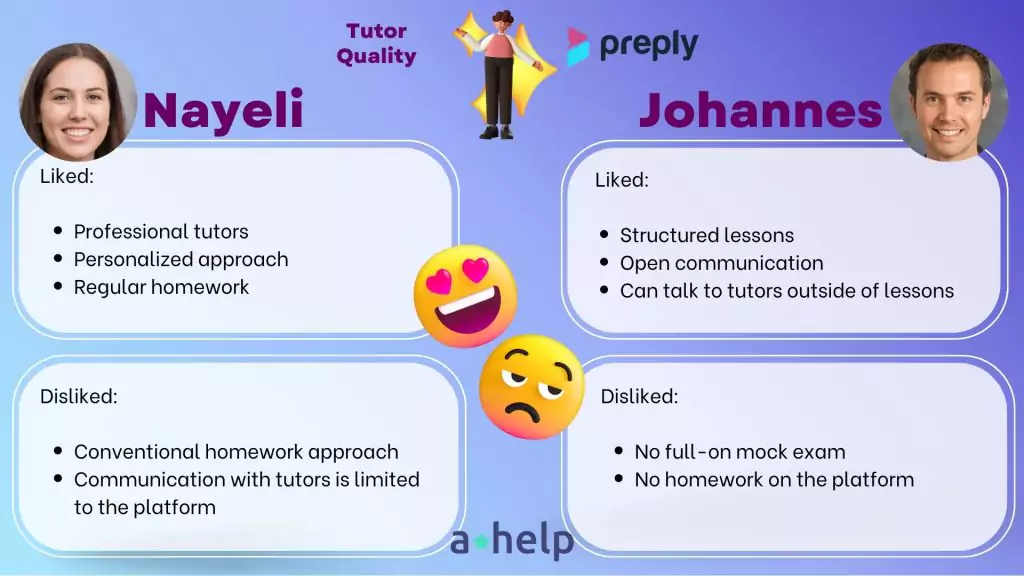 Tutor-student communication
Tutor-student communication is a vital part of any learning process. Let's hear from Johannes and Nayeli about their connection with teachers.
Johannes: "My TOEFL preparation tutor Sean, an English native speaker from Canada, provided me with the most open and clear communication. He was willing to share his contacts so that I could keep in touch and exchange tasks and complete homework assignments. I felt like I was lucky to learn from a knowledgeable professional, as he was most helpful for me in reaching my goal and setting a foot forward in the exam preparation. During classes, he was ready to share his personal experience as well as cultural intricacies that could prove to be helpful for me during the test. I also found the classes to be much more engaging – we did some interactive online tests and held lively discussions."
Nayeli: "Just like Johannes I was lucky to study with a native. My teacher, Patricia, was from Argentina. The tutor did everything to make the trial lesson for a complete newbie as welcoming as possible. That resulted in the final decision to continue learning specifically with her. Even though the teacher did not share any additional contact information for more rapid communication, she was always ready to respond in the chat on the platform. I was delighted to attend every Spanish class since every lesson was filled with interesting materials, cultural nuances, and insights. Moreover, Patricia was willing to help not only during the class but also when the lesson was over. A bonus, which I personally was happy to have, was that my teacher had a great command of English. So there was nothing lost in translation. Overall, I must admit, the tutor-student communication was outstanding."
Available materials
Trying to master any language is like swimming alone on a boat in the ocean. Therefore, materials are an invaluable assistive component. So, did our editors receive any learning resources on Preply?
Nayeli: "After the rapport had been built, it was easy to immerse myself into intensive studying. I am aware that traditionally any learning should kick off with a test to check the basic knowledge of the language. Since I was a novice in Spanish, there was no need for this step. I told my teacher that I was ready to start with building blocks. Later in the process of studying, I discovered that Preply.com did not have any built-in materials. My Spanish lessons were no exception. Hence, my tutor used her materials. The teacher made a personalized plan based on my needs and level. Every lesson she shared handouts that were useful for improving reading, pronunciation, and honing grammar. My teacher tried to go above and beyond to make every grammar peculiarity easy to comprehend. When I requested to receive extra exercises for additional practice, my proposal was fulfilled."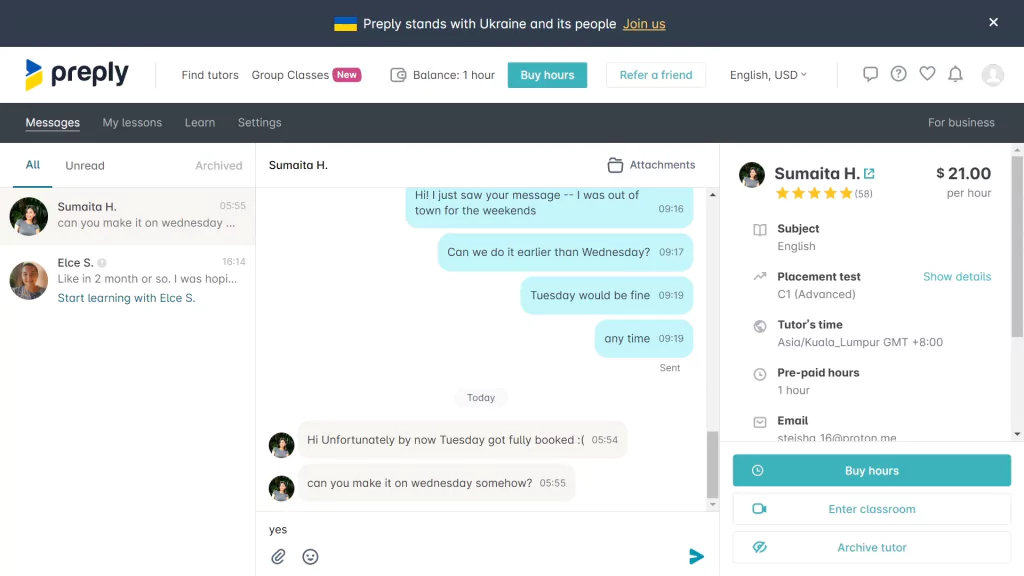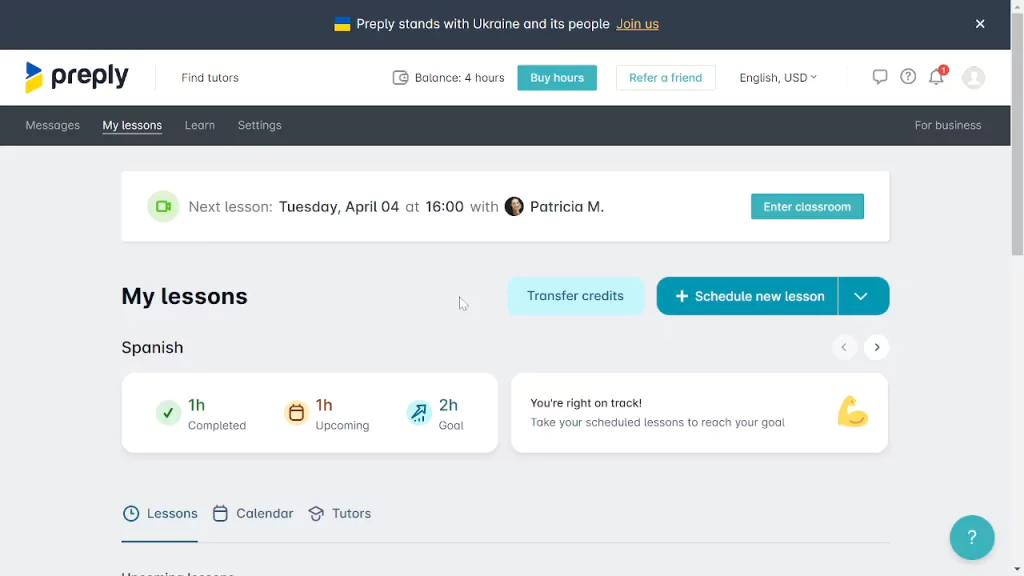 Johannes: "I was also intrigued to see what Preply had to offer. I saw their community and available speaking clubs and was wondering which materials I could get in my personal profile. Sadly, as Nayeli had mentioned, there weren't any built-in materials. All the tasks were given to me by my tutor via our chat. It was also he who gave me links to access previous TOEFL tests and some other useful information to prepare. He told me about this website that even had listening tasks in it so I could train in those as well. I think with these materials I can arrange mock tests on my own. Since during our class, we didn't do the full-on TOEFL scenario. It would take too much time anyways. Instead, my tutor did simulate the speaking and writing parts of the exam, as I specifically requested those two aspects to be perfected."
Teaching methodology
With language acquisition (and exam preparation as well) structured studying is crucial to achieving any results. Our lucky students will share some details about the approach of both tutors.
Johannes: "My teacher Sean was very attentive to my needs, reviewed my skills, and was very flexible when adjusting to my requests. In each lesson, he announced the plan of our work and incorporated all the main types of activities that I wanted to perfect: speaking, writing, and reading. I was also given homework, mostly tasks for writing, which then were checked and discussed at the beginning of the next studying session. I never did the same exercises twice and my educator kept track of my achievements in the special Google Doc that he had created. He even shared it with me via email. I noticed that Preply recorded the speaking time during our conversations and reported that I talked around 30%-40% of the lesson. Honestly, I feel like it was mostly dictated by the types of tasks we did (you can't talk much when you have to write, right?). So, in general, I felt like my classes were well-structured and personalized. I didn't receive any certificates after completing the 4-lesson course, but, in this case, I don't think it was necessary. I can with all honesty say that after these 4 lessons, I felt sure that I could pass the TOEFL exam."
Nayeli: "As I was making a new beginning in learning the Spanish language, there was no need for me to take a placement test. Though, as an amateur, I put a huge emphasis on the material provided. I believe that the first steps are vital in making the language and the student work together. My Spanish teacher used a flexible approach – where the emphasis on grammar or pronunciation or speaking was necessary I always received it. Regarding the latter, Preply has a handy speaking time tracker which usually pops up at the end of the lesson showing how much time a student spoke. My speaking time mark was higher than 60%. Such a satisfactory score showed that the tutor did everything possible to provide straightforward instructions and give me the stage to express my ideas. Yet another aspect that I found beneficial was the regularity of homework assignments. My teacher provided tasks to revise the new material. However, the whole approach was rather old-school. Meaning I would work with handouts and then send the completed homework via chat. Aside from that the tutor chose to focus on practicing more grammar and vocabulary as well as speaking. We did not have much involvement in listening and reading activities. After having finished my lessons on Preply, I did not receive any completion certificate either."
The Verdict
Finding the right tutor is not an easy task. And the question is, can Preply make this process easier? Both our experts, Nayeli and Johannes, having tried it themselves, seem to agree that the answer is "yes". They found professional teachers with a high level of experience and teaching expertise, who adjusted the lessons according to students' goals. The search for tutors was quick and simple, as the platform was smartly designed and provided all the needed information about possible candidates. Despite not receiving any certificates for completed lessons and built-in materials to keep all tasks and homework in one place, Preply was still pleasant to work with. Johannes, as well as Nayeli, agreed that they wouldn't hesitate to return again if they needed any further help with their language learning journey.
What Pitfalls to Expect? Preply's Negativity Rank — 20%
The choice of a tutor who will open the whole new and unknown world of a foreign language is a responsible call. The A*Help advises to stay level-headed and to use an analytical approach.
We critically checked unbiased feedback and reviews that Preply's users shared on Trustpilot.com. This is the only place where we managed to find impartial comments regarding the teaching approach, interaction with the platform, and tutor feedback.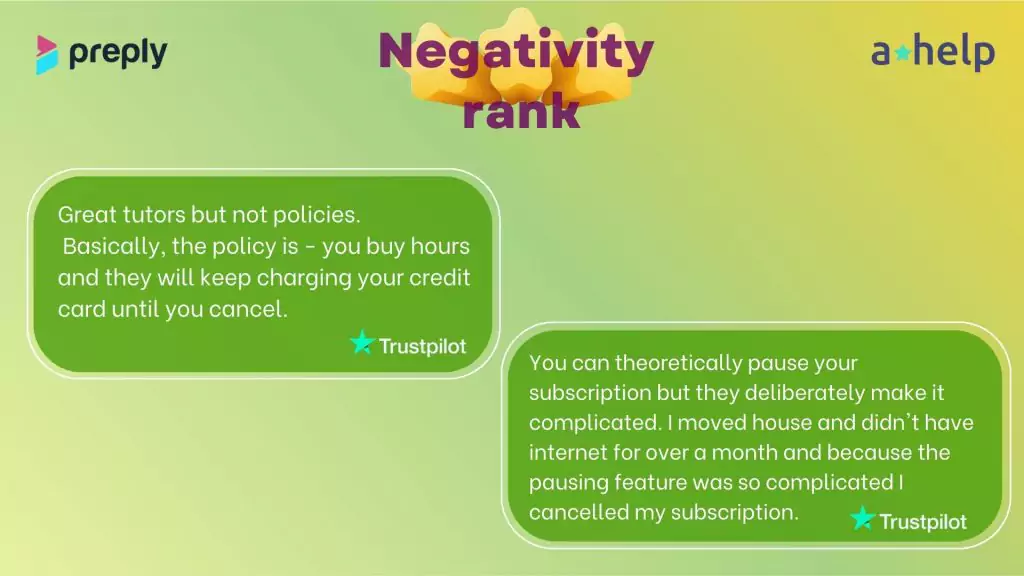 Many users did point out that Preply's idea with the subscription is not up to everyone's taste. Moreover, some customers shared that they had trouble pausing it when they wanted to take a break. Thankfully, at the moment of our mystery shopping experiment, this issue has been successfully resolved. Other learners voiced their concerns regarding the trial lesson and how hard it can be to choose the teacher. The A*Help team could partially agree on this matter. Indeed, it is a tough choice. However, based on the real experience of our expert, Johann, we could keep looking for that perfect match after the first unsuccessful try-out session. Try to follow in our footsteps if your first experience is a miss.
Finally, a word of advice, do some personal research on your own when pondering what service to choose.
Why academichelp.net is a credible source of information:
Stay curious with us. Academichelp.net has been a reliable educational resource since 2011, providing students with the latest news, assignment samples, and other valuable materials. Even with the extensive information we process, our quality remains consistent. Each team member has experience in education, allowing us to evaluate new sector offerings critically. Our reviews are up-to-date and relevant, with impartiality ensured by the A*Help score methodology from mystery shopping. We aren't affiliated with any listed service providers. Our focus remains on providing our audience with reliable and unbiased data.
Preply Specs
| | |
| --- | --- |
| Variety of subjects | |
| Language classes | Yes |
| Arts (music, theater) | Yes |
| Literature | Yes |
| Science (mathematics, IT, biology, chemistry) | Yes |
| Types of classes | |
| Single lessons | Yes |
| Group lessons | Yes |
| Bulk classes | No |
| Speaking clubs | Yes, interest-based clubs |
| Corporate classes | Yes |
| Price | |
| Can choose the price per lesson | Yes |
| Pay in installments/per class | Yes |
| Price per lesson (e.g. 30/45/60 minute lesson) | No |
| Subscription plans | Yes |
| Special offers | |
| Discounts | No |
| Free lesson/trial | Yes |
| Community for learners (articles, podcasts, tests) | Yes |
| Referral program | Yes |
| Registration | |
| Need a phone number to register | No |
| Need an email to register | Yes |
| Uses third-party registration methods (Apple, Facebook, Google, Microsoft account) | Yes |
| Accessibility&Use | |
| Built-in classroom | Yes |
| Third-party video call tools | No |
| Easy to navigate | Yes |
| Lesson time | |
| General time of the day (time period) | Yes |
| Specific time | Yes |
| Any time | Yes |
| Time zone | Yes |
| Class duration | 50 min |
| Re-scheduling of classes | Yes |
| Late cancelation | Yes |
| Tutor browsing | |
| Origin (country) | Yes |
| Language | Both native & non-native |
| Additional languages (if the teacher speaks more than 1 language) | Yes |
| Skill level/teacher type | Professional Tutor |
| Certificates/ Credentials | Yes |
| Availability | Yes |
| Change of a tutor | Yes |
| Course switch | No |
| Payments | |
| Paypal | Yes |
| Google pay | No |
| Apple pay | Yes |
| Visa | Yes |
| Mastercard | Yes |
| American Express | Yes |
| Discover | Yes |
FAQ
Preply Reviews
Academic Help recommends only verified services and platforms. Before we start conducting our mystery shopping experiment, our experts painstakingly check user reviews on the following sites, like Reddit and Trustpilot. Having gathered credible feedback, we present the outcomes in the Negativity rank section. To build a more informed decision, you can take a look at the details provided there. Based on users' feedback and our real experiment we could evaluate the platform and present the final score.
Is Preply a Scam?
Two of our experts registered with the platform created their own profiles, looked for different tutors, and completed a set of 4 lessons each. They communicated with their educators and did homework. Following their experience, we can say that Preply is not a scam and provides actual tutoring services. You can start looking for your personal teacher here without any fear.
Is Preply Legit?
Our A*Help team is dedicated to only reviewing those websites that have a set reputation in the market, show at least a few years of experience in the field, and have an established pool of customers. We also test everything ourselves to see if there's no catch. Preply checked out all the boxes on this list, and, having tried working with it, we can confirm that it is a legitimate language learning website.
Is Preply Safe?
Preply.com proved to be a safe platform to use. When our experts started to interact with this service, everything was transparent and clear. In other words, no fishy activity was detected. Creating an account is fast and easy. Every new customer can sign in with their email address. Additionally, Preply has a secure transaction system for payments.
Is Preply Trustworthy?
When our A*Help experts went through the registration process, they weren't asked to provide any personal information or some kind of an already existing account (Google, Facebook, Apple ID). Preply didn't report any data leakage or fraudulent activity. Their payment procedure was safe as well. Everything in their experience only supported the fact that Preply is the platform you can trust and peacefully study with.
Is Preply a Good Service?
The Academic Help team conducted a 3-week experiment to verify that Preply.com is indeed a good service to learn foreign languages. Professional tutors from different backgrounds and levels of expertise, helpful support, and a welcoming community space make Preply stand out among many online learning language learning websites. With all that in mind, A*Help ranked this service at 81.8/100 points.
Can I Learn a Language with Preply?
Yes, of course, you can! As Preply is a tutoring service, it gathers different educators, most of whom are focused on teaching languages. All you have to do is find the right teacher and take enough lessons. Our expert Nayeli Ellen started learning Spanish, for example, so you can try it as well. If you have a particular language in mind, just get on the website, choose what you'd like to learn and the teacher's preferable country of origin, and you will be able to find a professional to guide you during your journey.
Can I Prepare for my Exams with Preply?
The A*Help expert, Johannes Helmold, took the liberty to get ready for TOEFL which is a standard exam that all non-native English speakers need to take to study in accredited colleges and universities across the United States. Even though he did just make the first steps in his preparation journey, he was able to receive detailed information regarding the structure of the exam, self-preparation techniques, and all tricky peculiarities. Our expert wants to highlight the effectiveness of every lesson since it was filled with nifty bits of information.
Follow us on Reddit for more insights and updates.