Initial Data for the Case
(excerpt)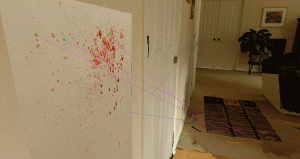 It was 3am and you were dispatched from an inner Sydney suburb to a domestic disturbance. On arrival, you found a 24-year-old male, Darren, who had reportedly been shot after a heated argument with another male. Police were on scene and have secured the premises, but have not arrested the assailant. Darren was supine on the kitchen floor in a large pool of blood spreading across the tiled floor around his left shoulder, reaching above the head and down to the hips. The left side of his shirt was heavily bloodstained from shoulder to waist. There was a fine mist of blood spatter across several of the doors of the kitchen cupboards and on the back door, about 1.5 meters away from Darren's head, as well as across his shirt, face, and arms.
AcademicHelp Learning Hub
Use the most powerful academic tools to write better with AI, check for plagiarism and detect AI content!
There was a strong smell of alcohol in the kitchen and numerous empty beer cans, as well as a strong smell of tobacco smoke along with a more sickly sweet smell. Darren was conscious but extremely agitated, and spoke in short bursts of 3 or 4 words. He reported that he had been shot in his left shoulder by a man with a hand gun. He was pale and sweating, and appeared breathless. He reported severe pain in his left shoulder, root of the neck, numbness and weakness in his left arm and a heavy feeling in his chest, "like I can't breathe." On examination, there was a neat circular hole, 1cm in diameter, just above the mid-point of the left clavicle, from which there was bright red, slightly frothy blood flowing steadily. No other wounds were visible.
Answer all of the following questions (excerpt)
1. Outline your preliminary diagnosis for Darren. Explain your answer incorporating a discussion of the relevant physiology, pathophysiology, and the significance of the physical signs and symptoms. (1000 words)
2. Detail what other diagnoses could be present in this patient and clearly explain how you would confirm, or exclude, these possibilities. This question needs to be addressed logically using all the available signs and symptoms. (500 words)
Rationalizing emergencies involving gunshot wounds are testing cases for pre-hospital care clinicians. While many gunshot wounds are the result of an accident, many more are deliberate, being either self-inflicted or with murderous intent. The paramedic is therefore entering a potentially lethal working scene if a gunman is in the vicinity and still armed. Never is it more important for the responding paramedic to assess the scene of the incident and to consider their own safety before attending to their patient.
Case Study Analysis
(excerpt)
1. Darren had just been shot by someone who is well known to him. They were in an argument, and the shooter was not satisfied with Darren's explanation. He then drew a gun and shot Darren in the left side, just above the left breast. This is visible because, according to the report, Darren's lower side of the neck was aching, and he seemed to have lost a large amount of blood which was not conducive to his health. The shooter is yet to be apprehended by the police.
Upon arrival, it was imperative to check around and secure the room in case the attacker was still around because, if the attacker was present, he or she could even harm the medical experts due to a confused state of mind. After securing the room, the next step was to attend to the patient who, in this case, is Darren (Dr. Weintraub 2003). One of the first actions that the medics did was to make sure that he was breathing, and after this, they proceeded to determine what happened. In most cases, if a victim has difficulty breathing, he or she is advised to stop speaking as this puts immense strain on him or her, and the muscle movements make the blood flow faster, and causes it to ooze more freely from the wound. In Darren's case, his wound could have been fatal, as the veins had been hit by the bullet, making it difficult for him to speak and, because the shooter was at close range, the impact of the bullet was massive.
(… Near the end of case study)
5. Once proper imaging was done, the patient was then prepared for the appropriate surgical procedures dependent on the degree of severity of the wounds. This was done to ensure hemodynamic stability. Several processes, such as laporotomy, were done in a bid to determine the most definitive diagnosis. Surgery was then sought dependent on the nature and location of the injury. The health care team constantly checked for stability in heart rate and blood pressure, and ensured sufficient flow of blood and oxygen into the body.
End Note
The health care team will work hand-in-hand so as to ensure constant improvement in the victim's condition. Proper medication will be prescribed to ensure this. On the path of recovery, the patient will begin feeding on lighter body-building and energy-giving meals as advised by the nutritionist. Once marked improvement is achieved, the patient will be discharged and advised to return at appointed times for constant checkups.
References
Brouhard, R. (2010). How to Treat a Gunshot Wound. Retrieved on 22nd February 2012 fromhttp://firstaid.about.com/od/softtissueinjuries/ht/07_gunshots.htm
Campbell, J. C. (2000). Basic trauma life support for paramedics and other advanced providers. Upper Saddle River, N.J: Prentice Hall.
Dr. Weintraub. W.S. (2003). Emergency response by medics. Totowa, NJ: Humana Press Inc
Getzen, T. (2010). Health care after a fatal encounter. Hoboken, NJ: John Wiley and Sons Publishers Inc.
Follow us on Reddit for more insights and updates.
Related Writing Guides
There are different kinds of case studies. The two main situations where a case study is required are commerce and academic pursuits. In business and commerce, the problem of how to write a case study to suit a particular circumstance, budget, location...