Living in the city is hard, even for those who were born in the industrialized environment of crowded streets, huge supermarkets, crammed subways, and polluting factories. I was born and raised in Dallas, so I know first-hand about heavy traffic and five-level interchange roads. However, before I moved to New York City, I was apparently not well-prepared for surviving in the Big Apple. I love NYC, but sometimes it becomes too much, and I have to escape from the noise to free my mind from all the routine worries, to clear my thoughts, and remind myself that despite how difficult and challenging life can get, I still have to enjoy the road along the way to success while achieving my dreams.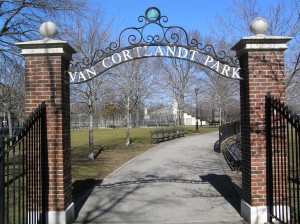 Everyone needs to take a break from the crazy pace of NYC lifestyle, once in a while. When I ask myself where the best place to do that is, I do not have to think for more than a second. My favorite spot in the NYC isVan Cortlandt Park, with its long paved trails that I so much like to ride on my bike, passing jungles of
Did you like this guide / sample?
Sign up and we'll send you ebook of 1254 samples like this for free!
80+ essay types
1000+ essay samples
Pro writing tips
Comment/Ask an Expert
Related Writing Guides
A descriptive essay is a form of academic writing that is built around a detailed description of a person, building, place, situation, notion, etc. The main purpose of a descriptive essay is to describe your point of focus in a vivid and particular manne...