Quick Overview
Ginfersoftware, an AI-powered writing assistant, seems to be a perfect fit when it comes to choosing a grammar-checking tool. However, as we tried its service, we can say that is far from being the best option. It didn't detect or correct most of the mistakes in all of our texts. The platform was convenient and offered some interesting additional features though. As a result, we were able to give it an A*Help score of 48/100 pts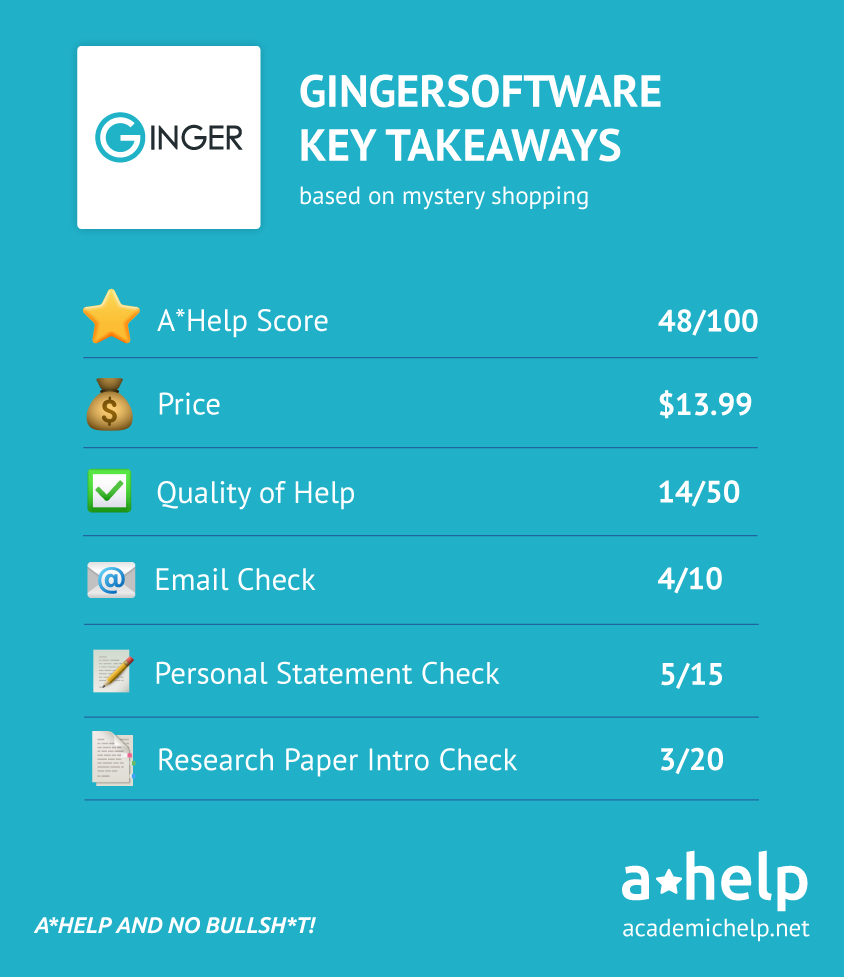 Gingersoftware Value For Money — 17/30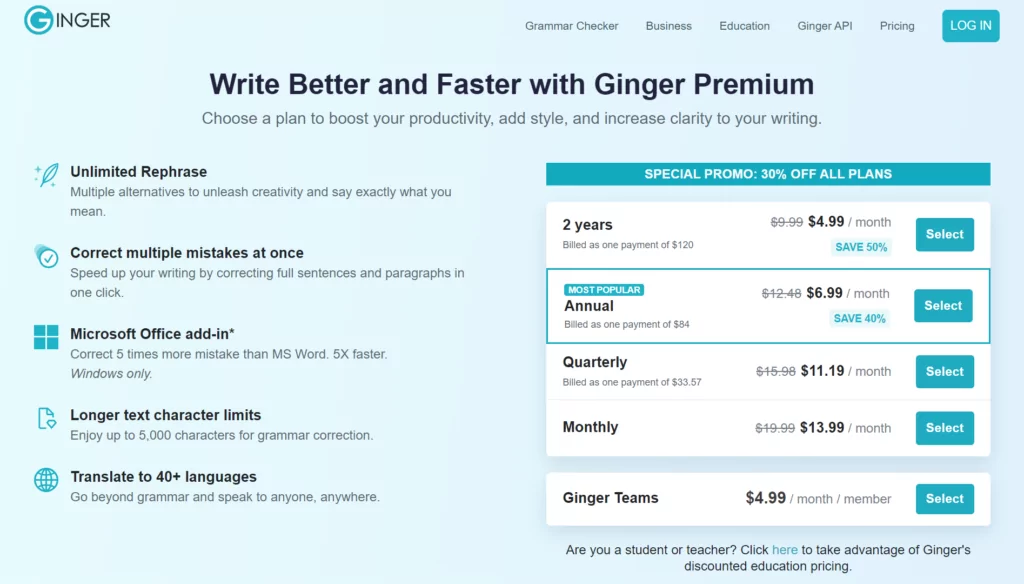 Ginger Software's Grammar Checker: Overall Experience — 17/20
Ginger Software's Grammar Checker Quality of Help — 14/50
| | | | |
| --- | --- | --- | --- |
| | >Txt 1 – Email | >Txt 2 – Personal Statement | >Txt 3 – Research Paper Intro |
| >Grammar | 2/4 | 2/5 | 2/5 |
| >Punctuation | 1/5 | 1/3 | 0/5 |
| >Spelling | 5/6 | 4/5 | 2/5 |
| >Word Use | 0/4 | 0/6 | 1/15 |
| >Word Order | 0/1 | 0/2 | 0/2 |
| >General Mistake Correction Score | 8/20 | 7/21 | 5/32 |
Ginger Software's Main Specs
>Supported languages
English
>Features
Grammar
✅
Spelling
✅
Punctuation
✅
But barely any
Words/Sentence suggestions
❌
>Possible extra services
Translation
✅
Rephrasing
✅
Wordcount
✅
>Free use & Wordcount Limites
Free use
✅
Wordcount
450 words
>Subscription
Needed
❌
Plans
Monthly – $13.99 / month
Quarterly – $11.19 / month – one payment $33.57
Annual – $6.99 / month – one payment $84
2 years – $4.99 / month – one payment $120
>Registration
Need to create an account
❌
Email for registration
✅
Third-party registration (Google, Facebook, Apple)
✅
>Website Experience
Easy-to-use platform
✅
Aesthetic Interface
✅
Irritating ads
❌
>Support
Contact center
✅
Email, live chat, contact form, phone, WhatsApp
✅
Email
Guide
✅
>Document Upload
Docx/doc files
❌
Pdf files
❌
Word
❌
>Access
Apps
✅
Both web an mobile app
Browser Extension
✅
>Checking process
Underlines each mistake
✅
Underlines incorrect sentences
❌
Option to correct all mistakes at once
✅
Shows the general grammar score
❌
Underlines mistakes that are not there
✅
FAQ
Ginger Software Reviews
We're here to help you make informed decisions. To give you a full review of Gingersoftware, we dug into sites like Trustpilot, Reviews.io, and more, gathering user opinions. By taking into account both positive and negative feedback, we aim to present a transparent perspective on Gingersoftware.
Is Ginger Software a Scam?
No, we can confirm that Ginger Software isn't a scam. We tested its capabilities on multiple texts, and its grammar and spell-checking tools performed as described.
Is Ginger Software Legit?
Yes, indeed. Gingersoftware has consistently made its mark in the online world. Based on user feedback and our firsthand experience, we vouch for Gingersoftware as a legitimate software for grammar and spell checks.
Is Ginger Software Safe?
From our observations, Gingersoftware allows its users to try its core features without registration or the sharing of personal details. This approach provides a simple and safe experience. We're confident in recommending Gingersoftware as a secure tool for your grammar-checking needs.
Is Ginger Software Trustworthy?
We checked out Ginger Software for you. It didn't provide us with the correction of all mistakes. Nonetheless, it helped us improve grammar and spelling a little bit. It's good for everyday grammar fixes, but if you're working on something special, it's wise to give it an extra look or get a second opinion.
Is Ginger Software a Good Service?
We analyzed Ginger Software according to all the A*Help criteria and ranked it with a score of 48/100 pts. This is not the highest result we saw during our mystery shopping experience. So we would recommend trying other options before sticking to this platform as your grammar-checking tool.
Follow us on Reddit for more insights and updates.