Every student regularly faces tough tasks, and essays are just another challenge along the way. So, students seek help from an essay service to complete their assignments easily and on time. However, the cost can be a deal-breaker since many students often have limited budgets.
We have a solution: affordable essay writing services that cater to all your academic needs. When turning for help you would not want to waste your money on unsatisfactory final results. With that in mind, the A*Help team created a list of services that offer effective assistance without you throwing your money down the drain. You can also have a look at our buying guide where you can find more insightful information on essay paper writing websites. As always, we objectively compile the ranking on personal experience, interactions with these services, and the A*Help scoring system.
How We Select Top Cheap Essay Ghostwriter Services (USA)
Our objective is to assist our readers in discovering the ideal service provider that caters to their requirements, preferences, and budget, by offering authentic, impartial reviews from experts or individuals who have a genuine passion for the topic. To get objective results, our team conducts online mystery shopping. During this experiment, we place orders with writing platforms to analyze all the vital aspects, such as value for money, overall experience, and paper quality. We compiled a list of cheap online essay services that all students can afford and receive high-quality assignments.
We properly examine all interactions, like the user journey, registration, ordering process, communication with support and writers, and most importantly, available promo codes, discounts, and loyalty programs that make these services budget-conscious for the students. More detailed information about the testing scenario can be found here. See How We Test Essay Writing Services for more details about our testing approach. To receive accurate insights, we place two different orders: a 2-page essay with a 6 hour deadline and a more advanced task – a 4-page memo to the CEO with a 7-day deadline.
Once we receive the finished assignments, we forward them to our partner, a US professor. Mrs. Sybil Low, our collaborating expert and a guest lecturer at New York University, assesses the written work using US university and college-level standards to ensure the final results are applicable in real-life situations.
At A*Help, our ranking criteria relies on professional feedback and analysis of the completed tasks. If an assignment scores below 60 points, it is considered unsatisfactory – in compliance with university standards.
Hence, our comparison of cheap essay writing services is to showcase to the readers how you can save up and receive a quality task.
Best Cheap Essay Writing Services According to A*Help
Following an in-depth analysis of our mystery shopping, we concluded that EssayPro is the best cheap essay service. It offers the most competitive prices in the market, making it the clear leader in terms of cost. Not only does EssayPro provide budget-friendly options, crucial for students, but it also offers lucrative discount offers. The A*Help team highlights EssayPro's merits and ranks it at the top for its value-for-money aspect.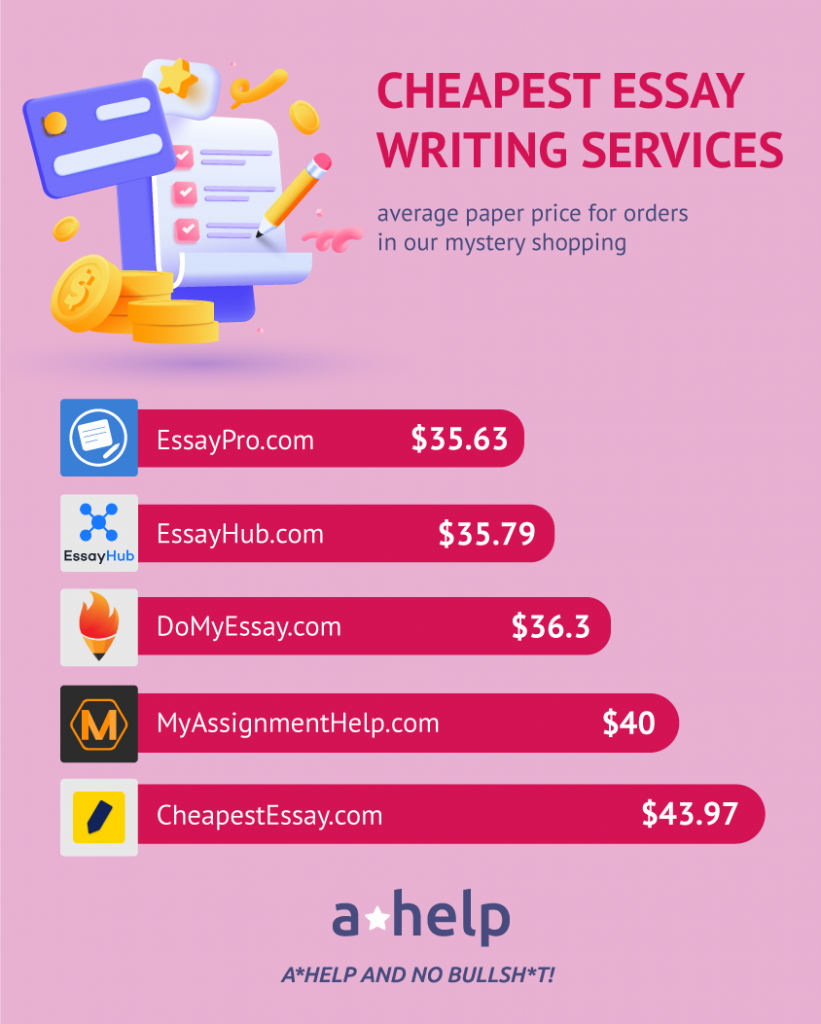 Top List of Cheap Custom EssayWriting Services
According to our mystery shopping, we present the following list of 10 cheap essay services for academic help:
The list of services that provide academic help with various assignments is vast. Hence, the A*Help team understands the importance of ensuring objective evaluation of each platform and recommending to our readers only those services that can undeniably aid students. In the following list, we narrowed down the broad checklist of criteria to value-for-money and paper quality. By offering these suggestions, our team aims to simplify the decision-making process and, hopefully, save you money when selecting a custom writing service.
Pricing
The price every student pays for the service is an essential factor that should not be overlooked. First and foremost, the main keynote to remember is that every platform has its pricing system.
The pricing can be categorized into three groups: affordable ($30-$50), average ($50-$80), and above-average ($80-$100). The price for orders is estimated by the number of pages. The cheapest price per page we experienced during our mystery shopping was $15.4.
Discounts and loyalty programs
As the practice shows, the final price of the essay writing services varies based on individual promo codes, coupons, discounts, and loyalty programs on every platform. Discounts can vary, starting with 5% and ending with 25%. Any client can receive such bonuses during the registration, get it via email, or ask directly from a support chat. Added to this, there are loyalty bonuses using which you can get cash back for your future orders. Moreover, you can recommend services to your friends and earn referral bonuses and payouts.
Quality
The A*Help team values the quality of the assignment. The evaluation factors are based on a mystery shopping approach together with a diligent assessment of the tasks from a US professor, Dr. Sybil Low. Such a technique ensures that the paper meets university standards and is graded according to various criteria, such as language aspects, reasoning, logic, and integrity.  A passing grade for the assignment is defined as 60/100.
FAQ
How much does an essay writing service cost?
This question would need a broad answer. The cost differs widely depending on the level of the academic assignment, its length, complexity, topic, deadline, and of course, the skills and the level of professionalism of the service provider.
On the whole, the price for a college-level personal narrative might vary from $15 to $75. If a student requires help with a more advanced writing assignment, the cost can go up to $100 and higher.
It is suggested to conduct research and compare different essay writing services and their prices before settling down with the platform.
Is buying an essay from a cheap paper writing service secure?
The matter of security depends on the reliability and credibility of the writing service. The reason why cheap essay writing services are budget friendly is due to many reasons, like smaller profit margins or non-native English writers. However, it is recommended to always search and compare platforms before selecting one. Most importantly, it is vital to opt for a homework website that has secure payment methods, an anti-plagiarism policy, and a confidentiality agreement.
What is the most legit cheap essay writing service?
To determine the legitimacy of a cheap essay writing service one would need to consider an array of factors, such as the quality of work, reliability, pricing, and customer support.
To try and identify whether the platform is legit or not, one could research and compare different websites based on their reputation, feedback, and testimonials from previous customers. Additionally, it is required to check if the essay writing service has privacy and plagiarism policies.
Next, the legitime academic writing site offers their clients revision, refunds, and prompt time delivery. As well as discount and loyalty programs to reduce the cost of the order. In our reviews, we cover only trustworthy and legit services.
Who can write my essay for cheap?
If a student is looking for someone to help them with their written assignment for a reasonable price, they can turn for help from freelance writers or online writing essay services.
The latter offers a more structured approach to writing and guarantees revisions and refunds. Additionally, some essay writing services provide discounts to lower the price of the order.
What is the cheapest writing service?
It is complicated to determine the cheapest essay writing service since the evaluation process can vary on many factors, such as the academic level, time delivery, page count, and the type of an assignment.
Even though some writing services promote cheap prices, they might add additional cost for other features, like the paper outline, page references or grammar and plagiarism check.
In this regard, every student should cautiously check and compare an essay writing service. It is advised to pay more attention to the value-for-money and the paper quality ratio.
From our mystery shopping the A*Help team can state that the cheapest essay writing service is EssayPro.
How to find cheap writers?
If you find yourself in a predicament that you need help finding a cheap writer to help you with the writing process – we suggest you take a look at our list of the cheapest essay writing services provided above. We meticulously assessed these services in terms of value-for-money and paper quality criteria. Our team confirms that these reputable platforms are affordable and can professionally fulfill any students' requirements.
Follow us on Reddit for more insights and updates.