Searching for an essay writing service is a time-consuming endeavor. To get an idea of what provider is better you need to compare a few of them side by side and see what is the difference. But you don't have a few spare hours for all that, do you? Lack of time is the main reason you started looking for such a platform in the first place.
You want to find the right website quickly and by doing as little research as possible. And when reading through customer feedback doesn't give you enough details, that's where our A*Help score steps in. It was designed to take into account all the different aspects of working with an academic help platform so that you can just take a quick look at the result and know what the best pick would be. To give you a better understanding of what exactly is included in our rating system, we decided to break down all of the aspects that make the final mark.
The basics of A*Help Score
We designed Academic Help and A*Help score as trusted recommendation resources for quality of legit writing services. We help students to make informed decisions about EdTech products and provide comprehensive guides on how to choose the service that gets the job done for you when you have a lot going on. If you're a student looking for a recommendation for your academic needs, you've come to the right place.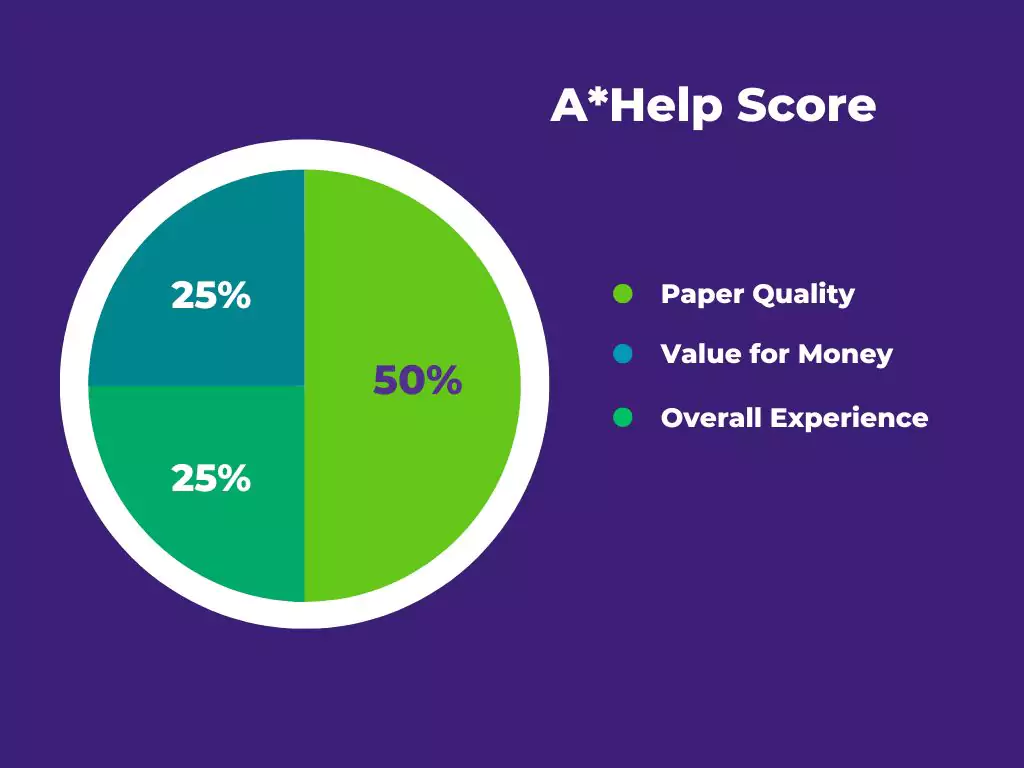 What is the A*Help Score?
As our A*Help team wants to thoroughly and critically evaluate essay writing services, we introduce a special methodology that helps us assess all the aspects of using a particular platform. The A*Help score is a complex rating system that takes into account three key factors: Value for money, Overall experience, and Paper quality.
Value for money (25/100 pts) takes into account what the service has to offer and whether the price for such supply is justified. The overall experience (25/100 pts) index is centered around convenience and usage of the platform. It should be quick and simple because no student looks for complications when deciding to turn to academic help. And lastly, Paper quality (50/100 pts) which makes up the bigger part of the score, focuses on the question of competence of the reviewed service in assignment writing.
All three aspects are evaluated during the process of mystery shopping. There, our team's experts personally register with the platforms as the students would. We recreate the full customer journey and place orders for two different homework assignments. Our A*Help team monitors the whole process of interacting with essay writing services from creating an account to receiving the final tasks. We assess the aspects according to our experience and given parameters.
Value for money (25% of the A*Help score)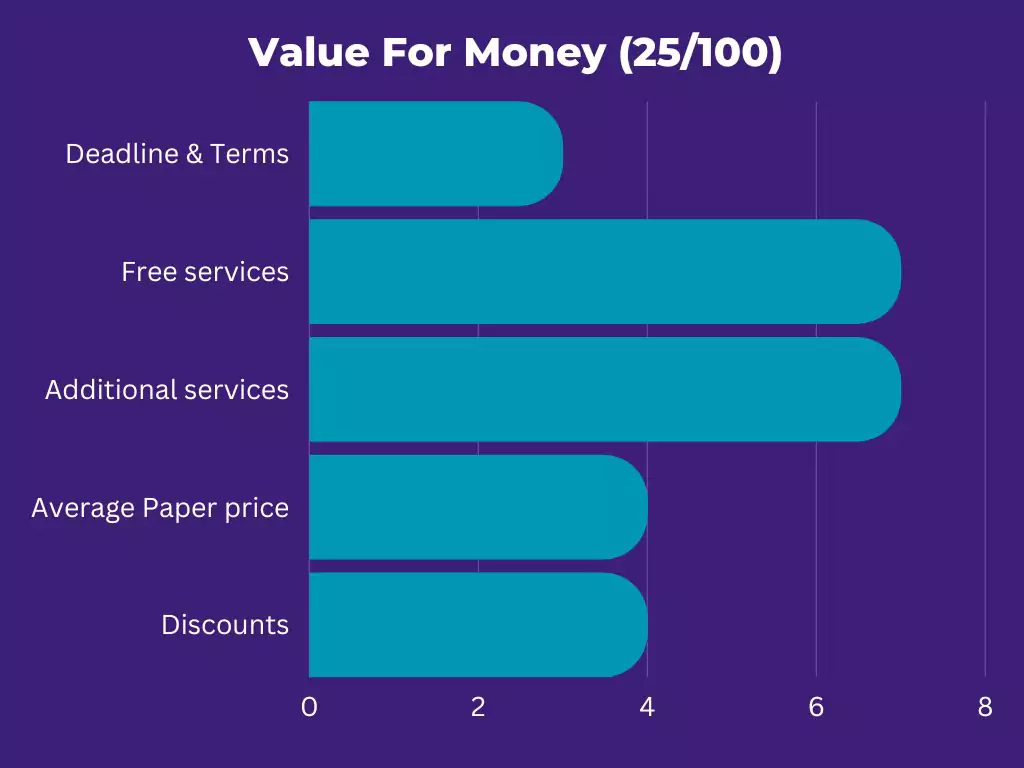 Deadline & Terms – 3 pts
Free services – 7 pts
Additional services – 7 pts
Average Paper price – 4 pts
Discounts – 4 pts
We want you to get the best service for your money. This is what this critetion stands for. It accounts for several aspects. When we look at the value-for-money index, we pay attention to the ordering opportunities, the range of services that you can expect to get here, coupons and different discount programs, and, of course, we check the prices, especially in correlation to all other mentioned features.
Deadline & Terms
It's essential that the academic help website provides its customers with appropriate conditions for order placement. We pay attention to the maximum and minimum available deadlines so that you know how far ahead you can plan your task completion or whether there's a possibility to get help with urgent assignments.
As a customer, you also expect to get help from professionals. That's why we check the categories of the writers available at the website and whether they cover different levels of expertise needed. We also pay attention to which academic assignments the service offers to tackle: school, college, university tasks, or all three.
Free Services
Free services are those that come along your order and will be provided regardless of the amount you pay. Many services include revisions (limited or unlimited) as their go-to free feature. However, some providers offer other services without any charge. For example, they can also include the creation of title pages or even a plagiarism report. So, we check how versatile the selection of such features is. The more the platform has to offer in this area, the less you will have to worry about your budget.
Additional Services
When you create your order, different platforms may offer to expand it by adding some extra features like printable sources or writers' notes on the task. These additions are usually called to help you minimize the efforts of organizing the paper and formatting it according to standards. It's the diversity of this collection that our team tries to establish. Because when there's a decent supply of them, it means that you can get rid of that headache in the form of assignment formatting.
Average Paper Price
The price for the essay writing services should be justified. No one wants to pay more for a less quality service, when you can get your task done correctly and not lose all your savings. The cost can vary depending on a deadline. That's why we place two orders, an urgent and a lengthier one, and establish an average for them. We then compare this fare with the general market price and assess how affordable the services provided by the platform are.
Discounts & Loyalty Programs
Retention programs are always something to look for in any kind of service, especially if you are a student on a budget. We check whether there are first order discounts, seasonal coupons, loyalty points, and referral programs. All these freebies can make your stay at a certain website not only more pleasant but also financially wise.
Overall experience (25% of the A*Help score)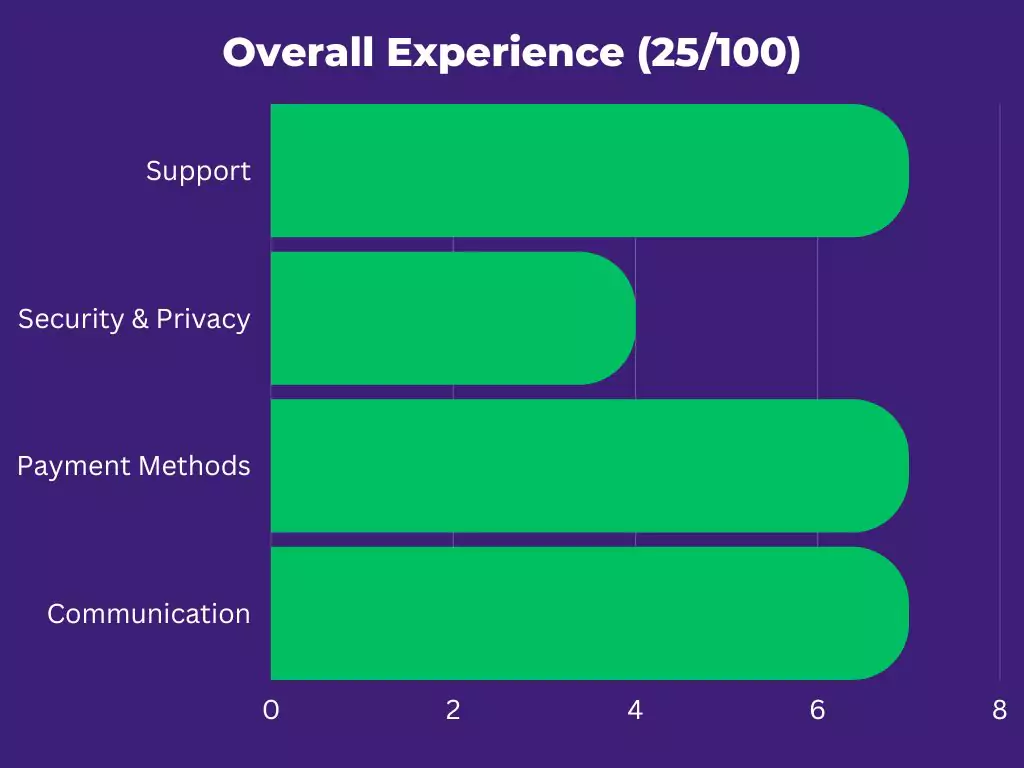 Support – 7 pts
Security & Privacy – 4 pts
Payment methods – 7 pts
Communication – 7 pts
Our experts register with the chosen services to check how easy and convenient it would be for you to use them to satisfy your essay writing needs. While evaluating the experience of working with the platforms, we concentrate on interactions with customer support and writers, levels of security & privacy, and convenience of payments.
Customer Support
The main factor that can turn your experience with the service from confusing to relaxing is responsive customer support. For this reason, our team always checks whether the agents on different platforms are ready to provide timely and appropriate assistance. We ask them about discounts, inquire about our orders, and talk about the process of assignment placement.
We also take notes of what communication channels are available on the website: are there on-site chats and Facebook or Whatsapp connection opportunities, or does it only have email as its means of communication? The notification system also comes under our focus as we find it important that the essay writing service providers keep their clients updated on the task progress.
Security & Privacy
Some may perceive working with online websites as a risk to their private data. That's why we check what personal information the service requires to provide upon registration. We also pay attention to payment processing and whether the platform utilizes a security system for that purpose.
Payment Methods
Here, we check the variety of available payment options. Most platforms accept card payments, such as Visa, MasterCard, American Express, and Discover. However, some services also offer wallet payments through Apple and Google Pay or PayPal. These methods would be quicker and more convenient, and that's why those who include them in their payment options list get higher results. After all, it's important that even in terms of purchasing the website provides that worry-free experience for their users.
Communication with the writer
Of course, what's also important is the connection with the writer. You need to make sure that your task is in good hands and that all the required details won't be looked over. And the only way to do that is to talk directly to the writer. As such, our team tests whether the platform provides this opportunity at all and whether the dedicated experts use it to get everything cleared up and keep their clients posted on the progress.
Paper quality (50% of the AHELP score)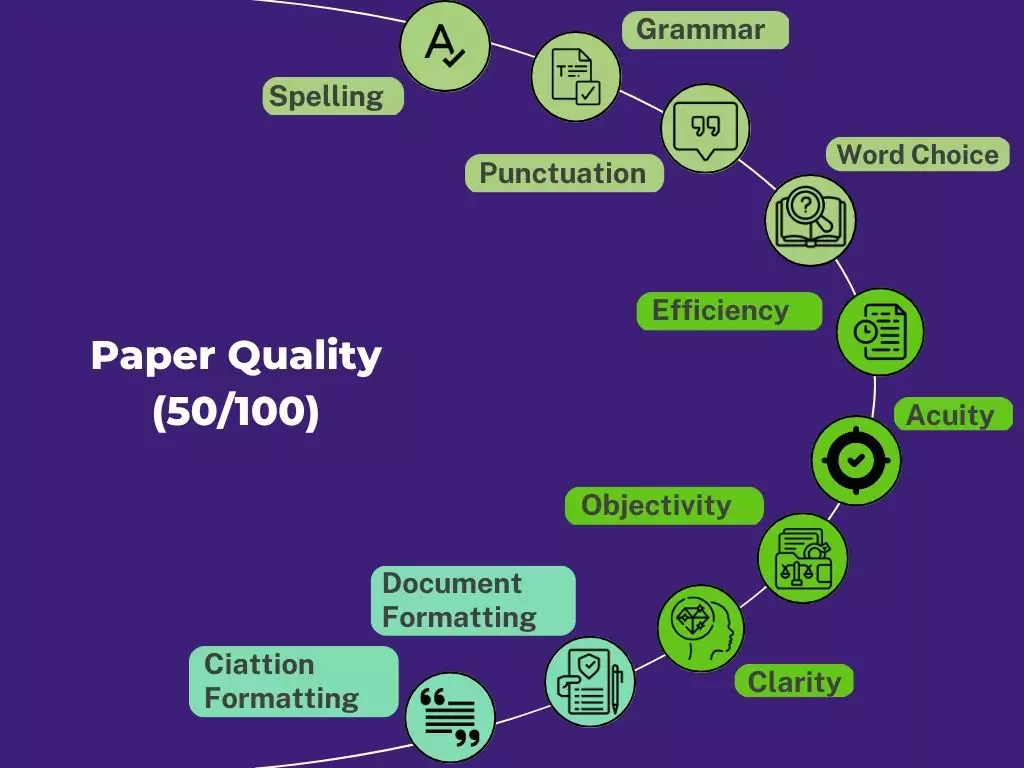 A*Help team wants to be sure that the recommended service will provide you with quality academic help. Hence, we place two orders of our own with each of the reviewed services to test how well the platform's experts can complete the given tasks. These are real homework assignments of different lengths and complexity levels for most common subjects like English and Business management. The first one is a 2-page personal narrative with a 6-hour deadline. The second is a 4-page business memo, with a due date of 7 days. Based on the completion of both tasks, our team notes how well writers can follow the given time limits, whether they can properly revise your work, and whether they are generally able to deliver quality writing.
The final papers are then sent to our partner US college professor, who grades them according to the widely accepted university assessment standards. This mark takes into account technical aspects such as grammar, punctuation, and vocabulary, and a contextual flow of the text represented by such indexes as objectivity, acuity, and efficiency. The maximum mark is 100 pts. The 60/100 pts is the benchmark for the lowest acceptable result. If the work receives less than that, it is considered unsatisfactory. The grade is then converted into a 50 pts system, and so the A*Help score gets calculated by proportion (50 pts – 100 pts).
What is the Negativity Rank?
AcademicHelp has assembled a team of curators whose job is to check reviews on various platforms, such as Reddit, Trustpilot, Sitejabber, and Reviews.io. Original feedback from previous customers is then hand-picked, to filter out paid and fake "super happy" testimonials. We believe that mostly negative reviews can provide valuable insights into the work of the service, as negative emotions are most often genuine and prompt us to share them.
It is important to differentiate fake claims designed to smear the company from genuine customer comments. Since we are reviewing only legit custom essay writing services, that's why we assess negativity against probable problems and setbacks. All negative reviews come with a plausibility and severity ratio, and we invite companies to respond and use this feedback to improve their service.
Severity – is this a critical problem?
Plausibility – how much do we trust this problem may actually occur?
Source – where does this feedback come from?
How is the Negativity rank calculated?
We rank all negative reviews and produce an average negativity rank.
Code of Conduct
We're all about debate and discussion at Academic Help. We value the diverse opinions of users, so you may find points of view that you don't agree with. And that's cool. However, there are certain things we're not OK with: attempts to manipulate our data in any way, for example, or the posting of discriminative, offensive, hateful, or disparaging material.
Thanks for taking the time to understand our guidelines.
Read more:
How We Test Custom Dissertation Writing Services
How We Test Programming Homework Help Websites
How We Test Everything We Review
How We Test Plagiarism Checkers