When comparing Rytr vs Jasper, they may seem very similar. However, these two have one main difference – Jasper provides a greater quality of writing than Rytr does. Still, there are a few other differences that you may want to consider as well when picking one option.
Rytr.me was founded back in 2021 as a content-generation tool for various writing purposes. Just over the last three months, this platform encountered 2.8 million visits from users all over the United States and other countries. We thought that such a versatile platform recognized by customers around the world must be good for any kind of writing, academic as well.
Jasper.ai, (previously known as Jarvis), was also launched in 2021. This platform mostly caters to business teams and companies wanting to create quality content. Over the last 3 months, this website has been visited 4.2 million times which only proves its great popularity.
Having noticed some similarities in both Rytr and Jasper, we decided to put both services to the test and see, which one would better handle students' need for quality academic writing.
RYTR
JASPER
Best fit for
Students who need to create their writing quickly and for free
Students who need quality text and value a variety of text creation options
A*Help Score
⭐⭐⭐⭐
70.2/100
⭐⭐⭐⭐
75.7/100
Paper Quality
⭐⭐⭐
Rytr's essay was graded with 77.9/100 pts and showed flawless spelling but low efficiency and acuity.
⭐⭐⭐⭐
Jasper's essay got graded 82.1/100 pts and had excellent grammar, but lacked efficiency and objectivity
Overall Experience
⭐⭐⭐⭐
Using Rytr.ai was highly convenient since the text generation was quick and with no limits
⭐⭐⭐⭐
Jasper offered quick and limitless text generation, as well as ensured a simple website use
Value for Money
⭐⭐⭐
Rytr offered a great opportunity to use their services for free but lacked a variety of services and text creation options
⭐⭐⭐
Jasper had a 7-day free trial and offered different text creation options, but still was rather expensive and with limited services
Quick Overview
The side-by-side comparison of Rytr.me and Jasper.ai showed that both services can provide a quality experience when it comes to generating an academic essay. Nonetheless, Jasper offered a higher-graded essay, with wider text creation and paper formatting opportunities than Rytr. Jasper was also pricier, as the lowest cost for a monthly subscription plan was $49, while with Rytr there was an option to have access just for $9/month. Still, Jasper scored higher in the A*Help ranking scoring 75.7/100 pts against Rytr's 70.2/100 pts, which makes it a better option between the two.Available browser extension

Rytr vs Jasper.ai: Comparing Main Features
Price
Subscriptions
RYTR
JASPER
Daily plan
❌
❌
Monthly Plan
Saver – $9/month, Unlimited – $29/month
Creator – $49/month, Teams – $125/month, Business – Custom pricing
Annual Billing
Saver – $9/month, Unlimited – $29/month + 2 month with each plan for free
Creator – $39/month, Teams – $99/month, Business – custom
Free Trial
✅
10k characters/month
✅
7-day free trial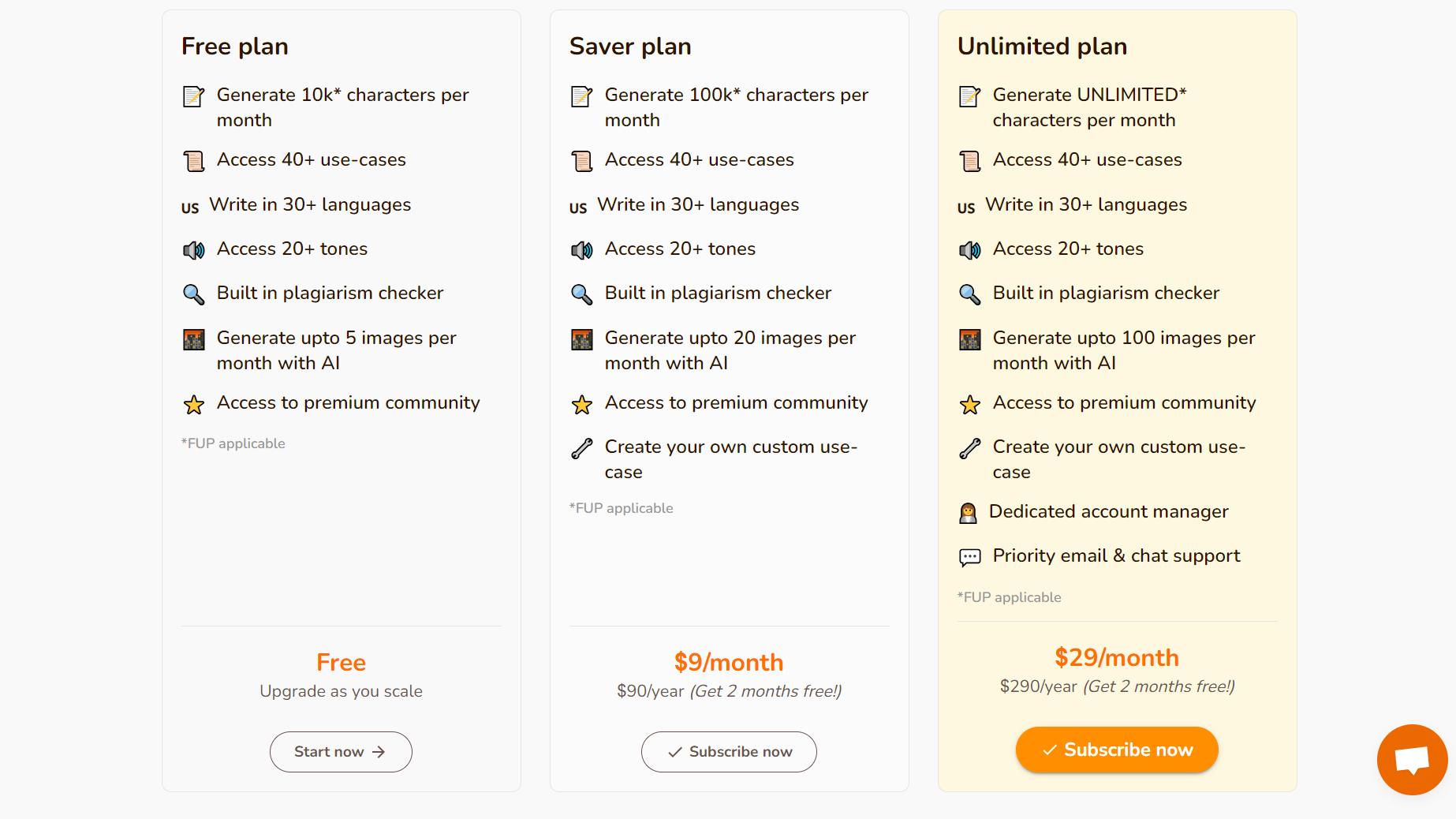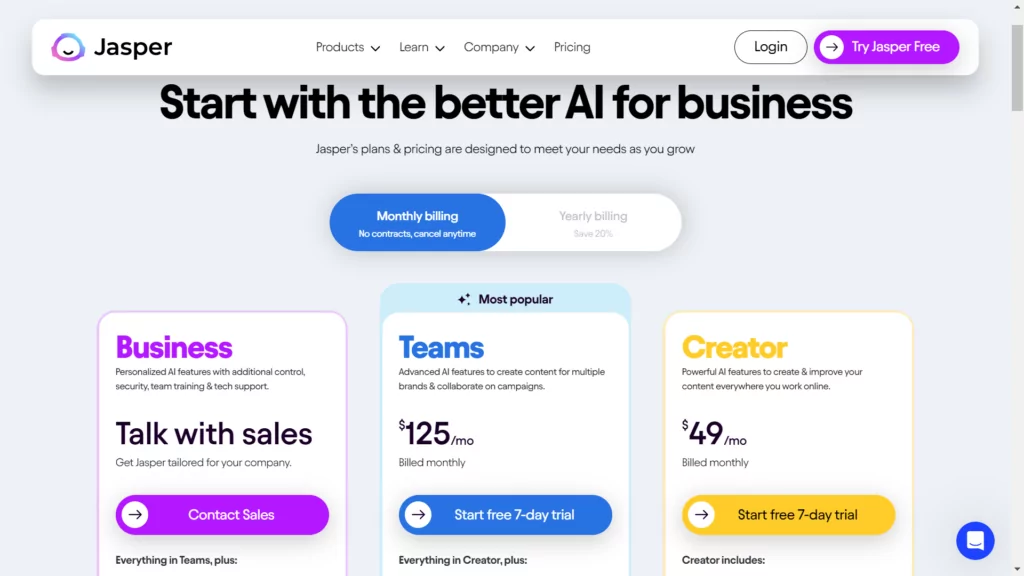 Rytr vs Jasper AI: Which is Best for Essay Writing?
| | | |
| --- | --- | --- |
| | Rytr | Jasper |
| Paper Grade | 77.9/100 | 82.1/100 pts |
| Spelling | 100% | 97% |
| Grammar | 86% | 100% |
| Word Choice | 84% | 96% |
| Punctuation | 94% | 92% |
| Clarity | 87% | 96% |
| Objectivity | 61% | 51% |
| Efficiency | 51% | 51% |
| Acuity | 51% | 51% |
| Word count | 557 words | 544 words |
Rytr vs Jasper.ai: Overall Winner
In a Jasper.ai vs Rytr.me trial, the first one proved to be a winner, scoring higher in the general A*Help rate by 5.5 pts. Jasper had better essay quality, as well as greater opportunities to work with the text and format it according to paper standards right on the platform.
Why academichelp.net is a credible source of information:
Stay curious with us. Academichelp.net has been a reliable educational resource since 2011, providing students with the latest news, assignment samples, and other valuable materials. Even with the extensive information we process, our quality remains consistent. Each team member has experience in education, allowing us to evaluate new sector offerings critically. Our reviews are up-to-date and relevant, with impartiality ensured by the A*Help score methodology from mystery shopping. We aren't affiliated with any listed service providers. Our focus remains on providing our audience with reliable and unbiased data.
FAQ
Is Rytr or Jasper better?
Jasper and Rytr seem to be similar services. However, according to our mystery shopping experience, Jasper.ai showed slightly better results. The essay created with the help of the platform got graded higher than Rytr's text, and it offered more options for paper formatting and text creation.
Who are the competitors of Rytr?
There are many sites that offer similar services to Rytr.me. Its main competitors are Jasper.ai, Copy.ai, Writesonic, and Simplified. To learn which one of these AI text generators is better, refer to our comparative reviews and A*Help ranking.
Rytr vs Jasper.ai: Main specs
Rytr.me
Jasper.ai
A*Help Score
70.2/100
75.7/100
> Website experience
Aesthetic Interface
✅
✅
Easy-to-use platform
✅
✅
Simple Essay creation flow
✅
✅
Trying before registration
❌
❌
Full time to generate essay
5 minutes
5 minutes
Wordcount limits
❌
❌
> Support System
Guides
✅
✅
Support chat/phone
✅
✅
> SERVICES
AI chat
✅
✅
Research assistant
❌
❌
In-text citations
❌
❌
Reference finder
❌
❌
MLA and APA Citations
❌
❌
Grammar check
✅
✅
Plagcheck
✅
✅
> FREE TRIAL
Free trial/plan
✅
✅
Limits
10k characters/month
7 days
> TEXT CREATION OPTIONS
Generate
✅
✅
Rewrite
❌
✅
Rephrase
✅
✅
Summarize
❌
✅
> TEXT SUBMISSION
Format
✅
simple text
❌
Outline
❌
✅
can be done
Structure
❌
✅
paragraph structure
Formatting
✅
can be done
✅
References
❌
❌
Follow us on Reddit for more insights and updates.