In the contemporary educational arena, using artificial intelligence tools such as ChatGPT is burgeoning at an unprecedented pace, igniting a dialogue concerning the regulatory measures needed for its incorporation in classrooms. A recent examination by EdSurge reveals some compelling insights into the opinions and strategies of governmental bodies and other authoritative factions regarding this issue.
JOIN OUR LEARNING HUB
One-stop solution for all your homework needs. Get the job done.

✅ AI Essay Writer ✅ AI Detector ✅ Plagiarism checker ✅ Paraphraser
Key Takeaways:
The ascending trajectory of ChatGPT and similar AI tools in educational settings necessitates enhanced state-level guidance for school districts.
The 2023 State EdTech Trends report highlights a significant demand for support and policies around AI from state officials.
Despite the increasing concerns, a mere 2% of respondents acknowledged an existing AI initiative in their states.
The rising prominence of artificial intelligence tools, notably ChatGPT, in the educational sector, can't remain unrecognized. Recent trends point towards a noticeable surge in demand from school districts for state guidance on effectively employing such technology in classrooms, as revealed in the 2023 State EdTech Trends report, according to Edweek.org.
This report, jointly prepared by the nonprofit State Educational Technology Directors Association and Whiteboard Advisors, unveils that 55 percent of the over 100 state officials surveyed witness an uptick in requests for support or policies surrounding artificial intelligence compared to the preceding year. However, a scant 2% of respondents confirm their state has any AI initiative in motion.
Kirsten Baesler, the North Dakota Department of Public Instruction's superintendent, implores state leaders to embrace the technological tide rather than shying away from it. Baesler stresses that the future success of students relies on their capacity to flourish in a technology-rich environment.
"That's not an option for the students we serve, whose future success depends on their ability to thrive in an ever-changing, technology-rich world."
As schools tread into a tech-abundant post-pandemic epoch, Julia Fallon, the executive director of SETDA, underscores this transitional phase's uniqueness, filled with opportunities and risks. According to Fallon, the pressing needs of yesterday have morphed into today's priorities, with states improving in managing these issues. Fallon says, 
"Last year's needs have become this year's priorities, and states are making progress in addressing these challenges."
Cybersecurity and Tech Equity: New Frontiers in Education's Tech Evolution
As the technology within the educational domain continues to evolve, pressing concerns around cybersecurity and tech equity come to the fore. The 2023 State EdTech Trends report provides a statistical vantage into these critical areas, reflecting the urgency and the scope of attention they demand from state officials.
Cybersecurity remains a significant challenge, with data indicating a substantial resource gap. While an increase was seen in state officials reporting ample funding for cybersecurity, moving from 6% the previous year to 19% in 2023, a staggering 42% disclosed that their state offers scant or very minimal funding to mitigate cybersecurity threats. This data accentuates the lingering vulnerability and the dire need for fortified cybersecurity infrastructure across educational districts.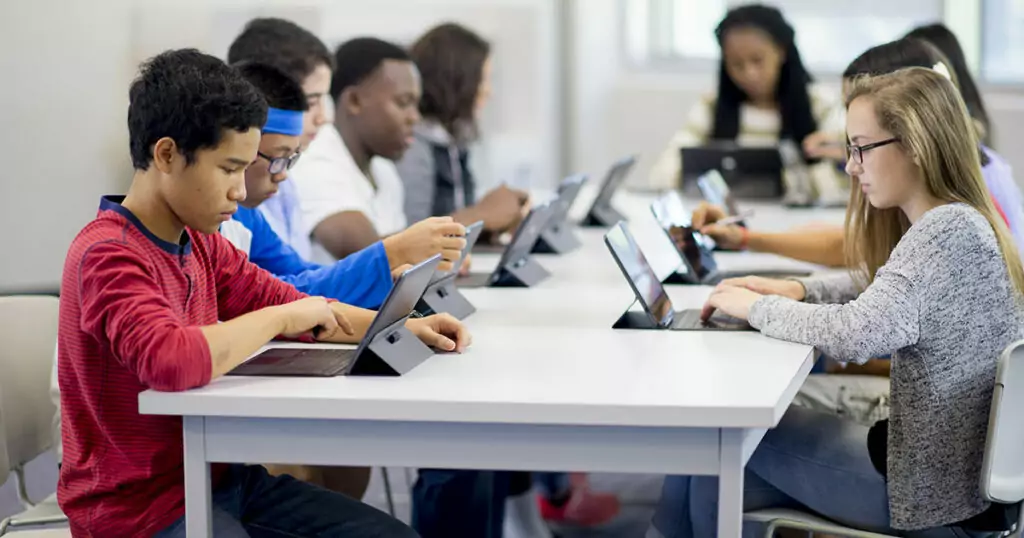 Brad Hagg, the Indiana Department of Education's director of education technology, articulates the struggle of under-resourced districts in building cybersecurity capabilities against an evolving threat:
"Under-staffed districts and communities without access to a pipeline of cyber-specialists will struggle to meet the requirements, often dictated by insurance companies, as well as the best practices necessary to implement a strong cybersecurity threat mitigation program."
Conclusion
The rising appeal of ChatGPT and other AI tools in educational settings is pressing school districts towards seeking more structured state guidance to navigate the intertwined paths of technological innovation and equity. The dialog now turns towards how state authorities will respond to these calls and strengthen the educational landscape against potential risks while harnessing the benefits AI could usher in.
Follow us on Reddit for more insights and updates.