JOIN OUR LEARNING HUB
One-stop solution for all your homework needs. Get the job done.

✅ AI Essay Writer ✅ AI Detector ✅ Plagiarism checker ✅ Paraphraser
College tours play a crucial role in helping you find the perfect college fit. They offer a unique opportunity to experience campus life firsthand. To ensure you get the most out of these visits, we've compiled friendly expert advice from students, counselors, and college admissions officers.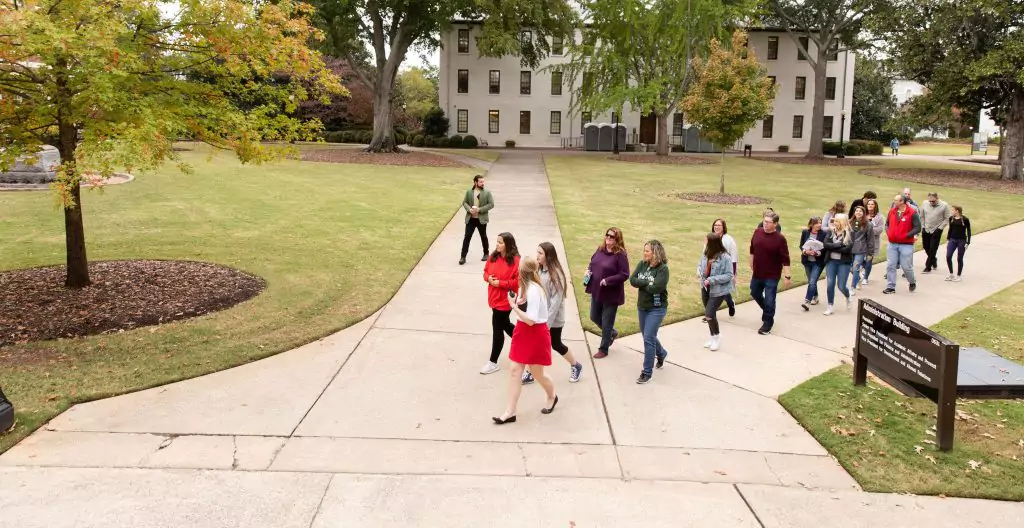 Experience Campus Life During Class Hours
A top suggestion is to tour colleges when classes are in session. This gives you a chance to witness the campus and student life in full swing, allowing you to better understand the college's vibe. Plus, it's a great chance to chat with current students and gain their insights on attending that particular college.
While you're there, try to attend a class or two. This helps you gauge the academic intensity and teaching styles at the college, as well as assess the engagement level of the student body.
Inspect the Dorms
Dorm life is a significant aspect of college, so make sure to check out where you'll be living for at least a year. Observe the room sizes and layouts, along with the amenities and overall cleanliness.
If possible, talk to current dorm residents. They can offer valuable insights into campus living and the true dorm experience.
Discover Your Food Options
Food is an essential part of college life, so explore the dining halls and other on-campus eateries. Since you'll be eating there for four years, it's important to find options you'll enjoy.
Inquire about meal plans and if there are provisions for students with dietary restrictions, especially if you have food allergies or specific dietary needs.
Investigate Recreational Facilities
Take a look at available recreational facilities to stay active and maintain a healthy lifestyle. Find out what fitness options are provided and if there are opportunities for outdoor activities like hiking or biking. Having access to quality facilities makes college life more enjoyable.
Also, ask about intramural sports and other recreational activities on campus. They're a fantastic way to meet new people and immerse yourself in campus life.
Assess Mental Health and Wellness Support
Considering mental health and wellness resources is crucial. Inquire about the assistance offered to students dealing with stress, anxiety, or other mental health concerns. Knowing these resources exist can provide reassurance.
Ask about counseling services and if there are support groups or additional resources for students facing mental health challenges. Feeling supported and cared for during college is vital.
Get to Know the Surrounding Community
Lastly, take time to explore the nearby community, as it can significantly impact your overall college experience. Check out the local amenities and attractions to see if the area suits you.
Inquire about internship and job opportunities in the vicinity. This is particularly important if you're interested in pursuing a career in a specific field.
Clichés Provided by the Reddit Community
We've compiled a list of the most cliché phrases often heard during college campus tours – based on user feedback on Reddit. These familiar expressions, while perhaps overused, give you a glimpse into the quintessential aspects of college life that are often highlighted during these tours. From boasting about state-of-the-art facilities and diverse student populations to emphasizing a strong sense of community and commitment to sustainability, these cliché phrases capture the key selling points colleges and universities frequently present to prospective students.
| | |
| --- | --- |
| Upvotes | Comment |
| 253 | "Something unique about our campus is that we have squirrels! Just look at those little guys! You won't find those at any other school!" |
| 187 | "Our dining halls have won several awards and are ranked among the best in the country!" |
| 134 | "We have a very close-knit community here on campus. Our professors have an open-door policy, and you can easily approach them if you need help." |
| 128 | "Our school has a rich history, and our campus is beautiful. We have a lot of green spaces for students to enjoy and a vibrant student life." |
| 93 | "We are a very diverse campus, with students from all 50 states and over 100 countries. You'll definitely find a place here, no matter where you come from!" |
| 90 | "Our campus is very safe, and we have a strong police presence. We also offer various safety measures like blue lights and a campus escort service." |
| 78 | "We have a strong focus on mental health and wellness resources. Our counseling center is available to all students, and we offer various workshops and support groups." |
| 68 | "Our school is known for its strong research opportunities. Even as an undergraduate, you can get involved in research projects and work closely with your professors." |
| 64 | "We have a very active and engaged alumni network, which can help you make connections in your field and find job opportunities after graduation." |
| 80 | "Our campus boasts state-of-the-art facilities for all of our academic programs, ensuring students have access to the best resources and equipment for their studies." |
| 72 | "We pride ourselves on our strong sense of community and student involvement. With hundreds of clubs and organizations on campus, there's something for everyone to get involved in!" |
| 65 | "Our college offers a wide range of study abroad opportunities, allowing students to expand their horizons and gain valuable international experiences." |
| 55 | "Our career services department is dedicated to helping students and alumni with job searches, internships, and networking opportunities. They host career fairs and workshops throughout the year." |
| 48 | "We have a strong commitment to sustainability, with numerous green initiatives on campus, including recycling programs, energy-efficient buildings, and environmentally-friendly transportation options." |
| 45 | "Our sports teams are highly competitive, and we have a strong athletic program. Our student-athletes excel both on the field and in the classroom." |
| 40 | "Our college offers generous financial aid packages to ensure that students from all backgrounds can afford to attend and receive a quality education." |
In conclusion, college tours offer an invaluable opportunity to gain a firsthand look at what a college can provide. By following these friendly expert tips, you can maximize your visits and find the college that's the perfect fit for you.
Read more:
Top Regrets from the College Application Process: Learning from Others' Mistakes
Rethinking College Admissions: A Misguided Focus on Prestige
Reddit Users Weigh In: The Impact of College Essays in the Admissions Process
Admission Essay Topics to Guarantee the Effectiveness of the Essay Prompts
Follow us on Reddit for more insights and updates.