Computer science and IT are big hits in the modern digitalized world. No wonder so many students eagerly try to enter this niche. But when they do, they get flooded with numerous streams of tasks and information. Some learners can get lost and discouraged in such a stressful learning environment.
If you are planning on going all the way with your programming efforts and not burning out, you can be more proactive and opt for some coding assignment help and IT guidance. In this review, we will cover one of the biggest names among programming help providers – Domyassignments.com. Are they really that good? Can you trust them with your tasks? We got naturally intrigued and so included this platform in our mystery shopping project to find out about the real potential of this programming assistance provider. See How We Test Programming Homework Help Websites for more details about our testing approach.
Quick Overview
DoMyAssignments is an excellent service that assures impeccable customer satisfaction and top-notch quality work at budget-friendly rates.
Mystery Shopping Experience – Domyassignments Review
Choosing a programming homework help website is a responsible task and it shouldn't be taken lightly. Our team thinks it's crucial to find a platform that offers assistance from the most knowledgeable experts. After all, they can give you a thorough explanation, so that you won't have any problems understanding these tasks in the future.
That's why we scrutinize every reviewed service through multiple aspects: value for money, overall experience, and task quality. We check whether it's convenient for you to place programming orders, as they may require special fields and forms. Our close attention also goes to the variety of included programming languages that the platform can assist you with. Who knows, maybe you'll have to deal with SQL instead of the popular Javascript. We don't forget to check out the customer-expert communication and client support quality as well, as you deserve to get first-rate assistance for your money. Taking into account all these factors, we determine how comfortable and productive the platform is.
We don't forget to check the provider's capacity to provide you with well-completed tasks. For this reason, during our research, we asked for help with python homework with every service on our list.It is one of the most popular programming languages nowadays. So, we found an actual medium-sized task for Python and asked the platforms to complete it in 3 days. We also partnered up with an experienced software developer with a track record at FAANG, Logan Romford. He evaluated the quality of completed assignments, their missing points, and their positive sides.
Here's what Mr. Romford told us about Python assignments:
"Nowadays, Python is the most widely used high-level programming language. The software Industry can't go anywhere without it. As David M. Beazley, the author of Python Distilled mentioned in his article "Scientific Computing with Python", Python is the next logical step for many scientific projects., "This explains the tendency for its growing popularity among soon-to-be developers. However, the fact that Python is multi-functional and in high demand doesn't make it any less complicated. No wonder students need help figuring out its syntax."
Weighing in all the reviewed features, we then assess the general A*Help score of every platform. After a thorough evaluation, Domyassignments.com also received its unique grade in our ranking.
Prices & Opportunities: Domyassignments' Value for Money — 17/25
As a prospective developer, you probably have taken some of the paid IT courses. So you know that when you pay for services, you expect to get a certain set of benefits in return. The same applies to programming assistance websites.
Luckily, Do My Assignments recognize the importance of providing its customers with opportunities. That's why their platform covers a bunch of programming languages starting from the most popular Java, Javascript, and Python and ending with C#, R, and SQL. Unfortunately, you won't be able to see the specialty of your dedicated expert. But, if the service is good it should be good all the way through, right?
The prices here fall in the lower price category for these types of tasks, as we paid $122.19 for our Python assignment. On top of that, their website offers to lower the cost of your first order with a 15% coupon, so you can get an even more pleasant bargain. Aside from that, there are no loyalty discounts or any kind of retention program at all. Considering the reasonable fare of Domyassignment's services, that shouldn't be a big deal.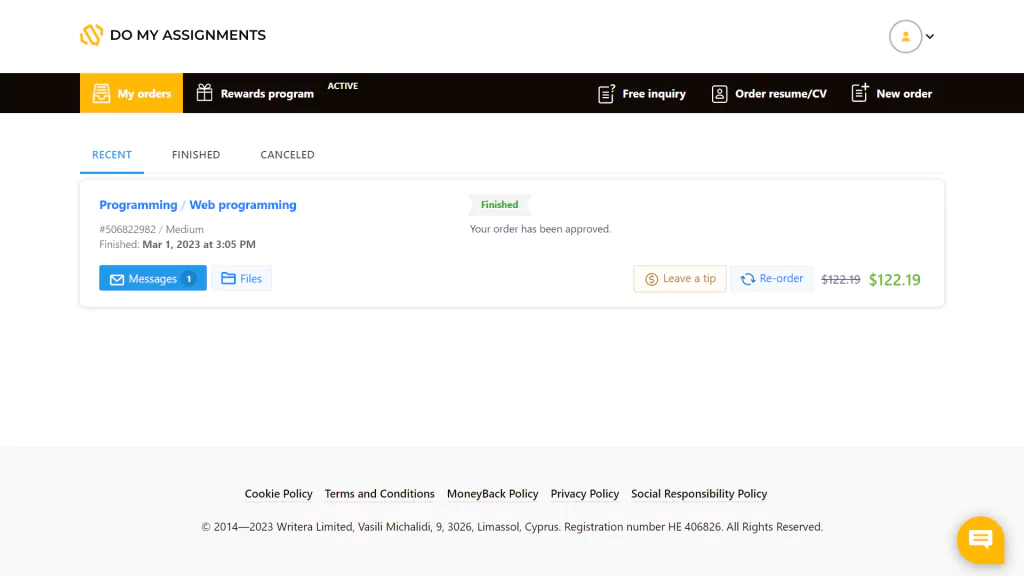 The platform's quick delivery is another bright side to acknowledge. Our assignment was done just after 1.9 days. Timely completion of tasks means that you will have enough time to read through the work, ask the performer any related questions, make sure that there are no bugs, or get all the defects fixed right away.
Based on these facts, we can say that Domyassignments.com can give you great value for your money as a statistics homework helper, even though it still has some points to improve.

Using Domyassignments: Overall Experience — 25/25
Programming tasks can be confusing and that's why you start looking for help in the first place. You don't need to encounter even more bewilderment when getting assistance with your assignments.
Working with Domyassignments was as convenient as possible. The order form was specifically created to fit any programming need. It included different language options and task sizes alongside explanations about them. We also had no problems with uploading our specific .py file type. The process was quick and entirely trouble-free.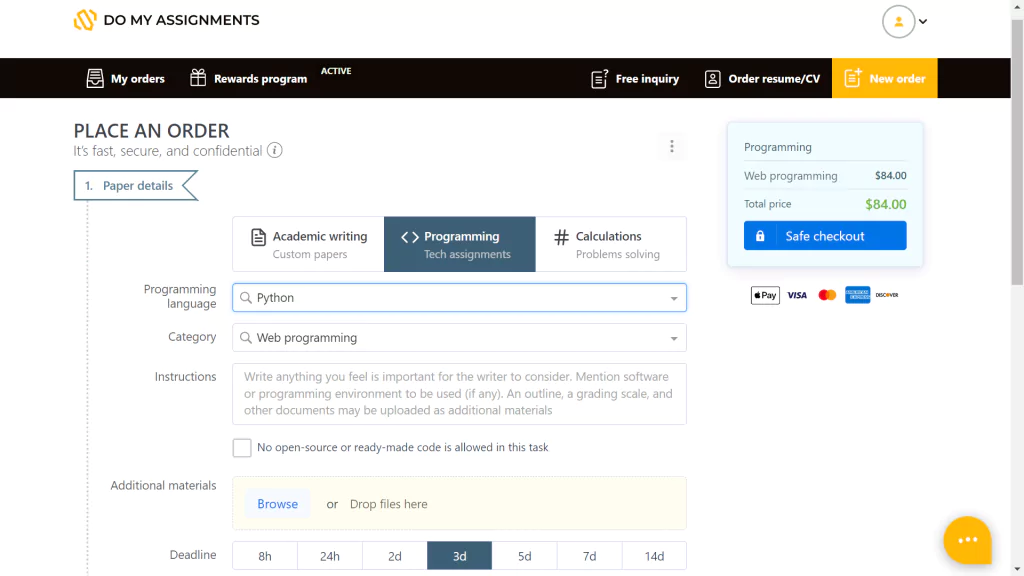 Another part of our great user experience was ensured by highly responsive customer support. The agents provided us with instant and helpful answers to our queries, even regarding a discount coupon. They gave us information about the price right away. The only thing that took them a few hours was finding the expert for us.
By the way, despite not having any details about our performer's IT background, we found them to be exceptionally experienced. They notified us about the progress, explained how the completed task worked and even included the video with the comments to show that the code was runnable. With such communicative experts, you will definitely understand the specifics of your assignments.
DoMyAssignments.com also provided a good sense of privacy. The registration process took a few minutes and only required us to give an email address. The payment also went through securely and easily. The website allows the usual card options, such as Visa, Mastercard, American Express, and Discover. Nevertheless, if you are an Apple user, you can freely benefit from their Apple Pay feature.
In general, the platform guaranteed a flawless overall experience leaving us no questions to ask.
Domyassignments & Task Quality — 50/50
People say you better learn from mistakes. In the case of programming assignments, it's easier to learn how a well-made code works, rather than look for reasons that prevent it from running properly. Especially when you get your task to be done by an expert. For this reason, with the help of our computer science master Mr. Logan Romford, we check the platform's ability to give you bug-free results.
Here is the Python task that we asked to complete:
According to Domyassignments' performance evaluation, this service can assist you with getting the highest results. They completed our Python sudoku task by 100%, solving each of the 6 sub-activities included in the instructions.
As was mentioned earlier, the dedicated expert even gave us a guiding video so that we could learn how to work with the code ourselves.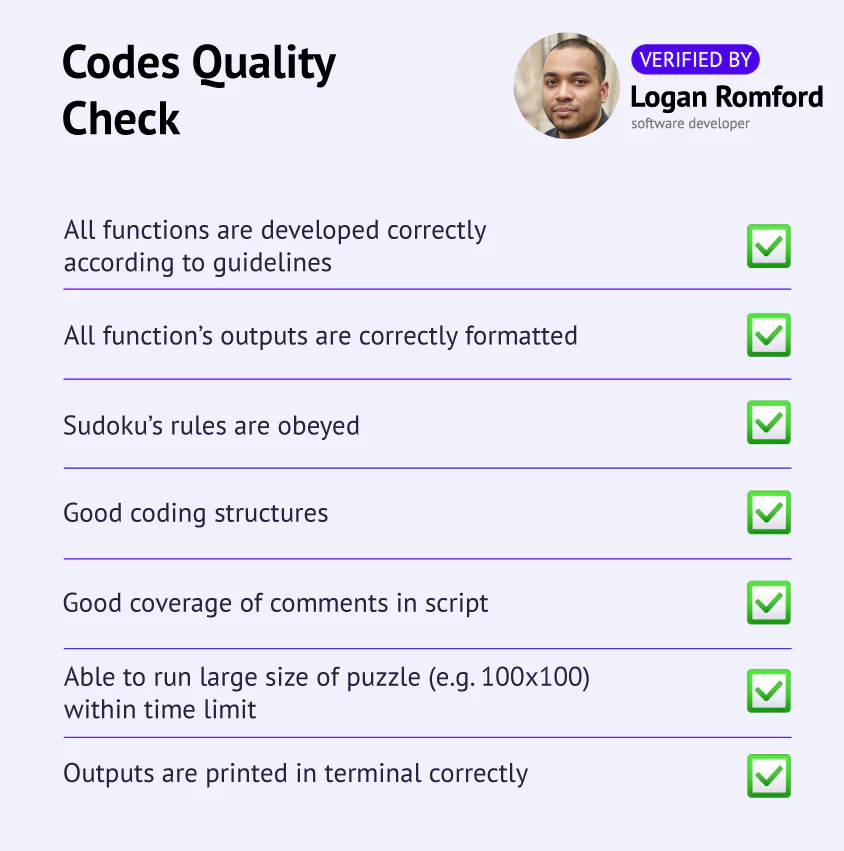 Here's our accessor's comment about the work:
"The video is very helpful in guiding the customer to understand how each part of the script is meeting the requirements as stated in the guideline. The script is well-developed and is able to meet all the requirements. It is well-commented to guide customers through the flow. The output displayed in the terminal is similar to the sample output given in the guideline. Most impressively, it is able to solve a 100×100 size puzzle within the time limit. "
What else can we say? Domyassignments has undeniable expertise to give you exemplary programming homework help.
Task score: 100%
| | |
| --- | --- |
| ⭐ Parameter | ✅ Python sudoku task |
| Task score | 100% |
| Task price | $122.19 |
| Completion time | 1.9 days |
Final Decision
It's okay to experience some difficulties when you enter a programming niche. Don't get discouraged though because there's always someone that can lend you a hand, and that someone is Domyassignments. With this platform, you can be sure to get an untroubled experience, timely assistance, and effective guidance with your tasks. According to our research, this website can get you to your IT-learning goal in no time.

Why academichelp.net is a credible source of information:
Stay curious with us. Academichelp.net has been a reliable educational resource since 2011, providing students with the latest news, assignment samples, and other valuable materials. Even with the extensive information we process, our quality remains consistent. Each team member has experience in education, allowing us to evaluate new sector offerings critically. Our reviews are up-to-date and relevant, with impartiality ensured by the A*Help score methodology from mystery shopping. We aren't affiliated with any listed service providers. Our focus remains on providing our audience with reliable and unbiased data.
Domyassignments Specs
| | |
| --- | --- |
| Minimum deadline | 8 hours |
| Maximum deadline | 14 days |
| Min price per order | $28.50 |
| Order Types | XS, S, M, L |
| >Performers' expertise: | |
| The list of known languages/field of expertise | No |
| Comments reviews from previous works | No |
| Education level | No |
| >Order categories (e.g. Java, Python, C++): | |
| Java, Javascript | Yes |
| Python | Yes |
| C, C++, C# | Yes |
| R/R studio | Yes |
| SQL | Yes |
| Matlab | Yes |
| Excel, HTML | Yes |
| Other | Yes |
| >Discount: | |
| Coupons | 15-35% |
| Loyalty Program | No |
| General retention program | No |
| >Order Flow: | |
| File upload (supports various types) | Yes |
| Сan give files to support | Yes |
| Order progress tracking | Yes |
| Easy to fill-in order form | Yes |
| Includes language, discipline, environment | Yes |
| Has explanations/examples of task sizes | Yes |
| >Customer-expert communication: | |
| Сan explain how the task was done/how the code works | Yes |
| Keeps the client posted | Yes |
| Proof of the working task (screenshot, video, check progr.) | Yes |
| Can be asked questions about the order | Yes |
| >Support: | |
| Helpfulness of support | High |
| Quick price estimation | Yes |
| Quick search of performers | No |
| Availability to get extra discount via support | Yes |
| >Security&Privacy: | |
| Need a phone number to register | No |
| Need an email to register | Yes |
| Security payment, SSL | Yes |
| >Payments: | |
| Paypal | No |
| Google Pay | No |
| Apple Pay | Yes |
| Visa | Yes |
| Mastercard | Yes |
| American Express | Yes |
| Discover | Yes |
| Crypto | No |
FAQ

Domyassignments Reviews
Reading reviews is a great way to learn all the needed details before using the platform. You can look through service reviews on Academichelp.net. Here, you will find some of the user comments from Reddit, Sitejabber, Reviews.io, and Trustpilot as well as feedback, based on our own mystery shopping experience.
Is Domyassignments a Scam?
To check whether the website actually gives the customers the help they are looking for, we place an order of our own. Having done the same with Domyassignments.com, we can confirm that this platform won't skip on giving you the assistance you paid for.
Is Domyassignments Legit?
Our A*Help score was designed to evaluate only legitimate services that have some years of experience in the field, a pool of customers, and a growing record of completed assignments. As such, you can rest assured the Domyassignments is entirely legit.
Is Domyassignments Safe?
Domyassignments takes its clients' privacy seriously. They don't ask to provide sensitive personal information, aside from your email. They also ensure a safe payment processing system, so you can feel certain that your bank details are protected.
Is Domyassignments Trustworthy?
As we've ordered a programming task of our own and got it back 100% complete, we can confirm that Domyassignments is a website worth your trust. You will undoubtedly get the needed assistance from this service.
Is Domyassignments a Good Service?
We analyzed Domyassignments.com according to a specifically designed A*Help checklist, and the service gained its rightfully earned 92/100 score. So, we can say this is a great platform to choose if you are looking to get some kind of programming homework assistance.
Follow us on Reddit for more insights and updates.