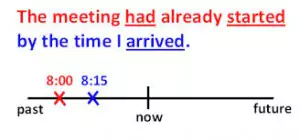 JOIN OUR LEARNING HUB
One-stop solution for all your homework needs. Get the job done.

✅ AI Essay Writer ✅ AI Detector ✅ Plagiarism checker ✅ Paraphraser
What is It?
The past perfect is had + a verb in passive voice (past particle).
When to Use?
Cases

Examples

*Show how something happened before another action in the past.
1. I

had

never

seen

such a beautiful desert in Arizona before.2. Brain knew Chicago well because he

had visited

the city several times.
*Show how an event started in the past and continued until another event.
1. Before Liam finished his BA degree, he

had been

to India four times.2. My parents felt sad selling their house, as they

had owned

it for over 30 years.
Important
Unlike the present perfect, the past perfect tense can use specific time words or phrases.
Example: He had visited his Hungarian relatives in 2002 before he moved to Ukraine in 2003.
Follow us on Reddit for more insights and updates.