Learning a new language is like entering a maze with many unknowns. At first, the journey seems exciting, and every language enthusiast is overbrimmed with motivation and desire to jump over the Grammar swamp, pass by the pitch-black Tongue Twisters woods, fight the Phonemigon beast who lives in a secluded cave, and cross over the Vocaburiver. Those challenges are to lead amateurs to the biggest treasure of all – linguistic fluency. This is the golden key that unlocks doors not only to new worlds but even galaxies.
As amazing as it may sound, the reality is slightly far from the imaginative world. In practice, many learners cannot find that treasure alone. Disheartened ones come to terms with the present situation and distance themselves from discovering more opportunities. However, they should not do it anymore. The solution to their problems is iTalki and Preply. These titans in the industry have been in the language learning market since 2006 and 2012 and taught over 5 million students.
AcademicHelp has earlier talked about iTalki and Preply and how they aid language learners. We don't just talk. On the opposite, we walk the walk. And in our reviews, we described our personal experiences with these two language learning websites and our real lessons. This time we are comparing these services and discovering which is better and which can be the right fit for you.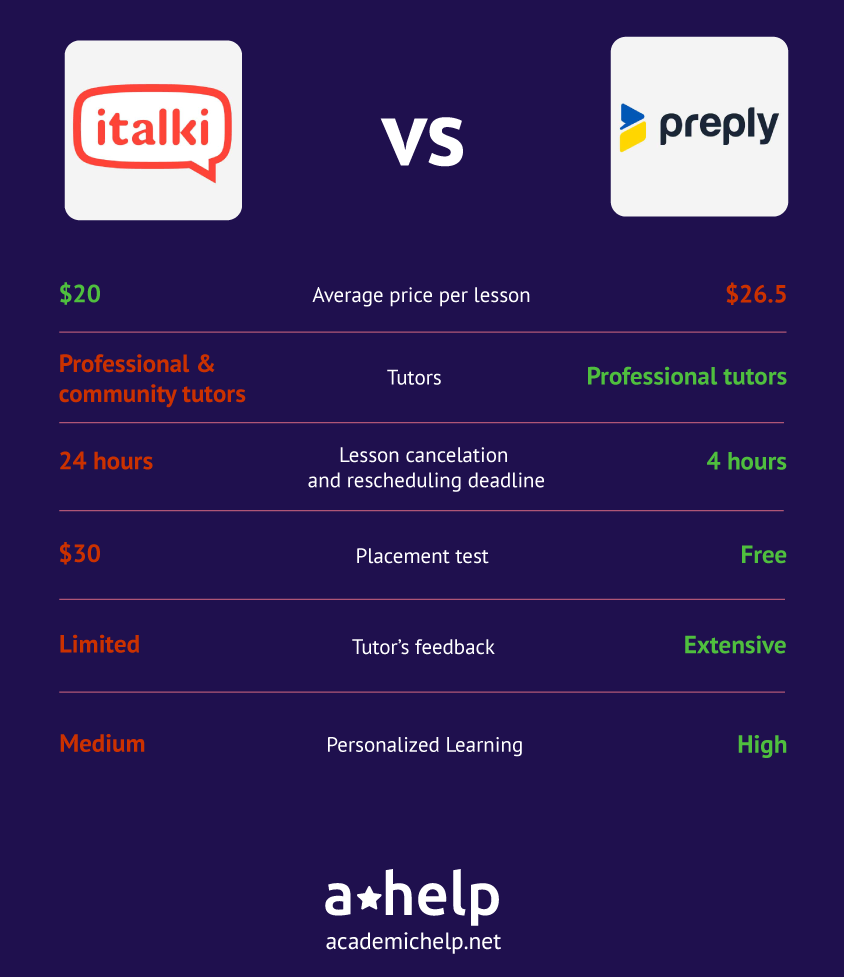 iTalki
Preply
Best fit for
Students who like both short and long sessions
Students who want to practice language and get ready for international exams
A*Help Score
⭐⭐⭐⭐
78.25/100
⭐⭐⭐⭐
81.8/100
Tutoring Quality
⭐⭐⭐
Our iTalki tutor did her best to help understand different aspects of Spanish.
⭐⭐⭐
Personalized approach, attention to detail during TOEFL preparation, and dedication are Preply's winning cards.
Value for money
⭐⭐ ⭐⭐ ⭐
Affordable lessons, different subscription plans, and lesson duration times.
⭐⭐⭐⭐
Trial lessons, a community for learners, and a wide range of class specifications.
Overall Experience
⭐⭐⭐⭐
With iTalki you can have lessons anywhere on any device and enjoy your classes.
⭐⭐⭐⭐⭐
With Preply it is easy to choose a tutor from any corner of the world.
Quick Overview
Preply and iTalki are the most famous language-learning websites that are popular around the globe. Academic Help tried these two services and we can state that while iTalki can give enough support for those who are just taking small steps, Preply provides a more personalized teaching approach and their teachers give better immersion into the subject. Easy and quick teacher search
How We Tested iTalki VS Preply
The Academic Help team sets high standards for ourselves and our readers. Hence, the testing process is an all-encompassing approach that includes many minute yet essential details. We will walk you through our method.
Since the A*Help team is the eyes and ears of our audiences, we do everything possible to mirror their approach when looking for a tutor. So, as always, we start with checking the feedback from real users online. Our team peruses the comments, takes notes of certain aspects, and compiles them in the Negativity Rank. This helps our experts to spot the significant issues when having lessons and check if they are true. Then it is high time to get started.
Our experts check the platform, take all the steps on the user-journey path, and try to book lessons. In this process, we evaluate the overall experience of the platform and the value-for-money aspect. These criteria are vital for students since they need to be sure that the service is user-friendly, goal-oriented, and cost-effective.
When all these steps are done, comes the most important part of our assessment – Tutor Quality. Our experts really take lessons on the tutoring platforms with real teachers and learn the material. Such immersion in the process helps us impartially assess each platform and what it provides. See How We Test Language Learning Websites for more details about our testing approach.
Right now, we will go into detail about every criteria of each language learning website and decide which one is better.
Comparing Value for Money: iTalki VS Preply
| | | |
| --- | --- | --- |
| | iTalki | Preply |
| Value For Money | 25/25 | 19/25 |
| Type of classes | 10/10 | 8/10 |
| Price | 8/8 | 6/8 |
| Special offers | 5/5 | 3/5 |
The first stop on our map is the value-for-money aspect. It is important because every learner starts their search from this step. And so does the A*Help team. We take time to assess what each platform offers money-wise and answer the questions like "Is iTalki worth it?".
Types of Classes
| | | |
| --- | --- | --- |
| | iTalki | Preply |
| Single lessons | ✅ | ✅ |
| Group lessons | ✅ | ✅ |
| Subscription plans | ✅ | ✅ |
| Speaking clubs | ✅ | Only English |
| Corporate classes | ✅ | ✅ |
One of the major aspects that we include in the value-for-money index is the Types of Classes. We believe that the broad choice of lessons and various approaches on how to study are necessary. iTalki seems to get slightly ahead in this category. What the A*Help team notices is that flexibility matters on this platform. Students can choose any type of lessons be they single, group, or subscription plans. Preply, on the other hand, lags behind a tad. Their platform also tries to be flexible, however, not to the fullest. Language learners can find speaking sessions on Preply, but as of now, they are only available for English learners. We hope that in the near future, Preply will present a broader and more inclusive list of speaking clubs language-wise. To top it all, both iTalki and Preply teams provide corporate lessons for the business community.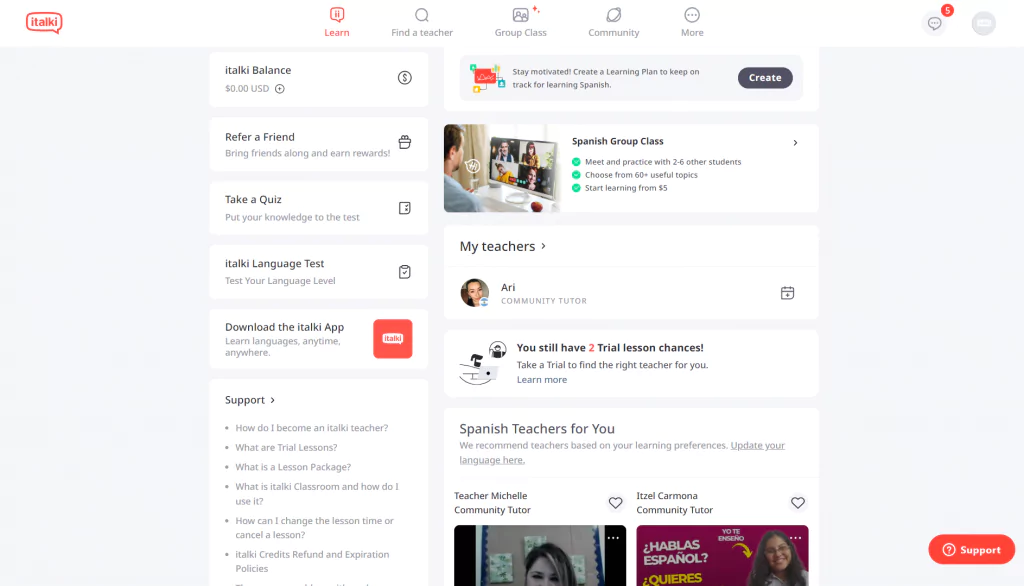 Price
Moving on to the touchy subject – Price. Preply and iTalki understand that there are learners with different budgets. So, browsing for a teacher that comes within your price range is easy and clear on both websites. On Preply every student can even pay for their lessons in installments. Up to this moment, everything seems to be great, until a few minor points come up. When you choose to take lessons with a particular tutor, you can purchase them in bulk, meaning you can only get a subscription plan (minimum of 4 lessons). On the opposite, iTalki grants its users both options to pay for a single class or purchase a subscription. But what platform gives the cha-ching effect? It's iTalki. The average price we paid for lessons there was $20, and on Preply it was $26.5. While on iTalki learners can get discounts when purchasing lessons in bulk, Preply users do not have such an option. You can save up to 9% if you choose to have 60-minute lessons with iTalki and even 14% if you dare to book 90-minute classes.
Special Offers
After a long walk on a twisted Finance Lane, it is great to take five and see what the road holds ahead. We don't want to be secretive with you, but we always have something pleasant on our minds. That's the reason why we have Special Offers on our A*Help evaluation list. We know that even if the platform is budget-friendly, students always try to find possibilities for how to slash prices or find ways how to get better at learning languages. Both Preply and iTalki have a special community for their users where all language buffs can read interesting articles, watch fun videos, and even chat with other learners. Our experts can confirm that it is amazing to have such a place where you can find like-minded people, share learning experiences, and feel that you are not alone on this daring journey. It proves that these companies strive to build a friendly environment and they are on the right track.
Another point that unites them is the referral program. Does your buddy want to polish their Spanish or get the hang of Mandarin? Invite them to have classes on iTalki or Preply by the referral programs and save yourself some money.
Both platforms go the extra mile to make learning even more flexible and offer trial lessons. During our mystery shopping experience on iTalki and Preply, our team also tried to take advantage of this option to find the right match for a teacher. And trust us, coming from experience, this is an essential option to have. Preply and iTalki understand that. Both our try-out sessions on Preply and iTalki were fun and friendly. Nayeli and Johannes, our editors and mystery shoppers, liked every bit of the trial sessions and could not wait to continue studying. English and Spanish tutors were understanding and professional. From the very first minute, Johan started intense preparation for TOEFL and was actively training for the speaking part of the exam. While Naya was not afraid to pass the "¡Hola!" stage and was confidently making small conversations in Spanish. For experts, these trial lessons helped to make the final call.
Based on the Value for Money criteria, iTalki shows better results (25/25 points) while Preply falls shortly behind (19/25 points). However, both platforms are worth the money.

Comparing Overall Experience: iTalki VS Preply
| | | |
| --- | --- | --- |
| | iTalki | Preply |
| Overall Experience | 22/25 | 24/25 |
| Accessibility & Use | 5/5 | 4/5 |
| Lesson time | 4/4 | 4/4 |
| Tutor browsing | 4/6 | 6/6 |
Having wondered for a while, we steer a course to the top of the mountain. We can almost see our first real lesson with a teacher, and we are dreaming that it will be as smooth as butter on bread. Sure, money talk is an important one indeed. But for now, the arrow of the compass is pointing at the overall experience of using the service. That's why, the Academic Help team pays enough attention to the user-friendliness of every platform and whether it truly aligns with students' needs.
Accessibility & Use
There is no time like the present to compare usability with climbing a mountain. In the modern-day world, every platform needs to be intuitive. So Accessibility and Use are of high priority for the A*Help team. And we are delighted to say that iTalki and Preply understand this and put user experience on top. Both platforms are easy to navigate. Not only are their websites smooth, but the apps are too. Additionally, iTalki and Preply care about students being right on time for their lessons by sending notifications either on the platform or via email. And then learners are ready to hop on the lessons since iTalki and Preply have built-in classrooms where students meet their teachers. But Johan and Naya could not always join the built-in classroom, so they asked if it was possible to switch to Zoom or Skype. And the positive answer was only from iTalki tutors, Preply could not provide such an option.
Lesson Time
Having dealt with figuring out how to enter the lesson, it is essential to mention the Lesson Time aspect. Preply and iTalki welcome students from all over the globe who come with different needs and goals. Being flexible in this aspect is the key. Both tutoring websites give the possibility to students to choose teachers from different time zones and automatically align the lesson time with the learners' local time. Trust our word when we say that this is necessary. When Nayeli, one of our editors, was trying to master Spanish with iTalki, she was frequently traveling. And, of course, the priority for her was to find a tutor that was available in her current time zone. We can say the same for Johannes who was getting ready to nail his TOEFL exam and wanted to find a native speaker on Preply who was in the same location to align work and classes in the schedule. But the difference between the platforms is the option to choose lesson time duration. While Preply classes come with a settled 50-minute lesson duration, on iTalki learners can choose 30, 45, 60, and even 90-minute lessons.
In the Lesson Time aspect, we also check the possibility to reschedule and cancel the lesson. During our experiment, there were times when Johannes and Nayeli simply could not make it on time for the lesson. You know how it can be: working late in the office, being stuck in traffic and so many other things that unexpectedly come up when you least expect them. Why sweat about losing a lesson when you can reschedule or even cancel it? Let's take a look at what Preply and iTalki can do in force majeure, shall we? Preply is just that understanding therapist that has a prepared solution for all your troubles. On their platform, every user can reschedule and cancel the class for free up to 4 hours before the scheduled time of the lesson. Sweet! The iTalki canceling and rescheduling policies are slightly different. There, learners can put off or shift lessons 24 hours prior to the initial time.
Tutor Browsing
Tutor Browsing
iTalki
Preply
Origin (country)
✅
✅
Language
Native and non-native
speakers
Native and non-native
speakers
Additional languages
✅
✅
Skill level
Community and professional
tutors
Professional tutors
Certificates/credentials
❌
✅
Availability
✅
✅
Change of a tutor
✅
✅
Course switch
❌
❌
Step by step, little by little, we are getting closer to the final part. Moving on to the Tutor Browsing. As we mentioned earlier, in real-life scenarios one cannot roll the dice or flip a coin and find the perfect match. Learners always peruse and attentively scan what teachers can offer them. And so does the A*Help team. Having checked iTalki and Preply we want to point out that both websites provide a lot of essential information about teachers. Here comes the long list that includes: the country of origin of the tutor, what their mother language is and what additional languages they speak, and their skill sets. Preply adds additional information about the professional credentials of teachers.
And while this comprehensive information is enough to get acquainted with tutors online, sometimes the human factor does not match. Preply and iTalki allow students to change teachers if the first try did not end up being the match right away. We experienced this situation with Preply. There was one hiccup on the road, Johannes did not match with the tutor after the first tryout session. Luckily, he had a chance to request a free tutor replacement. The second try worked like a charm for Johan and he decided to settle with Sean and start preparing for TOEFL with him.
So, in general, the overall experience criteria is satisfactory on both language learning websites. The A*Help awards iTalki 22/25 points and Preply gets 24/25 points. Our experts believe that these services are easy to use and they can help learners find a teacher who matches their requirements.
iTalki VS Preply: Which Is Better for Learning Languages?
| | | |
| --- | --- | --- |
| | iTalki | Preply |
| Teacher Quality | 31.25/50 | 38.8/50 |
| Tutor-student communication | 14.25/20 | 15.65/20 |
| Available materials | 1.75/5 | 3.75/5 |
| Teaching methodology | 15.25/25 | 19.4/25 |
And now we are on the top of the mountain looking down the trace of our journey beaming with pride over which challenges we had to overcome, and with the sweet memory of our lessons lingering we dare to ask this intriguing question: what is better, iTalki or Preply?
The Academic Help believes that the answer to this question is complete only after the full experiment is over. The final stage of our mystery shopping and evaluation checklist is the Teacher Quality.
This aspect consists of tutor-student communication, available materials, and teaching methodology. The first one, tutor-student communication is a building block for a great rapport. On Preply and iTalki it is easy to contact the teacher on the platform or through the app if a student has a question to clarify. Some teachers can agree to share contacts through social media messengers to keep in touch with learners. But tutor-student communication goes beyond messaging. It is about communication during the lesson. Naya and Johannes pointed out the helpfulness of teachers. Whenever there was an issue, the tutors were just one click away. For instance, when Nayeli was full of doubts about her Spanish, Patricia on Preply was ready to give constructive criticism and useful tips on how to get better. Both iTalki and Preply tutors sent Naya extra homework, so she could feel more confident with Spanish. And, bits of cultural exchange made every lesson unique and fun. And, bits of cultural exchange made every lesson unique and fun. Johannes always received lots of support from Sean from Preply, positively answering the pending question "Is Preply legit?". This teacher in particular made Johan feel confident in the structure of the exam. From that point, Johan was sure that he was making steps in the right direction.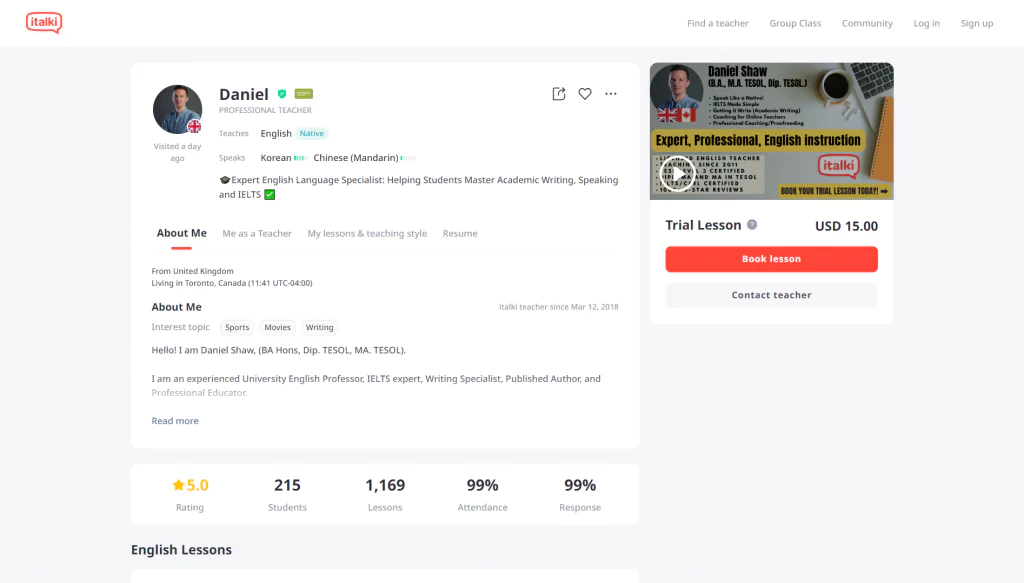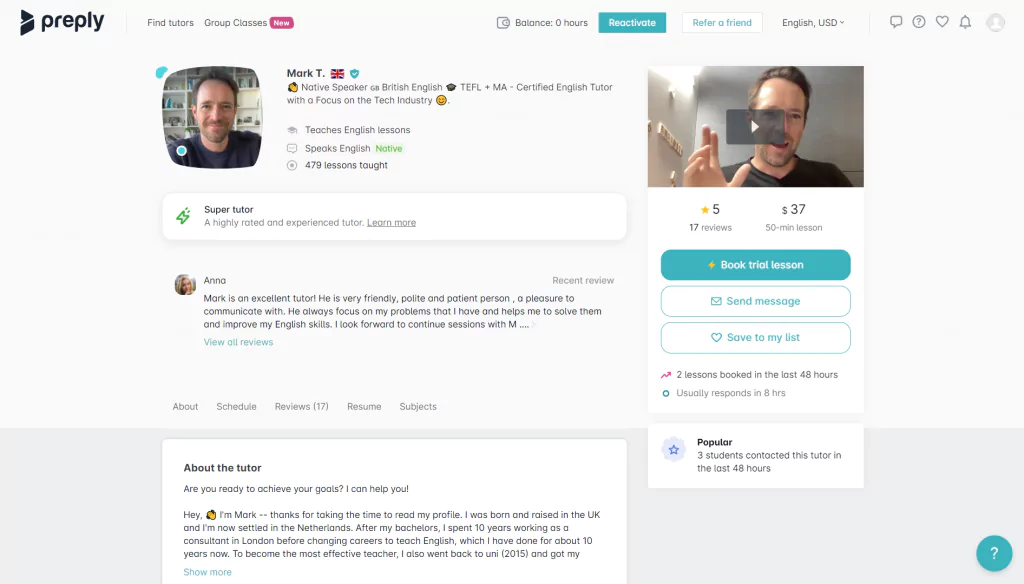 Now, let's take a look at the educational resources. iTalki and Preply do not have any built-in materials ready, so all tutors share personal experiences, handouts, and copies. Teachers on Preply try to make learning even more inclusive from all aspects and work with other tools that can streamline the learning process. However, both platforms seem to have trouble with helping students to make confident first steps. When you are preparing for international exams like TOEFL or IELTS, you need to understand where your starting point is. And it can be done with mock tests. These tests help to check the level of your language skills, identify weak and strong points, and map out the individualized plan for preparation. But this step is omitted on Preply and iTalki.
And now to teaching methodology which is all about how lessons are being held. The A*Help team believes it needs to start with a placement test. The placement test is a more general way to diagnose language skills. Sadly, it costs $30 on iTalki which is a tad too steep. But on Preply this option is free. Nayeli could skip this part since she was a newbie in Spanish and her vocabulary bank was full of words like Hola, Adios, Si, Claro, and De Nada. Obviously, she had to start from the zero level. But for Johannes, already fluent in English, this test was needed to prove how proficient he was. After a detailed scanning, Naya and Johan felt that their tutors, Patricia and Sean, could tailor lessons specifically for individual needs.
And the final point for all students who are planning to have lessons on iTalki and Preply – please note that neither issues certificates by the end of the learning experience.
Overall, iTalki and Preply do a tremendous job to help students with learning a new language or polishing skills. Preply takes a smaller lead in the Teacher Quality criteria and gets 38.8/50 points while iTalki receives 31.25/50 points.

Overall Winner
Drum roll: and the winner is Preply. Their welcoming site, easy-to-navigate application, clear canceling and rescheduling policies, and dedicated teachers are real guides through the language learning process.
Why academichelp.net is a credible source of information:
Stay curious with us. Academichelp.net has been a reliable educational resource since 2011, providing students with the latest news, assignment samples, and other valuable materials. Even with the extensive information we process, our quality remains consistent. Each team member has experience in education, allowing us to evaluate new sector offerings critically. Our reviews are up-to-date and relevant, with impartiality ensured by the A*Help score methodology from mystery shopping. We aren't affiliated with any listed service providers. Our focus remains on providing our audience with reliable and unbiased data.
Main Specs
iTalki
Preply
Types of classes
Single lessons
✅
✅
Group lessons
✅
✅
Bulk classes
✅
❌
Speaking clubs
✅
✅
(only English)
Corporate classes
✅
✅
Price
Can choose price per lesson
✅
✅
Pay in installment/per class
✅
✅
Price per lesson (e.g. 30/45/60 minute lesson)
✅
❌
Subscription plans
✅
✅
Special Offers
Discounts
✅
❌
Free lesson/trial
✅
✅
Community for learners (articles, podcasts, tests)
✅
✅
Referral program
✅
✅
Accessibility&Use
Application
✅
✅
Device accessibility
✅
✅
Notifications regarding the beginning of the lesson
✅
✅
Built-in classroom
✅
✅
Third-part video call tools
✅
❌
Easy to navigate
✅
✅
Lesson time:
General time of the day (time period)
✅
✅
Specific time
✅
✅
Any time
✅
✅
Time zone
✅
✅
Class duration
30, 45, 60, 90 minutes
50
Re-scheduling of classes
✅
✅
Late cancelation
❌
✅
Tutor browsing
Origin (country)
✅
✅
Language
Native and non-native tutors
Native and non-native
tutors
Additional languages (if teacher speaks more than1 language)
✅
✅
Skill level/teacher type
Community and professional teachers
Professional teachers
Certificates/ credentials
❌
✅
Availability
✅
✅
Change of a tutor
✅
✅
Course switch
❌
❌
Support
Support availablity 24/7
✅
✅
Helpfulness of support
Low
High
Tutor-student communication
Tutor's availability (when can be contacted)
✅
✅
Contact sharing (communication through social media)
✅
✅
Helpfulness
Medium
High
Feedback on progress
Only some
✅
Cultural + personal experience exchange
✅
✅
Uses translation if not a native speaker
No need
Probably
Fun and entertaining activities
❌
✅
Available materials
Built-in lesson materials
❌
❌
Additional tutor materials (books, tests, etc.)
✅
✅
Access to different tools
❌
✅
Mock tests
❌
❌
Teaching methodology
Placement test
❌
✅
Flexible & incorporates student'smaterials/needs
Sorf of
✅
Individualized approach
Sort of
✅
Student's speaking time during lesson
Less than a tutor(30%)
45%
Homework (on the platform or personalized by a teacher)
✅
personalized
✅
by teacher
Homework check (automatic or by a teacher)
By teacher
Yes, by teacher
Certificate after level/course completion
❌
❌
Lesson structure
Just speaking
given at the beginning
of each lesson
Reference to previous lessons
✅
✅
Developed Curriculum
❌
✅
FAQ
What Should I Choose Preply or iTalki?
When it comes to choosing the best platform for studying languages, the A*Help team always suggests making rational steps. Every learner must envision their final goal, be it to start learning foreign languages from scratch or get ready for international exams. iTalki can help you with the former goal while the latter is a task for Preply with their professional tutors.
Preply and iTalki Reviews
The A*Help team shares services that can bring value to students. And before recommending a new tool to our readers, we use them ourselves. This experiment is called mystery shopping and it consists of trying the platform from all possible aspects. To make our experiment fully transparent we check all available feedback we can find online from real users who have tried a service before. This step is needed to look out for acute issues and determine if they are true and how they can impede the learning process.
Are iTalki and Preply Scam?
The Internet may seem spooky, but not for Academic Help. We use and verify every service. And we can assure you that neither iTalki nor Preply are scam language learning websites. On the contrary, these are safe tutoring services that are ready to provide aid for both language amateurs and polyglots.
Are Preply and iTalki Legit?
Yes, Preply and iTalki are legit tutoring websites with a set reputation in the market. Preply, established in 2012, has more than 32,000 teachers online helping students with more than 50 foreign languages. And with iTalki being set up back in 2006, they have more than 20,000 tutors teaching 150 languages. Since then, more than 5 million students combined have used their services and continue to master languages with iTalki and Preply.
Do iTalki and Preply Provide a Good Service?
iTalki and Preply provide good service to their students. There, you can find teachers for different needs from different countries who are ready to help at any minute now. Plus, you should not worry about anything else, since all the necessary information is on each website and they are easy to navigate.
Can I Learn a Language with Preply and iTalki?
Sure, you can learn any foreign language with either learning website. Each platform has a browsing section where you can choose a language and a personal goal. On iTalki you can find both community and professional teachers, while Preply mostly works with skilled tutors. Regardless of your choice, you will find needed help and guidance.
Can I Prepare for my Exams with Preply and iTalki?
Preply and ITalki have teachers who can aid students in preparation for international exams. To find the professional you are looking for, choose the right lesson specification and pick the right tutor from the list. During the search do not forget to specify what language exam you are getting ready for.
Follow us on Reddit for more insights and updates.