A dissertation holds significant academic importance as it represents the culmination of a student's arduous efforts and extensive research spanning several years. It is a lengthy piece of writing that suggests an original and comprehensive analysis of a particular topic.
Due to its educational value, a dissertation demands high academic rigor, critical thinking, and extensive research. However, many students find it challenging to devote enough time and effort to build a top-quality thesis statement. This is where professional writing services can become invaluable. They can aid learners in various aspects of the process, such as literature review, writing, editing, and formatting.
There is still one problem to be solved: how to make the right decision if dozens of custom dissertation and thesis writing platforms are available? A*Help is here to answer. Our team did the hard work of evaluating and ranking each company to ensure people could make an informed decision when choosing a custom dissertation writing service. Every provider earned the A*Help score – our benchmark for evaluating the company's performance that was designed based on various factors contributing to a positive customer experience.
This article explores the top 10 dissertation writing services to help students crush the challenges of producing a thesis that meets the highest standards. See How We Test Custom Dissertation Writing Services for more details about our testing approach.
Our approach to dissertation writing service reviews
The A*Help experts embark on a thrilling journey of mystery shopping by placing online orders with various dissertation writing companies. During our research, we select companies with a proven track record of delivering excellent papers, professional and adept writers, and timely and affordable services. In addition, our dissertation buyer's guide highlights the paramount issues to remember while choosing a dissertation assistant. We request to write a 5-page-long research proposal in Business Studies outlining a suggested thesis' objectives, methodology, and potential outcomes. It is typically written by scholars or students who seek approval for their thesis or funding for their research from academic institutions, grant agencies, or other organizations.
A proposal is a crucial step of dissertation writing as it provides a clear plan of the study's objectives, questions, data collection methods, and analysis techniques. A writing service's ability to create a solid research proposal speaks to its competence in handling a whole dissertation as well. A deadline of 10 days for the completion of the proposal is set, ensuring that we have ample time for review and revision.
Through rigorous analysis, we delve into every aspect of the customer journey to uncover the truth behind each service. We systematically observe if the ordering process is smooth and closely monitor if the site's support handles inquiries and requests effectively.
But we don't stop there. We go above and beyond to ensure the outcome is as realistic as possible. By sending received writings to a US professor for evaluation using the same standards and criteria applied in American colleges and universities, we strive to assess the services accurately. Our commitment to a painstaking assessment and high standards guarantees that students make instructed decisions when choosing a thesis writing company.
Work quality grading is split into two parts. 70% of the evaluation is attributed to the content of the paper. This component verifies whether it conforms to the agreed plan, employs pertinent data, and suggests suitable research methods and tools. The second part, which accounts for 30% of the grade, focuses on technical and mechanical attributes, such as the paper's cohesiveness, grammar, spelling, punctuation, word choice, reasoning and logic, and formatting accuracy. Therefore, the evaluation process considers various quality indicators, and the final assessment reflects the overall competency of the service's work.
The culmination of all the analyses is reflected in the A*Help score, which is built upon three fundamental evaluation criteria: value for money, overall experience, and paper quality.
Best dissertation writing service reviews according to the A*HELP score (2023)
CustomWritings, previously featured on our website as a top-performing essay writing service, has again proven its excellence. It rightfully occupies the first position in today's top 10 rankings of the best dissertation providers.
TOP dissertation service reviews
We are happy to endorse the following services, as they have successfully passed all stages of our testing.
1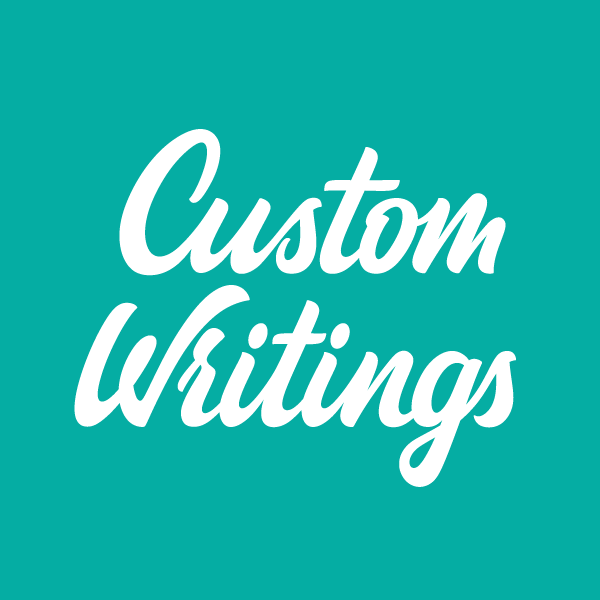 CustomWritings
Not all companies can survive in a highly competitive and constantly growing market. Some commercial entities, however, manage to adjust effectively and enhance the quality of their offerings over time. CustomWritings is an excellent illustration of a long-standing business that has catered to its customers for many years while maintaining a consistently high level of service.
The company offers an elite level of customer support. Their on-site chat representatives are prompt in responding, and their advice, answers, and suggestions are always contributive. Clients are assigned a personal manager for large projects who is always available to address any questions or concerns. This assistant also helps with developing a customized plan for completing even the most difficult works, including dissertations. This plan ensures that separate chapters are finished by specified dates, providing enough time for clients to seek approval from their professors.
CustomWritings charges its clients a fair price. The lowest they ask for a page is $15. We paid $76 for our 5-page research proposal, which falls around the average price point. Along with it, the company can design an individual payment plan, allowing clients to pay in installments whenever it's convenient for them. Every written project from this provider can also be supplemented with a wide selection of additional services, but it's important to be mindful of the prices for the extras you choose.
Finally, CustomWritings wouldn't hit our TOP lists in various writing categories if it couldn't deliver excellent quality work regardless of the discipline or topic. The research proposal written by CustomWritings in 5 days and 22 hours, scored 78.27/100. The document provides a well-structured and informative introduction, which includes a brief background of social media and its impact on businesses. The purpose of the study is clearly defined, and the objectives are specific and relevant to the research problem. The proposal outlines the potential impact of social media presence on brand awareness, customer engagement, website traffic, lead generation, and sales. It also discusses the role of such platforms in building trust with customers and promoting products and services through targeted advertising and influencer marketing.
The mechanics of the paper are nearly flawless. All major grading criteria, from spelling to reasoning and logic, received very high (90%) or excellent (100) results. The only significantly deficient thing is formatting (19%). Sybil Low criticizes reference formatting, highlighting the most frequent errors in source details and various misformatted elements. The in-text citations, on the other hand, are highly praised by the professor.
All in all, the paper is well-written. It provides a clear and concise summary of the key points, making it easy for readers to understand the research problem, objectives, and significance of the study. Only the flaws with formatting prevented CustomWritings from receiving a higher grade for paper quality.
In conclusion, CustomWritings is a long-standing business that has maintained a high level of service while adjusting to the highly competitive market. The company offers elite customer support, assigns personal managers for large projects, and offers an advantageous system of partial payments.
2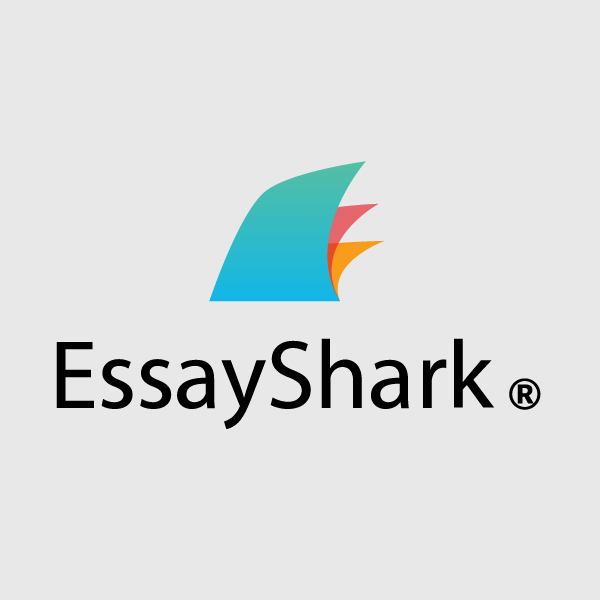 EssayShark
For over a decade, EssayShark has been active in the academic writing sphere. Throughout this period, has placed great emphasis on upholding elevated professional standards and providing outstanding services to their esteemed clientele.
This is another bidding platform in our list, where authors place their proposals and budgets to complete your order. All you have to do is choose. Viewing candidates is convenient. Many of them have different rates, awards, and portfolios. The process of placing an order, selecting a writer, and making a payment is intuitive enough to manage without the help of a support service. However, if you require assistance, you'll need to create a "ticket" by describing your request and waiting for a response. The wait can take up to ten minutes. While this system may not be very practical, you can balance it out by maintaining active communication with your writer, who can keep you updated on the progress of your dissertation project.
The company does not offer a personal assistant to guide the customer throughout the writing process of a multi-page work, leaving everything to the discretion of a person and their chosen author. Nonetheless, it is feasible to establish a specific timetable for submitting individual dissertation chapters and resolve potential concerns by communicating with the writer.
The cost of the services is similar to that of other comparable companies. The least amount you will need to pay per page will depend on various factors, such as the complexity of the task, the urgency of the work, and the academic level required for your dissertation. We paid $80 to have five pages written within ten days, but EssayShark managed to deliver our document in only 21 hours, but It's important to note that orders are only taken for individual chapters of the dissertation, not the entire work. Therefore, you will need to place multiple orders if you want a complete dissertation. The payment system has some peculiar aspects as well. You will have to deposit the total cost of a particular chapter of your work. This amount will then be divided into equal parts, and you can gradually release them to the author if you have no objections to the content or quality of the writing.
The paper delivered by EssayShark scores 76.6/100 in paper quality. The research proposal explores how social media platforms affect a company's performance by discussing the significance of social media in enhancing customer loyalty, attracting new clients, and collecting reviews or experiences. To provide a comprehensive overview of the topic, the author conducts a literature review that outlines the benefits and drawbacks of social media use in business. The paper highlights the potential impact of the research and emphasizes the importance of businesses understanding the role of social media in their daily operations.
However, the document could benefit from a more focused discussion of how the research can bridge the gap between existing and new ideas and how the data collection procedures will be carried out. By addressing these concerns, the proposal could offer more valuable insights into the potential impact of social media on a company's performance. Overall, the paper provides a solid foundation for exploring this critical topic. Still, additional clarity and detail could strengthen the document's coherence and flow.
The paper is well-reasoned (95%) with perfect spelling, punctuation, and word choice. The areas that could have used more attention from the writer are APA 7 style's formatting, as well as reference structuring, and in-text citations.
EssayShark is a responsible company that can be relied upon to complete various academic assignments, including dissertations. There are specific things to get used to, but customers can have confidence that their orders will be delivered promptly.
3
CopyCrafter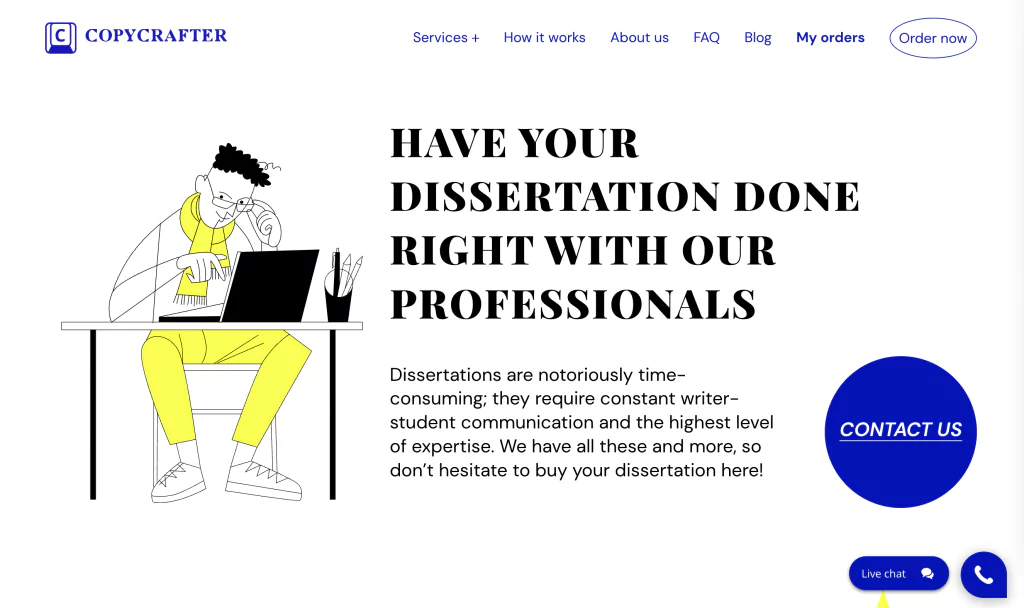 This aspiring new platform guarantees to link clients with the top experts in over 70 fields of study, including those who specialize in writing dissertations.
CopyCrafter doesn't only craft academic papers, but also is a whiz in creating a positive customer experience. We were captivated by the level of support we received during our interaction with the website. The writer was also considerate, updating us about their work progress. If you decide to choose CopyCrafter as your dissertation provider, you'll receive a personal assistant, a dedicated performer to handle the entire paper, and a range of other perks that the company offers as part of their package for clients who need assistance with thesis statements.
One aspect that sets this company apart from many others mentioned in this review is its pricing strategy. The cost of their research proposal is only $63, which is considerably cheaper than most of the services ranked in the top 10.
CopyCrafter completed the order within a period of 6 days and 6 hours.The score that the writer achieves for paper quality is 62.33/100. The introduction provides a background of the use of social media apps in businesses, while the literature review highlights the benefits and drawbacks of social media application in business affairs. While the research design is explained, the procedures used to collect data are not specified clearly. The proposal provides a historical perspective of the study. The writer introduces the problem and presents the purpose of the project well. The historical perspective of the research is provided. Although the citations used in the literature review are recent, only three studies are analyzed. The procedures used to collect data are not specified plainly, which is a weak point of the paper. Additionally, the author should have included more sources in the literature review and clearly specified the data collection procedures.
The document has excellent integrity and length (100%), but there are formatting issues related to vertical spacing, body, and page headers. The reasoning and logic of the document are efficient and objective (97%). The mechanics are almost perfect (98%). However, citation formatting is where the writer fails. References is a central problem area with frequent errors, including misitalized and missing or misformatted elements. Professor Low also notes that better quality scholarly references should be used in a paper like a research proposal.
Offering a positive customer experience, a dedicated writer, and affordable pricing, CopyCrafter is a viable option for students seeking inexpensive and efficient dissertation writing services.
4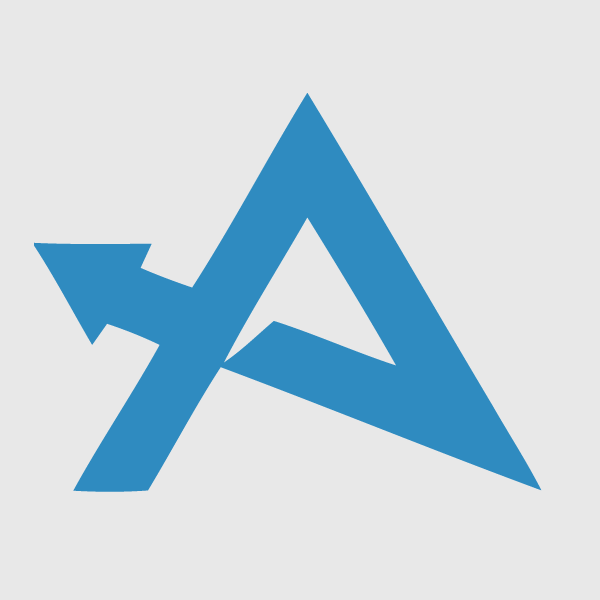 Academized
Academized's mission is clear: they are devoted to supporting students globally in overcoming the difficulties presented by their academic tasks. It's a team of highly skilled and professional writers who provide top-notch services regardless of the difficulty level. They firmly believe anything less would be inadequate for their customers and the company's integrity.
The platform's support team is truly dedicated and excels with its services. They are passionate about providing clients with the best assistance possible. At least, this is how we felt during our experience. Conversely, the communication process with writers could be more effective. However, this shortcoming is somewhat offset by the exceptional customer service and the availability of a dedicated manager who possesses comprehensive knowledge about the order.
In terms of budgeting, this particular service falls outside of the lower-priced options. A single page of dissertation work starts at a minimum of $17.99, and our total cost came out to $89.21 for five pages of writing. It is important to mention that while it may not be categorized as "cheap," it is still not the most expensive option among the top 10 companies considered.
Our research project was completed in 5 days and 6 hours. Academized receives 67.4/100 for the paper quality. The writer clearly addresses the proposed study's need and defines its purpose. They argue that the issue they are investigating is important and that their findings can potentially significantly impact the field. However, there is not enough comprehensive review of the existing literature in the corresponding paragraph. This lack of detailed background information can make it difficult for readers to understand the context of the study. Additionally, the author provides little information about the sampling method they used, which could affect the validity of their results. Despite these limitations, the study's contribution to the field is noteworthy and will likely stimulate further research.
The document's formatting is adequate, although there is still room for improvement. The issues observed with the document structure include vertical and horizontal spacing, body and page headers, section headers, and page breaks. The document has a 100% integrity score and meets the required length. The mechanics are scored at 96%, with spelling, grammar, punctuation, and word choice all performing well. The citation formatting requires significant refinement, with the references being the main problem area. The document's reasoning and logic are rated at 99%, with high efficiency, acuity, objectivity, and clarity scores.
Many students ponder, "is Academized legit?" The A*Help eases doubts and proves our readers that this is the company that should definitely be on your list of options if you're looking for a professional writing service.
5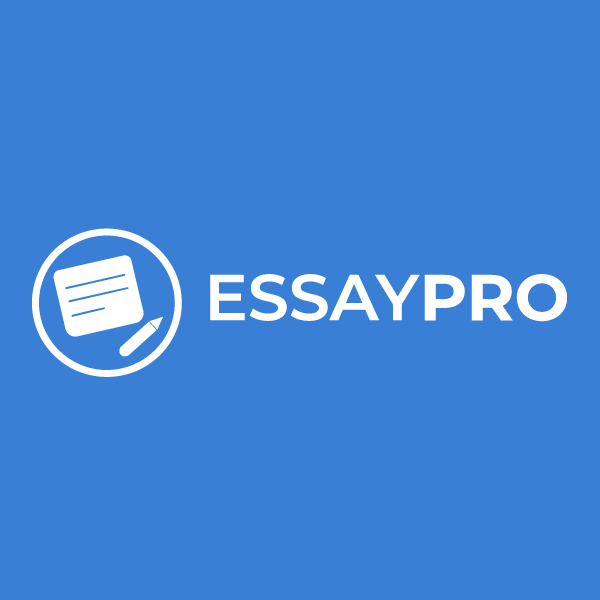 EssayPro
EssayPro is known to deliver original, plagiarism-free dissertations within the specified deadline. The company's writers have expertise in various fields, enabling them to provide dissertation writing assistance on various topics across multiple disciplines.
The Help Center is well-organized on the website. A lot of popular user requests are already listed for quick access but if you can't find your question among them, a help-desk agent will assist you in person. We enjoyed our interaction with the support team and our writer and found them very helpful and cordial.
Although the service doesn't offer a specific order type for lengthy dissertations, it provides a common solution that other companies use. It involves placing separate orders for individual chapters, prioritizing them by setting the closest deadline for the first of them, and then extending it after receiving each subsequent part. If a person makes a large purchase, a company manager will monitor the progress to ensure the writer meets the final deadline. If needed, the client support team can facilitate communication between the customer and the writer.
EssayPro is the most budget-friendly service among our TOP-10 recommendations. The price of $48 for a five-page paper is impressively affordable. Besides, we didn't find anything where the company may have made compromises to achieve such low pricing.
It took the service 9 days to finish the order. EssayPro's research proposal receives 70/100. The author introduces the problem of how social media has changed and influenced the conventional way of doing business over the past 10-15 years. Unfortunately, the literature review consists of five studies, which are not the most recent. They do illustrate though how social media has enabled businesses to reach a wider audience, engage with customers more closely, and develop new strategies and methods. The writer also describes the research design, sample, and data collection instruments well, including both qualitative and quantitative research techniques.
The technical aspects of the paper are also on a good level: integrity 100%, mechanics 96%, and reasoning 86%. The problematic area is fair formatting (25%) with flaws in titles, elements structuring, and incomplete in-text citations. Overall, the paper is adeptly composed, founded on sound reasoning, and well-organized.
EssayPro is a service that distinguishes itself for its high-quality papers, remarkably affordable pricing approach, and valuable support team. Overall, we highly recommend EssayPro to anyone seeking a reliable dissertation writing provider.
6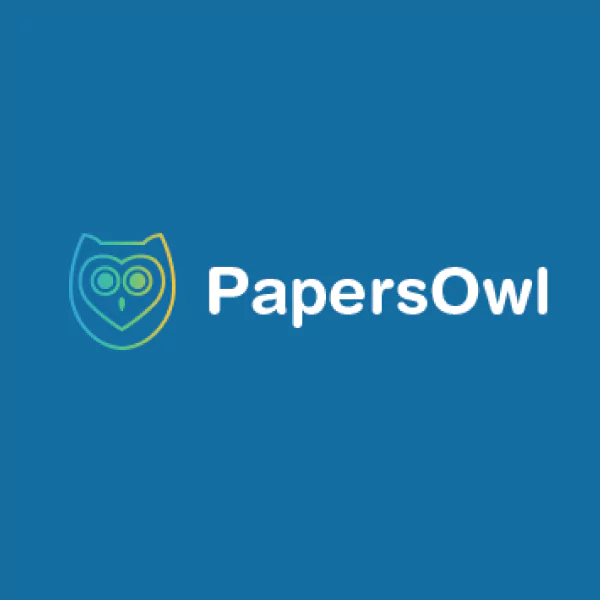 PapersOwl
PapersOwl is a platform that offers access to a large pool of experienced authors who can help with a wide range of writing projects. Whether you need a short business email or a lengthy thesis statement, you can easily find an expert with the skills and expertise to handle your project on this bidding platform. One of the benefits of using PapersOwl is the ability to browse through profiles and proposals from multiple authors and select the one that best fits your needs and budget.
Our interaction with the support service wasn't particularly memorable. Despite being advertised as available round-the-clock, the response time is not immediate. A user must provide their name, email address, and inquiry details before being connected with a representative. A live chat feature would be a more user-friendly option. There are also no special support opportunities for clients who are in the market for extensive and time-consuming papers like dissertations. In case of any questions, a customer will have to deal with a new agent every time who may not be familiar with their project or its status. This looks like a miscalculation on part of the support department.
Similar to the services mentioned above, PapersOwl's pricing is positioned in the above-average range. It starts from $13.5 per page but increases depending on a chosen writer's education level and how soon you want your paper completed. Our writer had ten days for the research proposal, and the platform charged us $93.
PapersOwl accomplished our task in 5 days and 3 hours, and Sybil Low rated the work at 77.35/100. The paper effectively describes the need for the proposed study, clearly states its purpose, and outlines the potential impact of the research findings. Additionally, the literature review section provides relevant information on the influence of social media on business operations and customer behavior. However, some reviewed studies are outdated, and only four of them are used in the literature review. The procedures used to collect data also lack a detailed explanation. Overall, the paper effectively presents the strengths and weaknesses of the research and highlights the importance of studying the effects of social media on business operations.
The document's formatting is generally good, yet not free of errors. These include issues with vertical and horizontal spacing, body, and page headers. The most frequent error types were misitalicized, missing, or incomplete elements. The integrity and length of the document were both 100%. The mechanics score is 92%, with spelling, grammar, and punctuation performing well. The citation formatting received a score of 0%, with the reference formatting being the main problem area, specifically regarding a book, work type notation, journal, and source title. The in-text citation grade was seriously deficient, with one misformatted in-text citation, five missing in-text citations, and two cited sources missing from the reference list. The reasoning and logic score was 96%, with high efficiency, acuity, and objectivity scores.
According to our Papers owl review, the platform is a reputable provider of dissertation writing services with an unwavering commitment to excellence. Despite its current average scores in the overall experience category, PapersOwl has the potential to soar to higher positions on the list of the best writing services available.
7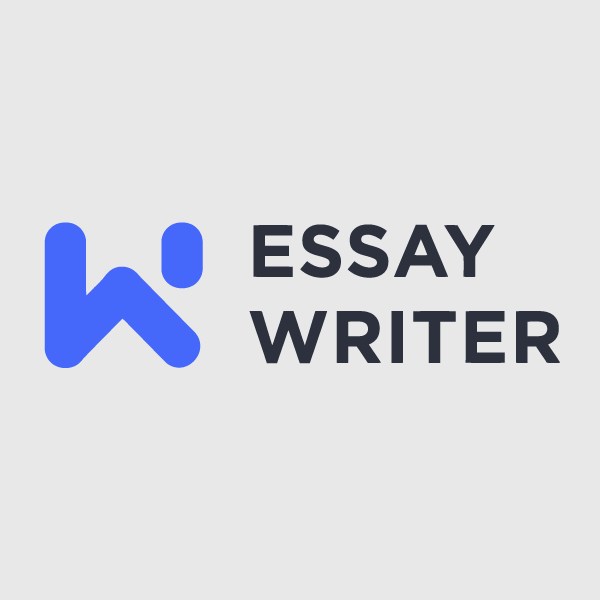 EssayWriter
The explicit name of this company means only one thing: it is a platform that will expertly provide services for writing essays, dissertations, and other academic papers.
The organization recognizes the importance of sufficient assistance for intricate tasks such as dissertations. Our encounter with them confirms this viewpoint. We are pleased to highlight the exceptional level of support we enjoyed while collaborating with the company. The customer service can be accessed through multiple communication channels, including Facebook Messenger, allowing individuals to select the most suitable option for their needs.
An exceptional support service may be able to compensate for the absence of a dedicated manager for sizable orders. Since this alternative isn't offered, clients seeking dissertation assistance should direct all their inquiries to regular customer service. For example, it will quickly explain how to break down your dissertation's plan into multiple sections and place orders for each. Unfortunately, the service doesn't offer any installment payments.
The cost of our paper did not become a surprise. We spent $82 for our research proposal, implying that the rates this company charges are moderately priced compared to those outlined in the article.
67.5/100 is EssayWriter's grade for paper quality. Their research proposal, which was finished in 9.5 days, examines the influence of social media on conventional business practices, particularly on local food outlets, over the past decade. The paper offers compelling arguments, including identifying the issue, outlining the study's purpose, and presenting research inquiries succinctly. However, the document inadequately explains the need for the proposed study, and the literature review only cites three sources. Additionally, there is insufficient information about the research tools utilized to gather data. The article could be improved by expanding the literature review and providing more details about the data collection procedure.
The document has fair formatting with issues including vertical spacing, horizontal spacing, body header, page header, section headers, and font control. The integrity and length of the document are both excellent. The mechanics have a score of 92%, with spelling, punctuation, and word choice being the strongest areas. The main problem in reference formatting is titles, with missing, miscapitalized, and misidentified elements as the most frequent error types. Some in-text citations are also misformatted or misconstrued. The reasoning and logic score is 97%, with all its components receiving high scores.
You can't go wrong if you choose this company for your dissertation writing help. The site's algorithm will select your best performer, and a friendly support service will instill confidence and complete security in you.
8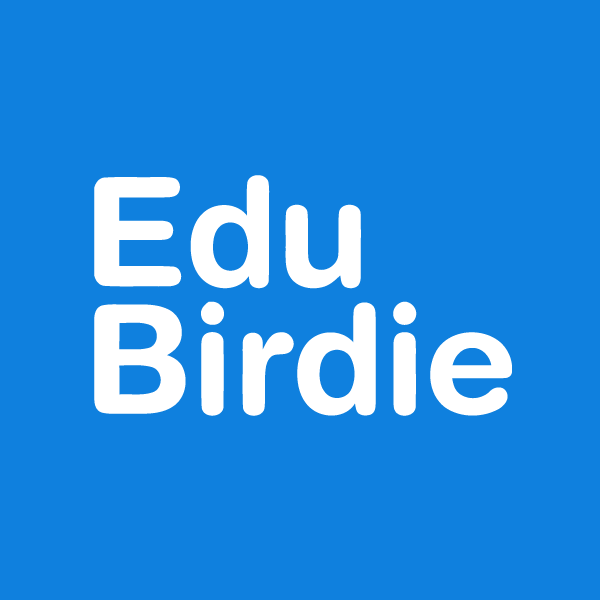 EduBirdie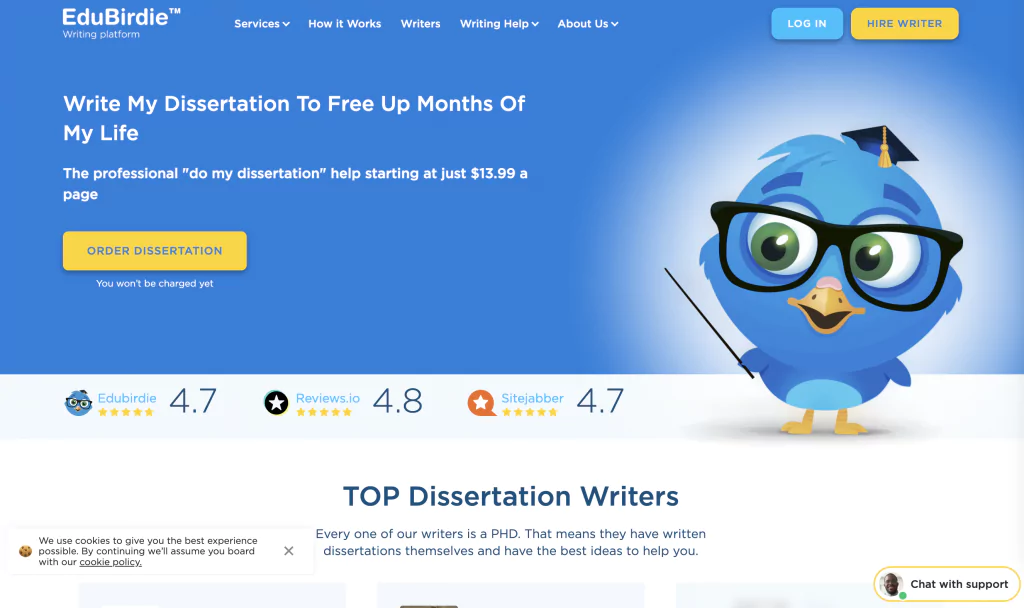 EduBirdie, another bidding academic writing website, claims its professional writers know everything there is to know about research papers. The place on this list of TOP-10 dissertation writing services proves the claim is not just a mere hollow promise.
Customer support is the bedrock of a positive client experience, and EduBirdie understands this well. They leverage this knowledge by offering excellent help-desk support that's available 24/7 and can be reached via a chat messenger, phone calls, and Facebook. Their live communication is also well-organized and convenient. You don't have to navigate through the website's pages to find the information you need – all your questions can be answered quickly and easily through the chat, saving you much time and energy.
Like many other companies, EduBirdie guarantees that a selected expert whose bid wins is going to work on your dissertation from A to Z. The process can be supervised by a personal manager who can instruct a customer, offering guidance on how to organize work, plan a timetable, and break down the paper into sections or chapters for gradual submission with a professor or research advisor.
EduBirdie's pricing for our paper was $99. This ranks them as the third most expensive option on our list of top dissertation writing services.
Our research proposal was delivered in 5.5 days and received a score of 70.4/100, indicating that the high cost of services is justified by EduBirdie's writing competence. The article explores the impact of social media on businesses, specifically looking at the advantages, disadvantages, and potential risks involved in using social media platforms for marketing purposes. The study aims to determine if social media advertising consistently affects customers and aligns with marketing objectives, with a focus on software start-ups. While the article offers a concise literature review, it is limited to only three sources, and the research questions presented are somewhat unclear. Nonetheless, the introduction provides crucial context and historical background to the research topic.
The document's formatting is generally good, but there are problems with vertical and horizontal spacing and page and section headers. The paper has a 100% integrity and length score and a 93% mechanics score, with high results in spelling, grammar, and word choice. However, there are significant problems with citation formatting, with only a 27% score. Reference formatting is a major issue, with missing or miscapitalized elements and lacking attention to detail. The in-text citation grade is deficient, with some mispunctuated or missing citations. The document's reasoning and logic are rated at 87%, with high efficiency and acuity scores but slightly lower for clarity.
While this provider may not be the most affordable option on our list, its reputation, reliable customer support, and high-quality writing services make it a worthwhile option to consider for your dissertation writing needs.
9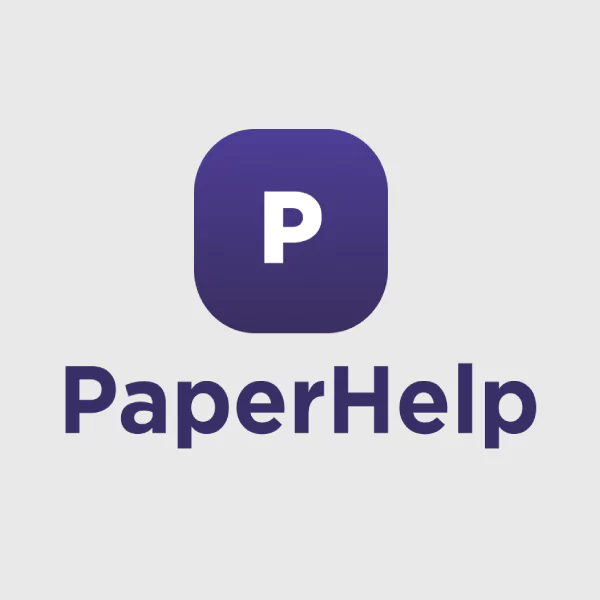 PaperHelp
PaperHelp declares itself a universal solution that offers academic writing assistance to students who need help with their assignments. With a team of experienced writers, the service promises to deliver quality essays, research papers, dissertations, and other academic works within the specified deadline.
The effectiveness of PaperHelp's support is a significant advantage for learners who require dissertation writing assistance. The company's customer service is always available to help with any inquiries or concerns, whether they are about prices, writers, or placing orders. All in all, the help desk contributes greatly to a pleasant user experience with PaperHelp.
PaperHelp excels in ensuring effective communication between the client and the writer. The platform's authors are proactive in initiating messaging with their clients and providing updates on the progress of their work. Additionally, the writers respond well to revision requests, taking the time to understand the feedback provided and making the necessary changes promptly. This level of communication and responsiveness can help alleviate any concerns or anxiety the customer may have and ensure a high-quality final product. Besides, the clients can enhance this experience if they choose to pay an extra cost for VIP support. The package includes a personal manager who will work on your dissertation project with the highest priority.
The company's help can be quite expensive compared to other academic writing services in the market. In fact, according to our ranking, PaperHelp's prices are the second-highest, costing $106.36 per page for our research proposal. It may discourage students on a tight budget, especially considering that this provider's A*Help score is lower than other services in our ranking.
The company needed only 4 days for writing. Our professor believes PaperHelp deserves a 60.15/100 for its work. The paper presents the objective of the research and analyzes the changes in business processes and the quantitative impact of social media on small and medium-sized businesses. The writer highlights the benefits of social media, such as increased exposure and the opportunity to access diverse markets. However, the article does not substantiate the need for the proposed study, and the instruments used to collect data are poorly described and explained. On the other hand, the proposal provides a historical perspective and context of the research and cites recent publications, contributing to the study's relevance.
The formatting would benefit from improvement, particularly with vertical and horizontal spacing, body header, page header, section headers, font control, and page breaks. The mechanics score was 93%, with spelling, grammar, punctuation, and word choice receiving good scores. Citation structuring achieved only 10%, with reference formatting being the main problem area, particularly with internet notation, missing elements, and incorrect capitalization. Reasoning and logic reached 96% with good efficiency, acuity, clarity, and objectivity.
PaperHelp is a good solution for people seeking academic writing assistance. The platform's effectiveness in customer support and communication between the client and writer is a decisive benefit, ensuring a pleasant user experience. However, the cost of using PaperHelp's services may be a burden for some students, and they should carefully consider their budget before making a decision.
10
HomeWorkHelpGlobal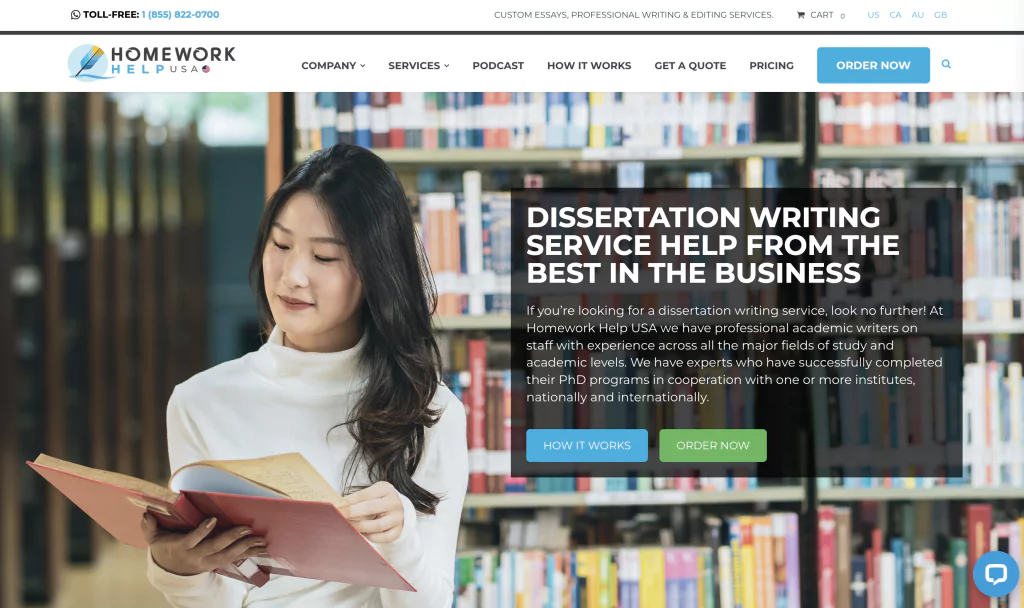 HomeWorkHelpGlobal convinces its visitors that it is the most appropriate choice for writing college dissertations and Ph.D. research papers. Let's verify if this company's confident assertions can be supported with evidence.
Not everything is so bright in the customer service department. We reject the company's claims of 24/7 online support. Only a bot is available, which in our experience, was worthless. All questions should be left through the feedback form, and the responses also arrive in the user's inbox. While the support does its job, email communication is neither convenient nor immediate. Given all the circumstances, the shortage of a personal assistant for you and your paper is unsurprising.
The company does not provide a technical possibility to communicate with the paper's writer either. This is a drawback if you trust someone to write your dissertation and can't reach them directly. Again, all messages, queries, or revision requests are made through the support feedback form.
And finally, the pricing. HomeWorkHelpGlobal is the company with by far the most costly services compared to other providers on this list. Our research proposal cost us $136.96, which is 21% more than what the second-most expensive service charged us.
The platform completed the research proposal in 4 days and 17 hours with a high score of 72.68/100. The article explores how social media and digital technologies have affected entrepreneurship and traditional approaches to business. The literature review highlights the impact of social media on the democratization of commerce and identifies the advantages of using social media for businesses to recognize new entrepreneurial opportunities, mobilize external resources, and develop their reputation. The study also emphasizes the need for modern organizations to organize themselves into networks to stimulate responsiveness in digital environments. The article's strengths include its use of recent sources, the listing of research questions, and the historical perspective of the discussed matter. However, it could be given more attention to the gap in the research and how this study will fill it.
The document requires improvement in vertical spacing, reference indent, body header, page header, and section headers. The integrity and length of the document are satisfactory. The mechanics of the paper are good, but citation formatting, especially reference formatting for Internet notation and common academic articles, lacks quality. The reasoning and logic of the document are efficient (99%), acute (100%), and objective (100%), but the clarity is a little behind (77%). The author is advised to adapt to APA 7th edition and look for more professional scholarly references.
In summary, if the quality of the paper is your utmost priority and you're willing to make sacrifices for it, then HomeWorkHelpGlobal is an excellent service for you.
The Bottom Line
Our sole objective at A*Help is to provide unwavering support to our readers with all their writing requirements, regardless of the difficulty, deadline, or academic level. We strive to make the A*Help score a beacon of guidance among the multitude of dissertation writing services, helping students make the best decision for their college journey through our dedicated efforts. While the idea of "the best dissertation writing company" inevitably involves some level of abstraction, we endeavored to conduct exhaustive and unbiased research to aid you in the daunting task of choosing. Our goal is to provide a clear framework to help you confidently navigate this process, and hopefully, we did the job well.
Testing Methodology
Here is what we asked to write:
⭐ Research proposal
5 pages
🎓 Academic level
Undergraduate, 3-4
✅ Paper format
APA7
⏰ Deadline
10 days
👉 Paper instructions
Discuss and evaluate how social media altered and influenced the traditional way of conducting business in the last 10-15 years. 1. What's the origin of the issue and its background? 2. What are the purpose and objectives of the research?3. What evaluation methodology and objectives or outcomes are to be evaluated?4. What's the source of data and evidence used

The document must consist of the following chapters:
1. introduction2. Literature review3. Research definition4. Research design5. Data collection instruments6. Sample (or population -who you collect data from)7. Data collection procedure 8. Research ethics9. Plan/schedule+ the title page and references
Buying Advice – How to Choose the Best Dissertation Writing Service
A dissertation represents the conclusion of a student's long-term efforts and serves as a starting point for advancing their professional careers. When selecting a writing service to assist with this important task, it is crucial to consider a range of primary and secondary factors. With so many companies and services available, it can be hard to distinguish between what's absolutely necessary and what you can live without. To help narrow your search and focus on the essential criteria, A*Help highlights the critical factors to consider. By understanding these criteria, you can avoid making the wrong choice when selecting a provider for your dissertation.
Paper quality
First and foremost, of course, is the quality of work. It is always important, whether it's a short essay or a business memo. But when it comes to the most consequential paper of your student life, the grade of the completed paper is among the first things you should look at when choosing a dissertation service.
The score assigned to each company by the A*Help team is comprehensive and transparent, as Professor Low thoroughly reviews each written piece with adherence to the American college standards. A wide range of criteria is used to assess the written material, reflecting its content and quality to the fullest extent possible. The highest score is 100%, and the lowest acceptable is 60%. Situations when a particular company submits work rated below 60% are very infrequent. Still, it would be best to remember that this possibility exists and concentrate on companies whose work results are around 70% and more. It does not mean that services with lower scores must not be considered, though. It only means that you may need to request more revisions and edits of your paper if you decide to work with a provider whose papers are graded between 60 and 70%.
Dissertation Fulfillment Process
A substantial project such as a dissertation demands meticulous planning and research, so it cannot be completed overnight. It often takes weeks and months to receive a rough draft, so the way the service manages the long-term partnership with the customer can become one of the determining factors in choosing a particular provider. We accentuate and briefly describe three indicators that suggest a company is well-equipped for long-term and constructive work with the client on writing their dissertation.
Designated author. An experienced and competent writer who understands the discipline, the topic of the paper, and the prerequisites for it is vital to every customer's project. Following a writer's distinctive work style is essential to ensure consistency from one paragraph to the next and from chapter to chapter. As a customer, before placing an order, you should confirm that your dissertation will be written by one individual and not several different writers assigned by the service to complete separate chapters. Although this is not the case with bidding platforms where individual experts attempt to win the chance of completing your order, it is highly recommended that you check this aspect with your preferred writing company.
Please, address the "Overall experience" paragraph of our reviews or request customer support assistance to access this information.
Installment payments. Your final bill for a 50-page research paper may appear abruptly high at first glance. The impression may be accurate, but only when you must pay the whole amount at once. In this sense, paying in installments is a possibility that cannot be underestimated. This great feature allows users to spread out the cost over a period of time. Such convenient budgeting makes the whole project more affordable and less felt in terms of expenses. Besides, it enables customers to access the service without having to worry about a large upfront cost.
There are several options for its implementation. One way or another, many providers have something to offer, and this is a substantial competitive edge of such services. We recommend referring to the overall experience paragraph of our dissertation writing services reviews to get more detailed information about this possibility.
Personal manager. Having a personal support manager is indispensable when using dissertation writing services. It provides a single point of contact to address any queries, concerns, or requests, becoming a hub for communication with the company. This ensures that the user's experience is as smooth and efficient as possible, with all their needs promptly addressed. The support manager also provides guidance and advice, helping to assure that the user can get the most out of their dissertation writing services.
A personal manager is an option not available at all services. Some companies do not have a clear regulation of this issue and claim the standard customer support team can handle all users' requests. At the same time, certain providers offer a dedicated personal assistant who can mediate between clients and their writers and will be aware of everything concerning the writing process. Other providers offer a similar possibility as a paid service called VIP support.
As you can see, you can benefit from having a personal manager for your dissertation adventure in several ways. The overall experience section of our reviews discusses whether such a service is available to customers and how it can be implemented.
Price
The cost of a large and complex work like a dissertation should not be neglected when looking for an academic writing service. The saturated market of such companies implies competition, and the price factor is one of the primary ways of a competitive struggle for the consumer. Choosing the service without considering its pricing policy would be an impulsive decision.
Our research of the best ten dissertation writing services revealed the following results. The average price for an undergraduate-level research proposal, consisting of five pages with a title page, references, and a ten-day deadline, was $86.9. The minimum work cost was 48 dollars, and the maximum – $134.96. It means that the average price of one dissertation page is $17.3. Therefore, if you are looking for the best value-for-money ratio, it is recommended to consider the provider that charges something around this cost per page.
Why academichelp.net is a credible source of information:
Stay curious with us. Academichelp.net has been a reliable educational resource since 2011, providing students with the latest news, assignment samples, and other valuable materials. Even with the extensive information we process, our quality remains consistent. Each team member has experience in education, allowing us to evaluate new sector offerings critically. Our reviews are up-to-date and relevant, with impartiality ensured by the A*Help score methodology from mystery shopping. We aren't affiliated with any listed service providers. Our focus remains on providing our audience with reliable and unbiased data.
FAQ
Are dissertation writing services legal?
Yes, they are legal. However, it's important to note that using such organizations to produce work submitted as one's own is considered academic dishonesty and is therefore not permitted. Nevertheless, dissertation writing services can provide assistance and guidance to students who need help with their research, writing, or formatting. It's important to choose a reputable and reliable service to ensure that the work produced is high quality and meets the required academic standards.
Can I pay someone to write my dissertation?
You can pay a professional writing service for your dissertation. However, ensuring that your chosen provider is reliable and has a successful operating history is essential. It's important to note that employing such firms to create content which is presented as your own work is classified as academic misconduct and may result in severe repercussions.
How much does it cost to have someone write your dissertation?
The cost of your dissertation can be influenced by numerous factors, such as its size, academic level, and deadline, among others. To get a more accurate estimate, you can use the assessment tool available on your preferred dissertation writing service or consult with a customer support representative who can help you determine the cost. As a very general guideline, you can expect to pay a minimum of $15 per page.
What is the best dissertation writing service?
When selecting a dissertation service, users should understand that the company needs to meet certain standards. Firstly, the organization should have an extensive presence in the relevant service market, coupled with an established track record of furnishing excellent academic solutions that are original, free from plagiarism, and authored by highly competent professionals. It's also important to consider how well the service manages complex and time-consuming assignments such as dissertations, the available payment options, and the effectiveness of the customer support and feedback mechanism with both the service team and the designated writer. To understand all the features of the process and choose the best writing services provider, we recommend reading our list of the top 10 best dissertation services, which features only the companies you can rely on.
Is it good to get your dissertation published?
Getting your dissertation published can have several benefits. For example, adding to your academic credentials, sharing your research with a wider audience, and contributing to your field's knowledge base. However, the decision should be based solely on your specific goals and the relevance of your research to the academic community.
Is 2 months enough to write a dissertation?
The time needed to write a dissertation can vary greatly depending on the complexity of the topic and the individual writing speed of the person. While it's possible to complete a dissertation in two months, it can be extremely hard. So, it's vital to carefully plan and manage your time effectively to ensure a thorough and well-written piece of work.
How many hours a day should you write a dissertation?
The number of hours you should dedicate to writing your dissertation per day depends on your personal schedule and writing habits. However, no matter your speed, it's crucial to establish a consistent writing routine that allows for focused and productive work without burning out.
Can you get a PhD by just writing a dissertation?
In most cases, obtaining a PhD requires more than just writing a dissertation. Typically, PhD programs involve coursework, research, and examinations in addition to completing and defending a dissertation, which is quite a lot to handle.
Do I own my dissertation?
Yes. As the author of your dissertation, you generally own the intellectual property rights to your work. However, it's important to review any agreements or policies of your academic institution to ensure there are no restrictions or specific guidelines regarding ownership. This way you can minimize the chance of getting into legal trouble later on.
How many pages is a dissertation?
The length of a dissertation can vary based on academic discipline and other factors. On average, a dissertation is often between 150 and 300 pages, but it's important to consult your institution's guidelines for specific requirements.
Can I write my PhD thesis in 3 weeks?
Writing a PhD thesis in three weeks can be a challenging task due to the extensive research and analysis typically involved. It's essential to plan your time carefully, focus on the most critical aspects, and consult with your advisor or committee to ensure the quality of your work. If you feel like you need help with writing it, you can turn to professional writing services, which you can find at A*Help.
Is 40000 words enough for a PhD thesis?
The word count required for a PhD thesis can vary depending on the institution and field of study. While 40,000 words may be sufficient in some cases, it's important to consult your institution's guidelines and discuss specific requirements with your advisor before committing to a specific goal.
How many hours does it take to write a 20000 word dissertation?
The time it takes to write a 20,000-word dissertation depends on many factors such as research abilities, writing speed, familiarity with the topic, etc. It's difficult to determine an exact time limit, but it typically requires several weeks of focused work, which can't be obtained with the snap of the fingers. If you need to get a little push, you can always look through out top writing services here at A*Help.
Do most people pass their dissertation?
The pass rate for dissertations varies among institutions and disciplines. While it's common for most people to pass their dissertations, success ultimately depends on the quality of the research, writing, and defense of the work. So, you really have to shine bright in order to acquire that title.
What should you avoid when writing a dissertation?
When writing a dissertation, it's important to avoid common pitfalls such as plagiarism, poor organization, lack of clarity, and inadequate research. You should always follow proper citation guidelines and seek feedback from advisors so that they can help you avoid these issues.
What happens if you fail your dissertation?
Failing a dissertation can have serious consequences such as the need for revisions, resubmission, or even a potential impact on completing your degree. However, specific policies and procedures vary among institutions, so it's crucial to consult your institution's guidelines and your advisor in case of failure.
What is the success rate of PhD dissertation?
The success rate of a PhD dissertation depends on individual factors such as the quality of research, academic guidance, and individual effort. While there is no universal success rate, completion rates for PhD programs often range from 50% to 70%, which is quite good.
Is it OK to share your dissertation?
Sharing your dissertation can be beneficial, as it allows for collaboration, feedback, and the dissemination of knowledge. However, it's important to consider copyright restrictions, since intellectual property rights might be compromised. So, confidentiality agreements need to be set in place.
How many citations should a PhD thesis have?
The number of citations in a PhD thesis varies depending on the field, research topic, and academic standards. While there is no set rule, it's important to cite relevant sources to support your arguments and demonstrate your knowledge about existing literature.
Is writing a dissertation stressful?
Writing a dissertation can be a stressful experience due to the demanding nature of the project, time constraints, and high expectations. It puts a lot of pressure on people as it requires great effort and a lot of time. It's essential to manage stress through proper planning, organization, self-care, and seeking support from advisors, peers, or counseling services.
What is the hardest part of a dissertation?
Every part can be the hardest part of writing a dissertation since people have varying abilities and strong sides. However, conducting original research, analyzing data, and organizing the findings into a coherent and well-structured document are commonly challenging aspects.
What part of dissertation gets most marks?
The part of a dissertation that receives the most marks can depend on the assessment criteria set by your institution. Typically, the introduction, literature review, research methodology, and discussion chapters carry significant weight in the evaluation.
What is the easiest part of a dissertation?
Some find the literature review or methodology section relatively straightforward, while others may excel in data analysis or discussion of findings. Although the easiest part of a dissertation might be the part, where you ask for assistance on the matter from reputable writing services.
What makes a bad dissertation topic?
A bad dissertation topic is one that lacks relevance. It's crucial to choose a topic that contributes to the existing body of knowledge, aligns with your research interests, and has the potential for meaningful contributions in your field in the future.
What word should be avoided in a thesis statement?
When writing a thesis statement, you should avoid using vague or subjective words, if you want to maintain clarity and precision. Instead, focus on using concise and specific language to convey your research objectives and the main argument of your dissertation.
How many PhD dissertations fail?
While exact failure rates for PhD dissertations are not clear, it's important to note that not all PhD candidates successfully complete their dissertations. Various factors contribute to non-completion, including personal circumstances, academic challenges, or changes in career goals. However, you don't have to obsess about failing your research in advance. Instead, focus on writing the best work you can.
How hard is it to get an 80 in dissertation?
Achieving a grade of 80 in a dissertation can be challenging, as it typically requires exceptional research, analysis, and presentation of findings. However, it isn't impossible. You can achieve such a high result by pouring time and effort into your work and consulting field professionals.
How many people don't finish their dissertation?
The number of people who do not finish their dissertations can't be pointed out. However, the reasoning behind it typically lies in the fact that the dissertation is just too much for students to handle. This type of work can be exhausting as it requires attention and expertise. But students can ease the load by asking various writing services for assistance. Check out A*Help reviews to find out more!
Can you say I in your dissertation?
The use of first-person language in a dissertation depends on the academic discipline and the style guide followed. In some fields, such as sciences, a more objective third-person approach is preferred, while others, such as humanities, may rarely allow for first-person expression.
Should I include pictures in my dissertation?
The inclusion of pictures or other visuals (tables, graphs, charts, etc) in a dissertation can be appropriate depending on the field and research topic. It's important to follow the guidelines provided by your advisor or the institution itself. You have to make sure that the visuals enhance the understanding of your research.
What is the shortest a dissertation can be?
The length of a dissertation is typically determined by the academic institution and the specific requirements of the program, so you should check them out in the first place. While there is no universally defined shortest length, it's important to follow your institution's guidelines to ensure you do everything right.
What is the most cited dissertation?
The most cited dissertation varies depending on the field of study and the specific research area. However, some widely recognized and influential dissertations have gained significant citations in various disciplines, which only proves their impact on the field.
What are the signs that show you will not succeed as a PhD?
PhD candidates that display little to no interest in their topic are most likely to fail in their academic journey. Other signs that stem from the first one include poor time management, difficulty maintaining motivation, or a lack of support from advisors or peers. It's important to address these challenges and seek appropriate guidance before diving into the writing process.
What percentage of the US population has a doctorate degree?
The United States has a highly educated population, even comparable to European countries. Approximately 2% of the U.S. population holds a Ph.D. degree, which may not seem that serious, but is actually a huge number of people.
Useful dissertation writing articles
Dissertation trends and latest news
Follow us on Reddit for more insights and updates.