The wondrous world of academic achievements is endless and may even seem unconquerable. Each time you complete a quest like writing an essay or finishing a regular assignment, something greater awaits you further. The next step is to ace your term paper and final exams, which you flawlessly pass. So, you gather up all of your skill and knowledge points to defeat the fire-breathing dragon, lurking in the shadows of this realm – a research paper. Not the final boss, but definitely has enough power to overbear you with anxiety. How should you approach it: go head first with all of your might or methodically overpower the beast step by step? But what if something goes wrong in the process and you will have to start all over again?
There is no need to overstress about this point of your academic journey. Obviously writing a research paper requires time and dedication, but it's not impossible to get that trophy! In various fantasy video games, you can always turn to healers and wizards for support and additional mentoring. Similarly, in the world of knowledge, you have the option of an essay writing service online, in addition to research paper writing websites. People turn to such services when they need a little push toward the win. However, you should approach the process of choosing such a helper very thoroughly, and we here at A*Help are ready to assist you in your quest!
Our Approach to Research Paper Writing Service Reviews
Here at A*Help, we want to provide you with all the necessary information when it comes to picking out the most fitting service for your needs. That is why we complete our review with details about all stages of an ordering process. This includes registration, payment options, communication with the writer and the support team, quality of the finished paper, and the ability to revise it according to our comments, and so on. All of this information is typically gathered as a result of "mystery shopping", where we make an undercover purchase on the website in order to get an objective result. By digging so deep, we can assure you that our reviews are thorough and unbiased since we want students to make the right choice for themselves.
In this case, while being on the lookout for the best research paper writing service, we decided to do a mystery shopping experiment and go through with a research proposal in the field of business studies. The deadline for the paper on an undergraduate level was 10 days, which should be enough to write a 5-page work.
No in-depth review should go without professional input. That is the exact reason why we contact our associate professor Mrs. Sybil Low after getting the work done. She kindly assists us when conducting research and gives her comments on the paper according to specific criteria. This way, you can have a reference point when choosing a writing service for yourself.
Although most of our reviews are based on the overall A*Help score, which includes three main points: value for money, overall experience, and paper quality, in this case, we decided to focus more on the latter. A research proposal can't be compared to a regular essay and requires much more detailed work and preparation since it includes key information about the whole research. That means, it includes the topic of the research, the justification on why exactly somebody chose it, and the methodology, which is the key part of the paper. In this case, the main role in determining whether the service is good to use lies in the quality of the research proposal. The score it gets consists of analyzing the introduction, literature review, and instruments, which in collaboration should create harmony and answer the main question altogether.
So, after reviewing all the vital details of our mystery shopping experiment, we are ready to present you with a list of professional research paper writing service options.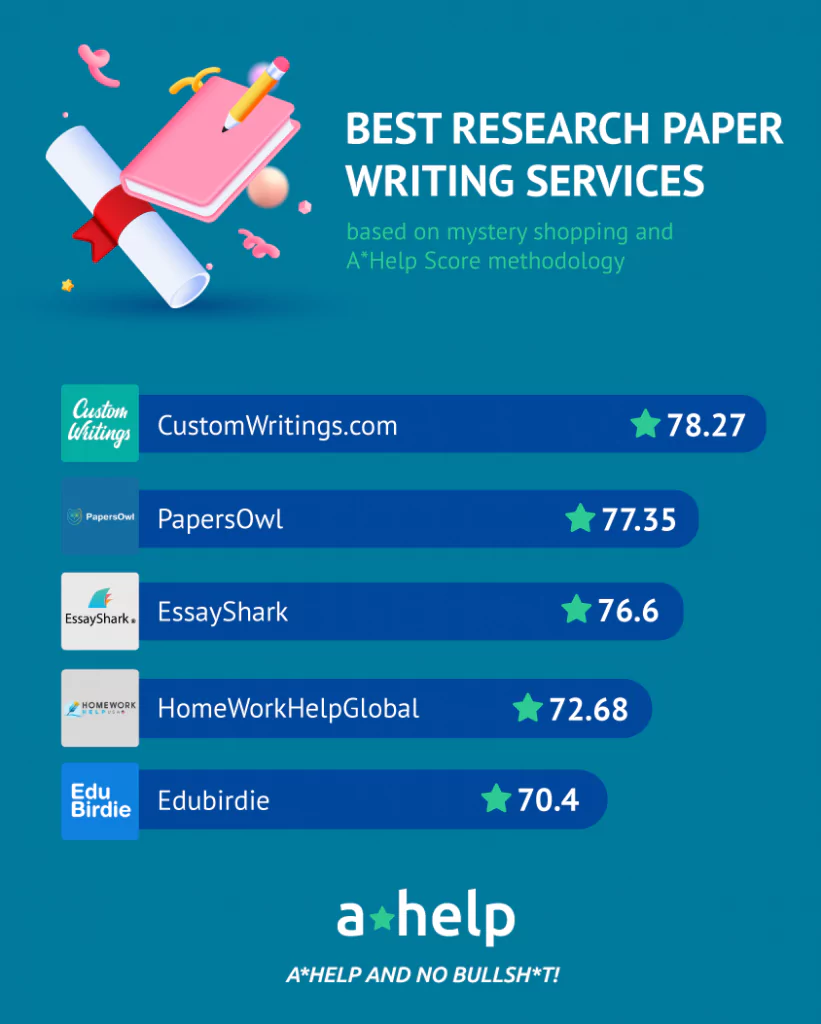 Number One Research Paper Writing Service Reviews
After looking through a variety of services and assessing them based on chosen criteria, we can confidently say that CustomWritings rightfully earned first place in our top list. With a high level of customer support and many additional features on the site, this service also delivered quality work on time. So, the A*Help team deems CustomWritings a top research paper service and gives it the highest rating.
Best Research Paper Writing Services in USA
1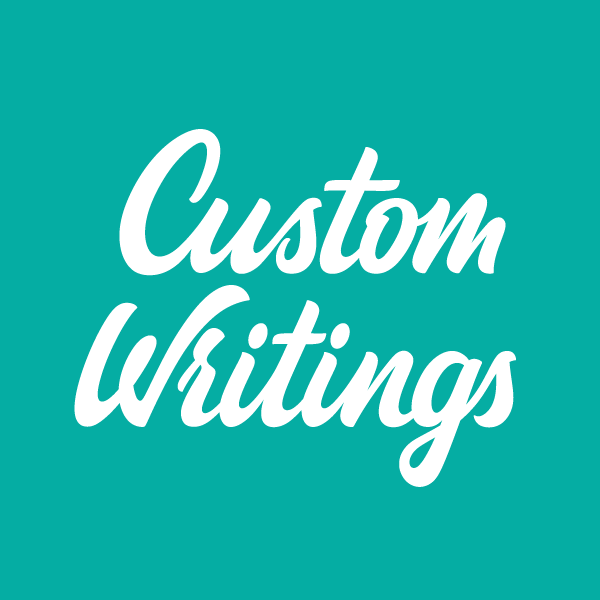 CustomWritings
CustomWritings acknowledges the specific nature of such complicated writing missions as dissertations. The service has been helping its customers cross the finish line of their academic journeys since 2005.
CustomWritings falls into a medium price category when it comes to similar services. We paid 76$ for a 5-page research proposal. Apart from that, the service provides its clients with a free bibliography page, title page, and free formatting, which is a nice touch. There are other additional services on the site, however, you have to pay extra for them.
Moreover, CustomWritings provides bonuses for first-time and regular clients. The service offers to write one page for free and has a referral program, which allows you to get a 10$ coupon after one of your friends makes an order. Another highly important feature on the website is a split payment option. It allows you to review the work as it comes and pay after the paper is complete. Research proposals and dissertations typically cost a pretty penny and it can be hard for students to pay the amount in full immediately.
The next crucial thing is the paper quality since it is vital for picking out a good research paper writing service. Our research proposal, completed in 5 days and 22 hours, received a score of 78.27/100. It presented a well-structured introduction, defining the purpose and objectives related to the impact of social media on businesses. The paper explored the role of social media in brand awareness, customer engagement, website traffic, lead generation, and sales. Our associate professor, Dr. Sybil Low commented on the work done by CustomWritings and graded it according to US academic standards. The research proposal was graded very highly in terms of reasoning and logic (100%), grammar (100%), word choice (100%), and punctuation (90%). However, the citation formatting (19%) could use a whole lot of improvement, as it tanked the overall score significantly.
Taking it into consideration, CustomWritings is the best research paper writing service in our toplist. The trustworthy service can be an example for others in the industry since it evenly balances providing both helpful support and quality work, which is exactly what a student might need during a difficult time.
2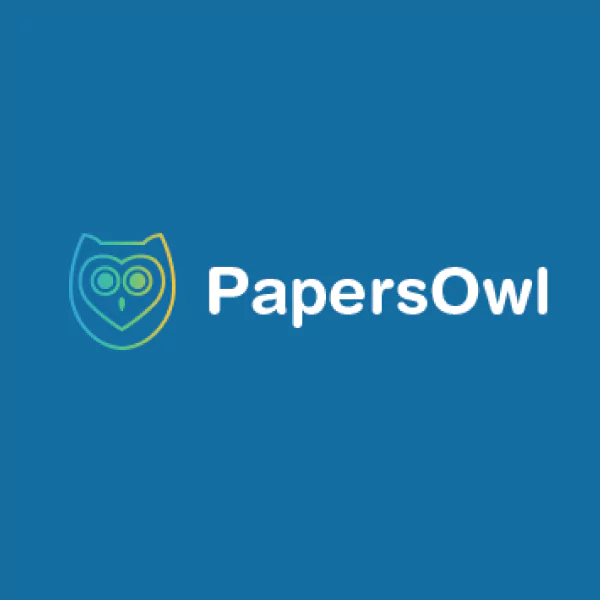 PapersOwl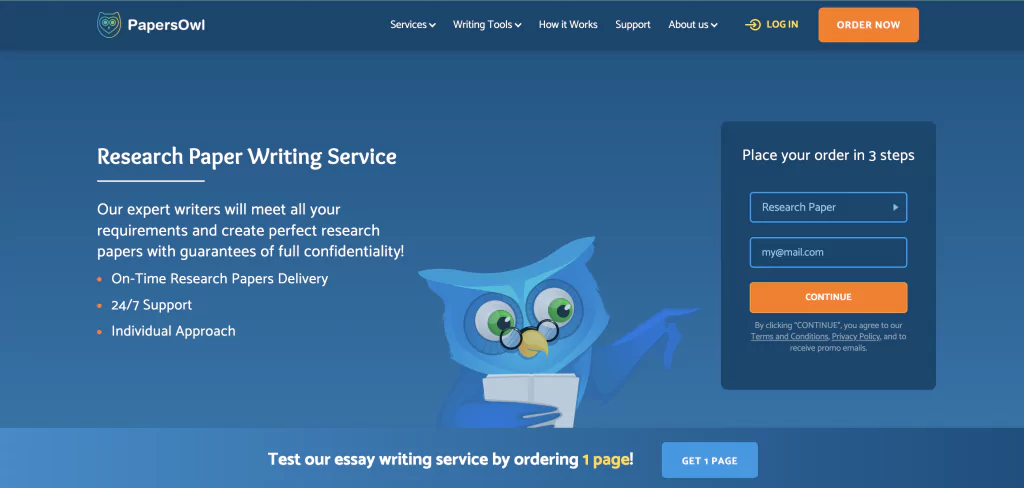 PapersOwl is a custom academic writing service that has assisted many students on their way to college degrees.
Writing a research proposal surely takes up a lot of time and effort. PapersOwl is more on the pricier side since we had to pay 93$ for the work, which was delivered 5 days later. The options of getting a title page, a reference page, formatting, and revisions are free.
Unfortunately, PapersOwl doesn't offer many bonuses or discounts even for new users. However, they have a generous referral program, which allows you to get 35$ on your balance every time you refer a friend. Another inconvenience is that you can't make any installment payments. With that being said, you just have to take a leap of faith, which can be even harder considering the fact there is no opportunity to get in touch with a personal manager, that will assist you with the order, but only via an available customer support representative.
When it came to the most important thing – paper quality, we also asked Dr. Sybil Low to analyze the work and give her comments on it. Overall, the paper received 77.35 pts, which is more than a decent result. According to our associate professor's words, the research proposal by PapersOwls got a high score on spelling (94%), grammar (93%), and word choice (83%). However, the same cannot be said about citation formatting, since that is where the service got the lowest grade (0%). Although the logical aspect of the paper was also highly marked in terms of acuity (100%), clarity (86%), and objectivity (100%).
All in all, PapersOwls provides students with decent-quality services and has a variety of available features. However, it would benefit even more from adding a few discounts and improving the connection between writers and customers.
3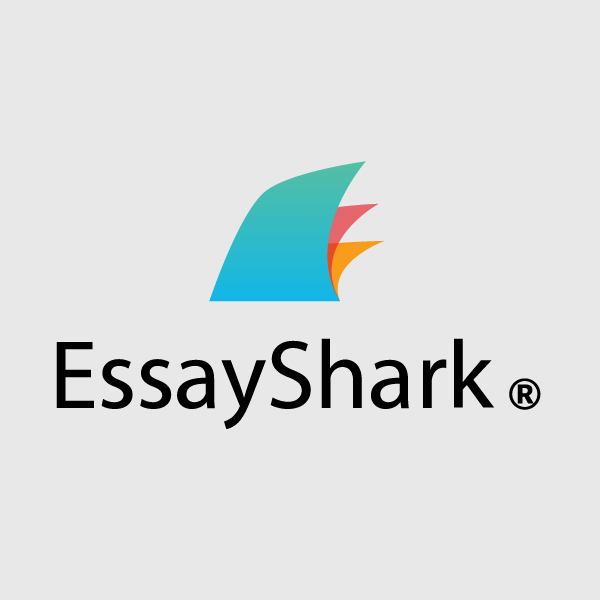 EssayShark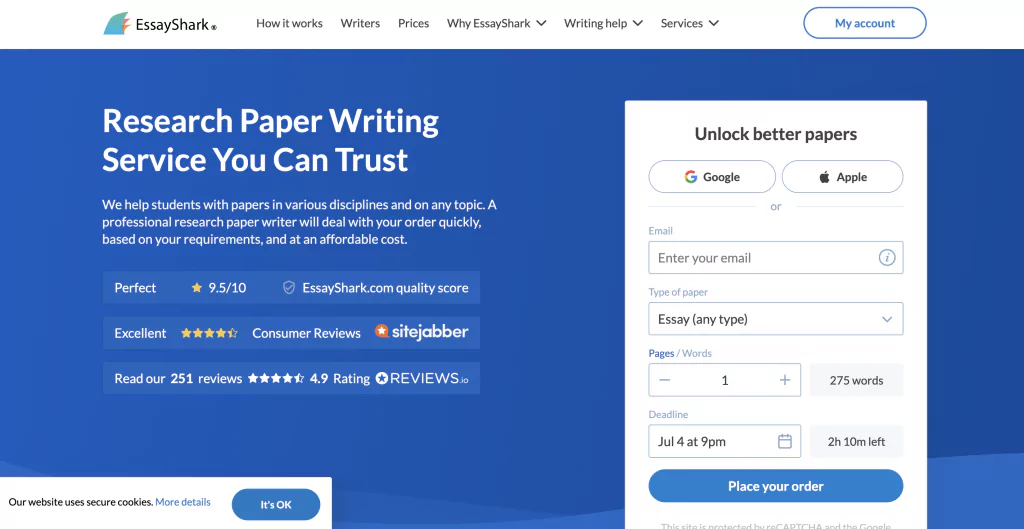 EssayShark enjoys an excellent reputation and is well-respected by its users. The lack of discounts and other additional services is easily made up for by its high quality and consistency in writing.
This service has a bidding system in place, where you can get different offers from writers. You have the freedom to choose from candidates with various rates and portfolios so that you get what fits your needs best. The processes of placing an order, selecting a writer, and making a payment are intuitive, although customer support representatives can take up to ten minutes to respond. So, if you want to ensure smooth progress, it's recommended to communicate with your chosen writer. EssayShark doesn't provide a personal manager option, but you can establish a timetable for submitting your research in chapters and address concerns by communicating directly with the writer.
The pricing at EssayShark is comparable to other companies, depending on factors like how complex the work is and how fast you want it delivered. We paid $80 for a 5-page order to be done in 10 days. EssayShark delivered it in only 21 hours, which in turn would allow the student to make some changes if necessary. The payment system involves depositing the total cost, and paying it step by step, if you are satisfied with the content and paper quality.
The research proposal from EssayShark scored 76.6/100 in the quality of the paper. The literature review examines the benefits and drawbacks of social media in business, but the proposal would benefit from focusing on bridging existing and new ideas and data collection overall. The paper demonstrates solid reasoning but lacks clarity and detail in formatting and citations. The latter seems to be a common problem among different writing services. Dr. Sybil Low graded the paper highly, concluding that both the mechanical and the reasoning aspects scored excellently (or above 90%).
So, after reviewing the results we can confidently say that EssayShark is a reliable service for academic assignments, including research proposals. Although some aspects like citations can be adjusted, you can expect your work to be delivered promptly and get a great outcome.
4
HomeWorkHelpGlobal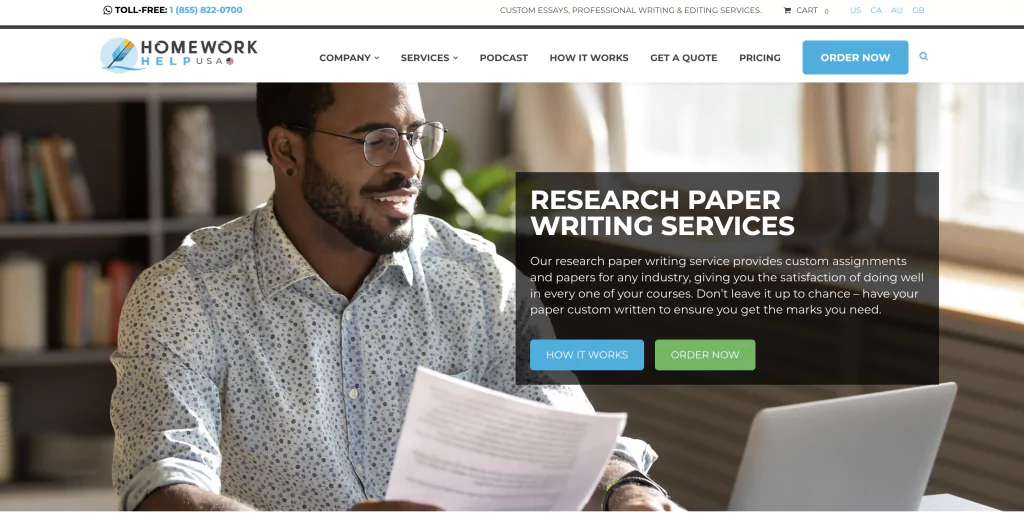 Regardless of your major, HomeWorkHelpGlobal promises to pair you with the best Master's or Ph.D. writer to work on your paper. Free revision policy and professional writers are keys to perfect work, according to this company.
HomeWorkHelpGlobal falls short in terms of customer service. The claimed 24/7 online support is limited to a relatively useless bot, and all communication is done through a feedback form with email responses. This can significantly complicate the overall process and doesn't leave the user with an opportunity to quickly make changes within the paper. Therefore, the absence of a personal manager is no surprise given these circumstances. There's also no direct communication with the writer, making it challenging to address concerns or revision requests.
To make things worse, HomeWorkHelpGlobal has the highest price compared to other providers. Our research proposal cost $136.96, which is definitely far from being budget-friendly. The work was delivered on time and took 4 days and 17 hours to complete.
The research proposal done by HomeworkHelpGlobal has a score of 72.68/100 which is quite good. The writer highlighted the advantages of social media for businesses and the need for organizations to adapt to digital environments. Spelling, grammar, and punctuation all got 95+ marks, while efficiency (99%), clarity (77%), and objectivity (100%) also showed decent results. However, the document could be improved by addressing research gaps and enhancing citation formatting, since citations (9%) didn't follow the standards, Dr. Sybil Low explained.
Although HomeworkHelpGlobal prioritizes writing high-quality research papers, there is definitely a lot of room for improvement and some issues that need to be addressed. Overall, this particular service can be used to assist students with their research.
5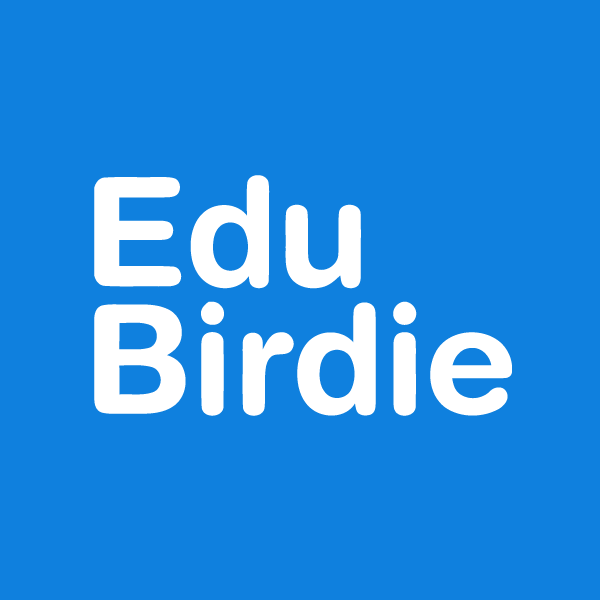 EduBirdie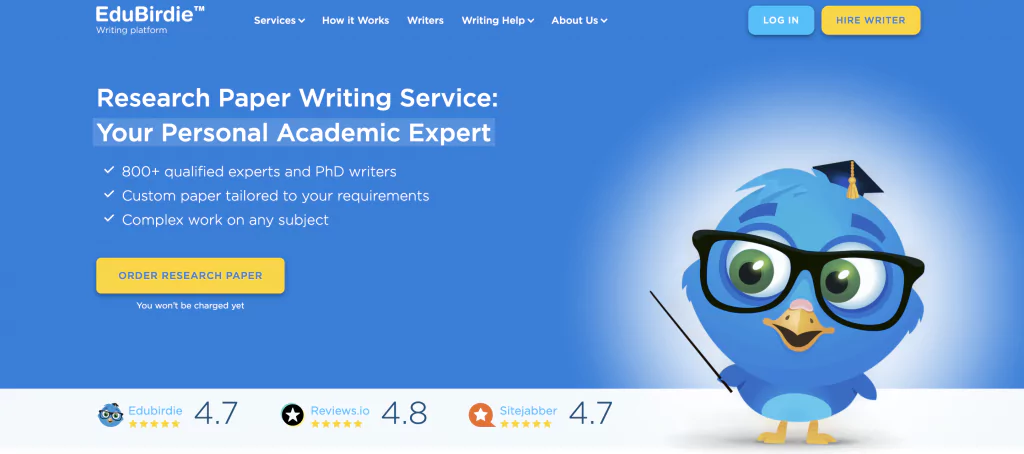 EduBirdie will hook you up with hundreds of top writers who can write your thesis for as low as $13.99 per page. This platform will free you from the writing process with the help of experts.
EduBirdie is a service that highly values customer support and ensures a positive experience. Their 24/7 help-desk support is accessible through chat, phone, and Facebook, providing quick and convenient assistance. They offer a personal manager to guide you through the writing process, helping with organization and planning, which is very convenient, considering the complicated process of creating a research proposal.
When it comes to pricing, EduBirdie is definitely out there. With a cost of $99, the service ranks as the third most expensive option in this top list. However, their writing competence and the overall process justify the price. The paper was delivered in 5 days and 12 hours, leaving almost 5 more days to make corrections if needed.
Our research proposal received a score of 70.4/100. Since the research was focused on the topic of exploring the impact of social media on businesses, the paper conveyed the main points in a logical manner. Although the literature review lacked sources and the research questions were unclear, the introduction provides important context. After a thorough inspection done by Dr. Sybil Low, it was pointed out that the paper had formatting issues (27%), but mechanics (93%) and reasoning (87%) are strong. However, to reach the goal of a high-quality research proposal, citation formatting needs improvement.
Despite being on the pricier side, EduBirdie's reputation, reliable support, and high-quality services make it a reasonable choice for your academic needs. It confidently sits at the 5th place in our Top-5.
6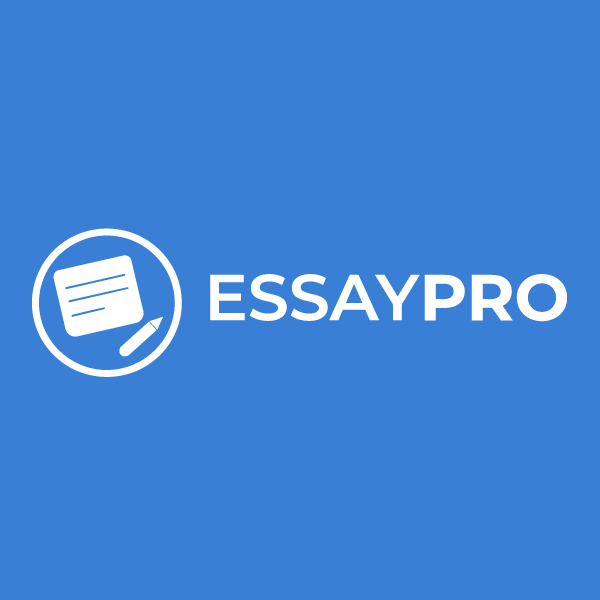 EssayPro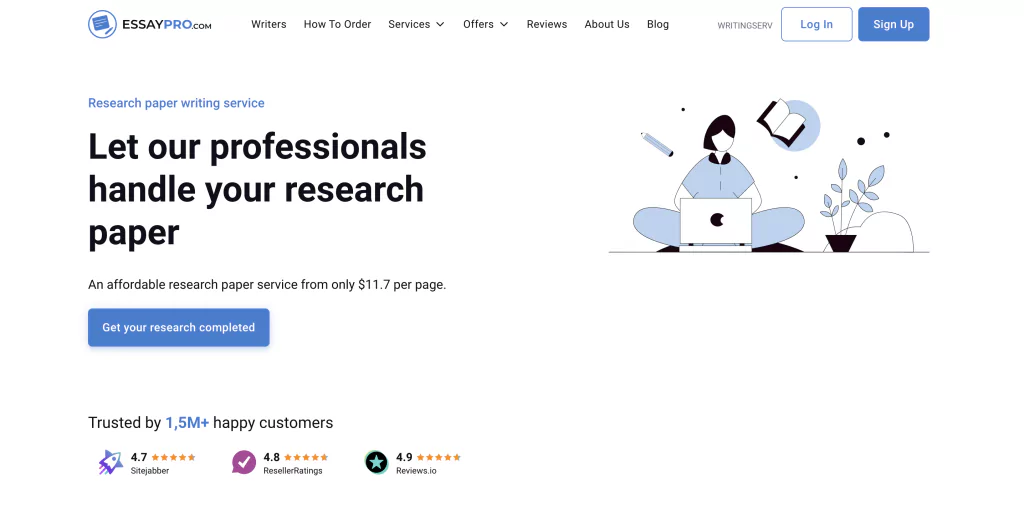 It takes only three steps to receive your order with EssayPro: send your requirements, pick the most adept author, and pay for the order. With this streamlined process, be sure your academic needs are met.
The customer support center on the website is well-organized and intuitive. It is also extremely helpful since it provides quick access to popular user requests. If your question isn't listed, a help-desk agent will personally assist you and find the answer to whatever the question is. Both the support team and writers are thoughtful and friendly, which can significantly ease the anxiety building up around the need to get your research proposal and make it worth it.
EssayPro is the most budget-friendly service on the list, with a price of $48 for a 5-page paper. The company doesn't compromise on quality despite the low pricing. However, there is no option to pay in installments whatsoever, which is a disadvantage.
The research proposal from EssayPro received a score of 70/100. Based on the A*Help team's prompt, it explores how social media has transformed business practices and includes a literature review, research design, and data collection instruments. The paper demonstrates a good level of integrity (100%) and mechanics (96%). Once again, formatting (25%) is the main issue, earning a low score from Dr. Sybil Low. However, the paper is well-composed, based on sound reasoning, and organized.
EssayPro stands out for its affordable pricing and valuable support team. We can recommend EssayPro as a reliable research proposal writing service, although the formatting of the paper and the work overall can be better.
7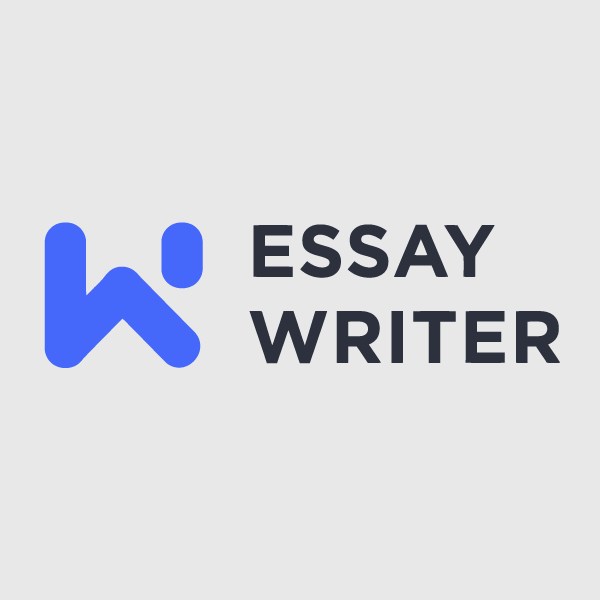 EssayWriter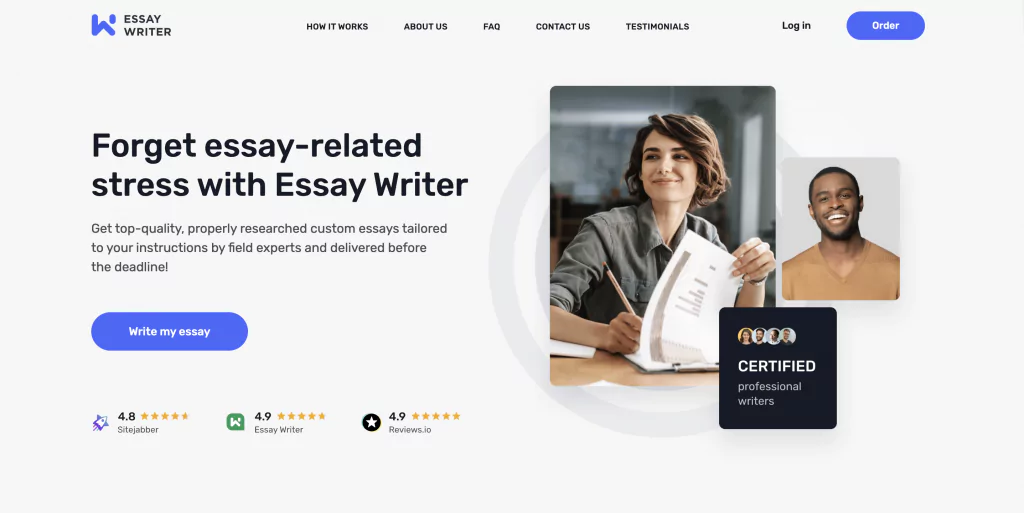 EssayWriter's mission is to contribute to the quality of education worldwide, supporting students and scholars in their challenging academic endeavors. The company helps its customers with various assignments, from essays to lengthy dissertations, encouraging them to expand their knowledge and skills.
You could say that EssayWriter "gets it" when it comes to assistance during times of academic need. The same goes for their customer support, as we received timely and informative answers during the ordering process and after that. Needless to say, our experts were impressed by the exceptional level of support we got while working with EssayWriters. An option to contact a representative is easily accessible through various channels, including Facebook Messenger, which in turn allows users to choose the most suitable option for their needs. Although there is no dedicated personal manager for large orders such as research papers, the excellent support service compensates for this.
The cost of our paper, which came up to $82 for a research proposal, was reasonable compared to other rates mentioned in the article. Although it is worth mentioning that the site doesn't have the option to pay in installments and that is a definite downside.
When it comes to paper quality, EssayWriter received a score of 67.5/100. Their research proposal, completed in 9 days and 11 hours, barely squeezed in the deadline. While the paper presents compelling arguments and clear research inquiries, there is still room for improvement in explaining the need for the study, expanding the literature review, and providing more details on data collection.
Dr. Sybil Low added, that the document's formatting, including titles and source citations, needed improvement. However, the reasoning and logic (97%) were excellent. Mechanics also received a great score, with a strong performance in spelling (96), punctuation (99%), and word choice (88%).
EssayWriter is a great company when it comes to finding a writer that fits your needs best. With their supportive customer service, any student would feel safe and secure, which is just the right thing during the academic year. However, EssayWriter can still improve the paper quality, since there is no limit to perfection.
8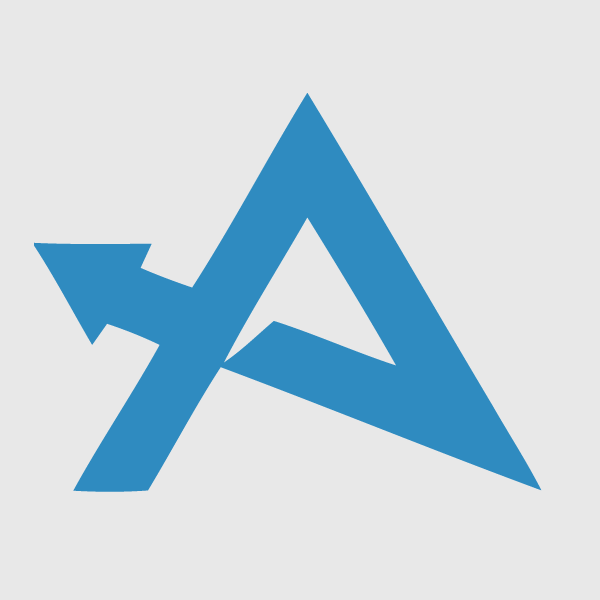 Academized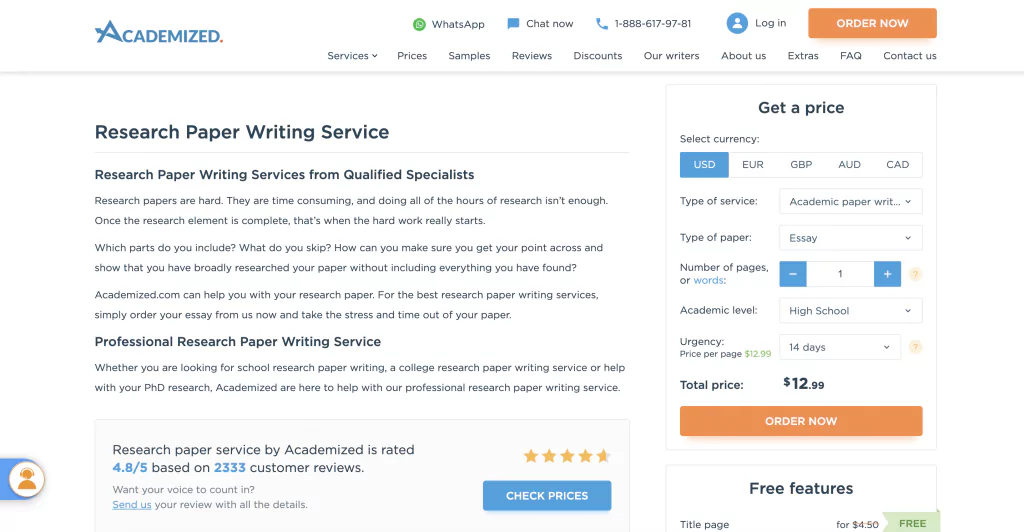 Academized believes that every student is capable of achieving bold goals. This writing platform provides its clients with help to reach academic objectives. Their team of writers delivers writing services regardless of the difficulty level.
The support team at Academized offers assistance for new and regular users, ensuring they receive much-needed answers. However, communication with writers could be more effective, since they directly influence the quality of your order. Nevertheless, the exceptional customer service and availability of a manager make this drawback a bit less significant.
While Academized may not be the cheapest option on this top list, it falls within a reasonable price range. With a starting price of $17.99 per page, our total cost for 5 pages of research proposal was $89.21. A nice add-on to the price is the fact that Academized has a broad selection of discounts and bonuses like their referral program. However, installment payments are available only if the work's cost surpasses the 500$ mark, so it is a bit inconvenient.
Our order was completed in 5 days and 6 hours, receiving a quality score of 67.4/100. Overall, the study effectively addresses the research's need and purpose, emphasizing its potential impact on the field. However, the literature review lacks coverage, making it a whole lot more challenging for readers to grasp the study's context. The limited information on the sampling method used also affects the validity of the results.
The document's citation formatting surely can be improved, since many issues with structure, spacing, headers, and page breaks were present. Mechanics got a very high score (96%) from Mrs. Sybil Low's report, with a strong performance in spelling (100%), grammar (95%), and word choice (90%). Reasoning and logic received excellent scores, with efficiency, acuity, and objectivity getting a 100% each!
If you're seeking a professional writing service, Academized is a trustworthy option to choose. The A*Help's mystery shopping confirms that Academized can assist with educational struggles when writing. However, some changes can be applied with time to increase the quality of the paper even more since it didn't exactly meet the high academic standards.
9
CopyCrafter
CopyCrafter determines affordability as its principal competitive advantage in dissertation writing. Since 2009, the service has gathered sufficient experience to stand by its claims. It is an aspiring platform that connects clients with top experts in over 70 fields, making it an option worth looking at.
Not only does CopyCrafter excel in crafting academic papers, but it also prioritizes delivering a positive customer experience. Our interaction with the website left us impressed by the level of support received. Apart from that, the writer assigned to us was considerate, providing regular updates on their progress, which is a plus. But it doesn't end there – you'll have a personal manager and a dedicated expert to handle your entire order no matter how complicated it gets.
One aspect that distinguishes CopyCrafter from other reviewed services is its pricing strategy. Their research proposal cost us $63, significantly cheaper than most top-ranked services. And the service provided an opportunity to pay in installments.
CopyCrafter completed our order in 6 days and 6 hours, earning a paper quality score of 62.33/100. Speaking of the structure, the introduction provided background information on the use of social media apps in businesses, while the literature review highlighted the pros and cons and followed instructions. Although the research design was explained, the data collection procedures are not clearly specified and can be better.
Evaluated by Mrs. Low, the document maintains excellent integrity and length (100%). But, once again, formatting issues related to vertical spacing, body, and page headers lowered the overall result. Reasoning and logic score high (97%), while mechanics are nearly flawless (98%). However, citation formatting (0%), particularly references, needs improvement, with errors like missing or misformatted elements.
With its focus on delivering a positive customer experience with a dedicated writer, CopyCrafter proves to be a good option for students in search of efficient and budget-friendly writing services that can help with a research paper.
10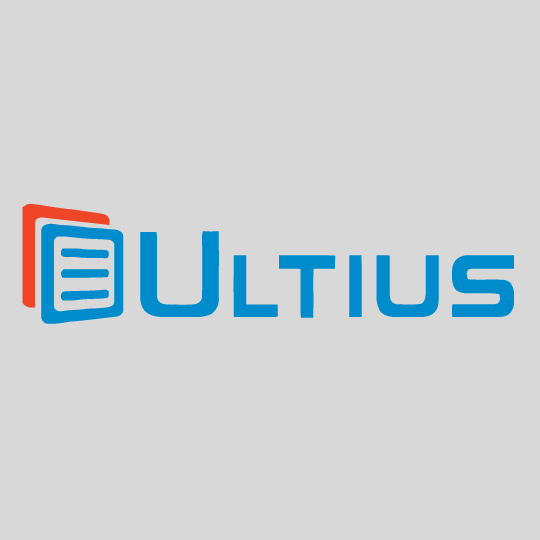 Ultius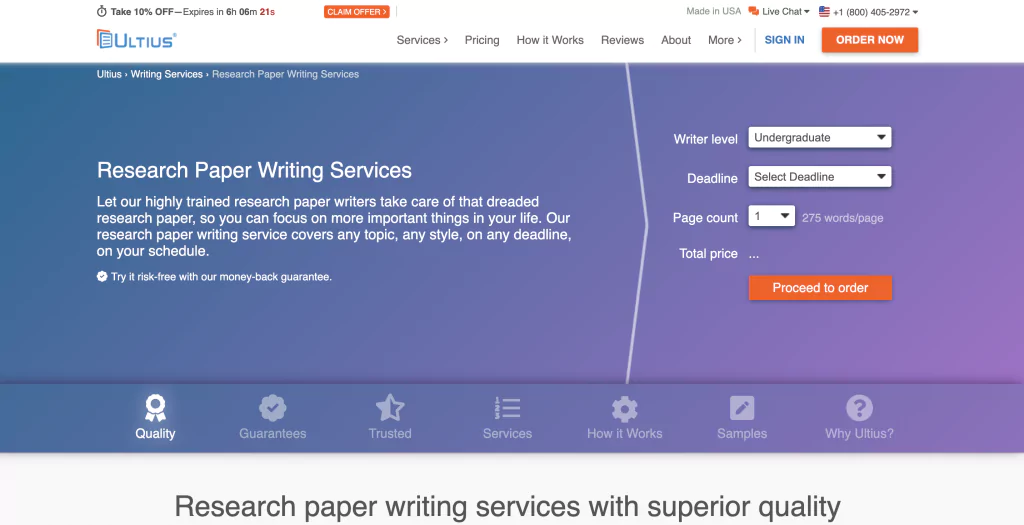 Ultius claims to ensure students get the quality they deserve. However, those claims aren't exactly supported by evidence, as Ultius falls flat in many aspects regarding customer satisfaction and payments.
The customer support at Ultius was present and that's pretty much all that can be said. The site promises 24/7 support for the users and an option to consult a representative on-site, which for us worked just once. Apart from that, communication with the writer was very low, although we got a designated writer for the whole project which was great.
The overall work cost us 86$ which is a medium price for a 5-page research proposal. Ultius offers a bunch of free services like creating a title page, bibliography, correct style formatting (which we'll talk about later), references, and revisions. You can also get 20% off if you provide your email during registration and an additional 10%-coupon when you make your first purchase. However, the site doesn't have an installment payment option, so we got to pay everything upfront.
The quality of the work itself, which was reviewed by Mrs. Low, was average. It has an overall score of 57.4% and did great in terms of spelling (100%), grammar (90%), and word choice (100%). The reasoning and logic aspect received a little less, but still had a high score (88%). The biggest problem was – no surprise – citation formatting (8%) and it heavily impacted the overall score.
All in all, Ulltius still has room to grow in terms of assisting students with their academic challenges. By implementing several changes concerning customer support and the quality of the paper, this service can boost its features and offer even more professional assistance.
11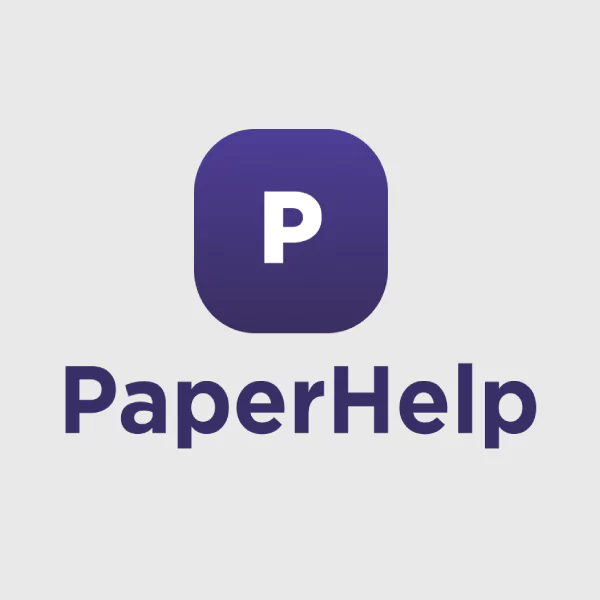 PaperHelp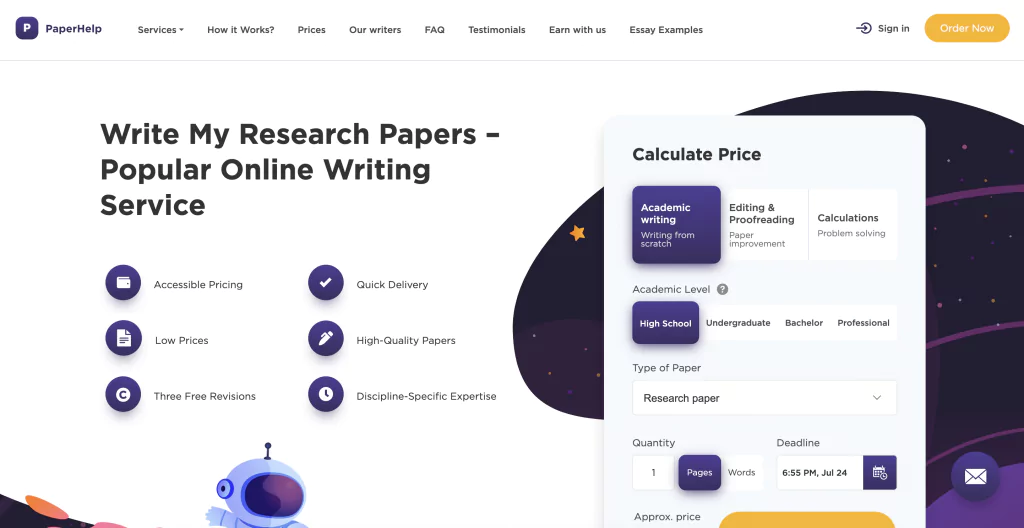 PaperHelp, an experienced writing company, offers proficient writing services that will open doors to academic success. The site positions itself as a solution for students seeking academic writing assistance. Their experienced team of writers promises to deliver high-quality papers within the given deadline. So, let's see whether those promises live up to reality.
One advantage of PaperHelp, which is immediately noticeable, is its effective customer support, which proves beneficial for students in need of academic help. The company's support team is available to address questions and concerns related to pricing, writers, and order placement, which definitely adds to a positive user experience. The same goes for their writers. They even take the initiative to engage with clients and provide regular updates on the progress of the work. The writers also respond to revision requests, so that you can add all the necessary changes. Additionally, clients can opt for VIP support, which includes a personal manager dedicated to their research proposal. But keep in mind that it has an additional cost!
However, it is important to note that PaperHelp's services can be relatively expensive compared to other providers in the market. According to our ranking, their prices rank second highest, with our research proposal costing $106.36. This may scare budget-conscious students a bit since it is a costly service.
PaperHelp completed our order in just 4 days, achieving a score of 60.15/100. The paper effectively presents the research objective and analyzes the impact of social media on small and medium-sized businesses. While highlighting the benefits of social media, the paper lacks substantial justification for the study and provides a weak description of the data collection instruments.
In terms of formatting, improvements are definitely needed. The mechanics (93%) score well, including spelling, grammar, punctuation, and word choice (88% and higher). However, citation structuring (10%) requires attention, with reference formatting being the main problem area. But the reasoning and logic get an impressive score (96%), reflecting good efficiency, clarity, objectivity, and acuity.
Overall, PaperHelp offers a solution for those seeking academic writing assistance. Their customer support and communication with writers contribute to a positive user experience but are not enough in the long run. However, students should consider the cost before making a decision, as PaperHelp's services may not be suitable for those on a tight budget.
Our Verdict on Best Research Paper Writing Services
Trying to find the best online research paper writing service is truly a quest. Our team here at A*Help is determined to support you during that adventure and give our honest impression based on objective mystery shopping. So, CustomWritings confidently takes the first spot in our top list as it delivers both excellent results and a top-notch customer experience.
We understand the importance of the A*Help score as a guiding light amidst the sea of writing services, helping students embark on their college journey with confidence. Remember, that the only person who knows what's right for you is you! But A*Help is here and ready to help you make the right choice.
What to Look Out for When Choosing a Research Paper Writing Service – Buying Guide by A*Help
Choosing a certain service to assist you during your academic quest is a very responsible task, that takes a lot of preparation. Students have to keep in mind a number of important factors that influence their overall decision and weigh all the options, while still being under pressure of other assignments. It may be hard to keep your head clear and your focus straight, when you just want that work to be done. The list of research paper writing services can go on and on, but we are here to give you a hand and guide you toward your next adventure. Together at A*Help, we underlined a simple list of criteria you can use while on the hunt for some academic assistance.
Paper quality
The quality of the work is undeniably crucial, regardless of whether it's a brief essay, a business memo, or a research paper. However, when it comes to the latter, it can have an immense influence on your overall grade, so it's best to pay attention to this aspect when searching for a service.
The A*Help team with assistance from Dr. Low understands how crucial the quality of the paper is, so together we inspect each and every submission according to American college standards. A wide range of criteria is used to assess the content and quality of the papers to the fullest extent possible. The score ranges from 100% for the highest quality to a minimum acceptable score of 60%, which needs to be crossed to deem the work even admissible. Not every service scores higher than 60% (although such instances are extremely rare), but you shouldn't sleep on those services either. They may not be the greatest at writing research proposals, but excel in personal narrative essays, so it's better to consider the whole picture.
Order Completion Process
Once again, writing something like a research proposal is much more time-consuming and serious than writing, for example, an essay. So, it is the reason to look more into those factors which are important on a much bigger scale with a project like that. Let's look through the points you'll have to take into consideration.
Personal manager
Having a personal manager when working on your research proposal can significantly ease the whole process for you. A personal manager will be able to handle your requests much better than a random customer service representative since they will know all the ins and outs of your order. Unfortunately, not all services offer an opportunity to have a personal manager even when doing bigger projects. Sometimes, you are able to get in contact with them after signing up for a VIP account and sometimes there is no way to get them at all. However, a personal manager can be a deal-breaker in terms of helping you navigate the complicated process of writing a research proposal and ease some of the extra stress. If you want to know more about whether a service from our top list can offer some personalized help, check out the in-depth review.
Assigned writer
Having an experienced and competent writer who deeply understands the intricacies of your chosen discipline and the specific topic of your paper is crucial for the success of your project. It is essential that the flow of the work is smooth and goes according to the theme of your work and the instructions you give out in every single chapter. Therefore, as a customer, you need to confirm that your research proposal will be handled by a single writer rather than multiple experts assigned by the service to work on different sections. This will add to the consistency of the work without mixing the writing styles.
Installment payments
At first, spending several hundred dollars on a complete research paper may seem risky. That is why it is worth noting whether the service has the option of paying in installments beforehand. This feature allows you to divide the cost over a period of time, making the entire project more affordable and less burdensome on your bank account. The reason behind its importance lies in the fact that by paying the whole cost upfront you can't be sure about getting revisions and the overall quality of the paper can be compromised. So, the option of paying in installments cannot be underestimated.
Those writing services that do offer installment payments surely have an advantage over their competitors. You can find more details on the matter by checking the dedicated section in our top list and reviews. By doing that, you will be able to make an informed decision based on your preferences and financial situation.
Pricing
When searching for an academic writing service, it's crucial to pay attention to the cost. In a competitive market flooded with such companies, pricing becomes a significant factor, especially for students with a tight budget. You don't want to make a hasty decision without considering the pricing of the service, because a high cost doesn't always equal great paper quality.
Based on our research regarding the services in this list, it's worth taking some notes. On average, an undergraduate-level research proposal consisting of five pages, including a title page, references, and a ten-day deadline, amounted to approximately $86. The lowest cost we encountered was $48 by EssayPro, while the highest reached $134.96 which was HomeworkHelpGlobal. This indicates that the average price per page among these services is around $17. With that being said, if you seek to get the best value for your money, you should consider providers that charge around this average cost per page.
Why academichelp.net is a credible source of information:
Stay curious with us. Academichelp.net has been a reliable educational resource since 2011, providing students with the latest news, assignment samples, and other valuable materials. Even with the extensive information we process, our quality remains consistent. Each team member has experience in education, allowing us to evaluate new sector offerings critically. Our reviews are up-to-date and relevant, with impartiality ensured by the A*Help score methodology from mystery shopping. We aren't affiliated with any listed service providers. Our focus remains on providing our audience with reliable and unbiased data.
FAQ
How much does it cost to have someone write your research paper?
The cost of writing a research paper is rather different from one service to another. Since creating such work takes up a lot of time and effort, it is usually priced much higher than any other academic assignment and may reach even several hundred dollars. Some sites offer cheaper alternatives, but can also compromise on the quality of paper.
Are research paper writing services legit?
Research paper writing services vary widely in terms of their legitimacy. While some services are reliable and provide high-quality work, others engage in unethical practices and just deliver poorly-written results. It is crucial to thoroughly research and read reviews before using any service and our team at A*Help is working towards summing up all the necessary information you may need.
Can I pay someone to write my research paper?
Yes, you can order your research paper online. However, it is essential to carefully consider the ethical implications, potential risks of plagiarism, and the quality of the work provided by the individual or service you choose to hire. We've created our top list of research paper writing services with the highest rating to make the search process easier for you.
What are the best research paper writing services?
Choosing a research paper writing service is a time-consuming task. You have to be sure that the website is trustworthy and confidential. There are numerous services available, each with different features, pricing, and quality levels, so researching and comparing these options to find a reliable and reputable service takes time. If you are looking for a reputable research paper writing service, you should check out our top list here, at A*Help, where we conduct thorough reviews based on a variety of criteria.
What program do researchers use to write papers?
Researchers use specialized software for writing papers and managing references. They also tend to rely on online databases and search engines to access relevant scholarly articles, such as Google Scholar. The specific software and tools can vary depending on individual preferences and requirements, so there isn't any specific list.
How much does a 10-page research paper cost?
The cost of a 10-page research paper can vary. It depends on factors like the academic level, topic complexity, deadline, and any additional requirements. It's best to reach out to writing services directly. But, as you can see from our top list, the prices may differ a lot.
Is publishing a research paper a big deal?
Publishing a research paper is a significant accomplishment in the academic community. It demonstrates a researcher's contribution to their field, promotes knowledge sharing, and can enhance career prospects. So, in order to write a high-quality research paper you should invest your time and resources in it.
Follow us on Reddit for more insights and updates.