Quick Overview
GPTZero is a reliable provider with a good set of services, an appealing interface, and swift, seamless functionality. However, when it comes to content detection, the results of the tests are difficult to interpret clearly, and their accuracy may not fully meet expectations, raising questions about whether it ranks among the best AI content detectors.

GPTZero's Value for Money —20/25
GPTZero's Overall Experience —16/25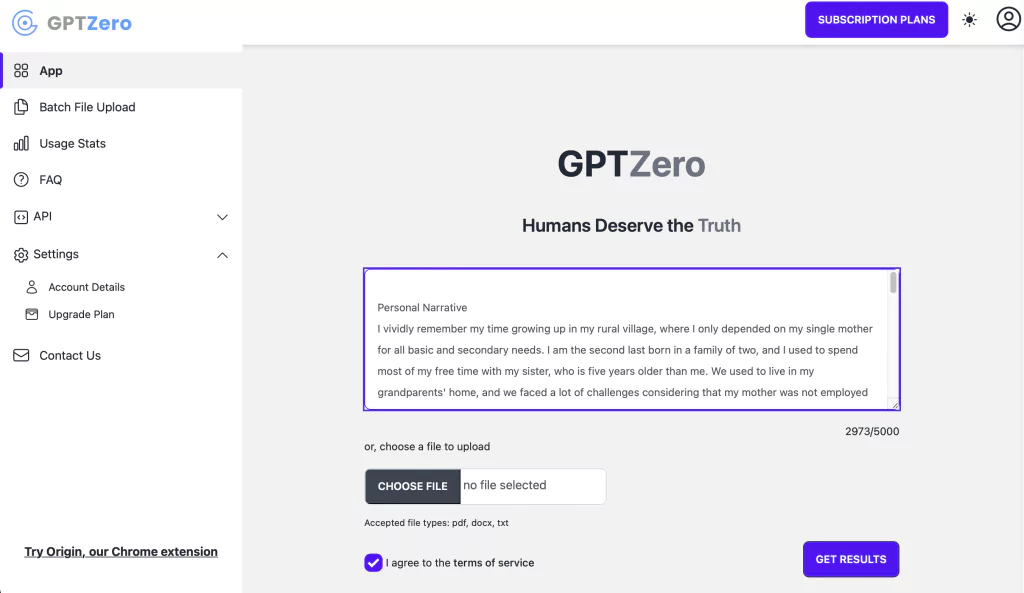 GPTZero's Detection Accuracy —11.67/50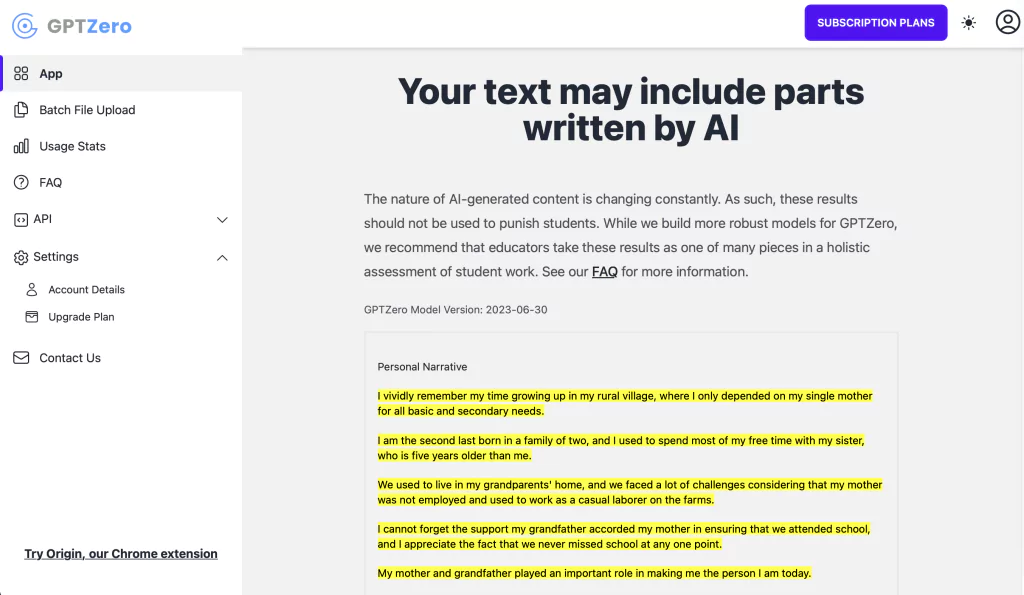 AI Detection Results: 7/30
| | | | |
| --- | --- | --- | --- |
| | Human-written | AI-Generated | Paraphrased |
| Score | ⭐️(2) | (0) | ⭐️⭐️⭐️(5) |
| Detection feedback | Your text may include parts written by AI | Your text is likely to be written by a human | Your text is likely to be written by a human |
Why academichelp.net is a credible source of information:
Stay curious with us. Academichelp.net has been a reliable educational resource since 2011, providing students with the latest news, assignment samples, and other valuable materials. Even with the extensive information we process, our quality remains consistent. Each team member has experience in education, allowing us to evaluate new sector offerings critically. Our reviews are up-to-date and relevant, with impartiality ensured by the A*Help score methodology from mystery shopping. We aren't affiliated with any listed service providers. Our focus remains on providing our audience with reliable and unbiased data.
GPTZero's Specs
> TECH DETECTION
GPT-3.5
✅
GPT-4
✅
ChatGPT
✅
Bard
✅
Human
✅
Human + AI
✅
Trusted in education
✅
> TOOLS
API integration
✅
Browser extension (Chrome)
✅
MS Word
✅
Addit. on-board tools
✅
> DETECTION OPTIONS
files (pdf, word)
✅
simple text (copy-paste)
✅
URL
❌
Code files
❌
Batch files upload
✅
> PRICING PLANS & LIMITS
Free
✅
Free trial
❌
Discounts
❌
Limits
5000 characters free
Loyalty
Users can receive a 30% commission on all payments for paying customers you refer to gptzero.me
> REGISTRATION
Required
❌
Third-party sign in options
✅
Needs phone number
❌
Personal account
✅
> WEBSITE EXPERIENCE
Aesthetic Interface
✅
Easy-to-use
✅
Quick process
✅
Multi-language detection
n/a
Printable report
❌
Clear results
❌
> SUPPORT
Leave a message
✅
Instant chat
❌
Phone
❌
Social media channels
✅
Blog
✅
FAQ and guides
✅
FAQ
GPTZero Reviews
This independent review of the service results from painstaking research work, which included an evaluation of GPTZero from all points of view that may be of interest to users. Additionally, our final verdict integrates the perceptions of other individuals who have engaged with the tool's services and shared their opinions on platforms like Sitejabber, Trustpilot, and Reddit. As a result, you receive a complete and all-encompassing assessment of this service.
Is GPTZero a Scam?
This service offers a free version that allows users to scan up to 5,000 characters, enabling them to verify that the tool is operational. Since no payments or prior commitments are demanded, it's clear that GPTZero is not a scam or any other fraudulent scheme.
Is GPTZero Legit?
It functions on the same principles as any other trustworthy online enterprise. There's nothing unlawful about analyzing documents or textual content for evidence of artificially created material. Therefore, GPTZero is an entirely legitimate company.
Is GPTZero Safe?
Yes, using GPTZero is considered safe. Like reputable online businesses, it adheres to standard security protocols and privacy policies to ensure the protection of user information and provide a secure experience.
Is GPTZero Trustworthy?
Yes, it is a trustworthy service provider. Its practices and offerings are transparent, and it has demonstrated reliability in its operations, making it a dependable choice for those seeking an AI-detection tool.
Is GPTZero a Good Service?
The A*Help rating of 47.67 indicates that GPTZero is a good service overall. It is easy to use, and it offers good value for money and a pleasing user experience.
Follow us on Reddit for more insights and updates.