Quick Overview
Zero GPT is a free AI text detection software for students, educators, and other professionals that allows users to upload files or paste text to check for artificially created content. While the website is easy to navigate and provides immediate results, the service's accuracy has been found to be inconsistent, often mislabeling human-written text as AI-generated and struggling with certain types of generated text, raising questions about whether it can truly be considered the best AI text detector.

ZeroGPT's Value for Money — 16/25
ZeroGPT's Overall Experience — 15/25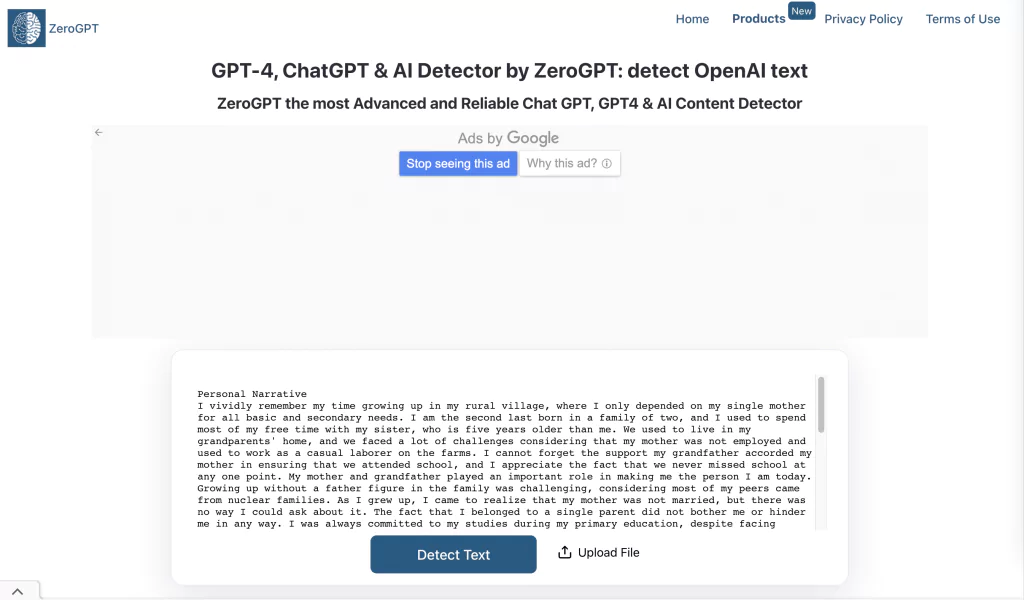 ZeroGPT's Detection Accuracy —15/50
AI Detection Results: 9/30
| | | | |
| --- | --- | --- | --- |
| | Human-written | AI-Generated | Paraphrased |
| Score | ⭐️⭐️(4) | ⭐️(1.6) | ⭐️⭐️⭐️(3.4) |
| Detection feedback | Your Text is Most Likely AI/GPT generated – 66.64% AI | Your Text is Human written – 16.18% AI | Most of Your Text is AI/GPT Generated – 82.36% |
Why academichelp.net is a credible source of information:
Stay curious with us. Academichelp.net has been a reliable educational resource since 2011, providing students with the latest news, assignment samples, and other valuable materials. Even with the extensive information we process, our quality remains consistent. Each team member has experience in education, allowing us to evaluate new sector offerings critically. Our reviews are up-to-date and relevant, with impartiality ensured by the A*Help score methodology from mystery shopping. We aren't affiliated with any listed service providers. Our focus remains on providing our audience with reliable and unbiased data.
ZeroGPT's Specs
> TECH DETECTION
GPT-3.5
✅
GPT-4
✅
ChatGPT
✅
Bard
✅
Human
✅
Human + AI
✅
Trusted in education
✅
> TOOLS
API integration
✅
Browser extension (Chrome)
❌
MS Word
❌
Addit. on-board tools
❌
> DETECTION OPTIONS
files (pdf, word)
✅
simple text (copy-paste)
✅
URL
❌
Code files
❌
Batch files upload
❌
> PRICING PLANS & LIMITS
Free
✅
Free trial
❌
Discounts
✅
Yearly, you save up to 20%, meaning you get 2 months for free
Limits
15 000 Characters per detection
Loyalty
❌
> REGISTRATION
Required
❌
Third-party sign in options
❌
Needs phone number
❌
Personal account
❌
> WEBSITE EXPERIENCE
Aesthetic Interface
✅
Easy-to-use
✅
Quick process
✅
Multi-language detection
✅
Printable report
❌
Clear results
✅
> SUPPORT
Leave a message
❌
Instant chat
❌
Phone
❌
Social media channels
❌
Blog
✅
FAQ and guides
✅
FAQ
ZeroGPT Reviews
At Academichelp, we place immense value on providing detailed and unbiased reviews of various services, including ZeroGPT. By analyzing user experiences, feedback from platforms like Trustpilot, Sitejabber, and Reddit, and conducting our mystery shopping activity, we aim to present a balanced and comprehensive overview of ZeroGPT.
Is ZeroGPT a Scam?
Throughout our extensive analysis and investigation into ZeroGPT, we have not found any evidence that would suggest the service is a scam. It functions as described, allowing users to upload files or paste text for the purpose of detecting artificially created content. All this affirms that ZeroGPT is not a scam but a legitimate tool.
Is ZeroGPT Legit?
Yes, ZeroGPT operates within legal parameters and is a legitimate service. It offers a free AI detection tool designed to identify artificially created text in documents, providing both a free model and possibly other services through different subscription tiers. The company's terms of use and privacy policies are clearly outlined on its website, and this transparency supports the legitimacy of ZeroGPT as a trustworthy provider.
Is ZeroGPT Safe?
Yes, ZeroGPT is a completely safe platform to utilize. It operates within defined legal and security parameters and details its privacy policies and practices on the relevant section of the website, ensuring that users are well-informed about how their data is handled.
Is ZeroGPT Trustworthy?
ZeroGPT has shown the capability to accurately detect content generated through various artificial intelligence technologies. While some inconsistencies were noted in its detection ability, overall it offers a trustworthy service for those looking to analyze documents for signs of artificial text creation.
Is ZeroGPT a Good Service?
With a user-friendly interface and immediate detection options, ZeroGPT stands as a notable service for AI text detection. However, its overall effectiveness is somewhat compromised by fluctuating accuracy in certain types of text detection. While it secures a spot among notable AI detectors, the service's limitations should be considered in evaluating its suitability for specific needs.
Follow us on Reddit for more insights and updates.