Quick Overview
Writefull, as a modern AI detector and academic writing assistant, aims to streamline and enhance students' work. While it has demonstrated proficiency in identifying original author text, there have been disagreeing results concerning AI involvement. Overall, it offers valuable features and functions, but the question remains: how good are AI detectors at addressing these inconsistencies, which may affect its ranking as a top-tier service?

Writefull's Value for Money —16/25
Writefull's Overall Experience —15/25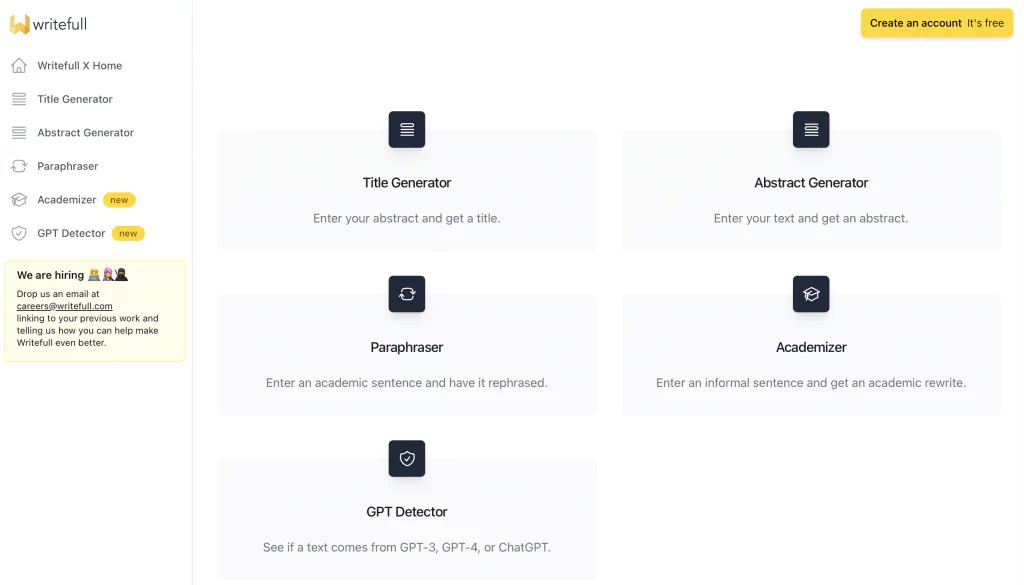 Writefull's Detection Accuracy —16.67/50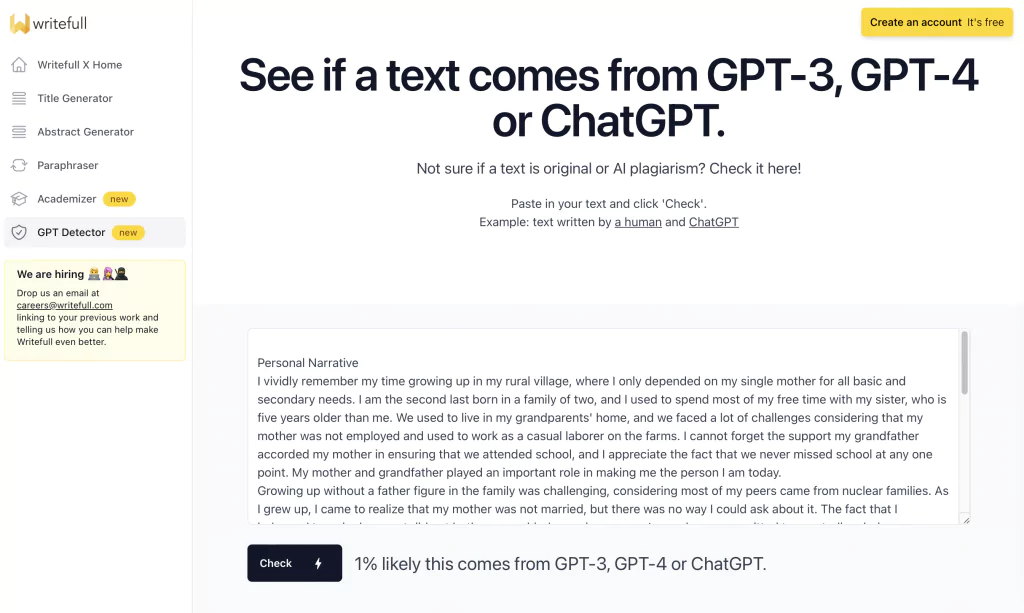 AI Detection Results: 10/30
| | | | |
| --- | --- | --- | --- |
| | Human-written | AI-Generated | Paraphrased |
| Score | ⭐️⭐️⭐️⭐️⭐️(9) | (0) | ⭐️(1) |
| Detection feedback | 1% likely this comes from GPT-3, GPT-4 or ChatGPT | 1% likely this comes from GPT-3, GPT-4 or ChatGPT | 1% likely this comes from GPT-3, GPT-4 or ChatGPT |
Why academichelp.net is a credible source of information:
Stay curious with us. Academichelp.net has been a reliable educational resource since 2011, providing students with the latest news, assignment samples, and other valuable materials. Even with the extensive information we process, our quality remains consistent. Each team member has experience in education, allowing us to evaluate new sector offerings critically. Our reviews are up-to-date and relevant, with impartiality ensured by the A*Help score methodology from mystery shopping. We aren't affiliated with any listed service providers. Our focus remains on providing our audience with reliable and unbiased data.
Writefull's Specs
> TECH DETECTION
GPT-3.5
✅
GPT-4
✅
ChatGPT
✅
Bard
❌
Human
✅
Human + AI
n/a
Trusted in education
✅
> TOOLS
API integration
✅
Browser extension (Chrome)
❌
MS Word
✅
Addit. on-board tools
❌
> DETECTION OPTIONS
files (pdf, word)
❌
simple text (copy-paste)
✅
URL
❌
Code files
❌
Batch files upload
❌
> PRICING PLANS & LIMITS
Free
✅
Free trial
❌
Discounts
❌
Limits
n/a
Loyalty
❌
> REGISTRATION
Required
❌
Third-party sign in options
❌
Needs phone number
❌
Personal account
✅
> WEBSITE EXPERIENCE
Aesthetic Interface
✅
Easy-to-use
✅
Quick process
✅
Multi-language detection
n/a
Printable report
❌
Clear results
❌
> SUPPORT
Leave a message
✅
Instant chat
❌
Phone
❌
Social media channels
❌
Blog
✅
FAQ and guides
✅
FAQ
Writefull Reviews
Even though our findings from our research and the outcomes from our mystery shopping efforts are objective conclusions on their own, we also incorporate feedback from other users of the service to gather the most information possible. By supplementing our review with other users' viewpoints, we can present a fully rounded, impartial, and thorough description of this service provider.
Is Writefull a Scam?
No, Writefull is not a scam. The company does not impose any prior obligations on users, allowing them to test its services, including the AI detector and other academic writing services, before making final decisions. Our collaboration and experience with this online company have confirmed its legitimacy and shown that it operates in good faith.
Is Writefull Legit?
Yes, Writefull is a legitimate service. We tried its AI-detecting capabilities on three different documents and received certain results. Our interaction with the provider confirmed its legitimacy, and we found no evidence to suggest that it is fraudulent or operates outside of legal parameters.
Is Writefull Safe?
Yes, Writefull is completely safe and does not pose any threat to users or their private information. The organization's security and privacy policies describe in detail the conditions for collecting and storing user information, ensuring transparency and adherence to best practices in data protection. You can review these policies on the official website of the organization to understand how Rightful safeguards user information, affirming its commitment to safety and security.
Is Writefull Trustworthy?
Yes, Writefull is a trustworthy service, earning the trust of many students, educational institutions, editors, and copywriters. Its status as a reliable assistant in the field of academic writing and detection of generated content is confirmed by its widespread acceptance and use within these communities. The company's commitment to quality and adherence to best practices further underscores its reputation as a dependable resource in the field.
Is Writefull a Good Service?
Yes, despite observing some ambiguous results in scanning documents, Writefull is considered to be a good service. With an A*Help score of 47.67, it demonstrates a commitment to providing its customers with a satisfactory overall experience. While there may be areas for improvement, the service's performance and offerings align with the needs of many users in the fields of academic writing and content detection.
Follow us on Reddit for more insights and updates.