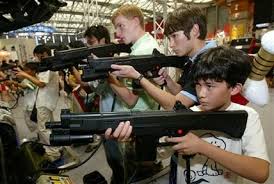 Times when children would spend their entire free time playing with peers in the streets have mostly gone. Modern children and teenagers prefer calmer forms of entertainment, such as watching television, or in a large degree, playing video games. Although video games can contribute to a child's development, many of them, unfortunately, are extremely violent. Moreover, games propagating murder and violence, such as Mortal Kombat, Outlast, Grand Theft Auto, and so on, are popular and are being advertised everywhere, making teenagers willing to play them; the fact that they are marked by the ESRB (Entertainment Software Rating Board) does not help much. However, considering the nature of such games, they should not be allowed for teens to play.
For the human brain, there is no big difference between a real-life situation, and an imaginary one; this is why we get upset even if we think about something unpleasant. For children and teens, who usually have a rich imagination, everything is even more intense. Virtual experiences for them may feel as real as daily life; this happens due to advanced technologies, making computer graphics look extremely close to reality,
Did you like this guide / sample?
Sign up and we'll send you ebook of 1254 samples like this for free!
80+ essay types
1000+ essay samples
Pro writing tips
Comment/Ask an Expert
Related Writing Guides
A persuasive essay is a form of academic writing that is built around a central argument. These essays are sometimes called argumentative essays because of this. In this category of composition, the writer aims to persuade the reader to accept his or her...