Plagiarism is the practice of taking credit for other people's work by adopting or replicating it in one's documents. It can occur inadvertently or knowingly, depending on a person's level of integrity and knowledge of academic and professional regulations. Every educational institution has a plagiarism policy whose contravention can lead to significant consequences such as suspension or zero credits. Hence, students should understand the meaning and implications and how to detect and prevent it.
However, plagiarism detection and avoidance require high professionalism and focus during essay writing, increasing the complexity of assignment completion. As a result, various plagiarism checkers have cropped up over the years to assist students in guaranteeing the originality of their homework. These entities also offer complementary services such as grammar and language complexity checks.
Points to consider in plagiarism checker reviews
1. Cost
The internet is a global market with all kinds of commodities and services. Some will offer free services in exchange for a few advertisement clicks, while others are freely available from benevolent organizations that derive their income from other services. In this case, free plagiarism checking tools are often limited with no in-depth checking algorithms. This quality also applies to some cheap ones, which limit the users' guarantee of plagiarism-free content. Conversely, the most efficient plagiarism tools cost a few dollars and offer additional services such as grammar checks and the complexity of the text. Hence, good plagiarism checker reviews must include the cost concept, enabling the customers to analyze usage alongside pocket friendliness.
2. Accuracy and scope
An even more critical characteristic of the best plagiarism checker for college students is the report's accuracy. The tool should have an advanced algorithm with the capacity to compare your document with previously submitted essays and academic assignments. Since institutions of higher learning limit access to their libraries, the checker must be strong enough to check for similarities in limited access works. Some of the freely available tools will only compare your essay with open access documents online, demonstrating low accuracy in the final report and risking your grade and academic performance.
3. Speed
Imagine being on a tight deadline, but your preferred plagiarism checker requires at least 30 minutes to produce a report! The best plagiarism checking tool must be efficient enough for use during stressful times. It should detect plagiarism from various document types and formats without forcing users to change their presentation options. Every student has that one moment where procrastination gets the best of them. At that time, you are forced to complete a perfect plagiarism-free essay with only a few hours to go. Consequently, a fast plagiarism checker comes in handy, allowing you sufficient time to make any relevant changes to your final document.
4. Ease of access
Additionally, a good plagiarism checker should be easy to use. Not all students are IT experts and researchers. Students are not always equipped with the skills to code search spiders for technical search engines. Hence, the best plagiarism checker for students should have an attractive graphical user interface (GUI) and specific search criteria. It should also be available online through simple registration processes. The system should also present the report in a comprehensive yet easily understandable structure and format. The tool should provide the score or level of plagiarism as a percentage since educational institutions set their requirements in percentages. Thus a good checker should have modernized and secure software designed to ease the users' work without compromising their cyber security.
The best plagiarism checker for students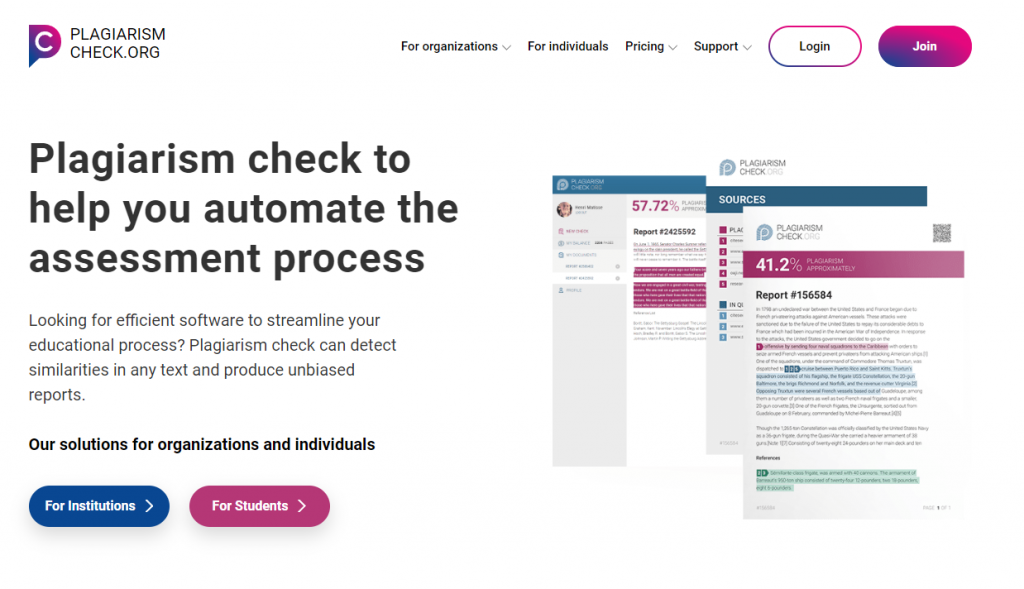 PlagiarismChek.org is perhaps the best plagiarism checker available on the market today for students and instructors. The site outperforms all other providers in all plagiarism checker review parameters, including accuracy and scope, ease of access, cost, and speed. Plagiarism Check detects similarities in all document types and produces unbiased reports in an impressive two minutes. It has a readily available support department accessible through the contact details provided online.
Besides its complex plagiarism detection algorithm, the site features a straightforward checking process that anyone can use regardless of academic background or credentials. With four easy steps, you get your unbiased report in minutes and even seconds for smaller documents. You need only submit the essay in standard document formats such as doc/docx, txt, odt, rtf, odp, pptx or pdf, launch the check, view results, and download a pdf report.
PlagiarismCheck.org also boasts flexibility through seamless integration into Google classrooms, Moodle, Canvas networks, and even docs add-ons. Besides, its advanced algorithms enable in-depth detection yielding comprehensive reports in an interactive platform and downloadable file formats. These advantages explain why PlagiarismCheck.org is popular among college students, instructors, journalists, and writers globally.
The site also guarantees the security of your document and other personal details by limiting access to the report to only the account owner. Although the plagiarism report is available online in your account, the assignment is not accessible through another platform. Its state-of-the-art software protects users from cyber-attacks and data theft, guaranteeing the safety and security of your personal details, including financial information and passwords. It has a strict confidentiality policy that ensures the thousands of users and documents are totally inaccessible to others.
PlagiarismCheck.org is also the most affordable alternative among paid checkers, with various attractive packages to match your budget. The site offers a new user discount of up to $5, equivalent to a free check for a two-page essay. This pricing rate is relatively low compared to other platforms with rigid payment options and limited monthly, quarterly, and yearly payment options. It allows you to only pay for services you have enjoyed by enabling the user to pay by the number of pages instead of the registration period.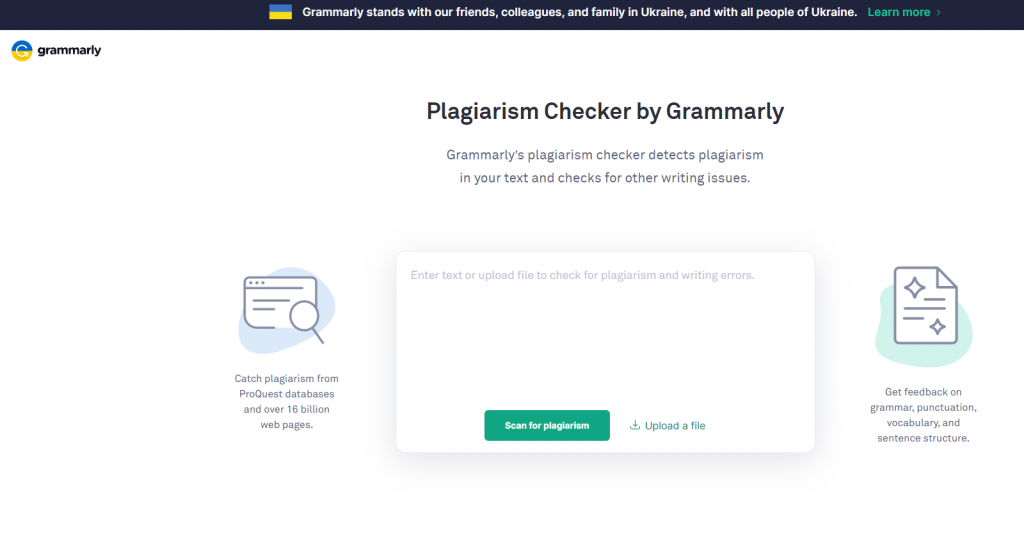 Grammarly is one of the most popular plagiarism checking tools globally due to its advanced algorithms and interactive GUIs for grammar and structure. The company is one of the leading providers of grammar checking service providers globally and has integrated plagiarism checking into its tools, increasing accessibility to users. It also boasts of widely accepted formats due to its improved integration options for Microsoft word and outlook. However, Grammarly still lags in the pricing and accuracy of the report. Although the company does a commendable job in speed and ease of access, its software experiences significant challenges in in-depth detection. Its English structure and grammar checkers services remain unmatched in the market, but its plagiarism checker has a few notable limitations. Notably, it detects similarities in most online sources but often misses some in-college submitted assignments. It may fail to flag plagiarism in local libraries, especially in institution libraries that use advanced algorithms to prevent accessibility from outsiders.
Despite the benefits and minor challenges in the detection process, Grammarly faces an even greater limitation in cost. Its pricing options are rigid, limiting accessibility by the duration of registration instead of the service provided. As a result, it is most favorable to educators, editors, and writers who review high volumes and not students. Hence, Grammarly allows users to check plagiarism in bulk by allowing multiple uploads at no additional cost. It offers free checks for sentence structure, spelling, grammar, punctuation, and conciseness in its most basic package, with plagiarism checking services only available on the paid options. The premium option has three categories structured as monthly, quarterly, and annually, with the cheapest costing a minimum of $12, payable as an annual lump sum.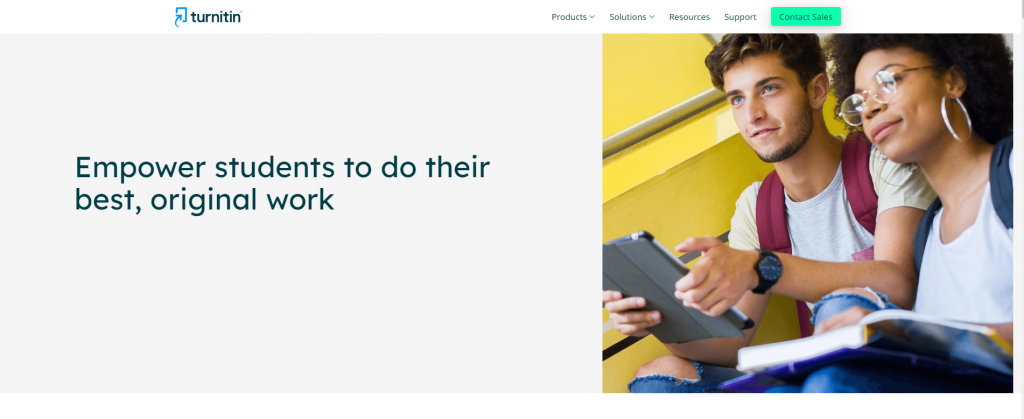 Turnitin, on the other hand, is one of the most efficient plagiarism checking tools available in the market, with millions of users globally. It utilizes advanced algorithms to detect similarities in a large database of resources available from a network of institutions, journals, and storage providers over the internet. However, it has no access options for non-affiliated individuals. Only faculty staff and institutions can grant access to the tool, often forcing educators and instructors to use it as an assignment submission platform. This limitation implies that your plagiarism checking process is accessible to your professor, and you cannot edit the final document without their knowledge. Like plagiarismcheck.org, tutors on Turnitin see the same report as the student retaining transparency at all levels. They have partnered separately with several educational institutions to provide plagiarism checking services for students, researchers, and educators. However, Turnitin's pricing varies with the size of the education entity and services contracted as the company provides other complementary services in its packages.
Other top plagiarism checkers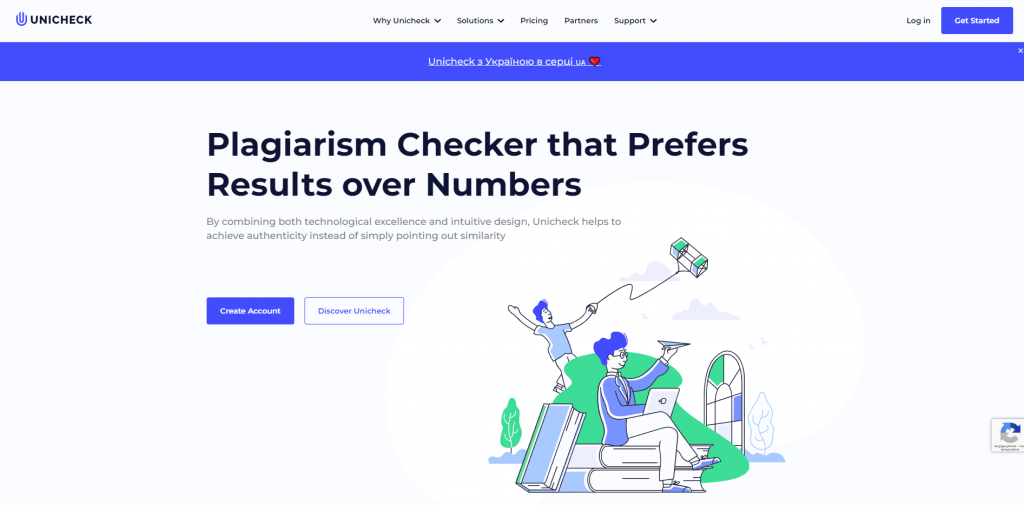 Unicheck is the closest you can get to the top three best plagiarism checkers. It boasts almost similar levels of accuracy, speed, and ease of use characteristics to the leading providers. Like PlagiarismCheck.org, its pricing is service-based, with a minimum of 20 pages per payment at $5. However, the price changes based on the value requested. Besides, Unicheck is easy to access with a quick registration process, but you cannot check your first document without making an initial payment. You can only pay using PayPal, limiting access to those wishing to use other services. Other than pricing, Unicheck's most significant limitation is its GUI which differs slightly from other sites. A new user often struggles to upload their first file.
However, the site is relatively competitive, offering highly accurate and downloadable reports with links to the duplicated text location like the top three providers. It also relies on advanced algorithms that can detect similarities in online documents from the internet and libraries globally. Its reports indicate the similarity score in real-time as the site has personalized dashboards for various functions. It allows users to upload bulk documents and use customizable search options when checking for content duplication. Besides, it can be integrated into google chrome and docs, although this connectivity is not available for other writing platforms and applications.

Quetext applies deep learning, contextual analysis, and word placement in its plagiarism detection software. With advanced algorithms designed to detect various types of plagiarism and comparison with expansive databases, the site guarantees high-quality reports with stellar accuracy. Besides, its reports are also downloadable and interactive with highlighted texts and links. However, its pricing is time-based, with monthly packages starting from as little as $10 monthly. Unlike Grammarly, Quetext has an additional price determinant based on the number of words in a document. The pricing packages increase in cost based on the permitted number of words per upload. This feature limits access to the site for students and educators, making it ideal for commercial purposes. With the level of accuracy, ease of access, and speed of report generation, Quitext is mainly used at the organizational level.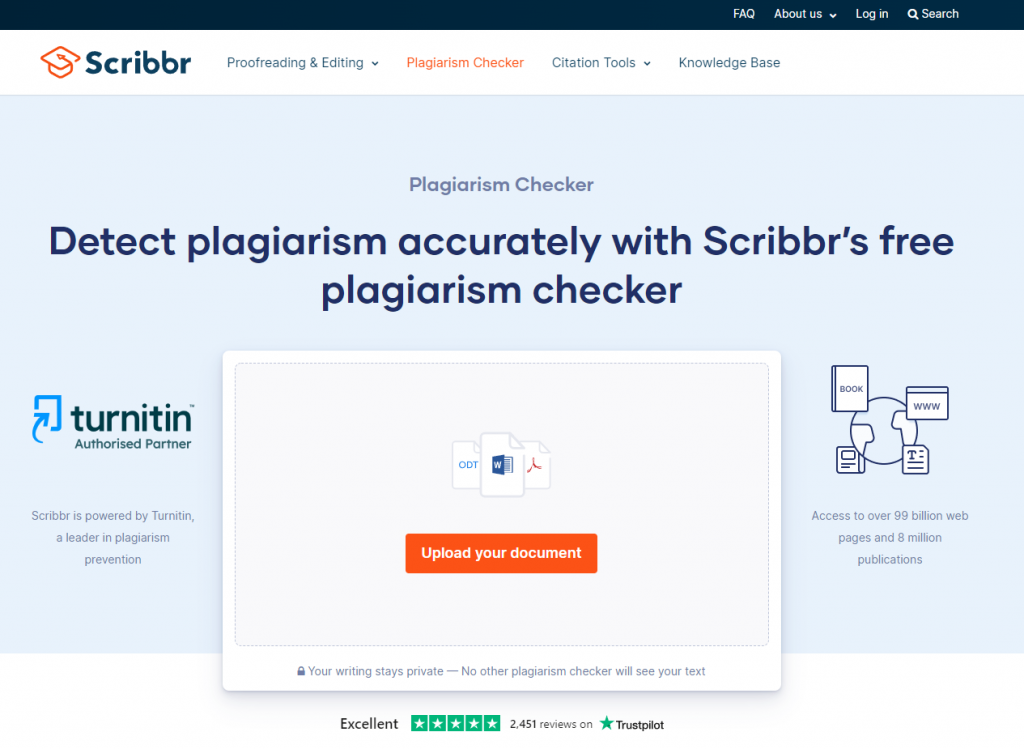 Like Grammarly, Scribbr is a suite of tools designed primarily for APA citation and proofreading. Plagiarism checking is a complementary service added to the main package for additional benefits to the user. As a result, the site is most suitable for students and education, making it popular in dissertation and essay writing services. Since Scribbr does not specialize in similarity detection, the site partners with Turnitin to provide plagiarism checking services.
Its pricing strategy is almost similar to the market rate, with a minimum of $20 based on the number of pages and content. It offers various payment options based on the region and accessibility to the customer. However, the pricing process is not transparent, and the same document can yield different costs if presented in various formats. However, the plagiarism checker provides a high-quality, interactive report highlighting the similarity index and links to duplicated content. Despite this commendable job in plagiarism checking and ease of use, Scribbr has relatively poor security features. There are no specified guarantees about information protection and cybersecurity threats.

Plagramme is uniquely designed for students and tutors with a broad database for comparison. It also highlights common plagiarism errors such as poorly paraphrased sentences and phrases, indicating similarities even in differently worded texts. Its reports are comprehensive with high accuracy and attractive presentation. Plagramme has a definitive scoring system that makes the results reliable. Unlike the top three plagiarism checking tools, it provides a free check option with limited features and shallow detection for personal works and testing purposes. Besides, its services are available in multiple languages, including French and Spanish. The software also allows the document owner to edit the document and make changes on the site, making it ideal for content writing where formatting is not always specified. Plagramme is also easy to use and has a relatively competitive pricing structure for detailed reports starting at $0.35 per page with a minimum $5.5 initial payment.
Although its algorithms are highly accurate in detecting duplication, the system is designed to make changes to the document. This feature is risky for most students as changes to your document can alter the quality of the work and lead to lower grades. However, its downloadable reports allow you to edit the original document as it can be downloaded in .docx format. As a result, plagramme is most suitable for educators whose interest is only the similarity score as they need not preserve the original version of the uploaded document.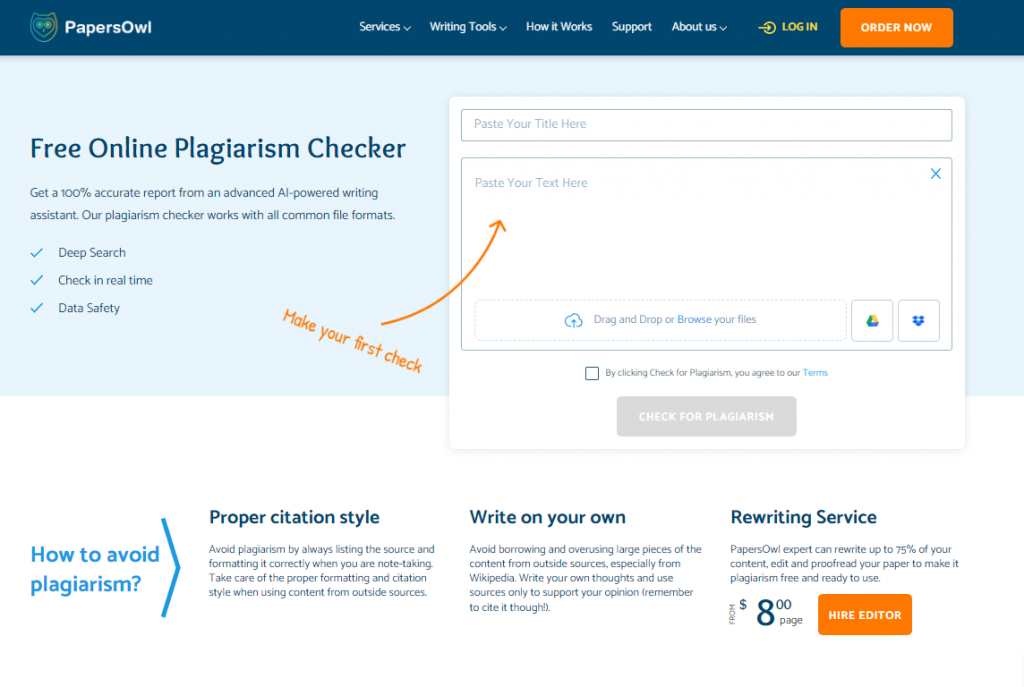 PapersOwl is not exactly a plagiarism checking tool. It features in the top ten plagiarism checkers list due to its free plagiarism checking tool.The site offers professional paper writing services with plagiarism detection as a complementary service. It offers free checking services with an option to rewrite your paper for as little as $8 a page. The company has expert editors available to help you remove or paraphrase plagiarized text. It has no limitations on the file format and amount of content. However, the speed of report generation is highly dependent on the size of the document. You can also scan multiple files and get similarity scores separately. Although plagiarism checking is not its primary service, the site does a pretty decent job in similarity detection using its deep search technology in real-time. It also guarantees the safety of your documents and allows you to make changes through the text box.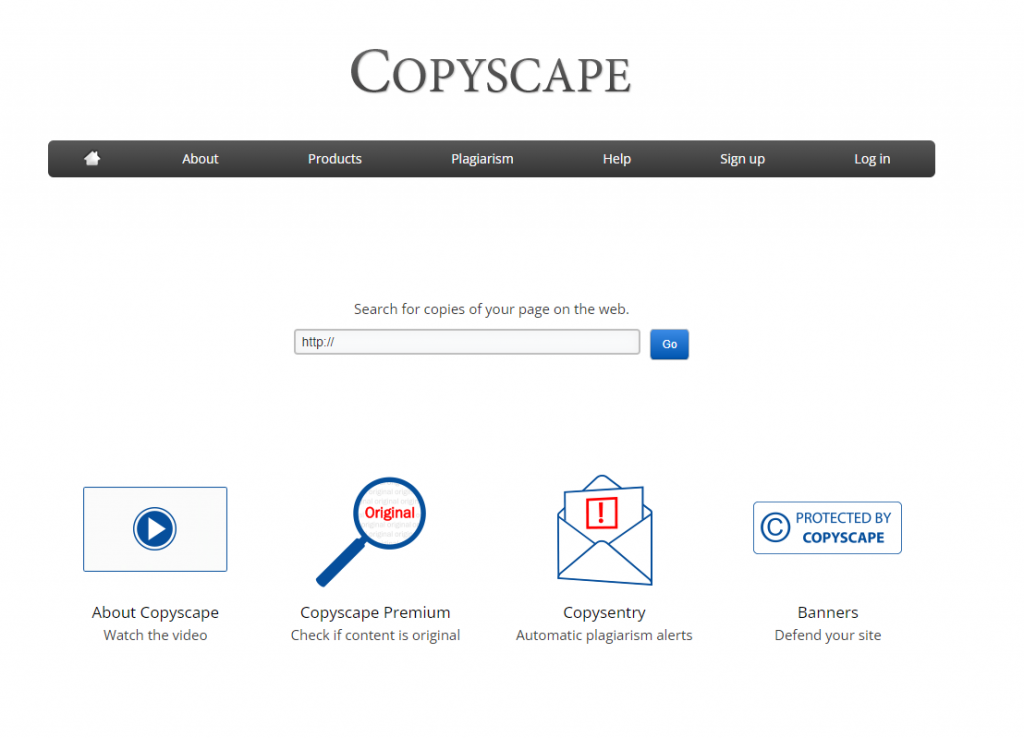 Copyscape is a free cloud-based plagiarism checker with limited options. It enables the user to compare similarities in several documents through batch uploads and URL checks. It also has a premium option with additional features. However, the site is most suitable for content creators managing websites and producing text for online publication. It allows website owners to check the duplication of content on other platforms through a simple URL search. Users can even track their similarities through the automatic plagiarism checks provided through a special API under the premium option. An additional feature enables a writer to eliminate duplication in their content.
Despite these advantages, Copyscape has critical limitations for students mainly due to the limited file types allowed, as one can only upload word and pdf documents. The company also has no downloadable plagiarism reports, and the results are not interactive. Besides, the premium option requires the user to adopt specific codes to automate the checking process. This complexity may inhibit accessibility and ease of integration to commonly used writing applications, making Copyscape relatively unsuitable to students and educators. Although it provides in-depth searches and comprehensive comparisons, the site is not easy to use.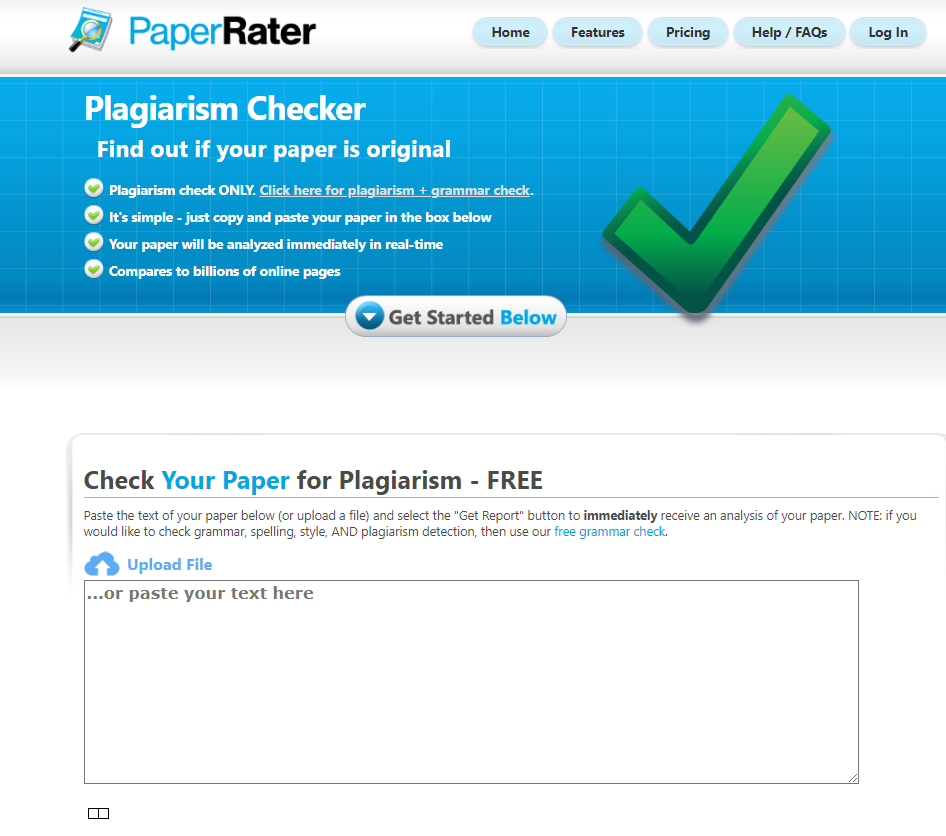 PaperRater features in this review due to its free access option. Although the site offers additional services such as grammar and spelling checks, its plagiarism checker does a stellar job for a free tool. It compares your document to billions of others in various databases accessible online and provides you with a comprehensive report. However, the site is relatively slower than the leading providers. Its report is also shallow, only providing links to the duplicated content with no downloadable document. It also provides a plagiarism score in percentage but does not indicate the similarity percentage per link or source. Although it is easily accessible, the free version is not attractive. Its premium version lets you download the report and provides an in-depth detection at $7.95 per page. The paid option also offers grammar and spelling checks, allows you to upload various file types, and has an improved processing speed.
Frequently Asked Questions (FAQs)
What is the most accurate plagiarism checker?
The most accurate plagiarism checkers are Turnitin, PlagiarismCheck.org, and Grammarly, in that order. You can always test the accuracy of a site by submitting the same report several times with a few changes. The most accurate sites will return the same score.
What is the best free plagiarism checker 2023?
Free plagiarism checkers provide shallow reports with significant limitations in accessibility and editing. PaperRater is the best free plagiarism checker despite the constraints and slow speed.
Is there any plagiarism checker better than Turnitin?
PlagiarismCheck.org matches Trunitin's level of accuracy and is readily available to students and educators outside their institutions. It also partners with educational entities like Turnitin and relies on billions of sources in various databases, including school libraries.
Is Turnitin better than Grammarly?
Turnitin is definitely better than Grammarly in the accuracy and reliability of the report. On the other hand, Grammarly is better than Turnitin in ease of access and pricing.
What plagiarism checker do universities use?
Most educational institutions partner with reputable plagiarism checkers like Turnitin and PlagiarismCheck.org to avail similarity detection services to faculty staff and students.
Follow us on Reddit for more insights and updates.