What will education look like in 10 years?— a timeless question. It is common to get lost in the visions of upcoming changes that the present seems like a given, but not in the twenty-first century. There is no time like the present to mention that technological shifts, global twists and turns, and other unscripted changes are majorly influencing the education sphere.
Everyone in the system witnessed modernization long before. However, nowadays, changes are so rapid that educators need helpers in the classroom. One of such saviors is a plagiarism checker: a tool that can protect the intellectual property, integrity, and authenticity of writing.
The AcademicHelp team searched for the best plagiarism detectors that bring purpose to teachers and students. As always, we did the initial research, tried the most popular tools, assessed the final results, and now, we are ready to present the final verdict. Below, you can get more information on our evaluation approach.
What are the A*Help rating criteria?
The A*Help project started as a platform that could be a safe space for learners. Do you need help on how to get better at subjects? Are you looking for apps that can help you study better? Do you need tutorials on writing more effectively? AcademicHelp is at your service.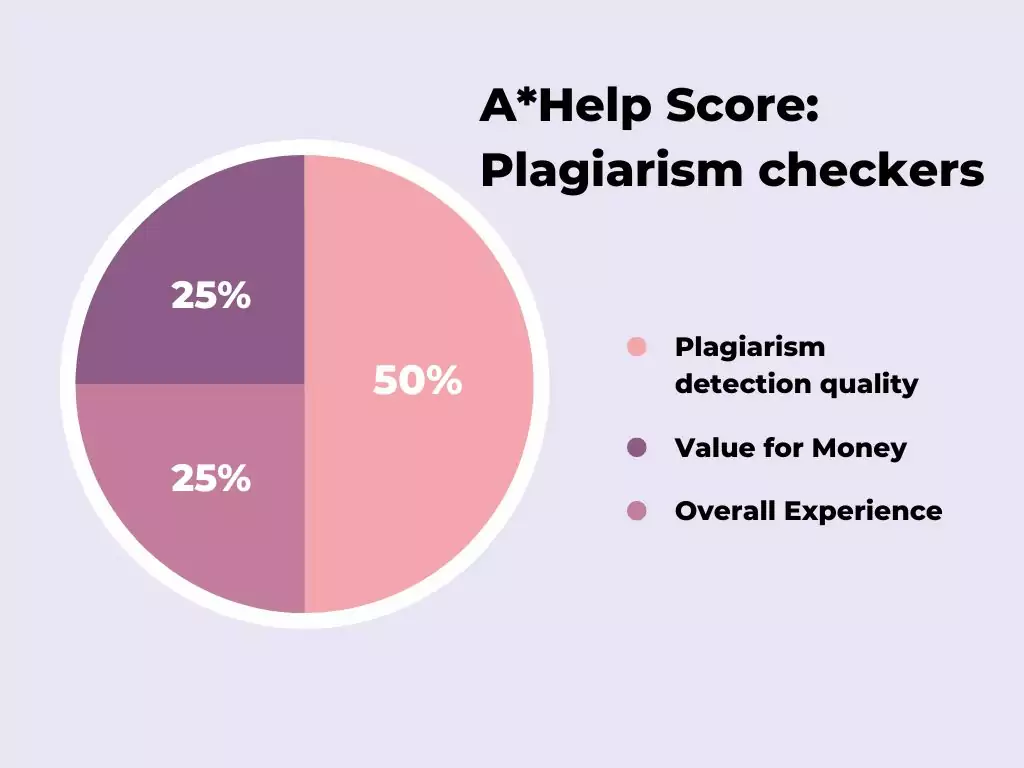 This time the situation was no different. The issue of plagiarism exacerbated over the years. With free access to the Internet and AI writers, every written paper is in question. Hence, we did a mystery shopping that helped us find the best tools to have in the classroom.
The evaluation of services is based on the three main criteria: value for money (25 points), overall experience (25 points), and plagiarism detection (50 points). When conducting our experiment, we pay attention to minute details. For a better understanding, we pose a real task before plagiarism detectors. Our experts prepared 5 different essays on the topic "Characteristics of a Leader" to be run through every service. The first essay was completely written by a person to give a human perspective. The second one was copied straight from the Internet to see how a readily available sample performs. For the third and fourth essays, the A*Help team used AI tools, specifically ChatGPT and Quillbot, to rewrite most of the content (about 80% of these essays were generated by the AI). Finally, in the final essay, we changed all the characters in the text, just to see if this type of cheating can be detected.
| | | |
| --- | --- | --- |
| > Text | > Best result | > Acceptable result |
| Human-written text | 100% free of plagiarism | 10% margin of error |
| Internet sample | 100% plagiarism detected | 10% margin of error |
| AI paraphrase (2 texts) | 100% free of plagiarism | 10% margin of error |
| Replaced characters | 100% plagiarism detected | Flagged character replacements |
Now, let's go through the secondary yet necessary evaluation aspects are the value for money and overall experience. The former criterion helps us determine if the platform offers a good range of features for its price. And as for the former, the overall experience factor indicates how easy and convenient it is to use the service.
Value for money – 25% of the A*Help score
At Academic Help, we prioritize recommending platforms that give you good value for your money. To do this, we start by examining key factors like the types of features, and sources that a plagiarism checker can detect, as well as price and special offers. When using a plagiarism detection platform it is vital to have a tool with a wide range of features that can easily detect the presence of cheating. Hence, we put the major focus on that aspect.
Features – 15 pts
Sources – 6 pts
Price & special offers – 4 pts
Features
Everybody wants to find a versatile tool that can cover their academic needs. The same goes for plagiarism detectors. Therefore, the AcademicHelp team meticulously assessed the number of features each service offered. Usually, the basic features were: to scan text and files for plagiarism and to receive the report after the detection. Some anti-plagiarism services would offer additional features to enhance the text with the help of grammar and spelling checkers. Rarely, we would have a chance to access the advanced features, such as cross-language search, AI detection, text comparison, and OCR scan.
Often plagiarism checkers come with restrictions, such as a word count limit and a set number of free evaluations. The AcademicHelp team understands that the more limitations a platform has, the less convenient it is for users. This means students might have to use multiple services to check their writing or pay for a subscription.
Sources
Another vital aspect is to find a plagiarism detector that can identify the sources correctly. Essays, reports, theses, and many other written pieces include a lot of academic citations. The job of plagiarism checkers is to make sure that students reference professional thoughts in the right way and do not copy the work of others without proper attribution.
Price & special offers
When using different services and tools, learners always search for platforms that they can access for free. So, the AcademicHelp team checked if plagiarism detectors offered a free trial and discounts. Plus, we paid attention to the types of paid subscriptions, whether they were expensive, affordable, or cheap.
Overall experience – 25% of the A*Help score
Many students are in search of effective services that can secure their written work. And most importantly, they look for easy-to-use platforms. At AcademicHelp, we understand that the process may take a while. That's why during our hands-on testing, we focus on several key areas that include accessibility and user experience, the registration process, and assistance from the customer support team.
User experience & Registration – 20 pts
Support – 5 pts
User experience & Registration
User experience and registration make the most of the evaluation in the overall experience criteria. The main reason is that we value both the effectiveness of the platform and user-friendliness.
We cannot stress this enough, but the first-hand experience is a crucial part of our mystery shopping. Since we are using all services as new users, we take all the steps as we should. Everything starts with the registration process. This is important because some platforms require an account to access their features. At this stage, we assess how easy or complicated the registration is, and what information is needed like an email or phone number. We also check if there are any browser extensions, as this can make things easier for many users.
Next, we look at the website's user experience. We check if the interface is easy to navigate and interact with. Our team pays close attention to how straightforward it is for users to find and use different features and services on the platform. Additionally, we evaluate how fast one service can scan the text and provide the final results.
Support
Another important factor is the quality of the support system on a platform. At first glance, using plagiarism detectors may seem simple. But having a support chat, guides, and even an FAQ section is important for solving any issues that come up. The A*Help team checks the availability of such helpful information.
Plagiarism detection quality – 50% of the A*Help score
The final part of our mystery shopping is checking how accurate the plagiarism detectors are. All anti-plagiarism services scanned documents rather quickly and provided us with full reports. As we mentioned before, the AcademicHelp experts used 5 different essays to run through these tools.
The plagiarism detection score, which is 50 points in total, is composed of individual evaluations for each essay. Here's how the grades were distributed:
A fully human-written text – 20 pts
A sample from the Internet – 20 pts
An AI-paraphrased text via ChatGPT and Quillbot – 5 pts
An entire text with replaced characters – 5 pts
The final score is a sum of these individual evaluations, helping us gauge the accuracy and effectiveness of each platform's plagiarism detection capabilities.
The Final Thoughts
The AcademicHelp team aims to make studying easier for students. This guide explains how we evaluate plagiarism detection platforms. We focus on three main areas: value for money, user experience, and plagiarism detection quality. We go into detail about why these factors are so important for our thorough reviews. We aim to find services that can effectively detect any tweaks and changes in the text. For more in-depth information on individual platforms, please consult our detailed reviews.
Read more:
How We Test Custom Dissertation Writing Services
How We Test Programming Homework Help Websites
How We Test Everything We Review
How We Test Language Learning Websites