Quick Overview
Grammar.com is a completely free tool solely dedicated to checking grammar and spelling in different texts. When we used the service, we found that it effectively corrected grammatical errors and misspelled words. It also helped us improve our punctuation a little bit. Aside from that, it offers a selection of extra features and covers different languages. In our A*Help ranking it received a score of 56.5/100 pts.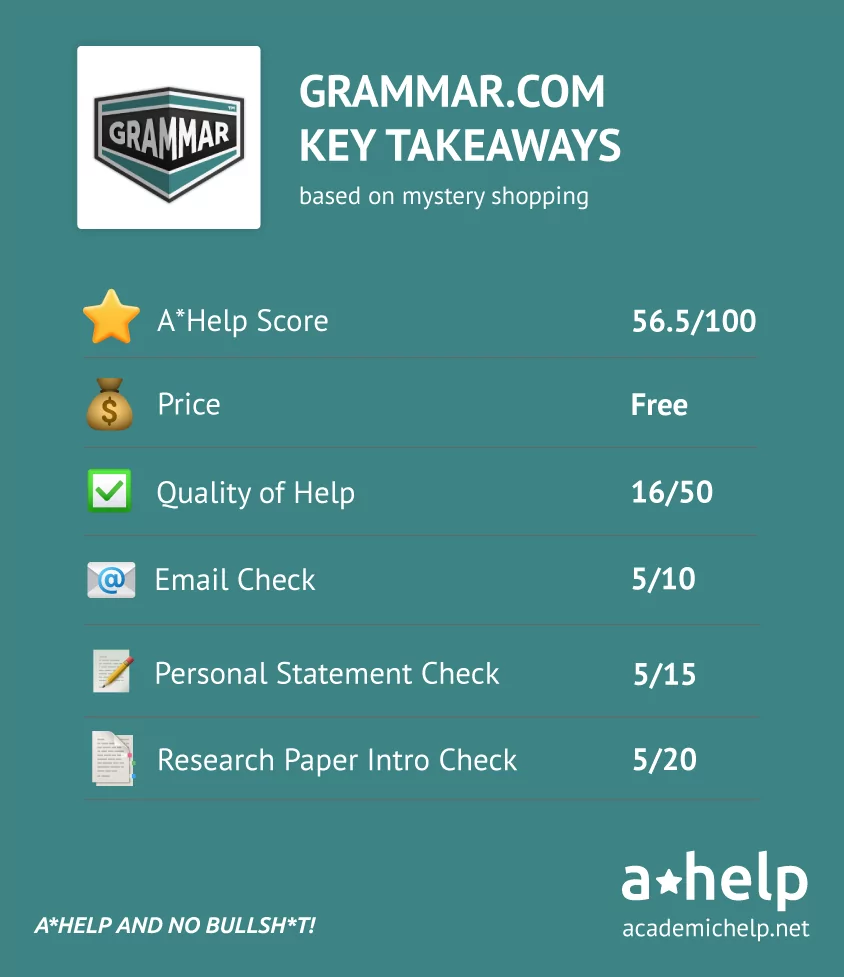 Grammar.com Value For Money — 30/30
Grammar.com & Overall Experience — 10.5/20
Grammar.com Quality of Help — 16/50
| | | | |
| --- | --- | --- | --- |
| | >Txt 1 – Email | >Txt 2 – Personal Statement | >Txt 3 – Research Paper Intro |
| >Grammar | 2/4 | 0/5 | 3/5 |
| >Punctuation | 2/5 | 1/3 | 2/5 |
| >Spelling | 6/6 | 4/5 | 2/5 |
| >Word Use | 0/4 | 1/6 | 1/15 |
| >Word Order | 0/1 | 1/2 | 0/2 |
| >General Mistake Correction Score | 10/20 | 7/21 | 8/32 |
Grammar.com Main Specs
>Supported languages
English, French, Spanish, German & others
>Features
Grammar
✅
Spelling
✅
Punctuation
✅
Words/Sentence suggestions
✅
Not too often though
>Possible extra services
Translation
✅
Rephrasing
✅
Wordcount
✅
>Free use & Wordcount Limites
Free use
✅
Without limits
Wordcount
❌
>Subscription
Needed
❌
Plans
❌
>Registration
Need to create an account
❌
Email for registration
✅
Third-party registration (Google, Facebook, Apple)
❌
>Website Experience
Easy-to-use platform
✅
Aesthetic Interface
❌
Irritating ads
❌
>Support
Contact center
✅
Email, live chat, contact form, phone, WhatsApp
✅
Email
Guide
❌
>Document Upload
Docx/doc files
❌
Pdf files
❌
Word
❌
>Access
Apps
❌
Browser Extension
✅
>Checking process
Underlines each mistake
✅
Underlines incorrect sentences
❌
Option to correct all mistakes at once
❌
Shows the general grammar score
❌
Underlines mistakes that are not there
✅
FAQ
Grammar.com Reviews
We've got your back when it comes to making the right choices online. To bring you a full review of any platform, we explored platforms like Trustpilot, Reviews.io, and others, pooling together user feedback. We've considered both the good and the bad to give you an honest take on possible pitfalls you might face with the service.
Is Grammar.com a Scam?
No, we've verified that Grammar.com isn't a scam. After testing its functionalities with various texts, its grammar and spelling correction tools indeed did their job.
Is Grammar.com Legit?
Absolutely. Grammar.com has made a notable footprint online. Our research, combined with user experiences, shows that Grammar.com is a genuine platform for grammar and spell checks.
Is Grammar.com Safe?
As we checked, Grammar.com allows users to benefit from its main features without having to sign up or provide personal info. This ensures a hassle-free and safe experience. We feel good about suggesting Grammar.com as a safe platform for your writing needs.
Is Grammar.com Trustworthy?
We did a thorough check on Grammar.com for you. While it caught many spelling and grammar errors, it did miss a few. It's a handy tool for simple writing checks, but if you've got an important piece, you might want to review it a bit more or seek another solution.
Is Grammar.com a Good Service?
Our A*Help team thoroughly reviewed Grammar.com and its ability to efficiently detect and correct grammatical mistakes. In the end, the platform received an A*Help score of 56.5/100 pts. This result reflects the service's varied pool of offers, as well as its ability to effectively fix spelling and grammar mistakes.
Follow us on Reddit for more insights and updates.