The academic journey is full of obstacles. Sometimes it can become hard for students to push through on their own, especially when they have other responsibilities in life. Education is not just about what happens in the classroom. Students have busy lives with many things to juggle. When they come across difficult concepts or need help with exams, tutoring websites are there to help. With just a few clicks, students can connect with experienced tutors who can help them understand complex subjects.
Tutoring websites offer more than just convenience, although it is one of their apparent advantages. Through personalized lessons and feedback, these platforms help students develop important skills and push through their hardships. To make that process even easier, our team at A*Help strives to cater in-depth reviews for our readers. Our goal is to assist students in their academic journeys and provide them with trustworthy methods of evaluating the services based on selected criteria. With that being said, if you are going to find a tutoring website that fits your needs best, you can use our guide as a wind rose.
What is the A*Help score?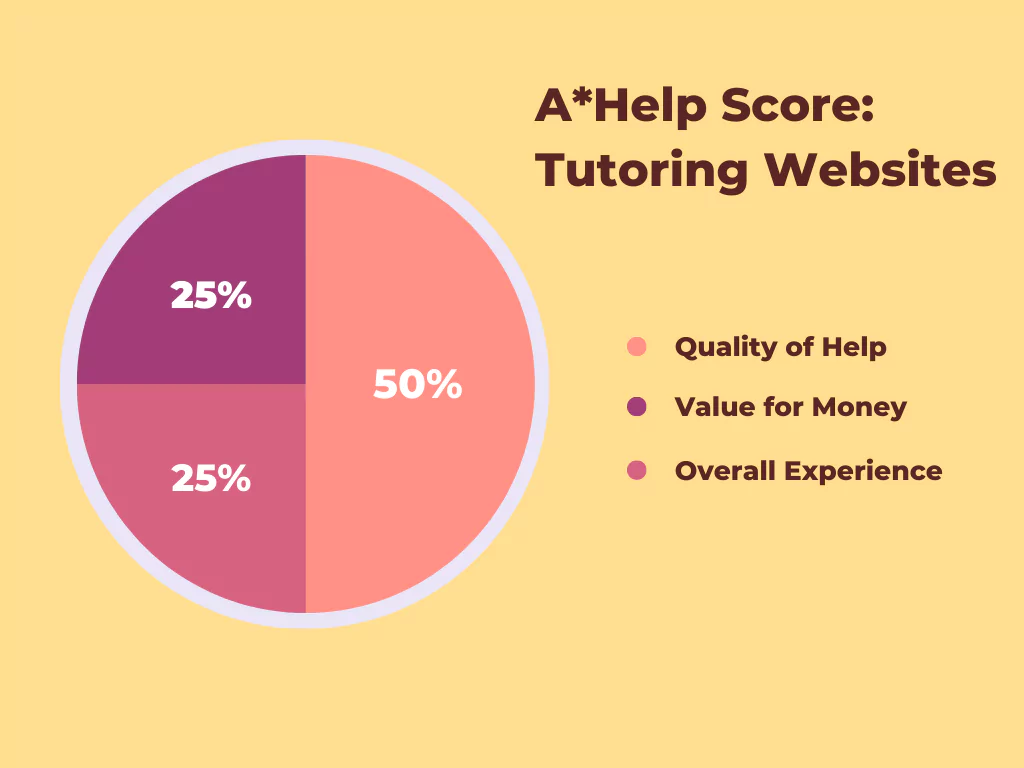 We want to establish a meaningful connection with our readers and such connections are built on trust. This is precisely why we develop specific criteria for each type of service we evaluate and then explain it step-by-step, so that you can decide for yourself. We understand that when looking for the "perfect match" among tutoring websites, most people have different things in mind and the definition of "perfect" differs from one case to another. So, let's break down the A*Help score piece by piece so that you know if the service is a fit for you.
The three main categories in the A*Help score for tutoring websites are value for money, overall experience, and quality of help, which allow us to assess the service from different aspects. All of the criteria sum up to 100 points (which is the highest result there can be) and equal 25 points, 25 points, and 50 points respectively. However, we also take into consideration the thoughts of regular users and gather their feedback online, so that way our reviews are unbiased.
In order to get to the bottom of it and test the service to the best of our ability, we conduct a mystery shopping experiment where we take on the role of the student who has a demand for a tutor in a specific field. Then, we go to the website, purchase a plan or pay for the tutor session, take the lesson, and try out everything the service has to offer. We think that only by going through the process from start to finish we can put our hearts on our sleeves in terms of the review.
The concept of value for money is simple. It examines whether a service is worth the cost and offers enough features for the price of the subscription. Another crucial aspect we consider is the overall experience, which encompasses factors like customer support, the convenience and security of the website, and the ordering process. However, the most significant component contributing to the total A*Help score is the quality of help. We assess the credibility of these educators and their ability to meet students' needs, creating specific, tailored lessons and writing explanations that are correct and straight to the point.
Value for Money – 25% of the A*Help score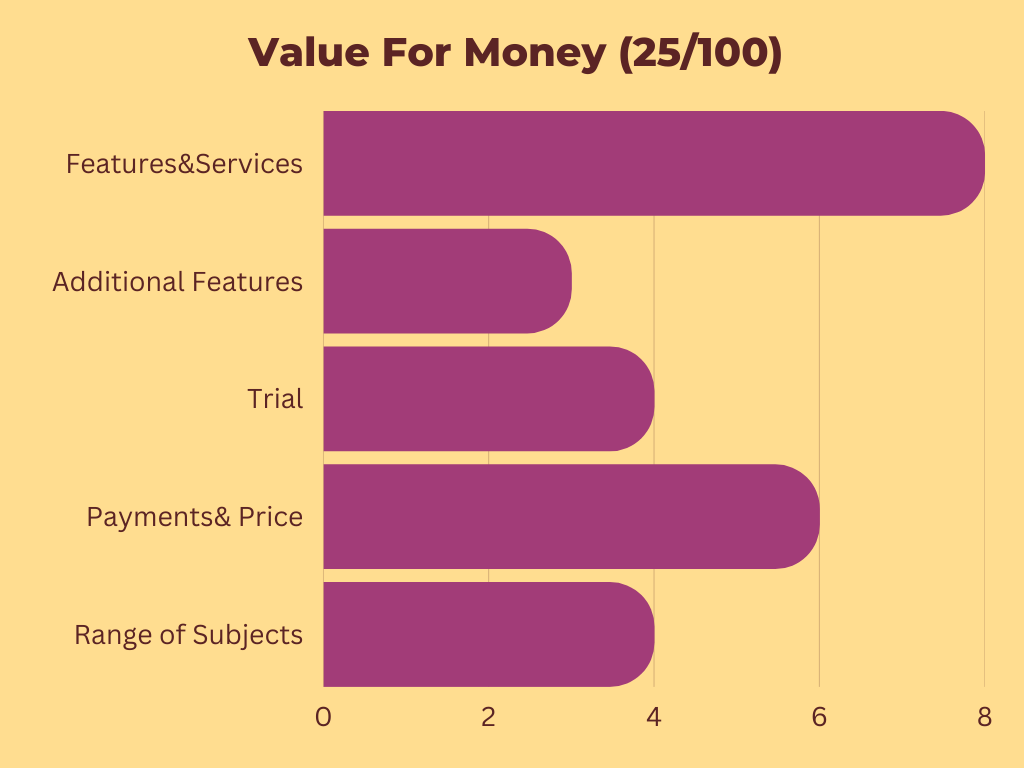 Features and Services – 8 points
Additional Features – 3 points
Trial – 4 points
Payments & Price – 6 points
Range of Subjects – 4 points
Features and Services
A good tutoring website should take a more complex approach when assessing the needs of its users. This is why it is important for such a website to have a base of different guides, blogs, and Q&A bases. Apart from it, a sense of community is crucial when dealing with academic problems, since it can be much easier to conquer them with a little additional support. Community activities and posts are meant not only to assist basic academic needs but also to build an encouraging atmosphere. So, we check whether the service can offer something more than just a one-on-one session and create the most effective learning environment.
Additional Features
Having several subscription plans, many tutoring websites offer other study solutions which can include quizzes, flashcards, study groups, or bootcamps, which is always a nice touch when you want to deepen your understanding of the subject. With the rise of AI in education, additional features can include AI-based services such as various detectors, checkers, tutors, and many more. Our goal is to determine whether the site provides enough services based on their pricing.
Trial
When talking about the trial, we typically address its versatility. It is better to have a range of options like monthly or yearly subscriptions so that you don't have to be stuck with the service in case something goes wrong or you just don't need the help anymore. This includes the possibility of free trials and their limitations.
Payments & Price
This point is pretty self-explanatory, as it directly refers to a variety of payment methods and pricing options on the site. It may not be the turning point in somebody's decision-making, but it's always better to have a bit of flexibility and be able to pay with credit cards, wallets, or other methods than to have none. Moreover, this allows us to explore the conditions in which the user has to pay: is it for a specific amount of time or for the number of questions to a tutor?
Range of Subjects
The more subjects a site covers, the more possibilities you have. The main four categories tutoring websites cover include STEM subjects, languages and literature, arts, and natural sciences. So, the range of subjects allows you to find the answers you need all in one place (or not).
Overall Experience – 25% of the A*Help score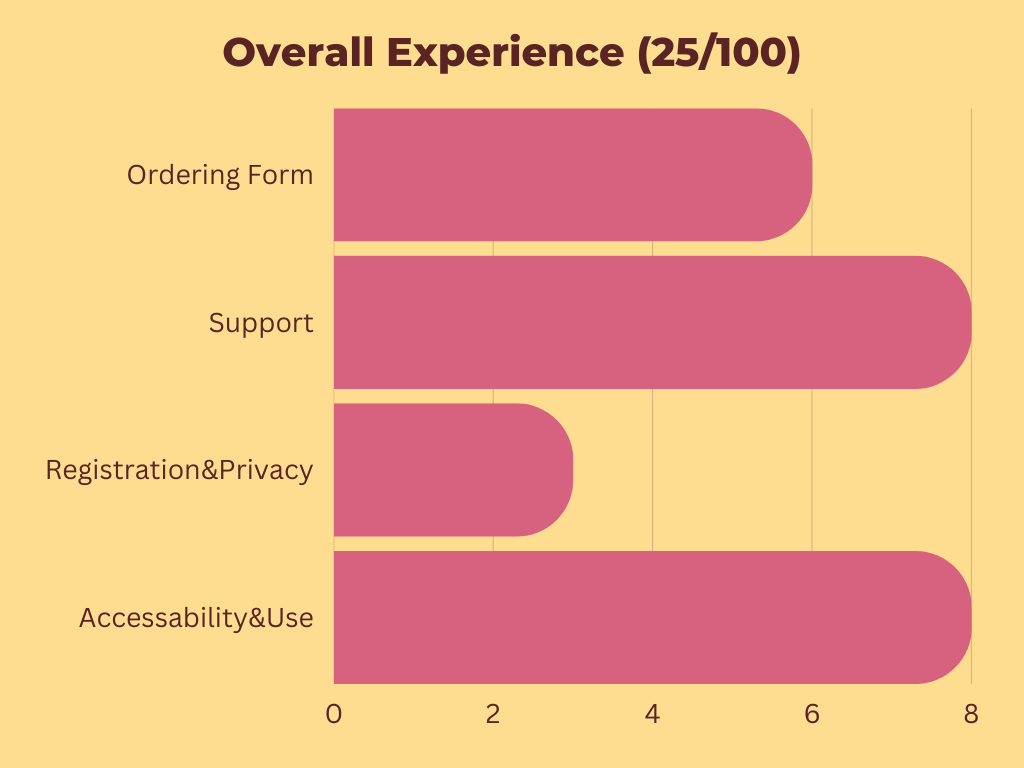 Ordering Form – 6 points
Support – 8 points
Registration&Privacy – 3 points
Accessability&Use – 8 points
Ordering Form
Considering how hard the tasks that require tutoring assistance are, many of them might need further explanations, pictures, or formulas. By adding them, it is easier to explain to the expert what exactly the problem is. It significantly decreases the chances of making a mistake and getting a falling out in communication with the tutor, so we pay attention to the ordering form and its settings.
Support
Customer support always plays a significant role in making sure the user has all their questions answered. However, customer support comes in all shapes and sizes – on-site messengers, FAQ bases, chatbots, and others. Some of them are extremely easy-to-use and informative, some are not so. We evaluate the helpfulness of support by interacting with a customer representative on the site.
Registration and Privacy
Privacy should always be one of the first priorities when it comes to customer experience on the site. Some websites ask to provide phone numbers and email addresses when registering a new user and some just offer to log in using third-party methods (via Facebook, Google, Apple accounts etc). We check how complicated and secure the registration for each service is.
Accessibility and Use
Another crucial aspect to highlight is the accessibility of the tutoring website. At A*Help, we understand that students are already overwhelmed with numerous tasks, so simplicity and ease of navigation are key when trying to browse through the services. Apart from this, we take into consideration the different learning needs and abilities and check whether the website is accessible on several devices and has an IOS or an Android app. And last but not least, it would be convenient to keep an account with saved questions and answers, since students may need to return to them from time to time.
Quality of Help – 50% of the A*Help score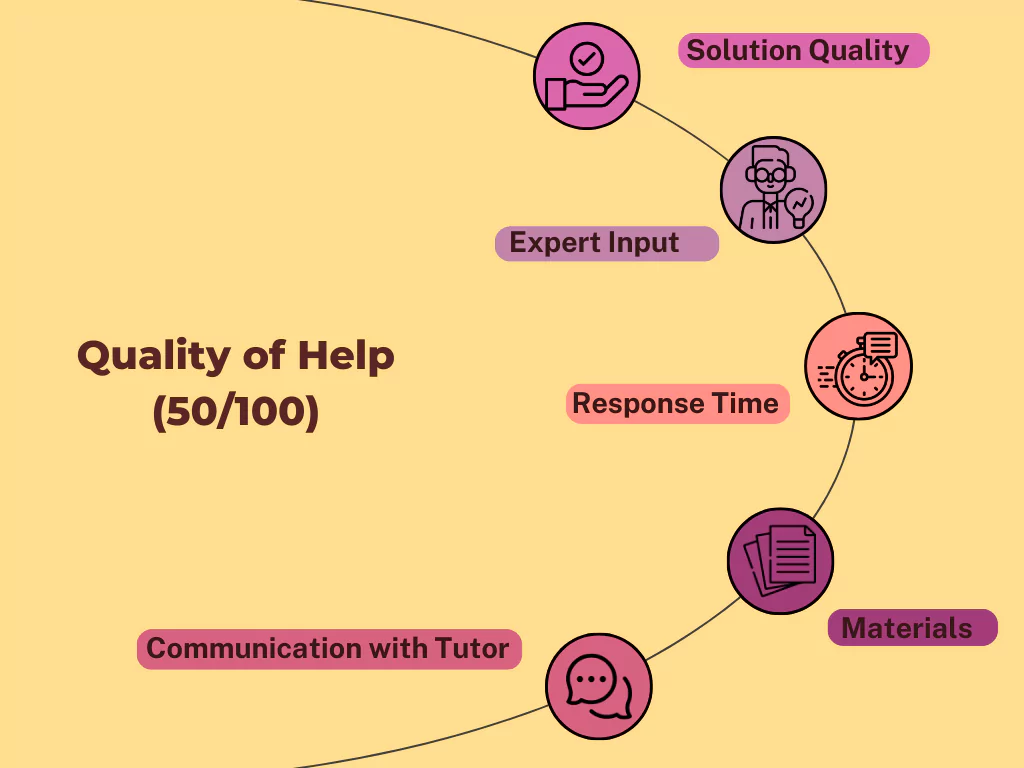 Response Time – 12 points
Materials – 8 points
Communication with Tutor – 10 points
Solution Quality – 20 points
Response Time
Response time dictates how much we have to wait from the point of asking the question to finally getting an expert explanation. That is why we measure and evaluate how long it takes to get a response to our request, how fast the live chat is, and how long we have to wait to get connected with a tutor. It can be of less importance if you decide to go through with long-term tutoring, but when you have a pressuring deadline to work around, response time can make a difference.
Materials
So many students, so many learning experiences. That is the precise reason why it is necessary to provide explanations in several variants, such as images and videos. Our team was on the lookout for the most thorough and easy-to-understand explanations, including extra materials and the ability to download them after the tutoring session.
Communication with Tutor
Communicating with a tutor directly influences the overall understanding of the subject. It allows students to receive personalized guidance and support. Tutors can assess the individual needs and learning styles of students, adapting their teaching methods accordingly. This personalized approach helps students grasp concepts more effectively and overcome any challenges they may encounter. So, we pay close attention to the communication options (live chat, video, or phone calls) and the quality of said encounters from the point of the tutor.
Solution Quality
The actual reason we have gathered here today – the solution quality. It answers the main question of whether the service can provide a qualified and correct solution to the problem. We compare the answer and the explanations and identify the level of expertise. Moreover, we check how long it takes to get our answers and if it was done in a timely manner. Nothing much to say about solution quality apart from the fact that it takes up the most points since getting the answer is our primary objective.
The Negativity Rank
Before conducting the mystery shopping, we undertake a thorough analysis of honest reviews from various sources on the Internet. Our team at A*Help search platforms such as Reddit, Trustpilot, Sitejabber, and Reviews.io to gather insights. In this process, we carefully sift through the feedback, separating genuine comments and those that may be fabricated or exaggerated.
It is worth noting that we value negative feedback as well, as it provides us with a comprehensive and authentic understanding of the chosen website. By delving deep into the criticisms and investigating what lies beneath the surface, we aim to gather the most genuine impressions from real users around the globe.
To ensure a fair assessment, we evaluate each negative review based on two key factors: credibility and severity. Credibility refers to the likelihood of the problem mentioned in the review, while severity assesses the seriousness of the issue. Our team of experts then assigns a rating to each negative feedback, and we present an average score based on these evaluations.
Final Thoughts
The Academic Help team is here to assist you in the best way possible. We take a comprehensive approach to help you find websites where you can get much-needed support when being stuck with a subject. Our focus is on finding services that have skilled tutors with professional teaching methods and a personalized approach to help you grasp difficult concepts.
Qualified tutors play a crucial role in any learning experience, so we thoroughly assess their expertise and qualifications on each platform. We also look for personalized approaches that cater to different learning styles, creating an environment where you can thrive and make progress. So, whether you are in need of a little push with your academic problems or you want to dive deep into a hard-to-grasp concept, you can rely on our reviews as a starting point.
Read more:
How We Test Essay Writing Services
How We Test Custom Dissertation Writing Services
How We Test Everything We Review
How We Test Programming Homework Help Websites